This super easy Homemade Stovetop Applesauce is made with 5 ingredients only and will be ready in less than an hour. Not only delicious as a dessert or breakfast topping, applesauce is an awesome ingredient to bake with as well!
Jump to:
Why we love this recipe
There is nothing easier than making Applesauce at home. All you need is a few ingredients, a pot and a utensil to blend it. And you can even make it with other fruits like this Pear Compote!
I love making my own applesauce because it is one of those recipe where you can just throw all the ingredients in a pot, let the heat do its job and done! Really, other than the peeling/cutting the apples, there is really nothing you will need to do!
Just like my Apple Curd, applesauce make a delicious breakfast or dessert topping, but is also an amazing ingredient to bake with!
I love integrating applesauce into my baked goods, either as a filling like my French Apple Tart or Apple Tartlets or inside the cake batter like in my French Apple Cake, Apple Loaf Cake, Apple Baked Oatmeal and Gluten-Free Apple Cake!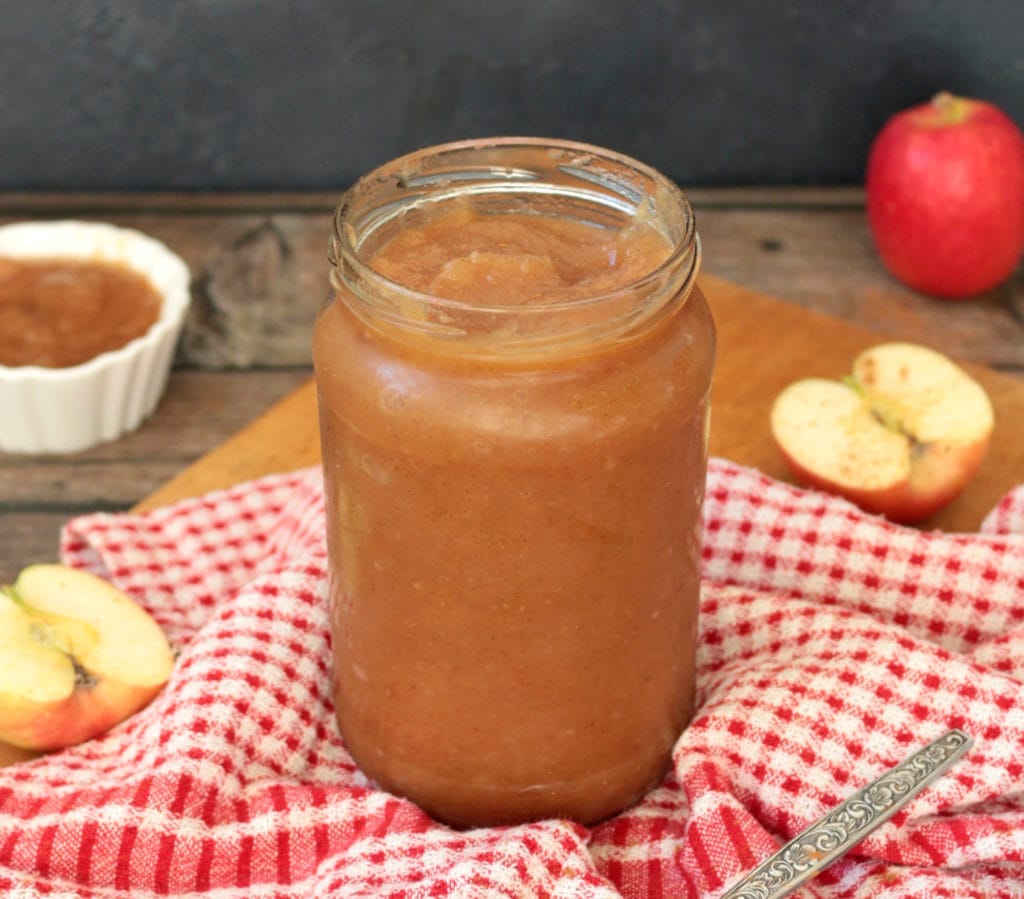 Ingredients
To make homemade applesauce, you will need:
Apples
Water
Brown Sugar
Lemon Juice
Cinnamon Sticks (or ground cinnamon)
How to make Applesauce from scratch
Now, for the steps:
Peel, core and cut the apples.
Place the Water, Sugar, Lemon Juice and Cinnamon Sticks in a deep pot on low heat and let the brown sugar dissolve. Then, add the apple cubes. Leave it to cook on low heat for 30 minutes with the lid on, then on medium heat for another 15 minutes without the lid.
Use an Immersion Blender or your traditional Blender / Food Processor to mix the apples into a sauce. It is up to you whether you want to blend it chunky or smooth!
Smooth vs Chunky Applesauce
Another great thing about this recipe is that once the apples have finished cooking, it is completely up to you to choose the consistency of your applesauce.
I personally blend the apples very finely to get a smooth applesauce, but you can also blend the apples for a few seconds only (or even just use a fork to mash the apples) to get a thick, chunky applesauce.
How to choose what consistency you need? It probably depends what you will be using the applesauce for...
Ideas for Smooth Applesauce:
As a topping for Pancakes, French Toast or Waffles
On its own as a healthy dessert / sweet treats
Perfect for babies and kids (you can simply remove all added sugar for a healthier option)
How to use Chunky Applesauce:
To serve with Meats like Pork or Chicken (a very traditional way to eat chicken in Belgium is with applesauce!)
Like a Compote to enjoy as a dessert / healthy treat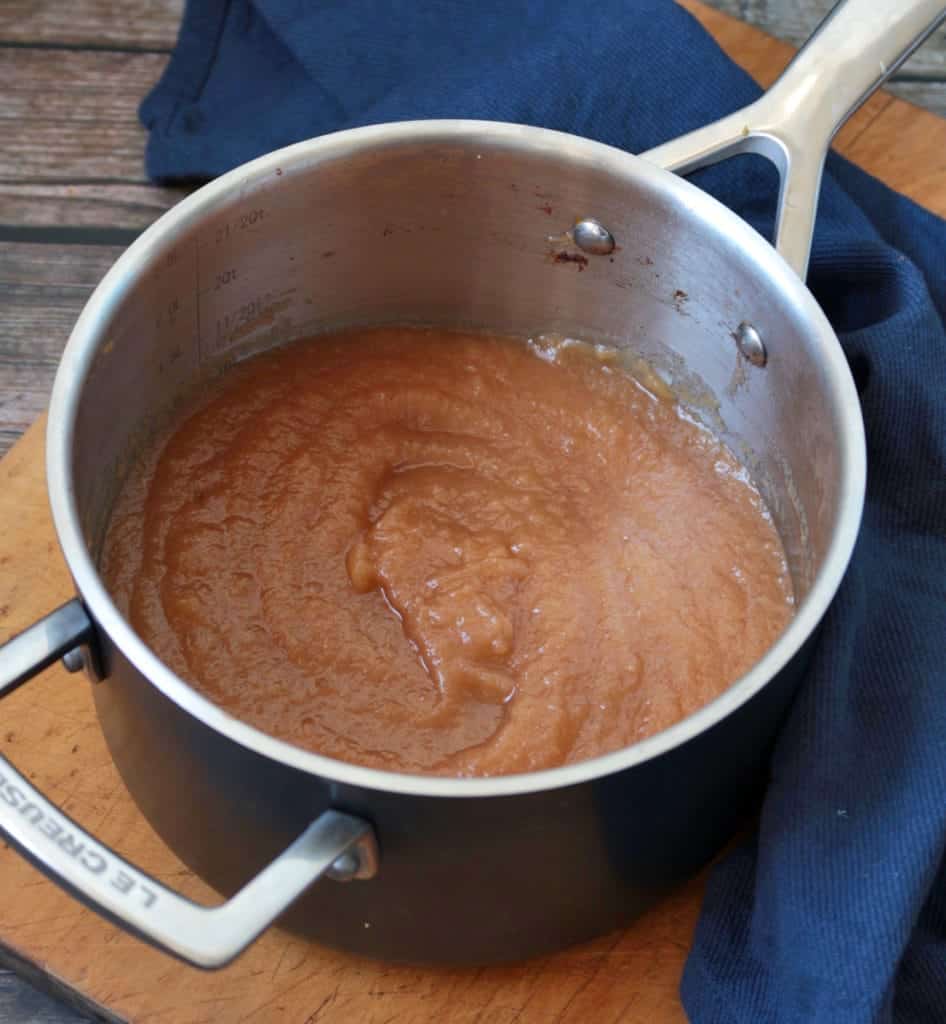 Recipe FAQs
What are the best Apples for Applesauce
There are so many varieties of apples that can be used to make applesauce, it is entirely up to you! Different types of apples with create a more or less sweet sauce, different consistency and texture or a tangier / crispier taste.

And don't feel like you need to use one type of apples only, you can obviously mix different varieties together!

Amongst many, the best apples know to make good applesauce are:
- McIntosh (tart)
- Gala (mild and sweet)
- Fuji (crisp and sweet)
- Golden Delicious (crisp and sweet)
- Red Delicious (sweet)
- Jonathan (sweet and tart)
- Granny Smith (crisp and tart)
- Honey Crisp (sweet and tart)

Read more about how to pick the right apples for baking here
Is applesauce healthy?
The main ingredient of applesauce is Apples, and since there is no added fat and only a low quantity of added sugar to this recipe, we could consider it to be healthy.

This homemade applesauce is Gluten Free, Dairy Free, Grain Free and Vegan. It is perfect for literally everyone (unless you are allergic to apples...).

A homemade applesauce will also often be way healthier than a store-bought one because you can control the amount of sugar you are adding to it and it is preservative-free!
Can I make applesauce without sugar?
If you are looking for an even healthier version of this applesauce, the best recommendation I could give you is to choose a sweet variety of apples and ditch the added sugar all together.

You may want to remove the lemon juice from the recipe. Although absolutely delicious, the lemon juice is balanced by the added sugar in the traditional recipe so it could make the sauce quite tangy without the sugar.
How long does homemade applesauce last?
It is hard to give an exact time because it will highly depend on the variety of apples you decide to use. As a general rule, always keep your homemade applesauce in the fridge and properly sealed. It will be best eaten within a week.

You can also make canned applesauce for an extended shelf-life, and even freeze it!

Note that if you decide to freeze applesauce, don't place it in a glass jar. When ready to be enjoyed, let it thaw in the fridge. Freezing applesauce will make it a big soggier so you may want to cook it again for a few minutes to evaporate the moisture.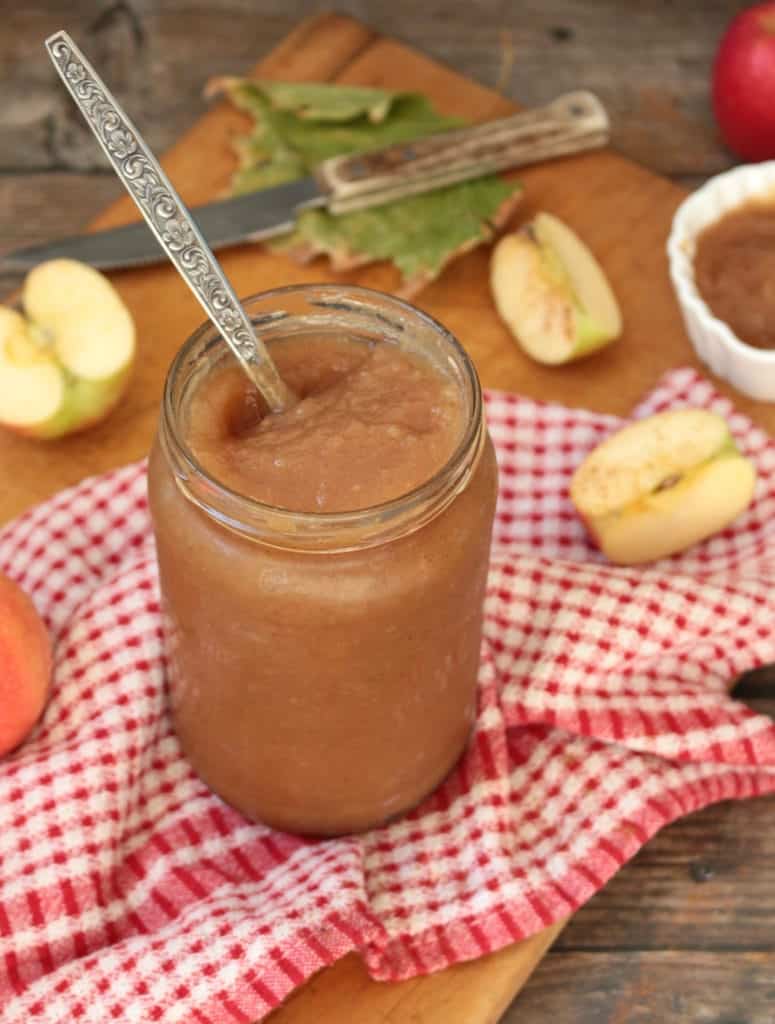 Made this recipe?
Let us know if you liked it by leaving a comment below, and tag us on Instagram @a.baking.journey with a photo of your creation!
Recipe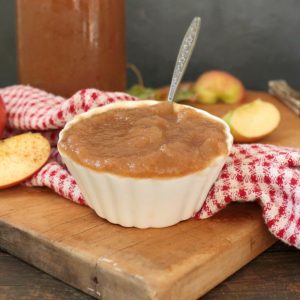 Homemade Stovetop Applesauce
This homemade stovetop applesauce recipe is extremely easy to make and item to have in your fridge. It is a deliciously healthy recipe that can be used in many ways!
Print
Pin
Rate
Servings:
10
Servings (about 1 large jar)
Ingredients
1

kg (2.2 pounds)

Apples

500

ml (2 cups)

Water

2

tbsp

Brown Sugar

2

tbsp

Lemon Juice

2

Cinnamon Sticks (about 1/2 tbsp)
Disclaimer
I highly recommend using the measurements in grams & ml (instead of cups & spoons) for more accuracy and better results.
Instructions
Peel, core and cut the apples into small cubes.

30 min covered with lid then 15 mintutes without lid to evaporate water

Pour the Water in a deep pot with the Lemon Juice, Brown Sugar and Cinnamon Stick. Turn on medium heat and bring to a simmer to dissolve the Brown Sugar.

When the sugar has dissovled, add the Apple Cubes, quickly mix so that the apples are covered with the syrup then cover with the pot lid. Leave to cook on low heat for 30 minutes.

Remove the lid, increase the heat to medium and leave to cook for another 15 minutes to allow for the water to evaporate. The apples should be really soft. Remove the pot from the heat.

Using a stick blender/immersion blender the apples into your prefered consistency (only a few seconds for a chuncky applesauce, or a couple of minutes for a smooth applesauce).

Enjoy warm, or leave to cool down completely before transferring into a sealed jar.

Keep in the fridge for a few weeks.
Tried this recipe? Make sure to leave a comment and star rating below!
Notes
Note that serving size is an approximate only.
Nutrition
Calories:
64
kcal
|
Carbohydrates:
17
g
|
Protein:
1
g
|
Fat:
1
g
|
Saturated Fat:
1
g
|
Sodium:
4
mg
|
Potassium:
107
mg
|
Fiber:
3
g
|
Sugar:
13
g
|
Vitamin A:
54
IU
|
Vitamin C:
6
mg
|
Calcium:
17
mg
|
Iron:
1
mg
Tried this Recipe?
Leave a comment + star rating below and tag us @a.baking.journey on Instagram with a photo of your creation!