This Apple Cinnamon Pull Apart Bread makes the most delicious and decadent Winter breakfast ever! Perfect for the Holidays, this Sweet Brioche Bread filled with Apples and Cinnamon is great served warm or cold.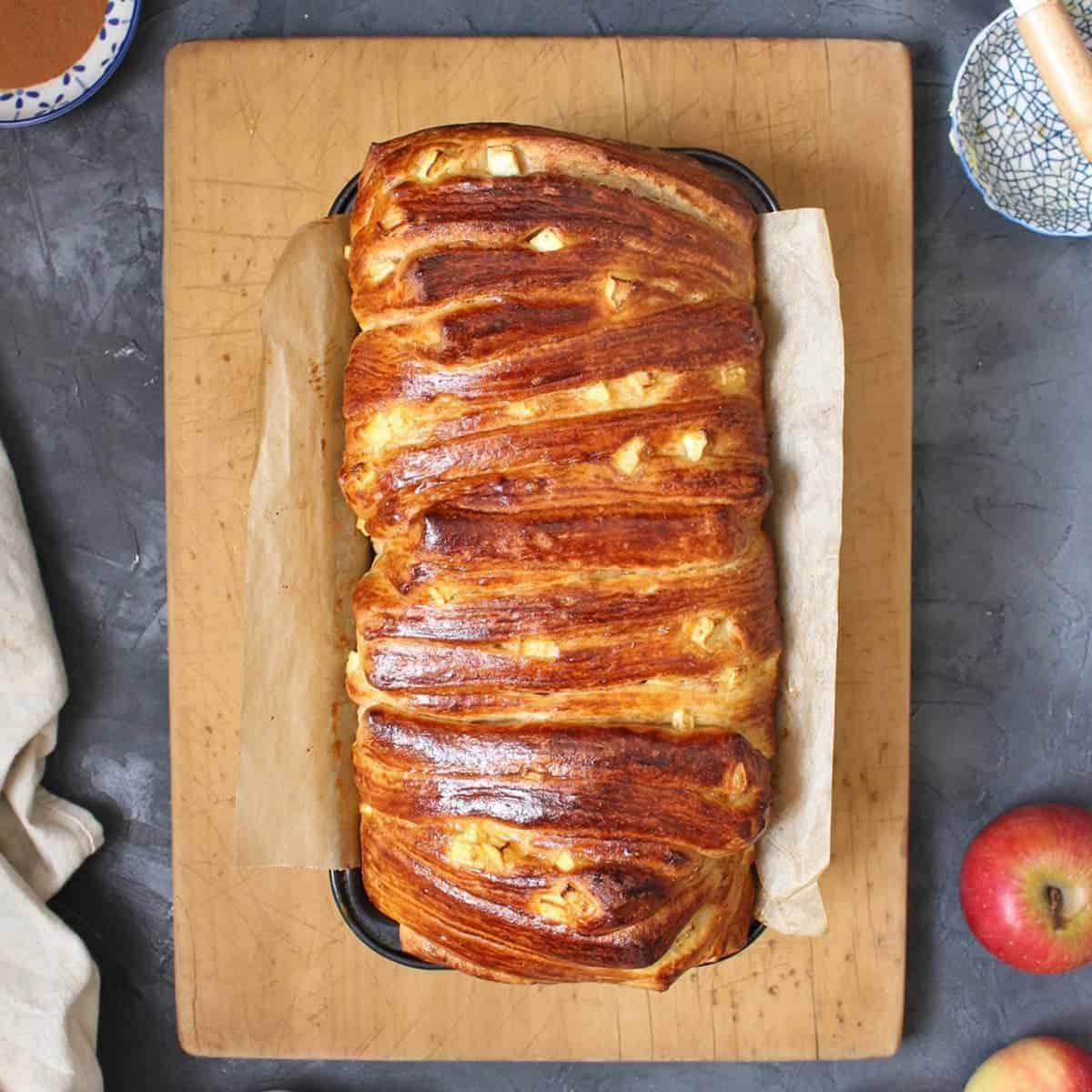 Jump to:
Why we love this recipe
Can you smell the cinnamon baking? Just by reading "Apple Cinnamon Pull Apart Bread", I can... I mean, baking anything with cinnamon is worth 100 scented candles.
It instantly brings you to a cold fall morning (or night), sitting under a blanket and enjoying fragrant sweet treats. But you don't have to wait for Fall to start enjoying spiced cake!
This Pull Apart Bread is great for the Holidays or Christmas Breakfast with the family and just like my Apple Cinnamon Baked Oatmeal and Chocolate Brioche Bread Wreath, it can be made in advance!
We are in the middle of Spring here in Australia and trust me, that Apple Cinnamon Pull Apart Bread was just as much as a special treat - with or without a blanket!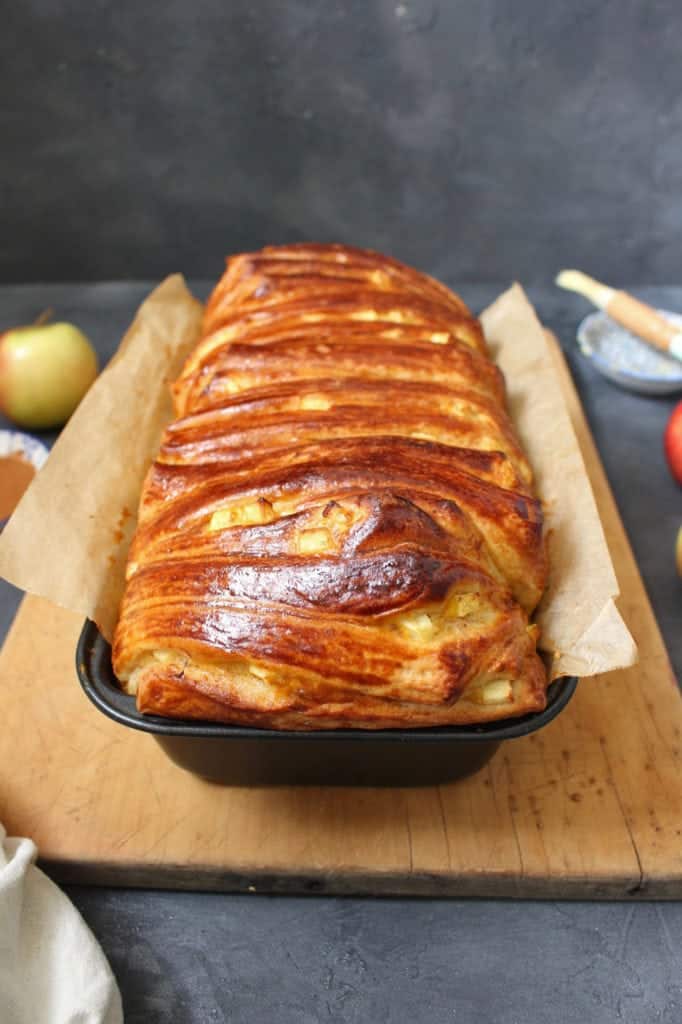 Apple Cinnamon Bread
If you ask me, cinnamon in any cakes is always amazing... whether it is in a Apple Crumble Cheesecake or in a Pear Coffee Cake, it just always works.
Chocolate and Pears with Cinnamon are absolutely delicious, but the ultimate flavour association has to be Apple and Cinnamon. The taste, the smell, the melt-in-your-mouth texture,... everything about it is just perfect. Now imagine all of these elements in a Brioche-like bread. Just perfect!
An Apple Cinnamon Bread is not only perfect for breakfast or brunch, it can also be enjoyed as a snack or a dessert. Gotta love a recipe that is so versatile! What I love the most about this recipe is the use of Cinnamon in both the Bread Dough and the Apple Filling.
And if you want to go overboard with the Cinnamon, you can even sprinkle some over the Apple Cinnamon Pull-Apart Bread just before you bake it!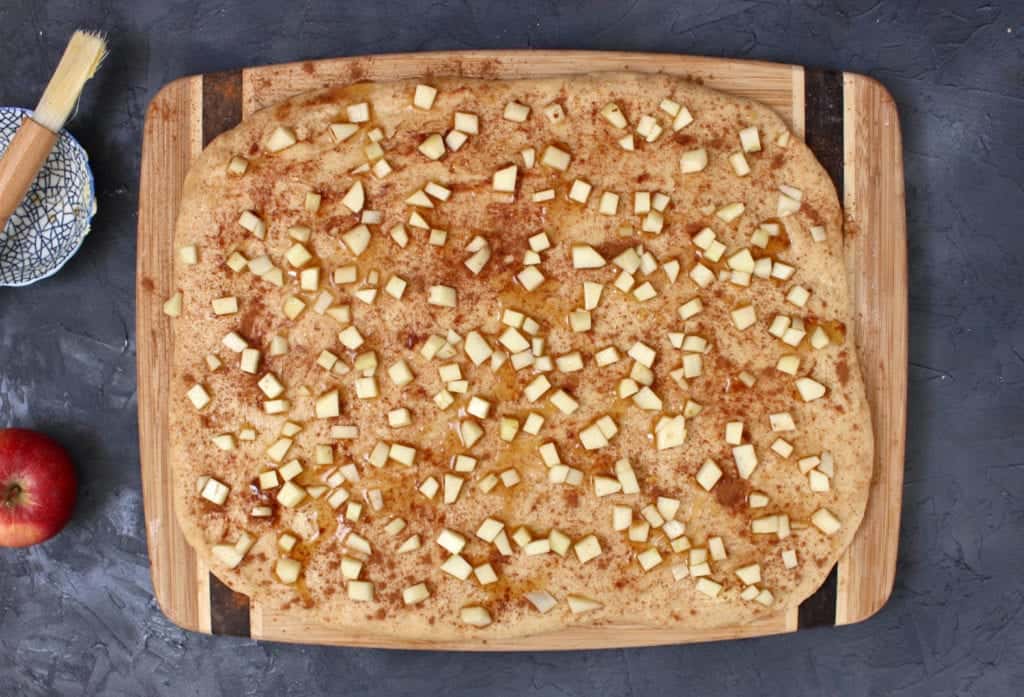 Apple Brioche Bread
I absolutely love sweet bread rolls and other sweet breads in the morning or to be served as dinner rolls like my Sweet Potato Buns. To this day, my Chocolate Raspberry Swirl Brioche Buns is still one of my favourite recipe ever!
The great thing about this recipe is that it can be made sweet or savoury. I am a sucker for anything sweet - so I was obviously gonna make a sweet version!
The process of making this Apple Cinnamon Pull Apart Bread is very similar to making a Babka or Cinnamon Roll for example. You need two things: a sweet bread dough and a filling.
Sweet Bread Dough

: like I explained above, the recipe is very similar to a Brioche. The main difference here is the use of Milk instead of Water, and the addition of Brown Sugar and Cinnamon Powder in the dough.
Apple Cinnamon Filling

: this step is so deliciously easy. Cut your apples in small cubes and mix them with more Cinnamon Powder and a little bit of Brown Sugar. Nothing complicated here!
How to make Pull Apart Bread from Scratch
The base of this bread is very similar to a Brioche. A basic bread would only use flour, water and a leavening agent. To make a brioche, you add eggs and butter to these basic ingredients.
This gives the bread a super moist, puffy and soft texture. The enriched bread dough almost resemble a airy cake. A mix between a cake and a bread? Yes please! Although very similar to a cake, a Brioche (or in this case, a Pull Apart Bread) is still a bread and needs time to prove like one.
Luckily, a brioche doesn't require much kneading which makes it easy to make by hands - without a mixer or a bread machine. Patience is what will make you Pull Apart Bread amazing.
Giving it time to prove slowly will give it the most amazing, like texture. I left this Apple Cinnamon Pull Apart Bread to prove for about 1,5h before assembling it. In bread time, this is actually really quick! Once it has doubled in size, it is time to transform the bread dough into a pull apart bread.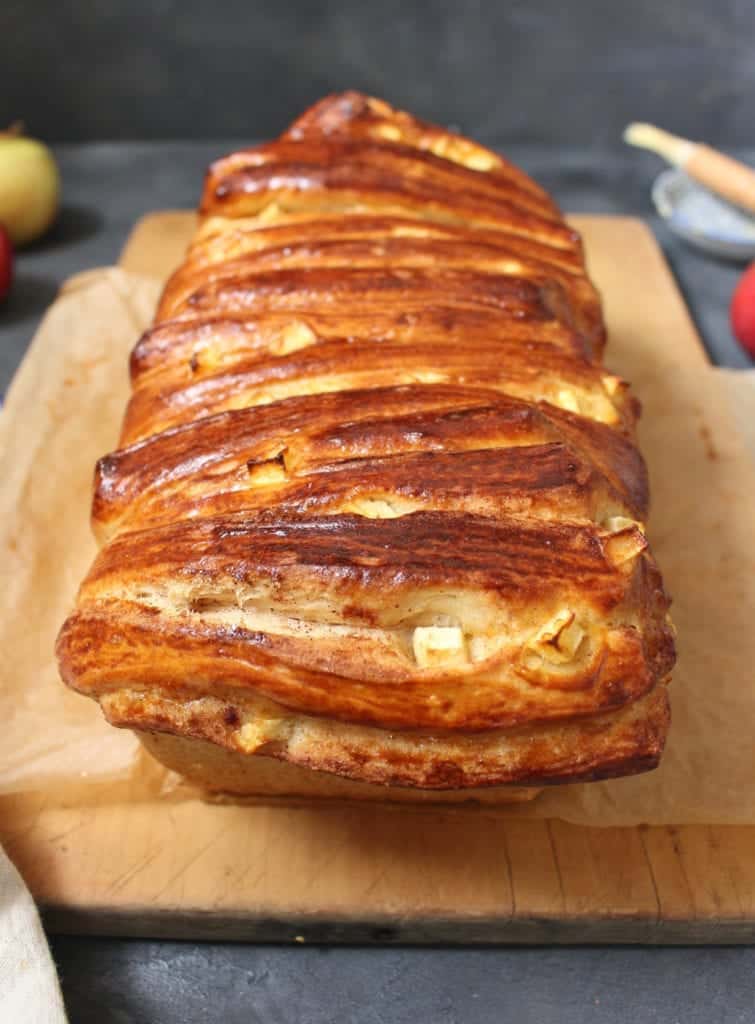 Just like to make a Babka, there are a few techniques to know to assemble a Pull Apart Bread:
Roll the Dough into a large rectangle.
Spread butter and your chosen filling over the rectangular bread dough.
Cut 4 to 6 equal vertical strips. You can make more strips if you want - it really depends on the size of the rectangle dough and the pan you will use to bake the bread.
Place the dough strips on top of each other, making sure the apple cinnamon filling isn't falling off. You will end up with a long, thin vertical stack in front of you.
Now cut horizontally the stack into square cubes. You should get about 5, 6 little stacks of dough.
Line a Loaf Pan or grease it well with butter.
Flip each little stack of dough to their sides or facing upwards, and place them in the Loaf Pan until full.
Glaze the pull apart bread, let it prove a second time then bake it.
Follow the steps explained above to assemble your Apple Cinnamon Pull Apart Bread and you are almost done! Use a Non-Stick Aluminium Loaf Pan like this one or this one to bake your bread.
I highly recommend either lining your Loaf Pan with baking paper/parchment or grease it well with butter. The Brown Sugar will melt while the bread bakes and turn into a sticky caramel, so you want to make sure you can remove the bread from its pan!
More Bread Recipes
Made this recipe?
Let us know if you liked it by leaving a comment below, and tag us on Instagram @a.baking.journey with a photo of your creation!
Recipe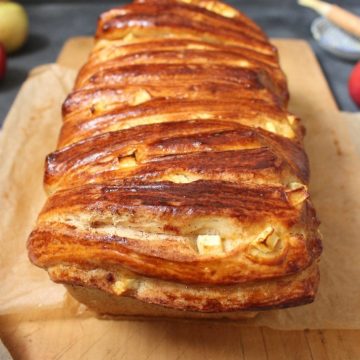 Apple Cinnamon Pull-Apart Bread
This Apple Cinnamon Pull Apart Bread is absolutely delicious and so easy to make. It is the perfect Fall Breakfast Recipe and can also be enjoyed as a snack or a dessert!
Print
Pin
Rate
Ingredients
Pull Apart Bread
180

ml (3/4 cup)

Full Cream Milk

12

gr (1 1/2 teasp.)

Instant Yeast Powder

50

gr (1/4 cup)

Brown Sugar

400

gr (2 2/3 cups)

Plain Flour

1

tbsp.

Cinnamon Powder

1

pinch

Salt

2

Eggs

60

ml (1/4 cup)

Melted Butter
Apple Cinnamon Filling
1

Large Apple

1

tbsp.

Brown Sugar

1

tbsp.

Cinnamon Powder

20

gr. (1 tbsp)

Butter at room temperature
Glaze
1

Egg

1

tbsp.

Full Cream Milk
Disclaimer
I highly recommend using the measurements in grams & ml (instead of cups & spoons) for more accuracy and better results.
Instructions
Heat up the Full Cream Milk (see note 1). Mix in 1 tbsp of Brown Sugar and the Yeast and set aside. When bubbles start to appear over the milk, it is ready to use.

In a large bowl, mix the Flour, the rest of the Brown Sugar, the Cinnamon Powder and the pinch of Salt. Add the Eggs, the melted butter then milk with the yeast.

Knead by hands (see note 2) until the dough is uniform, smooth and stretchy

Place the dough in a clean bowl dusted with a little bit of Flour and cover it with a clean tea towel or greased cling wrap. Leave it to prove for 1,5h or until it has doubled in size.

When the dough has doubled in size, start preparing the filling.

Peal and Cut the Apple in small cubes. Mix them with the Brown Sugar & Cinnamon Powder. Set aside.

Roll the bread dough in a large rectangle and spread the butter at room temp over it. Cover the dough with the apple cinnamon filling.

Cut long vertical strips (4 to 6) and stack them on top of each other.

Slice the long stack in 4 to 5 horizontal equal parts. Flip each stack 90 degrees for the dough strips to face upwards.

Place each stack of filled dough in a Loaf Pan lined with baking paper or fully greased with butter.

To make the glaze, Whisk the Egg and Milk. Brush it over the pull apart bread.

Leave it to prove for another hour / 1,5 hour. The Bread should have risen to the top of the Loaf Pan.

While the bread is finishing its proving, preheat your oven on 180'C/350'F.

Bake for 25 to 30 minutes. Let it cool down before removing from the pan.
Tried this recipe? Make sure to leave a comment and star rating below!
Notes
The milk needs to be slightly warm but not hot. If you place a finger in the milk, it shouldn't burn but feel about the same temperature of your body.
You can knead the dough in a stand mixer fitted with a hook as well
Nutrition
Calories:
279
kcal
|
Carbohydrates:
43
g
|
Protein:
7
g
|
Fat:
9
g
|
Saturated Fat:
5
g
|
Cholesterol:
68
mg
|
Sodium:
92
mg
|
Potassium:
135
mg
|
Fiber:
3
g
|
Sugar:
9
g
|
Vitamin A:
310
IU
|
Vitamin C:
1
mg
|
Calcium:
73
mg
|
Iron:
2
mg
Tried this Recipe?
Leave a comment + star rating below and tag us @a.baking.journey on Instagram with a photo of your creation!