What better way to wake up than with some warm, sweet and soft Homemade Cinnamon Scrolls topped with a light Greek Yogurt Icing? Here is how to make some deliciously easy bakery-style Cinnamon Rolls from scratch at home!
Jump to:
Why we love this recipe
Seriously, why would you ever buy pre-made, full of preservatives and high in sugar cinnamon scrolls when they can easily be made at home and from scratch?
Making these yummy pastries at home may seem intimidating, but it is way easier than it seems. You could even turn them into a delicious Cinnamon Roll Bread Loaf, Coffee Cinnamon Rolls or Triple Chocolate Cinnamon Rolls!
Very similar to my favourite Lemon Sweet Rolls recipe, these ones are filled with the classic Cinnamon Powder/Brown Sugar combo like for this Cinnamon Babka and seriously make the best breakfast ever!
Ingredients
Although some recipes exist for cinnamon rolls made without yeast, this is a recipe for cinnamon scrolls with yeast. Instant Dry Yeast powder can easily be found in any baking aisle of your supermarket.
They come in large tubs (better to keep in the fridge once opened) or in individual packets. The Yeast makes these Cinnamon Scrolls super soft and fluffy, so it is really an essential ingredient of this recipe!
Here are all the ingredients you will need for homemade cinnamon roll dough:
Full Cream Milk
Instant Dried Yeast
Eggs
Melted Butter
Brown Sugar
Flour
Salt
And for the filling:
Soft Butter
Cinnamon Powder
Brown Sugar
How to make Cinnamon Scolls from Scratch
There are 3 steps to make these Cinnamon Rolls with Yogurt Icing. Make the Cinnamon Roll Dough, fill them with the Cinnamon Filling then finally glaze them with a Yogurt Icing.
Make the Sweet Roll Dough:
This can be done by hand if you are looking for a workout, but it will more easily be done by a stand mixer. First, activate the Instant Dried Yeast with lukewarm Milk. Mix cool melted butter and eggs. Finally, add all of those wet ingredients to the Dry ones (Flour, Brown Sugar and Salt).
Fill the Dough:
After leaving the dough to prove for 1 to 2 hours, roll it into a large rectangle. Cover with soft butter and a mix of Brown Sugar and Cinnamon Powder. Roll the dough lengthwise, then slice into 12 equal parts to get your individual rolls. Place them in a glass or ceramic rectangular baking dish and leave to prove a second time before baking.
Finish the Scrolls:
Simply make the Yogurt Icing by mixing Greek Yogurt and Icing Sugar, with some optional Cinnamon Powder and Lemon Juice. Drizzle the icing over the scrolls when ready to be eaten.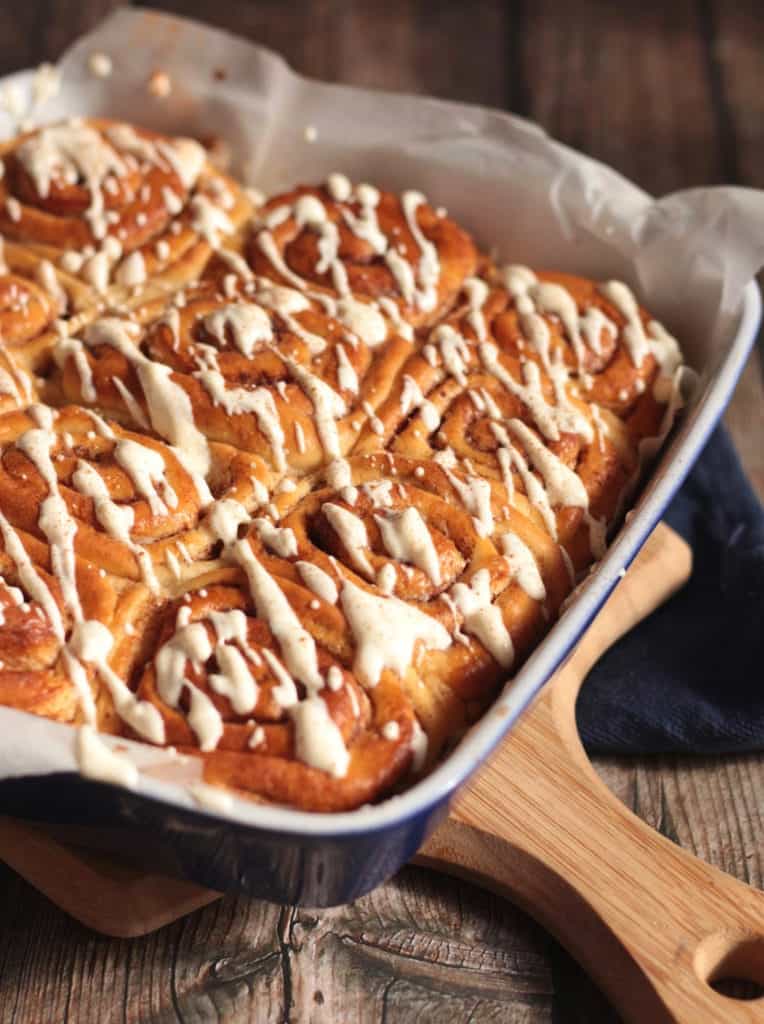 Can you freeze Cinnamon Scrolls?
You can absolutely freeze Cinnamon Scrolls. That can be done before baking them, but I find it easier to bake the rolls first before freezing them individually.
To do so, follow all the steps below until the scrolls are out of the oven. Leave them to cool down completely before tearing them apart to get individual rolls.
Wrap each of them in baking paper and/or aluminium foil to avoid frost bite before placing them in a freezing bag.
Keep in the freezer for up to a month, and thaw overnight in the fridge when ready to be enjoyed ( you may need to place them back in the oven for about 5 minutes to crisp again).
Note that you shouldn't freeze these cinnamon scrolls with the yogurt icing. Only ice the pastries when ready to be eaten!
More Sweet Bread and Breakfast Recipes:
Recipe
Homemade Cinnamon Scrolls
What better way to wake up than with some warm, sweet and soft Cinnamon Scrolls? Here is how to make some deliciously easy bakery-style homemade Cinnamon Rolls from scratch!
Print
Pin
Rate
Ingredients
Sweet Rolls Pastry
250

ml (1 cup)

Full Cream Milk

10

gr ( 1 tbsp)

Instant Dried Yeast

80

gr (1/3 cup + 1 tbsp.)

Brown Sugar

2

Eggs

60

ml (1/4 cup)

Melted Butter

550

gr ( 3 2/3 cups)

Plain Flour

1/4

teasp.

Salt

1

Egg

-

for Egg Wash, optional
Cinnamon Filling
60

gr (4 tablesp.)

Butter, soft

50

gr (1/4 cup)

Brown Sugar

1

tablesp.

Cinnamon Powder
Yogurt Icing
60

ml (1/4 cup)

Greek Yogurt

2

tablesp.

Icing Sugar

1/2

teasp.

Cinnamon Powder

-

Optional

1

tablesp.

Lemon Juice

-

Optional
Disclaimer
I highly recommend using the measurements in grams & ml (instead of cups & spoons) for more accuracy and better results.
Instructions
Cinnamon Scrolls Dough
Whisk the lukewarm Milk with the Instant Dried Yeast. Set aside until foamy/bubbly (see note 1 if bubbles dont appear).

Melt the butter and set aside to cool down. When cool, whisk in the Eggs.

Place the Flour & Sugar in the large bowl of your mixer. Stir until combined, then add the Milk/Yeast and Butter/Eggs. Knead on medium speed for 5 minutes, making sure to stop often to scrap the edges of the bowl if needed.

Add the Salt, then keep kneading on higher speed for another 5 to 8 minutes, or when the dough stops sticking to the edges of the bowl (see note 2) Cover with a tea towel for 1,5 to 2 hours, or until the dough has doubled in size.

Punch the dough to remove the air, then transfer onto a generously floured surface.

With a rolling pin, spread the dough into a large rectangle. Use more Flour if required, or if the dough sticks to the surface and/or rolling pin.
Cinnamon Filling
Line a large baking dish with baking paper or grease it well with butter. Set aside.

Brush the soft butter all over the rectangle scroll dough.

Mix the Brown Sugar and Cinnamon Powder in a small bowl, then evenly sprinkle all over the soft butter.

Roll the dough as tighlty as possible on its longer side to create a thick roll.

Slice the roll in 12 even parts, then place the individual cinnamon scrolls into the baking dish - leaving some space between each scrolls for them to prove.

Leave the cinnamon scrolls to prove for about 1 hour. They should have almost doubled in size again.

Preheat your oven on 180'C / 350'F.

Whisk the Egg for the Egg Wash, then brush it all over the scrolls.

Bake for 20 to 30 minutes, or until golden brown.
Yogurt Icing
Leave to cool down once out of the oven. When ready to serve, prepare the Yogurt Icing by mixing the Greek Yogurt, Icing Sugar, Cinnamon Powder (optional) and Lemon Juice (optional). Drizzle the Yogurt Icing over the Cinnamon Scrolls.

Note that it is better to drizzle the icing on the scrolls you will eat straight away - otherwise, leave the scrolls un-iced until ready to be eaten.
Tried this recipe? Make sure to leave a comment and star rating below!
Notes
If no bubbles or foam appear after 10 to 15 minutes, it may mean that your Yeast is dead and will not activate in the milk, or that the Milk is not warm enough. The Milk should be lukewarm (20-25'C - 66-77'F) or it won't activate the Yeast.
You might need a little bit flour, depending on the type/brand of flour you use. If after kneading the dough for the instructed time, the dough is still very sticky and does not come off the edges of the bowl, add a little bit more flour, about 1 to 2 tablespoons at the time until the dough is soft but does not stick to the bowl.
Nutrition
Calories:
315
kcal
|
Carbohydrates:
47
g
|
Protein:
8
g
|
Fat:
10
g
|
Saturated Fat:
6
g
|
Cholesterol:
65
mg
|
Sodium:
110
mg
|
Potassium:
121
mg
|
Fiber:
2
g
|
Sugar:
12
g
|
Vitamin A:
343
IU
|
Calcium:
53
mg
|
Iron:
2
mg
Tried this Recipe?
Leave a comment + star rating below and tag us @a.baking.journey on Instagram with a photo of your creation!