These super easy and quick No Yeast Cinnamon Rolls are a delicious alternative to classic cinnamon rolls that will be ready in less than 1 hour. No mixer required!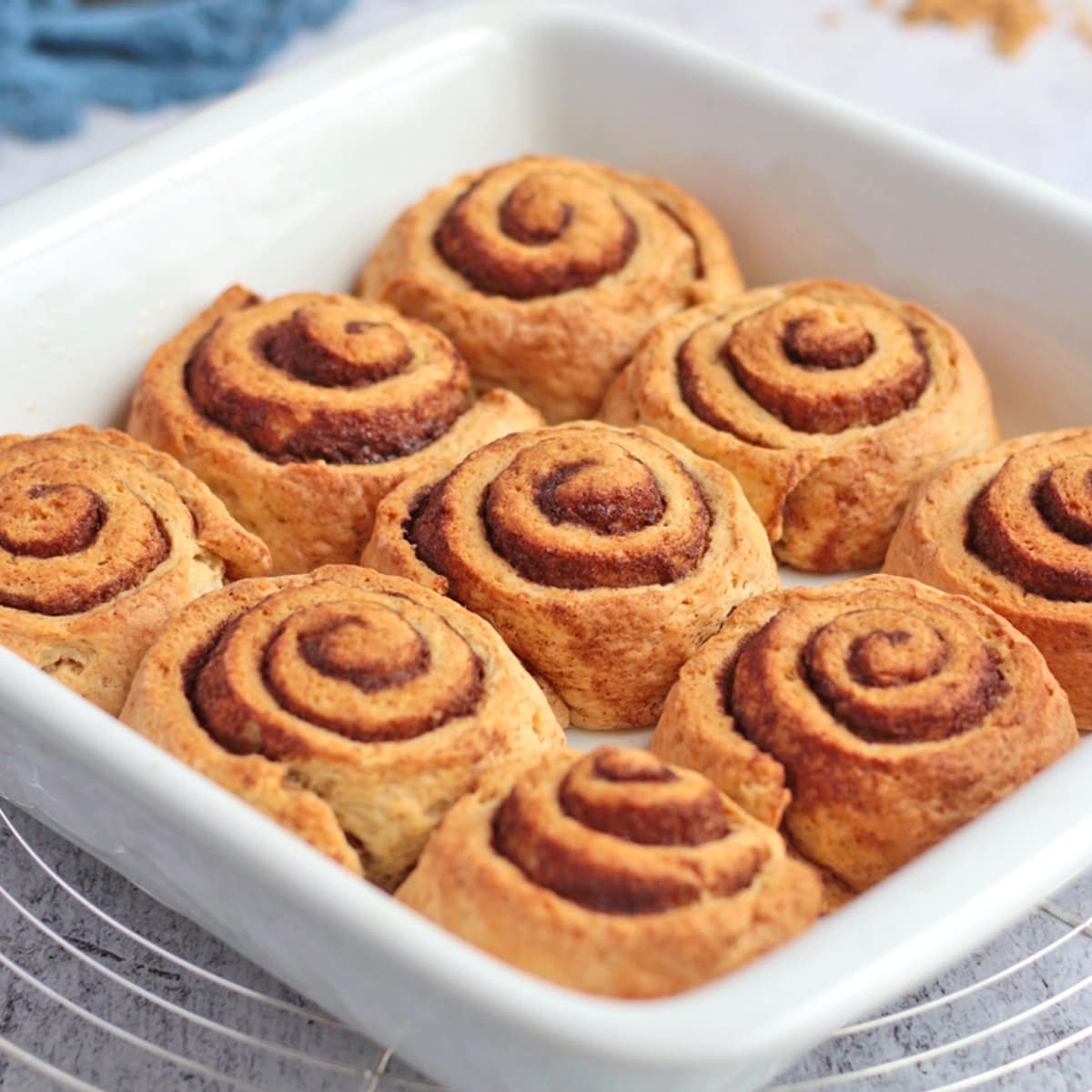 Jump to:
Why we love this recipe
I personally LOVE to bake with yeast. It always make me feel like I'm back at school, working on a science project! But unfortunately, yeast baked goods take time to make, proof and bake - and sometimes, all you want is a quick sweet treat that taste just like the real deal!
Enter these Cinnamon rolls without yeast or milk. Can you make cinnamon rolls without yeast? Yes, it is absolutely possible to make cinnamon rolls without milk AND without yeast! Perfect for a quick breakfast or treat and ready in 40 minutes. You read that right... 40 minutes!
Slight warning though: cinnamon rolls made without yeast will never have the exact same texture as traditional ones. Their crumbs will be a little bit more crumbly/cakey than the classic yeast cinnamon rolls.
Ingredients
Alright, so we are making yeast-free cinnamon rolls, and we aren't using Milk either. So what makes these Cinnamon Rolls so light and fluffy!? One magic ingredients, my friends: Greek Yogurt.
I love to use Greek Yogurt in baking and always find that this ingredient brings a deliciously light texture to cake and baked goods.
Since we aren't using Yeast, and you may wonder: "how are these cinnamon rolls going to rise!?", and "wait...what is a good substitute for yeast?".
It is the combination of 3 ingredients that make the cinnamon rolls super light and fluffy: the baking powder and the baking soda/greek yogurt combo (baking soda needs an acid to activate its rising properties).
To make these No Yeast Cinnamon Rolls, you will need (scroll down to recipe card for all quantities):
Plain Flour
Brown Sugar
Baking Powder
Baking Soda
Salt
Greek Yogurt
Melted Butter
For the Filling, you will need (scroll down to recipe card for all quantities):
Very soft Butter (should be easy to spread)
Brown Sugar
Ground Cinnamon
How to make cinnamon rolls with no yeast
The technique to make these no-yeast cinnamon rolls is quite different than the one to make the classic ones as there will be no kneading or proofing required.
Instead, you will simply need to mix all the ingredients together and roll the dough directly, without kneading it or leaving it to proof for hours.
Once you have spread the butter over the rolled pastry, sprinkled the filling over it and cut the individual cinnamon rolls, you can bake them directly!
Here is how to make no yeast cinnamon rolls from scratch:
Mix all of the dry ingredients together in a large bowl.
Add the Greek Yogurt and Melted Butter, and mix with a stiff spatula until the dough comes together
Transfer onto a lightly floured surface and bring the dough together by kneading it for a few seconds - do not overwork the dough. (*)
Roll the dough into a large rectangle, keeping it rather thick and thin.
Spread the soft butter all over the rolled pastry and sprinkle with Brown Sugar and Cinnamon.
Roll the pastry on its longer side to make a spiral, then cut it into 9 equal slices.
(*) if the dough seems to be dry and crumbly, you might need to add a little bit more Greek Yogurt. Add one tablespoon at the time until you reach the desired consistency.
I baked the cinnamon rolls in a square ceramic dish - but you can also use a metal pan or an oven-safe glass dish if you prefer. Make sure that the dish is well greased or lined with baking paper.
How to cut the rolls
To cut the Rolls into 9 equal slices (you can do thicker or thiner slices if you want), I usually use a Pastry Scraper/Chopper. But in this case, because the dough is more fragile than the one with yeast, I chose to use a simple Bread Knife.
By doing gentle back-and-forth movements with the bread knife, you will be able to easily cut the no-yeast cinnamon rolls without breaking them!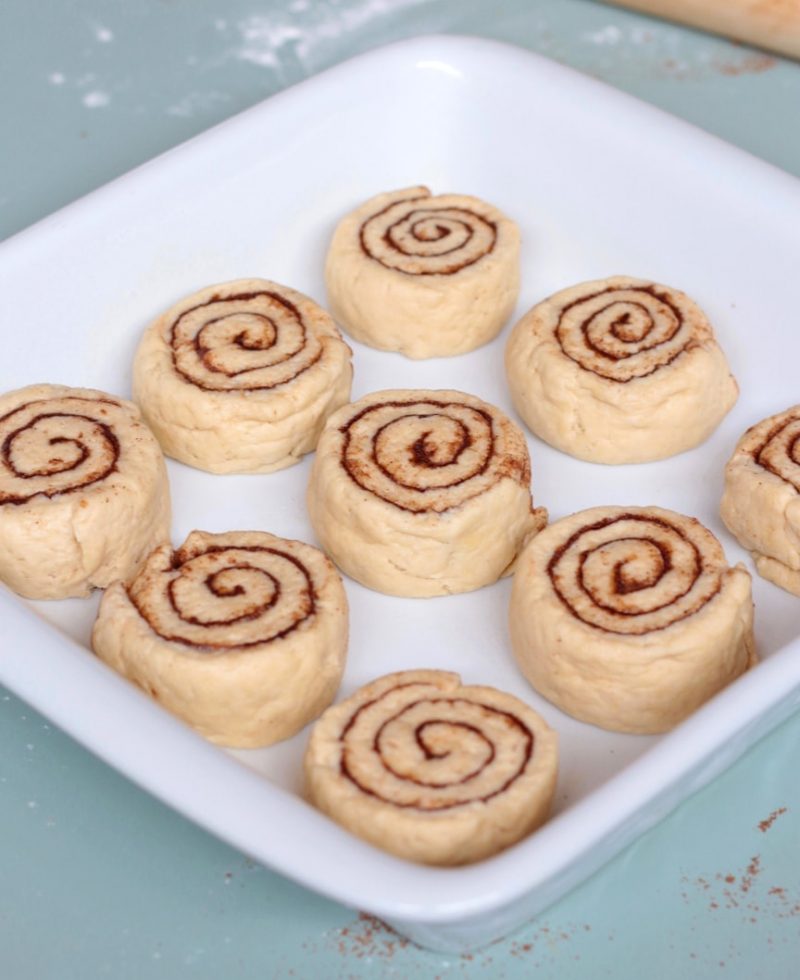 Greek Yogurt Icing
To finish the Quick Cinnamon Rolls, I made a simple Greek Yogurt Icing. I personally do not like the taste of classic Icing and much prefer to make something less sweet, like this greek yogurt one.
You could also substitute the Greek Yogurt for Cream Cheese if you'd like - or go for traditional Icing if you prefer!
To make this Greek Yogurt Icing, you will need:
Greek Yogurt
Icing / Powdered Sugar
optional: a little bit of cinnamon powder, to taste
Simply mix the ingredients in a small bowl, and drizzle over the cool Cinnamon Rolls when ready to eat.
Note that I recommend drizzling this icing over individual rolls when eating them as they will keep much longer without the icing on them.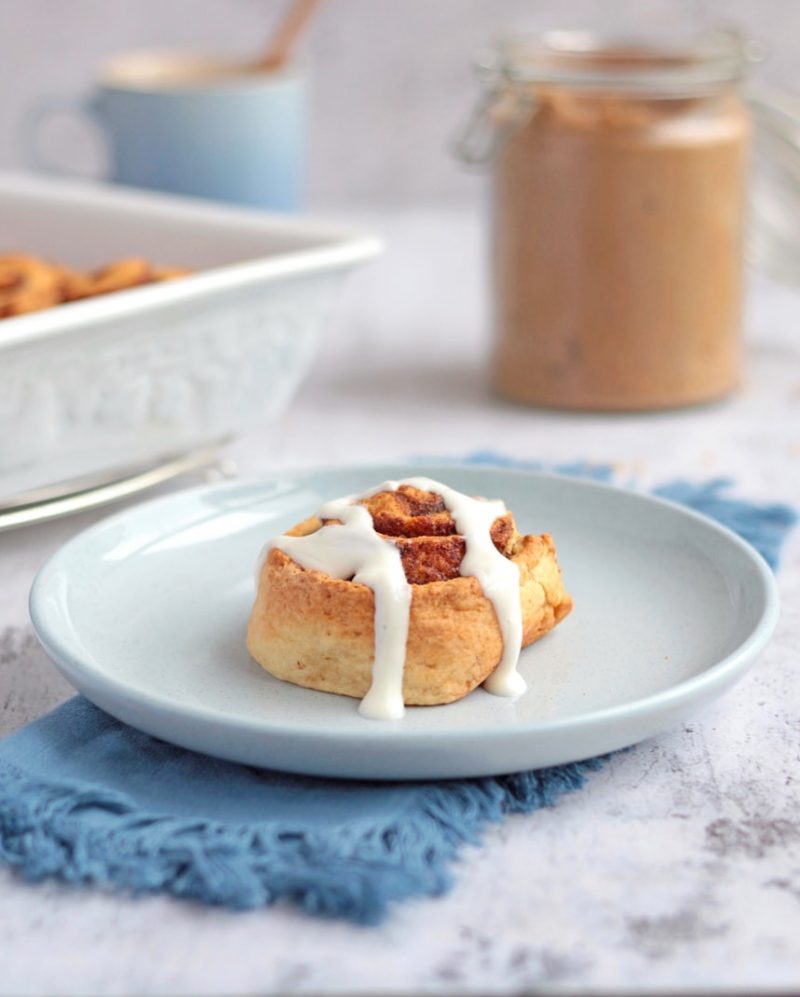 Recipe FAQs
How to keep these Rolls
The most important thing to keep these No-Yeast Cinnamon Rolls fresh for days is to NOT add the Greek Yogurt Icing over them until ready to be eaten.

You can keep these rolls at room temperature, in an air-tight container for 2 days. Alternatively, you can also keep them in the fridge for up to 4 days.

I recommend putting them in the microwave for 30 seconds before eating them to warm them up slightly. This will also make them softer and more moist!
Can I freeze them?
Absolutely! The cinnamon rolls themselves can easily be frozen - without any icing on them. You can even freeze them in two different ways:

- Before baking: make the yeast-free rolls as indicated. Place them on a baking tray lined with baking paper and freeze them. When fully frozen, wrap them individually in cling wrap/aluminium foil and/or in an air-tight container.

- After baking: leave them to cool down completely before wrapping them individually and freezing them.

To thaw, directly baked the frozen non-baked rolls in the oven at the indicated temperature, adding 5 more minutes to the baking time.

For the pre-baked ones, leave to thaw in the fridge overnight, thaw in the microwave or place back in the oven for 5 minutes.
Made this recipe?
Let us know if you liked it by leaving a comment below, and tag us on Instagram @a.baking.journey with a photo of your creation!
Recipe
Quick No Yeast Cinnamon Rolls
These quick homemade Cinnamon Rolls without Yeast or milk are not only super easy to make, they will also be ready in less than an hour! This no-yeast cinnamon rolls recipe is perfect for a delicious breakfast, lunchbox treat or sweet treat.
Print
Pin
Rate
Ingredients
Cinnamon Roll Dough
2

cups (300gr)

Plain Flour

1/4

cup (45gr)

Brown Sugar

1 1/2

teasp.

Baking Powder

1/2

teasp.

Baking Soda

1

pinch

Salt

1

cup (250gr)

Natural Greek Yogurt (*)

1/3

cup (90ml)

Melted Butter
Cinnamon Rolls Filling
1/4

cup (60gr)

Soft Butter

1/4

cup (45gr)

Brown Sugar

1 1/2

teasp.

Ground Cinnamon
Greek Yogurt Icing
1/2

cup (125gr)

Natural Greek Yogurt

1/4

cup (25gr)

Icing Sugar
Disclaimer
I highly recommend using the measurements in grams & ml (instead of cups & spoons) for more accuracy and better results.
Instructions
Preheat your oven on 180'C/350'F and grease a square Baking Pan.
Cinnamon Roll Filling
Before making the cinnamon roll pastry, prepare your filling. Cut the Butter in small cubes and place it in the microwave for 30 seconds, stopping every 10 seconds to stir. This should get you a very soft butter that has not melted yet (see note 1). Set aside.

In a small bowl, mix the Brown Sugar and Cinnamon Powder. Set aside.
Cinnamon Roll Dough
Melt the butter in the microwave and set aside to cool.

Place all the dry ingredients in a large bowl: Plain Flour, Brown Sugar, Baking Powder, Baking Soda and Salt. Stir to mix.

Add the Greek Yogurt and Melted Butter. Using a stiff Spatula, mix all the ingredients until the dough starts to come together.

Transfer onto a lightly floured surface and knead for a few seconds to make sure all the ingredients are well mixed (see note 2)

Roll the pastry in a large rectangle, but try not to roll it too thin or it will start cracking (see note 3). Small cracks can easily be patched up with your fingers.
Making the Rolls
Spread the soft butter over the pastry, then sprinkle the Brown Sugar and Cinnamon all over the dough. Roll the dough on its longest side, then gently cut in 9 large pieces (or 12 small ones) with a bread knife.

Place the Cinnamon Rolls in the greased square baking pan (I used a ceramic one), leaving space between them to rise.

Bake for 20 to 25 minutes. Leave to cool down completely before adding the Yogurt Icing.
Greek Yogurt Icing
In a small bowl, mix the Greek Yogurt and Icing Sugar. Pour over the Cinnamon Rolls when ready to eat.
Tried this recipe? Make sure to leave a comment and star rating below!
Notes
If some pieces of butter have melted, stir well with the soft pieces then place in the fridge for a couple of minutes. If the butter is not soft yet after 30 seconds, keep going in 10 seconds increments until soft.
Alternatively, simply get your butter out of your fridge a couple of hours before making this recipe so that it is very soft by the time you need to use it.
Try not to overwork the pastry or it will activate the gluten in the flour and the pastry will be hard to roll, as it will keep pulling back when you roll it. If this happen, place the pastry in the fridge for 30 minutes or so to relax the gluten.
The pastry will not be as elastic as if you were using yeast and might start to crack - but it is normal.
(*) Depending on your flour, the dough might be a little bit dry and/or crumbly. If this is the case for you, you can add a little bit more Greek Yogurt to the dough. I recommend to start with 1 tablespoon only.
Nutrition
Calories:
287
kcal
|
Carbohydrates:
38
g
|
Protein:
6
g
|
Fat:
12
g
|
Saturated Fat:
8
g
|
Cholesterol:
33
mg
|
Sodium:
277
mg
|
Potassium:
93
mg
|
Fiber:
1
g
|
Sugar:
16
g
|
Vitamin A:
368
IU
|
Calcium:
104
mg
|
Iron:
1
mg
Tried this Recipe?
Leave a comment + star rating below and tag us @a.baking.journey on Instagram with a photo of your creation!