The deliciously caramelised Apples, the moist butter cake, the spices, the smell… This Spiced Upside Down Apple Cake has it all – and makes the ultimate Fall and Winter dessert!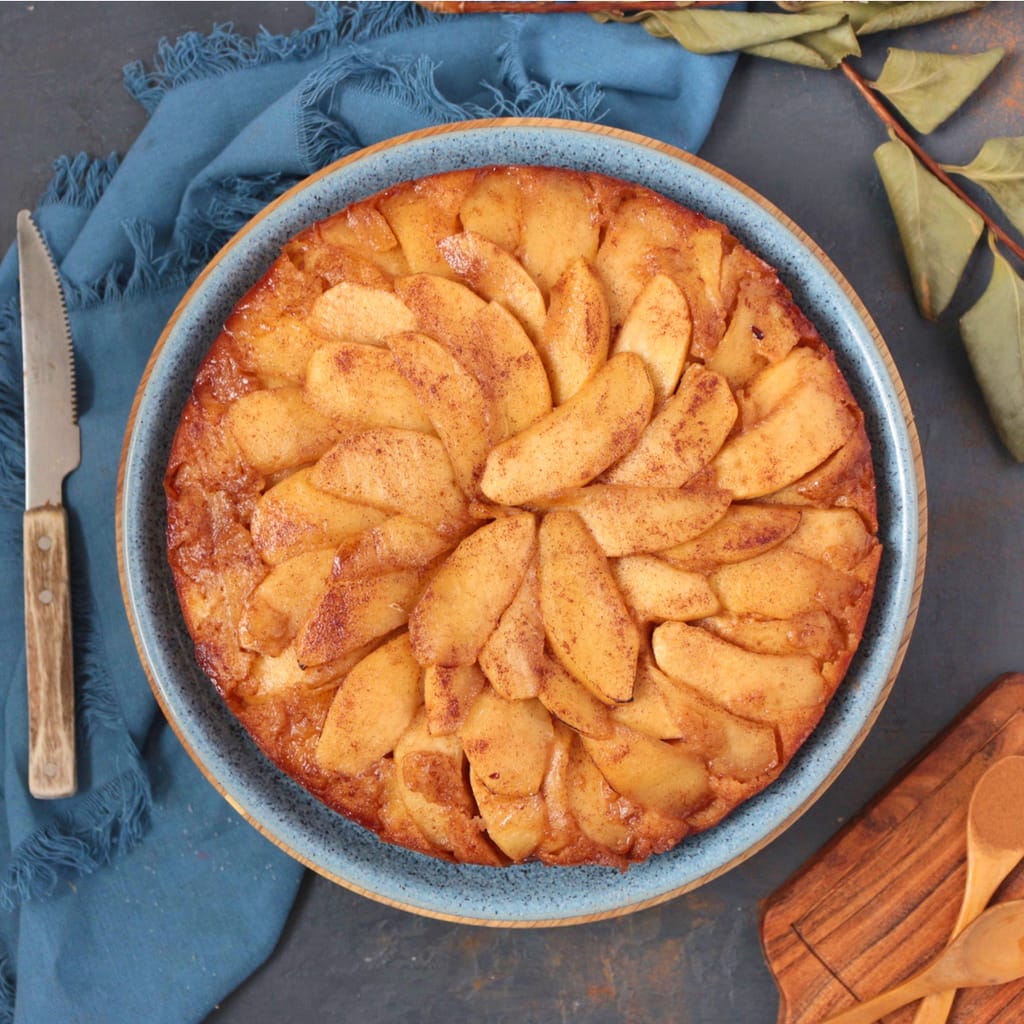 This post may contain affiliate links to products. We may receive a commission - at not cost to you - for purchases made through these links.
---
Do you prefer your apples baked in your cake, on your cake or under your cake? For me, it just depends on my current craving!
Sometimes, I want a super moist cake baked with apples inside the batter like my French Apple Cake. Other times, like today, I want the taste and texture of delicious caramelised apples to shine.
And I don't know any better way to make apples shine than with this easy upside-down Apple Caramel Cake!
Caramelised Apple Cake Ingredients
There are two parts in making this cake. First, pre-cook the apples in a delicious spiced caramel. Then cover it with a super simple butter cake batter to finish the baking.
For the Caramelised Apples:
Apples
Unsalted Butter
Brown Sugar
Cinnamon Powder (you can use any spices that you like)
Lemon Juice
The Brown Sugar and Butter will create a deliciously rich tasty caramel that will be enhanced with the sprinkle of lemon juice.
And what would be baked apples without some cinnamon powder? You can also add any spices that you like with your apples, such as Ginger, Nutmeg, Star Anise, etc…
For the Butter Upside-Down Cake Batter:
Soft Unsalted Butter
Brown Sugar
Vanilla Extract or Vanilla Paste
Eggs
Plain Flour
Baking Powder
Salt
Full Cream Milk
What are the best Apples for an Upside-Down Cake?
There are many different variety of apples that you can use, whether you like something sweet, tangy or crisp.
For this recipe, it is better to use an apple that is rather firm so that they don't loose their shape when cooked. You also want an apple that has a crisp taste because the caramel will bring some sweetness.
Here are the types of apples I recommend using for this recipe:
Granny Smith
Honeycrisp
Jonagold
Pink Lady
Braeburn
You can ready more about how to choose the best apples for baking here.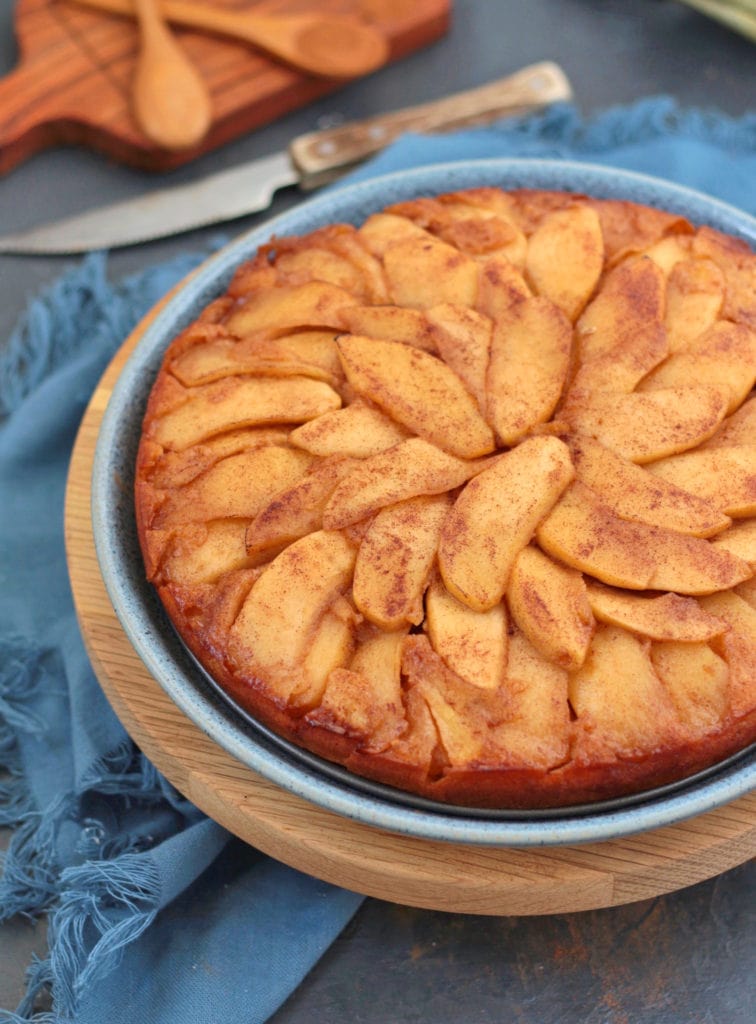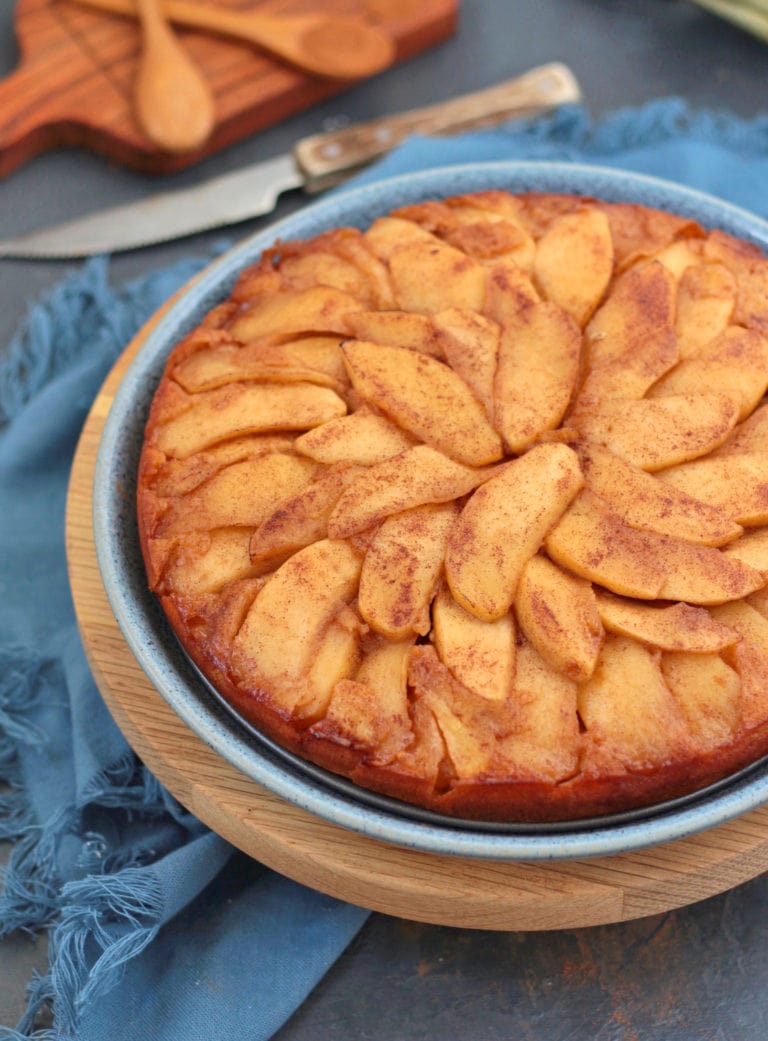 How to make this Upside-Down Cake with Apples
1. Pre-cook your apples in a spiced caramel:
Peel, core and cut your

apples

into thin strips.
Place the

Butter

, Brown

Sugar

,

Cinnamon

and

Lemon

Juice in a saucepan on a medium heat. Gently stir in the apples and leave the ingredients to melt together and caramelise for about 10 minutes.
It is up to you whether you want to caramelise your apples further or keep them rather crispy as I did.
2. Prepare your apple upside-down cake batter:
Cream the Soft

Butter

with the Brown

Sugar

. Add the

Vanilla

Paste, then the

Eggs

one at the time.
In a seperate bowl, sift your dry ingredients together: Plain

Flour

,

Baking Powder

and

Salt

.
Add the rest of the ingredient into the cake batter, alternating between the dry ingredients and the

Milk
I always recommend using a Hand Mixer when creaming the butter and sugar together. If the two ingredients are not well mixed, you will see your batter split when you add your eggs.
It is not a huge deal, but it means that the butter will not homogeneously bake across the cake and that is when you see butter oozing out of the cake in the oven.
3. Put the apple upside-down cake together:
Putting together any upside-down cake is super easy. Just like for my Blackberry Upside-Down Cake, you simply need to put the fruits at the bottom of your pan and cover it with the cake batter.
Line a 22cm / 9inch springform pan with baking paper and place the caramelised apples on the bottom of the pan. Start by making a first circle in the centre of the pan, then make your way around towards the edges of the pan. Pour any leftover juice and caramel over the fruits.
Pour the cake batter over the apples. The apples should be fully covered.
Bake for 20 to 25 minutes, then leave to cool for at least 15 minutes.
Carefully flip the cake and serve still warm.
How to store this Moist Apple Cake
This cake is better eaten straight away and still warm. If you are not going to eat it straight away, leave it to cool down completely then cover it tightly with wrap or aluminium foil.
When ready to be served, place the cake back in the oven for about 5 to 10 minutes, covered with aluminium foil to warm it up.
The cake will stay moist in a dry environment for 2 to 3 days. Note that if it is very warm in your kitchen, you may want to keep the keep in the fridge.
I would not recommend freezing this cake, as the apple will likely become soggy and start falling off the cake when thawed.
More Apple Desserts and Cakes:
Apple Upside-Down Cake from Scratch Recipe: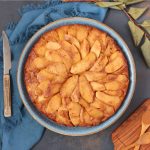 Print Recipe
Apple Upside-Down Cake
The deliciously caramelised spiced apples baked under a super moist butter cake make an incredible Winter dessert. This Apple Upside-Down Cake has it all!
Ingredients
Caramelised Apples
3

Apples

1/4

cup (60gr)

Unsalted Butter

2

tbsp (25gr)

Brown Sugar

1

teasp.

Cinnamon Powder

1/2

Lemon, Juiced
Cake Batter
1/2

cup (100gr)

Butter, soft

3

tbsp (40gr)

Brown Sugar

1/2

teasp.

Vanilla Extract

2

Eggs

1

cup (150gr)

Plain Flour

1

teasp.

Baking Powder

1

pinch

Salt

1/2

cup (120ml)

Full Cream Milk
Instructions
Caramelised Apples
Peel, core and cut the apples in thin slices.

Place the Butter, Brown Sugar and Cinnamon Powder in a large pan and dissolved on low heat. Stir in the Lemon Juice, the add the Apple Slices.

Mix well to evenly cover the apples with the caramel and leave to caramelise for 5 to 10 minutes, occasionally stiring. The apples should be soft but still hold their shape. Turn off the heat and leave to cool down for a few minutes.

Line a round 25cm/10 inch Springform Pan with baking paper, and place your caramelised apples on the bottom of the pan (see note 1). Pour any of the leftover caramel over your apples, then set aside.
Cake Batter
Preheat your oven on 180'C/350'F. Line a 22cm / 9'' Springform Pan with Baking Paper and set aside.

With a hand mixer, cream the Soft Butter with the Brown Sugar to get a homogenuous thick paste. Add the Vanilla Extract then the Eggs one at the time, whisking well between each egg.

In a seperate bowl, sift the dry Ingredients together: Plain Flour, Baking Powder and Salt. Add the dry ingredients and Milk to the first batter in a few times, alternating between the dry ingredients and the milk.

Pour the cake batter over the caramelised apples and bake for 20 to 25 minutes or until the tip of a knife comes out clean.

Leave to cool down for at least 15 minutes before carefully flipping the cake over. Serve warm or lukewarm on its own or with a scoop of Vanilla Ice Cream, Whipped Cream or Homemade Applesauce.