This easy French Apple Tart with shortcrust pastry is a delicious treat to enjoy for the Holidays, afternoon tea or dessert. It combines with a homemade sweet shortcrust pastry, a simple applesauce filling and thinly sliced fresh apples.
Jump to:
Why we love this recipe
If you are looking for a recipe for an easy apple tart, you will not find an easier one than this one! Perfect to serve at a dinner party, bring to friends or for the Holiday season, this French Apple Tart is best served warm with a scoop of Ice Cream.
This tart is basically like a pastry version of my easy French Apple Cake. Both use applesauce and fresh apples to create a delicious fall and winter dessert.
It is made with a Sweet Shortcrust Pastry crust, a simple Applesauce Filling (just like for my Puff Pastry Apple Tart and Mini Apple Tarts) and some thinly sliced apples. Easy peasy!
Tart Pastry
The main work of this recipe will be on the Pastry. Although this tart would work great with any type of pastry, especially Puff Pastry, I decided to go for a flakey and buttery Sweet Shortcrust Pastry with Almond Meal, known as Pâte Sucrée in French.
This Classic French Pastry works great with fruit tarts and has the perfect texture to bring some crunch to the dessert!
This tart crust recipe is one of the 3 classic French Pastry: Pâte Sucrée (like here), Pâte Sablée and Pâte Feuilletée (Puff Pastry). The first two are quite similar, and hard to translate in English as there is no real translation to differentiate the two. The last one is the well know Puff Pastry that can be hard to reproduce at home.
All three Pastries will work fine for this recipe so it is really up to you to choose the one you prefer. And if you do not want to make your own pastry, you can obviously buy it.
Ingredients
The most ingredients you will need are for the sweet pastry crust. Once that pastry is made, you will only need 3 ingredients to fill the tart!
To make the sweet almond pastry, you will need:
Butter at room temperature
Plain Flour
Powdered Sugar (or icing sugar)
Almond Meal
Salt
Egg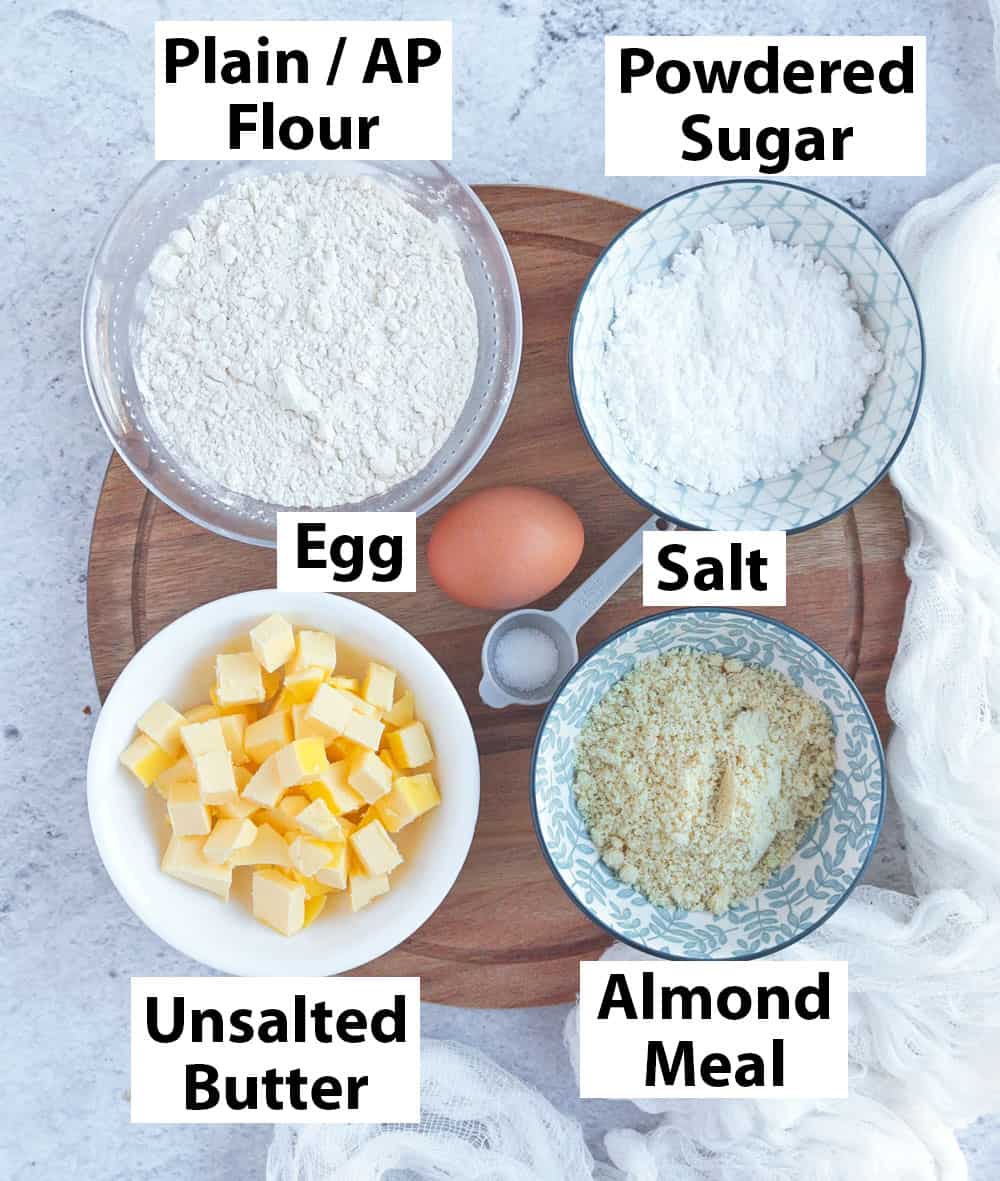 For the apple tart filling, you will need:
Applesauce
fresh Apples
a little bit of Lemon Juice
For the Apples, I used Pink Lady Apples - the perfect mix of sweet and tart. The kind of apple you use will really change the taste of the dessert so it is up to you to pick the one you prefer!
Something like a Granny Smith will give a strong, acid taste to the dessert while a Crispin or Golden Delicious will add a lot of sweetness.
Make sure you read my "Best Apple for Baking Guide" to pick the right apple for you and your dessert!
How to make an Apple Tart with Applesauce Filling
As you can tell, there are 3 elements that make this dessert:
the

pastry

the

filling

the

fruits
The pastry part is probably the trickiest, especially if you are not used to make your own. The other two are extremely easy - anyone can do it! Let's look into the 3 steps in more details.
Sweet Shortcrust Pastry
There are two ways of making a pastry: by sablage (rubbing dry ingredients with butter then adding a liquid) or by cremage (creaming the butter and sugar then adding the rest of the ingredients).
This recipe was made with the sablage technique in the mixer:
Mix all the dry ingredients in the bowl of your mixer: Flour, Powdered Sugar, Almond Meal and Salt. Add the Butter cut in small cubes, at room temperature.
Mix with the flat beater attachment until you get really small crumbs of dough and the butter looks evenly distributed in the flour.
Add the beaten Egg and quickly mix until combined, then transfer between two sheets of baking paper. Roll the the required dimensions and place in the fridge to rest for at least 30 minutes
You can read more about this Pastry here, including lots of tips and tricks to get the perfect crust every time!
Note that you can also make it by hands, using your fingers or a Pastry Blender to cut the butter into the dry ingredients. Or even use your food processor!
Tart Filling
This tart filling is probably the easiest you will ever find - especially if you buy a pre-made applesauce. Yes, it is a one-ingredient only tart filling!
I usually make my own applesauce so I can control the spices and amount of sugar that goes in, but you can absolutely buy a jar of applesauce if you do not have time to make it.
If you use a store-bought applesauce, I recommend tasting it first and adjusting the flavours to your taste if needed: more or different spices, level of sweetness, a little bit more acidity with lemon juice etc,...
Fruit Topping
To finish the tart, I very thinly sliced some apples and placed them in 3 circles on the applesauce filling. To get a super thin slice of apple (or any fruit/veg), I highly recommend using a Mandoline Slicer to get evenly sliced apples.
While you slice the apples, place them in a tray or bowl with a little bit of lemon juice. This is to make sure they do not start oxidising and turn brown before baking. At this point, you could also add some spices or sugar to the apples if you want.
Recipe FAQs
How to store the French Apple Pie
This tart is better eaten straight away, or within 24 hours. The Applesauce filling is rather liquid/wet and will start soaking the pastry straight away; which is not especially a problem for taste, but will change the texture of the pastry overtime.

If not eaten straight away, I recommend keeping this apple tart in the fridge for 24 hours (for an optimal texture) or up to 48 hours. Re-heat it a little bit in the oven at low temperature before serving it.
Can the Tart be frozen?
Although technically, you could basically freeze anything, I do not recommend freezing this one.

With the applesauce filling and the thinly sliced apples, it is a rather delicate dessert that would not do well in the freezer. What can easily be done though, if you want to start making this tart early, is to prepare the Sweet Pastry, chill it, fill the tart pan THEN freeze it unbaked.

Unbaked pastries actually do great in the freezer! That way, the hardest part can be done early and you will just have to fill the pastry and bake it with the fillings on the day. Simply add 5 minutes to the blind-baking time to thaw the pastry in the oven.
Can you make this tart in advance
Like I mentioned above, this tart is better eaten straight away or within 24 hours, before the applesauce starts to soak the pastry. If you would like to make this tart in advance, there are two options:

- make the pastry and freeze it before baking it (see above), then bake it with the apples and filling on the day

- make the pastry and blind bake it the day before, wrap it well and keep it at room temperature for 24 hours then finish the baking with the apples and filling just before serving it.


What to serve with this dessert
The first thing that comes to mind when I think of serving this tart is Vanilla Ice Cream. It's a classic combo between the vanilla and the apples, the hot and cold,... just an all around winner!
But if you want something a bit more original, here are a few other ideas:
Made this recipe?
Let us know if you liked it by leaving a comment below, and tag us on Instagram @a.baking.journey with a photo of your creation!
Recipe
Easy French Apple Tart
From the flakiness of the pastry to the sweet applesauce and the crunchy apples, this classic and Easy French Apple Tart is sure to make everyone happy!
Print
Rate
Ingredients
Shortcrust Pastry (Pâte Sablée)
250

gr

Plain / All-purpose Flour

50

gr

Icing Sugar

1

pinch

Fine Table Salt

120

gr

Unsalted Butter

-

very cold, cubed

1

Egg
Apple Tart Filling
3

small

Apples

1

teaspoon

Lemon Juice

350

gr

Applesauce

- preferably homemade

20

gr

unsalted butter, melted
Glaze (optional)
1

tablespoon

apricot jam

1/2

tablespoon

water
Disclaimer
I highly recommend using the measurements in grams & ml (instead of cups & spoons) for more accuracy and better results.
Instructions
Shortcrust Pastry
Mix the Flour, Icing Sugar and Salt in the bowl of your Food Processor. Add the cold Butter cut into small cubes, then pulse to blend until you get very thin crumbs. You shouldn't see any large lumps of butter anymore.

Add the Egg, preferably pre-whisked, and slowly blend until the dough starts to form (see note 1). Remove from the food processor and bring the dough together into a ball.

Assemble the dough into a large ball and place it between two sheets of baking paper. Roll into a large circle that is 4mm thick (1/6 inch). Place the rolled pastry over a flat tray and leave in the fridge to rest and chill for at least an hour, or up to 24 hours.

Remove the two layers of baking paper and place the pastry inside a 24 cm (9,5 inch) Tart Pan. Slide the dough along the edges of the pan and try to make sure you get a sharp 90 degree angle between the bottom and the sides of the pan.

Place back in the fridge to rest and chill for at least 2 hours, preferably overnight (see note 2).

Preheat your oven on 160 degrees Celsius / 325 degrees Fahrenheit. Dock the pastry (poke the bottom with a fork), cover with baking paper and fill with baking weights or dry beans. Bake for 10 minutes, remove the weights and baking paper and bake for another 15 minutes. Set aside to cool down.
Apple Tart Filling
Peel, core and thinly slice the Apples using a Mandoline or a sharp knife. Place in a bowl with the Lemon Juice and toss to coat.

Fill the pastry crust with the Applesauce and spread it evenly using a spatula or the back of a spoon.

Place the sliced apples in circles over the applesauce, starting from the edges of the tart and going towards the centre. Slightly overlap each circle. Once you get to the centre of the tart, roll a few slices around each other to create a rose pattern and place it in the middle.

Brush the apple slices with the melted butter.

Bake at 160 degrees Celsius / 325 degrees Fahrenheit for 35 to 40 minutes, or until the apples are soft.
Glaze (optional)
Mix the apricot jam and water in a small bowl. Using a pastry brush, gently brush it over the slices of apples.
Tried this recipe? Make sure to leave a comment and star rating below!
Notes
At this point, you should see large lumps and crumbs of dough. If you press the lumps in your hands, they should stick together. Try not to over-mix the pastry at this point.

You will get the best results by chilling the pastry overnight; it can be kept in the fridge for up to 24 hours before baking as well.
Nutrition
Calories:
198
kcal
|
Carbohydrates:
24
g
|
Protein:
3
g
|
Fat:
10
g
|
Saturated Fat:
5
g
|
Cholesterol:
35
mg
|
Sodium:
81
mg
|
Potassium:
93
mg
|
Fiber:
2
g
|
Sugar:
9
g
|
Vitamin A:
303
IU
|
Vitamin C:
3
mg
|
Calcium:
18
mg
|
Iron:
1
mg
Tried this Recipe?
Leave a comment + star rating below and tag us @a.baking.journey on Instagram with a photo of your creation!