There is nothing more classic than a simple Tart with Vanilla Custard and Fresh Fruits. This recipe for a Vanilla Custard Plum Tart uses Traditional French Baking elements to create a simple yet deliciously fresh and sweet dessert. 
This post may contain affiliate links to products. We may receive a commission - at not cost to you - for purchases made through these links.
You gotta love a tart with fresh fruits. It is so simple yet always so delicious. I just love making tart because it offers so many options: the choice of pastry, filling and topping.
This recipe is nothing fancy; just a very classic french style Shortcrust Pastry (Pate Brisee) tart filled with Vanilla Custard (Creme Patissiere) and topped with Fresh Plums.
This recipe can be also made using fresh Berries like I did for my Strawberry Custard Tartlets. Both delicious summer tart ideas!
Although I love to make complex, crazy desserts, I also like to sometimes follow a simple, traditional french baking recipe.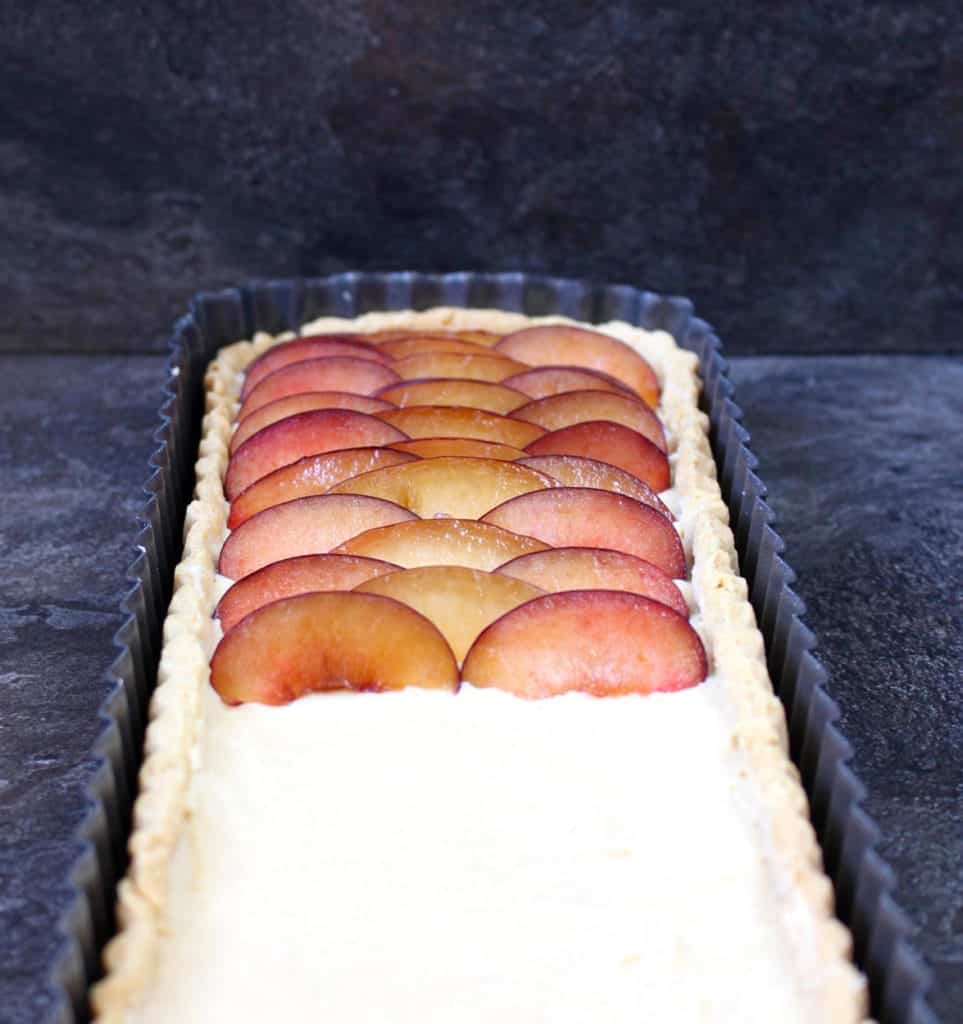 Shortcrust Pastry or Pate Brisée
The first element of this Plum Vanilla Custard Tart is a Shortcrust Pastry, or "Pate Brisee". This pastry is one of the basic french dough and is generally used for sweet or savoury tarts.
I had already used it in its sweet form for my Grapefruit Tart and as a savoury one for my Onion, Fig and Feta Tart. This dough is a rather simple one to make. Its flaky texture bring a really nice crunch to the recipe. 
This Shortcrust Pastry is easier to handle than the one I use for my Strawberry Cinnamon Galette recipe. If your incorporate the butter and flour well, it shouldn't break when you roll it.
Vanilla Custard or Crème Pâtissière
There is nothing more "french" than a Vanilla Custard, or Crème Pâtissière, which translates literally as Pastry Cream. This custard is made out of simple ingredients: Eggs, Milk, Sugar, Cornstarch and Vanilla Beans. I know that fresh Vanilla Beans can be hard to find and quite expensive.
If you cannot/do not want to use fresh Vanilla Beans, I recommend using Vanilla Bean Paste instead. This paste is different than Vanilla Extract as it contains actually vanilla seeds rather than just flavour extract.
I usually use Vanilla Extract to slightly flavour cake batters. But I find that for creams and custard, Vanilla Paste does bring a much stronger, more authentic vanilla favour.
Plum Tart with Custard Filling
Plums are in season in Australia at the moment and I couldn't help but buy both Red and Black ones. I knew that using two different types of Plums would make the tart even prettier! As always, you can also only use one type of plums instead.
Plums tend to be a somehow underrated fruit when it comes to desserts. That is a shame because they are absolutely great to bake with! Use them unripe for a strong, tangy flavour or ripe for something a little bit sweeter. They are so fresh and full of flavours!
To make this Plum Vanilla Custard Tart even better, you can sprinkle some chopped Mint Leaves on it. Not only will it bring a nice pop of colour, it will also add a nice fresh flavour contrast to the creamy and sweet custard.
To make this Tart, I used a really cool rectangular Tart Tin that has a removable bottom plate. Not only it makes tarts and quiche look even more special, the removable bottom means that it is so easy to remove from the tin and serve!
It is a great tart pan that is awesome to use for either sweet tarts like this Cherry Chocolate Tart, or savoury ones like a Onion Fig and Feta Tart and my Leek Tart
Vanilla Custard Tart with Plums
Print Recipe
Plum Vanilla Custard Tart
This Plum Vanilla Custard Tart takes on some Classic French Baking elements: a flaky Shortcrust Pastry, a light Vanilla Custard and delicious Fresh Plums.
Ingredients
Shortcrust Pastry
250

gr

Plain Flour

125

gr

Unsalted Butter

,

at room temperature

1

Egg Yolk

1

tbsp

Cornstarch

1

tbsp

Brown Sugar

1/4

cup

Water (if needed)
Vanilla Custard (Crème Pâtissière)
500

ml

Full Fat Milk

50

gr

Brown Sugar

5

Egg Yolks

50

gr

Cornstarch

1

Vanilla Bean (or 1/2 teasp. Vanilla Paste)
Toppings
2

Red Plums

2

Black Plums

1

Dozen

Mint Leaves

,

Optional
Instructions
Shortcrust Pastry
Put the Flour, Cornstarch and Brown Sugar in a large bowl.Cut the Butter in small cubes. When at room temperature, add it to the Flour. The butter should be soft enough to mix with the flour but not melted.Rub the butter and Flour between your palms and fingers until small crumbs form. All the flour and butter should be incorporated.

Create a well in the middle of the crumbs and pour the Egg Yolk. Slowly incorporate it with the rest of the dough.Quickly knead the dough into a large ball. If the dough is too dry and doesn't stick together, add a little bit of Water, one spoon at the time.

Put the dough to rest in the fridge for at least 30 minutes.

Preheat your oven on 180'C (350'F).

When rested, spread the dough with a rolling pin. Try to roll the dough as thinly as possible without breaking it.

Transfer it into a tart tin, and stick a fork all over the dough.

Cover with baking paper and baking beads or dry beans / chickpeas.

Blind bake the Shortcrust Pastry for about 20 minutes or until fully cooked and golden.
Vanilla Custard (Crème Pâtissière)
In a small pot, heat the Milk and Vanilla Bean and let it infuse for 5 minutes.

Remove from the heat, split the Vanilla Bean in half, scrape all the vanilla seeds and add them to the Milk.

Alternatively, you can use Vanilla Paste. Simply let it infuse in the pot with the warm Milk for 5 minutes.

In the meantime, mix the Egg Yolks and Sugar in a separate bowl until creamy. Slowly add the Cornstarch while beating. It is important to add the cornstarch very slowly while beating to having lumps.

Pour half of the Warm Milk in the bowl with the Egg mixture, stir quickly, then transfer the whole batter back into the pot with the rest of the Milk.Turn the heat back (low heat) on and whisk continuously until the custard start thickening.

Transfer the Custard into a bowl and let it rest in the fridge until cold.
To Assemble the Plum Vanilla Custard Tart
Once the pre-baked Shortcrust Pastry has cooled down, pour in the Vanilla Custard.Thinly slice the Red and Black Plums and place them over the Vanilla Custard.Optional: Chop the Mint Leaves and sprinkle them over the tart.