I found some figs at the supermarket yesterday and couldn't resist.
Rather than eating them raw, straight away, I thought I would make a Feta Fig Onion Tart with them.
I absolutely love making tarts, but they are usually sweet. Tarts are some of the most versatile dishes you can make. Not only you can easily switch from sweet to savory, you can pretty much ANY ingredients to make a tart. The possibilities are really infinite and combination limited only by your imagination!
When making a savory tart, I usually go with a simply "throw anything in your fridge" Quiche. But my mum makes a delicious Caramelised Onion tart on a cumin shortcrust pastry and it inspired me to put my twist on it! added Figs for the colour and freshness and Feta cheese for a salty & sour pop. Adding Rocket (Arugula) as a garnish is a great way of bringing a peppery contrast to a sweet and sour tart.
I cooked the onions two ways: as a jam with balsamic vinegar for the bottom of the tart and caramelised as a filling.
The crust is a simple shortcrust pastry (Pate Brisée) in which I added cumin seeds.
If you do not want to make the crust, simply buy one in the supermarket and line the bottom of it with the cumin seeds before baking it.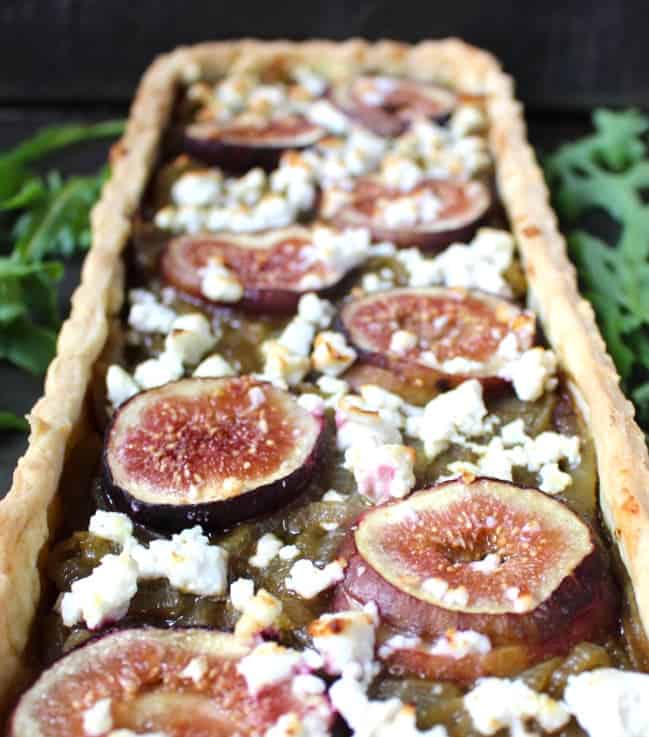 Onion, Fig and Feta Savoury Tart - Shortcrust Pastry (Pate Brisée)
Shortcrust Pastry or "Pate Brisee" for the Savory Tart Crust
Print
Pin
Rate
Ingredients
300

gr

Plain Flour

1

pinch

Salt

125

gr

Butter at room temperature

1/2

cups 

Water

2

tbsp.

Cumin Seeds
Disclaimer
I highly recommend using the measurements in grams & ml (instead of cups & spoons) for more accuracy and better results.
Instructions
Preheat the oven on 180°.

Take the butter out of the fridge at least 30min prior to making the pastry.

needs to be at room temperature and malleable but not melted when you start making the dough.

If you forget that step (like me), cut the butter in small cubes and put in the microwave for 15-30 seconds.


Place the Flour and the Salt in a large bowl.

Cut the Butter in small cubes and add to the flour. I find it easier to integrate the butter into the flour when it's already cut in small cubes, but that's a personal preference.Start working with your fingers to integrate it to the flour.
You know it is right when it starts looking like small crumbs.


Start pouring some cold Water, little by little, and work the dough until it forms a compact ball.I used just under 1/2 cup of water, but the quantity required can really vary; add it slowly (1/4 cup to start) and only add more if the dough is not compact yet.


Roll the pastry as thin as possible and place in a tart tin.

Sprinkle the Cumin Seeds all over the pastry, then cover with baking paper and dried beans (or chickpeas like me, because I couldn't open the jar of beans...) and pre-bake for 10 minutes then set aside to cool down.
Nutrition
Calories:
2099
kcal
|
Carbohydrates:
242
g
|
Protein:
37
g
|
Fat:
111
g
|
Saturated Fat:
65
g
|
Polyunsaturated Fat:
6
g
|
Monounsaturated Fat:
31
g
|
Trans Fat:
4
g
|
Cholesterol:
269
mg
|
Sodium:
904
mg
|
Potassium:
880
mg
|
Fiber:
11
g
|
Sugar:
2
g
|
Vitamin A:
3499
IU
|
Vitamin C:
2
mg
|
Calcium:
354
mg
|
Iron:
34
mg
Onion, Fig and Feta Tart
Sweet and Savory Caramelised Onion, Onion Jam, Fig and Feta Savoury Tart

Print
Pin
Rate
Ingredients
Onion & Balsamic Jam:
1 

Brown Onion

1/4

cup 

Balsamic Vinegar

1

cup 

Water

1

tbsp. 

Stock Powder

1

teasp. each

Salt, Pepper, Cumin Powder
Caramelised Onions:
2

Brown Onions

2

tbsp.

Olive Oil

1

cup 

Water

1

tbsp. 

Stock Powder

1

tbsp.

Minced Garlic

1

teasp. each

Salt, Pepper and Cumin Powder
Other:
2

Fresh Figs

Feta Crumbs - to taste

Fresh Rocket Leaves - to taste
Disclaimer
I highly recommend using the measurements in grams & ml (instead of cups & spoons) for more accuracy and better results.
Instructions
Onion & Balsamic Jam:
Chop the Brown Onion as finely as possible.

Place it in a small pot on medium heat and cover with the Balsamic Vinegar, Water, Stock Powder and Spices.


Let it reduce slowly until half of the liquid has evaporated.

Transfer the mixture into a blender for a few seconds, then pour back into the pot and let it reduce completely. Remove from the stove when all the liquid is gone (be careful not to burn your pot...).




Alternatively, you can let it reduce completely at once on the stove (skip the blender step), but I was not patient enough for it...
Caramelised Onions:
Cut the Onion in thin, long strips.

In a large pan on medium heat, pour the Olive Oil, Stock Powder and Minced Garlic. Let it cook for 1 minute then add the Onion Strips. Stir well.

Cover the Onions with the Water and bring to a boil. Add the Salt and Cumin Powder.

Let it reduce completely (at least 15 to 20min). The Onions should have turned light-brown and soft. If they do not look cooked enough, add more water and let it reduce again.

Add the Pepper, mix then remove from the heat.
To assemble the Tart:
Place the Onion & Balsamic Jam on the bottom of the shortcrust pastry.Cover with the Caramelised Onion.


Slice thinly 2 Figs and place over the Onions

Sprinkle generously some Feta Crumbs all over the tart.

Cook in the oven for 20min, until the crust is cooked and the top of the feta crumbs start turning gold.




Remove from the oven and let it rest for 10 minutes.

Add some fresh Rocket over the tart and serve.
Nutrition
Calories:
101
kcal
|
Carbohydrates:
12
g
|
Protein:
2
g
|
Fat:
5
g
|
Saturated Fat:
1
g
|
Polyunsaturated Fat:
1
g
|
Monounsaturated Fat:
4
g
|
Cholesterol:
0.5
mg
|
Sodium:
1419
mg
|
Potassium:
162
mg
|
Fiber:
1
g
|
Sugar:
7
g
|
Vitamin A:
25
IU
|
Vitamin C:
5
mg
|
Calcium:
31
mg
|
Iron:
0.4
mg