This Chocolate Cherry Tart makes the most delicious tart ever! With a homemade Chocolate Pastry crust, a Cherry Curd Filling and a Chocolate Cherry Drizzle, it is like your favourite Black Forest Cake turned into a tart!
Jump to:
Why we love this recipe
I know that combining Chocolate and Cherry is not that original, but I'd personally never baked anything mixing the two. Actually, I don't often bake with cherries unless it's a Cherry Clafoutis. But like often, I get inspired walking down the aisles of my supermarket and this time, it's these frozen Cherries that caught my eyes.
I love making tarts with fresh fruits like for my Strawberry Custard Tartlets, French Orange Tart or my Rhubarb Tart, but being able to use frozen fruits is just so convenient too. Frozen fruits are great for baking, especially when you try not to buy off-season fresh fruits.
And can we talk about adding chocolate to your tarts!? Best combo ever! For this recipe, the chocolate is more subtle than my Triple Baked Chocolate Tart (obviously) or Chocolate Ganache Tart and is mainly used in the Chocolate Tart Crust. It works perfectly to compliment the cherry flavours!
Chocolate Pie Crust
Ok, I call it a Chocolate Tart Crust even though I used Cacao Powder. Is it misleading? I hope not! Let's just say that it is way easier to use Unsweetened Cacao Powder to make a Tart Crust than using real chocolate.
Plus, once it is all mixed together, it tastes just like chocolate. I recommend using a good quality Unsweetened Cacao Powder to really get a nice chocolate flavour. The quality of the Cacao will really make all the difference in the crust.
For the Tart Crust itself, I use the same base recipe I almost always use to make tart, especially for savoury tart crust. It uses the simple ratio of 1 butter for 2 flour. You can than customise your tart crust with any flavour you want!
Here, I added Cacao Powder and a little bit of sugar. I don't always use sugar in my tart crust but it is rather important here to balance the bitter taste of the Cacao Powder. I also slightly increased the butter ratio because of the addition of the cacao powder.
I used my food processor to make the tart crust because it is way less messy, but you can obviously make it by hands! Use a Pastry Cutter to cut the butter in the dry ingredients or simply your fingers.
Alternatively, you could also use my basic Sweet Shortcrust Pastry recipe if you don't want to flavour the crust with Cacao.
To make this tart, I used a fun rectangular tart pan that made this tart look quite dramatic!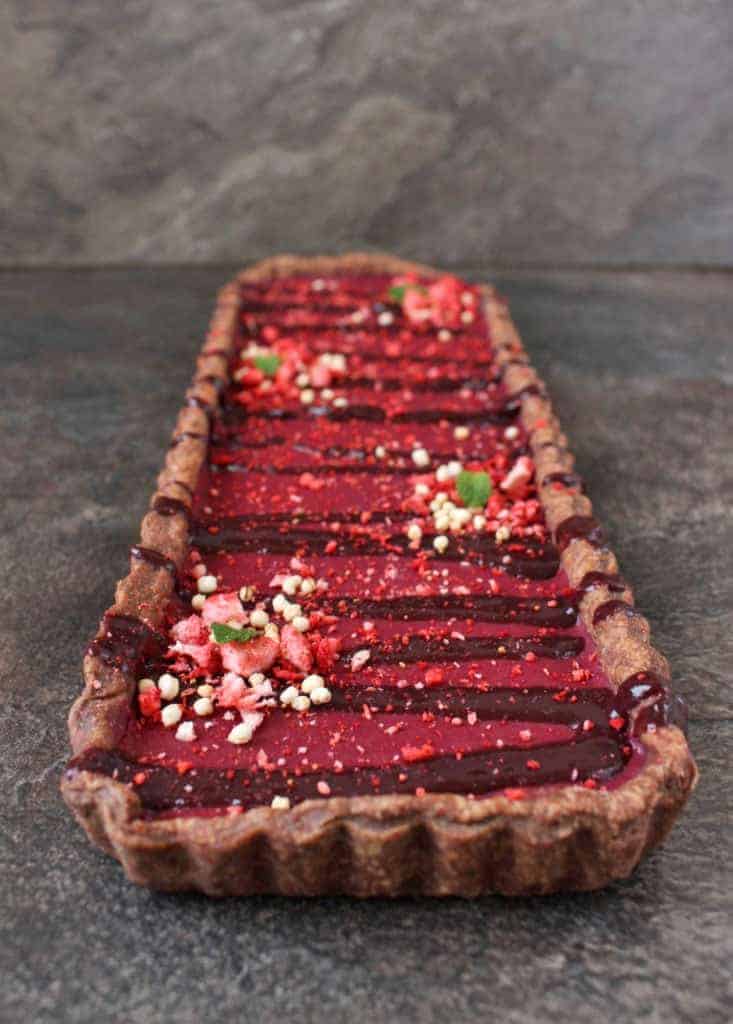 Cherry Curd Filling
Once your Chocolate Tart Crust is baked and ready, let's focus on the star of this recipe: the Cherry Curd Filling. Like mentioned above, I used frozen Pitted Cherries but you can obviously use fresh ones too.
This filling is great for tarts and can be used with any other fruit too. Just substitute the cherries with the fruit of your choosing and follow the exact same steps. It is such a versatile recipe!
The process of making the cherry curd filling is rather simple. First, blend together the cherries, sugar, cinnamon powder and lemon juice. If you want to make the Cacao Cherry Drizzle like me, put a little bit of this puree aside.
Then add milk and cornstarch. Once all blended together, transfer the filling into a pot and heat up until it starts thickening. Bring to a boil, add the Agar Agar Powder and whisk for a couple of minutes. Done!
Like for all my recipe requiring a gelling agent, I use Agar Agar Powder rather than Gelatine. I prefer to use a plant-based gelling agent than Gelatine - but that is a personal choice.
You could use Gelatine instead, but I find Agar to work way better anyway. It has a stronger gelling effect, works really fast and can also be reversed. Yup, if you re-heat up a batter that has Agar in it, it will turn back into a liquid!
Cacao Cherry Drizzle
The last step of this Chocolate Cherry Tart recipe is the Cacao Cherry Drizzle. This part is completely optional, and your tart will taste delicious with our without it. I like the drizzle for the 'drama' effect and to get a nice finish.
To make it, I simply kept a little bit of the Cherry Puree made for the filling, mixed it with a little bit of Cacao Powder and cooked in for a couple of minutes with Agar Powder. It will set really fast, so start drizzling fast!
I garnished my tart with some Dehydrated Strawberries (great as a snack too by the way), Puffed Quinoa and fresh Mint Leaves. There you go! A beautiful - and most importantly delicious - Chocolate Cherry Tart. Enjoy!
More Tart Recipes
Blackberry Panna Cotta Tart with Passion Fruit
Made this recipe?
Let us know if you liked it by leaving a comment below, and tag us on Instagram @a.baking.journey with a photo of your creation!
Recipe
Chocolate Cherry Tart
This delicious Chocolate Cherry Tart is made with a homemade chocolate tart crust, a cherry curd filling and topped with a dramatic cacao cherry drizzle.
Print
Pin
Rate
Ingredients
Chocolate Tart Crust
110

gr (1/2 cup)

Butter

200

gr (3/4 cup)

Flour

1

tbsp.

Unsweetened Cacao Powder

2

tbsp

Sugar

1

pinch

Salt

60

ml (1/4 cup)

Cold Water
Cherry Curd Filling
350

gr (3 cups)

Pitted cherries (frozen or fresh)

1

tbsp

Sugar

1/4

teasp

Cinnamon

1/2

Lemon Juice

120

ml (1/2 cup)

Full Fat Milk

1/2

tbsp

Agar Agar Powder

1 1/2

tbsp

Cornstarch
Cacao Cherry Drizzle
60

ml (1/4 cup)

Cherry Puree

1

teasp.

Cacao Powder

1/2

teasp.

Agar Agar Powder
Disclaimer
I highly recommend using the measurements in grams & ml (instead of cups & spoons) for more accuracy and better results.
Instructions
Chocolate Tart Crust
Place the Flour, Sugar, Cacao Powder and Salt in the bowl of a food processor. Pulse a couple of times to mix all the dry ingredients (see note 1)

Add the butter cut in small cubes to the dry ingredients. Pulse until the butter is all combined and the dough looks like thin sand.

Slowly add the Cold Water, one tablespoon at a time, until it start combining. You may need a little bit more or less water.

Pour the dough on a lightly floured surface and bring it together into a ball. Gently press the ball with the palm of your hand to get a flat disc, cover it with cling wrap and chill in the fridge for at least 30 minutes. (see note 2)

Turn your oven on 180'C.

On a lightly floured surface, roll the chocolate tart crust into the desired shape and place it in your tart pan. Prickle the crust with a fork then cover it with baking paper and baking beads or dry beans.

Blind bake the tart for 15 minutes, then remove the baking paper and beads and bake for another additional 10 minutes. Remove from the oven and leave it to cool down completely before filling it with the cherry curd.
Cherry Curd Filling
Blend the Pitted Cherries with the Sugar, Cinnamon and Lemon Juice.

When all combined, remove 60 ml - 1/4 cup of the cherry puree and set aside for the choc-cherry drizzle.


Add the Full Fat Milk and Cornstarch, and blend until fully combined.




Pour the Cherry Puree in a Pot and cook the puree until in starts thickening. Bring to a boil and add the Agar Agar. Whisk for a couple of minutes then transfer directly into the pre-baked Chocolate Tart Crust. Set aside to set and cool down.
Cacao Cherry Drizzle
Mix the Cherry Puree and Cacao Powder in a small pot and bring to a boil. Add the Agar Powder, whisk well for a couple of minutes then drizzle over the Chocolate Cherry Tart.
Tried this recipe? Make sure to leave a comment and star rating below!
Notes
1. This process can be done manually if you do not have a food processor. Simply use a pastry cutter to cut the butter in the dry ingredients, or do it by hands by rubbing the butter and dry ingredients between your fingers.
2. Flattening the tart crust into a thin disc while speed up the chilling process, as well as allow for a uniform cooling of the butter.
Tried this Recipe?
Leave a comment + star rating below and tag us @a.baking.journey on Instagram with a photo of your creation!