This Peach Frangipane Tart is a delicious Summer Dessert to finish a dinner party, bring to a potluck or serve as a barbecue dessert. This Peach Tart with Almond Cream is not only packed with yummy flavour but will also wow your guest with its beautiful fresh peach pattern!
Jump to:
Why we love this recipe
Crunchy Pate Sucrée pastry. Melt in your mouth Almond Cream. Deliciously sweet Peaches. These are just some basic French pastry elements, but put together, they create the most delicious Tart ever!
When peaches are in season, all I want to do is make pastries with them. The stone fruits simply work perfectly with the crispy pastry and almonds, just like my Peach Galette!
I have never been a huge fan of frangipane but this recipe seriously converted me. The super light baked almond cream simply balances the sweet and tangy peaches perfectly.
Just like my Pear Frangipane Tart, Apricot Frangipane Tart and Apple Frangipane Tart, all that yumminess is held together inside the crunchiest, most delicious 'Pate Sucrée' pastry.
I'm not gonna lie, I simply love being pleasantly surprised by a recipe, and this White Peach Frangipane Tart did not disappoint! Let's go through the 3 elements of this tart: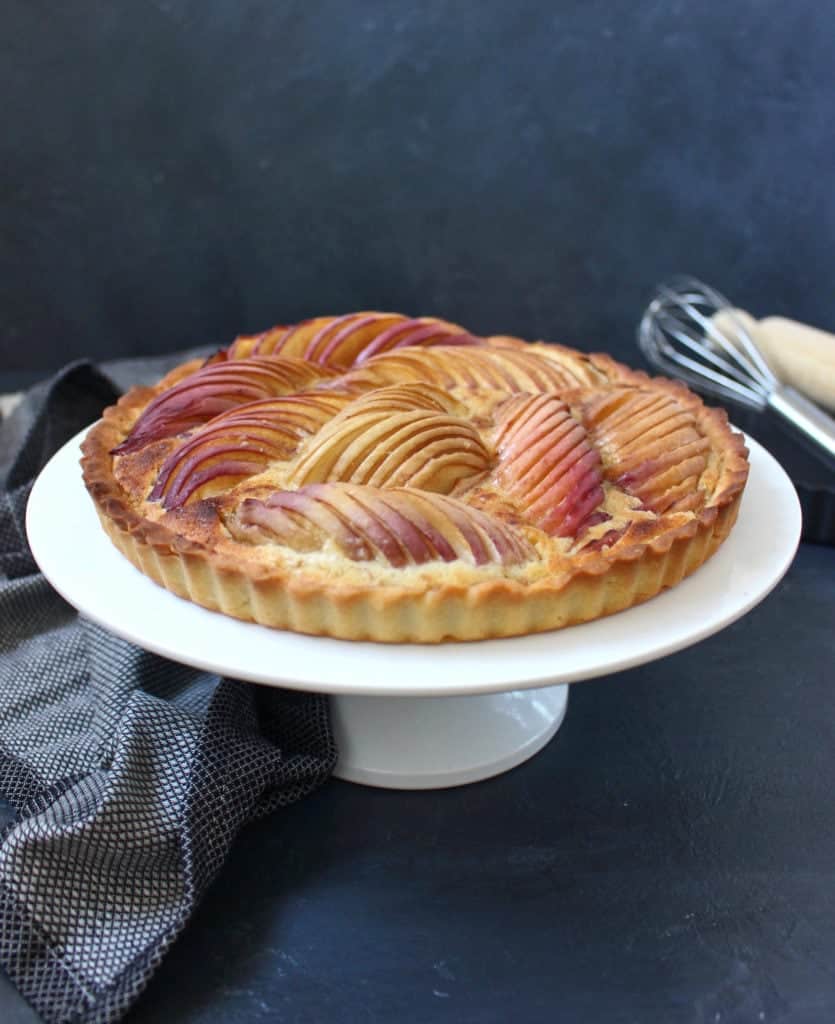 What is a "Pate Sucrée"
As I had already explained in my Apricot Tarte Tatin recipe, there are 4 basic French pastry used to make tarts: Pâte Brisée, Pâte Feuilletée, Pâte Sablée and in our case, Pâte Sucrée.
As there are no exact translation of each of these pastry in English, it is easy to confuse them. The pastry I usually use to make my Tarts is the Pâte Brisée - a super simple pastry made with a base of Flour and Butter to a 2:1 ratio.
Pâte Sucrée - that literally translates as 'Sweetened Dough' - is a richer (and sweeter) pastry that uses Confectioners Sugar and Eggs on top of the usual Butter and Flour. It is a great pastry to use with fruity fillings like my Strawberry Tartlets or Orange Tart.
To make this Sweet Shortcrust Pastry, you will need:
Butter at room temperature
Confectioner's Sugar
Eggs
Salt
Flour
They present two ways of making this pastry: the Creaming Method and the Crumbling Method. For this recipe, I used the Creaming Method. I whisked the soft butter until soft and creamy, then I added he Confectioner's Sugar.
When it resembles a smooth paste, whisk in the Egg and salt, then the flour. This technique creates a rather soft pastry that needs to be chilled before being rolled.
Note that Confectioners Sugar is sometimes called Icing Sugar or Powdered Sugar. From experience though, Icing Sugar tends to have added Cornstarch as a thickening agent while Confectioners Sugar is 100% fine sugar.
For this recipe, you want the sugar only - without any cornstarch added. I personally made my own Confectioners Sugar by blending White Caster Sugar in a Spice Blenders until super thin and powdery.
Read more about how to make this Tart Pastry here!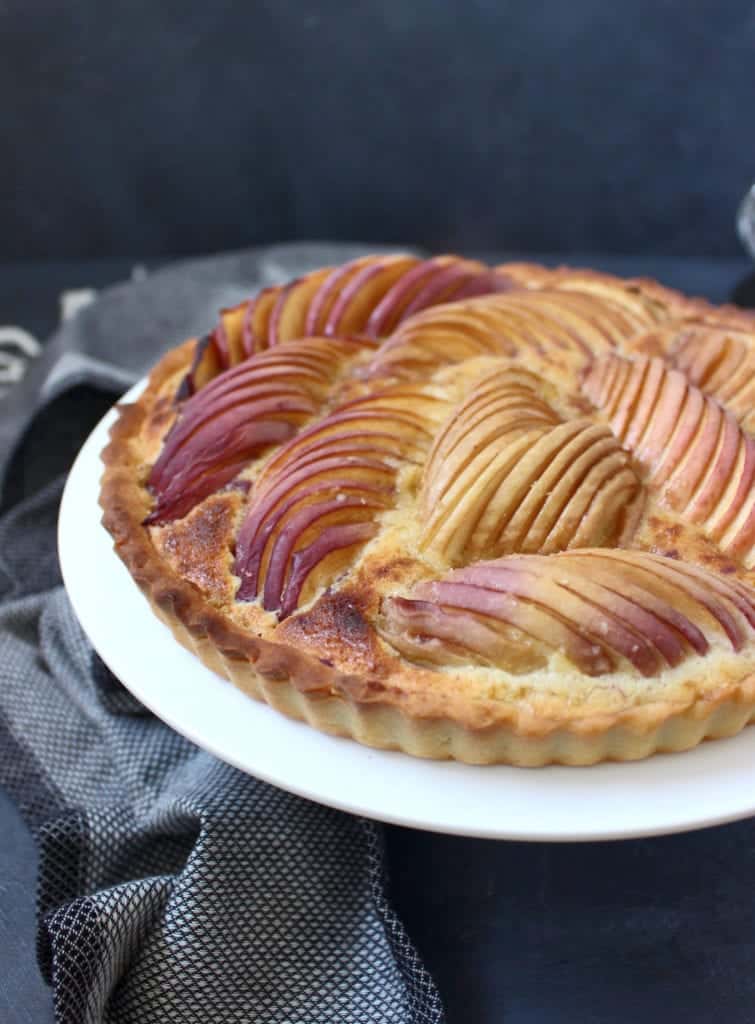 How to make Frangipane Cream
Frangipane is a Almond Cream that is used to fill Tarts, Pastries and Baked Goods. Often compared to an Almond Pastry Cream (Creme Patissiere), Frangipane is deliciously light and sweet filling made with Ground Almonds.
It is made out of:
Soft Butter
Sugar
Eggs
Almond Flour
Custard Powder (can be replaced by Cornstarch or Potato Starch)
Optional: Vanilla Bean, Liquor,...
The process of making Almond Cream for the Frangipane is very similar to the one of making the Pâte Sucrée. Again, this part of the recipe is taken from the book "French Patisserie" published by Ferrandi Pastry School; I only slightly reduced the amount of sugar in it.
First, get the Butter very smooth and pasty then cream it with the Sugar. Gradually add the Egg, then the Almond Meal and Cornstarch. Try not to over-whisk it; you do not want to incorporate air into the Frangipane batter.
You can find more information, including step by step process in my Almond Cream Filling article.
Assembling the tart
For this White Peach Tart with Almond Cream recipe, I used a small 20 cm Tart Tin with removable bottom, which is equivalent to a 8 inches tart tin. The quantities for the pastry and the almond cream should be just right for a 20cm/8inch tin so if you are using a large one, you may want to increase all quantities.
Once the two main steps are done - the Pâte Sucrée pastry and the Almond Cream, you will be ready to finish the delicious tart.
After blind baking the pastry for 10 to 15 minutes, let it cool down before filling the tart shell with the Almond Cream and the thinly sliced White Peaches.
Place the tart back in the oven for the final baking and watch the Almond Cream turn into a delicious golden brown Frangipane. If it looks like the tart pastry is starting to over-bake but the frangipane is not cooked yet, reduce the temperature of the oven slightly.
You can also pass the tart under the grill of your oven for a couple of minutes to finish off the top.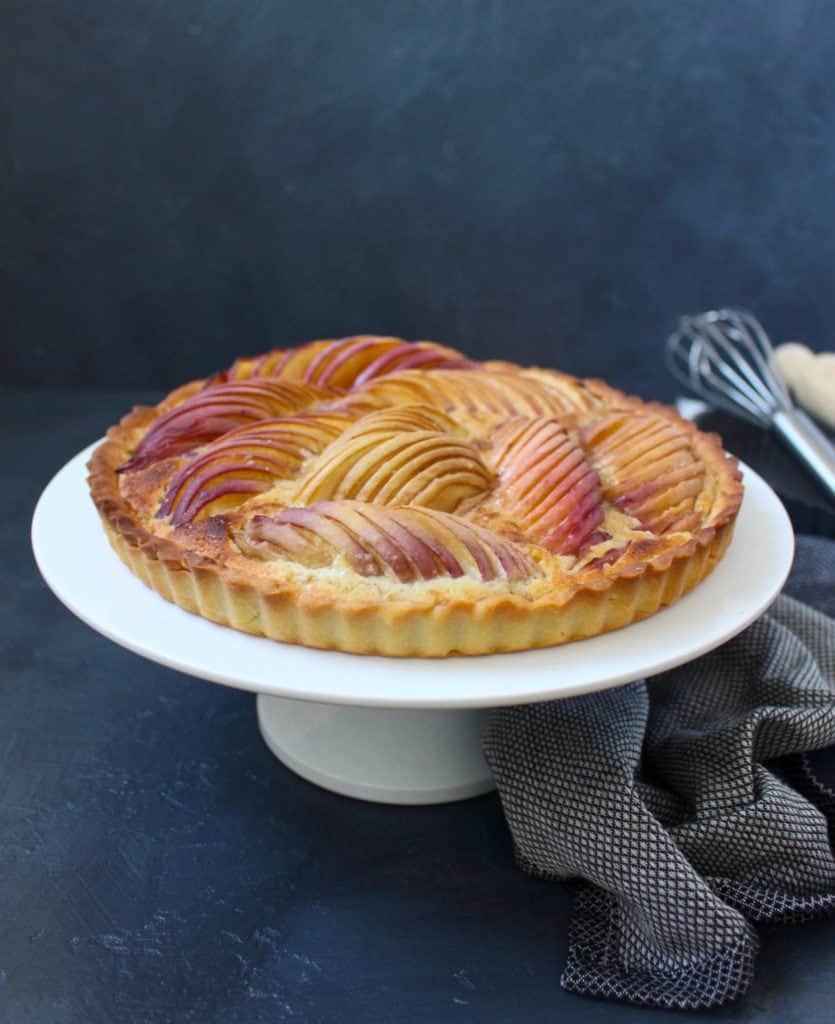 More Tart Recipes
Made this recipe?
Let us know if you liked it by leaving a comment below, and tag us on Instagram @a.baking.journey with a photo of your creation!
Recipe
White Peach Frangipane Tart
This White Peach Frangipane Tart is a perfect light summer desserts. It combines a homemade Pate Sucree pastry, Almond Cream and sun-kissed White Peaches.
Print
Pin
Rate
Ingredients
Pate Sucree
1/4

cup (50gr)

Soft Butter

1/4

cup (25gr)

Confectioners Sugar

1

Egg

1

pinch

Salt

1

cup (125gr)

Plain Flour
Almond Cream
1/4

cup (50gr)

Soft Butter

1/4

cup (25gr)

Caster Sugar

1

Egg

1/2

cup (50gr)

Almond Meal

1

teasp.

Cornstarch
Disclaimer
I highly recommend using the measurements in grams & ml (instead of cups & spoons) for more accuracy and better results.
Instructions
Pate Sucree
Using a hand mixer or a whisk, cream the soft Butter then add the Confectioners Sugar. When it resembles a light paste, add the Egg and Salt. Quickly mix until combined then add the Plain Flour.

Transfer onto your kitchen bench and quickly combine the Flour into the rest of the dough. Try not to overwork it or knead it - it just needs to be homogeneously combined.

Assemble into a ball and cover with cling wrap (or place inside a freezing bag). Gently press on it to flatten it, then place in the fridge for at least one hour (see note 1).

Preheat your oven on 180'C.

On a lightly floured surface, roll the pastry to fill your tart tin ( I used a 8 inch tart tin). Prick the pastry with a fork, making sure to cover the bottom and sides of the pastry. Place in the oven to blind bake for 10 to 15 minutes. Remove from the oven and set aside to cool down.
Almond Cream
While your Pate Sucree is cooling down, start preparing your Almond Cream for the Frangipane.

Cream the soft Butter and Caster Sugar with a hand mixer. When it resembles a light paste, gradually add the Egg while whisking.

Add the Almond Meal and Cornstarch, and quickly whisk until combined.

Pour into the partially baked Pate Sucree.
To finish the White Peach Frangipane Tart
Wash and slice your White Peaches in half, removing the pit.

Thinly slice each peach half and place them on top of the Almond Cream.

Place the tart back in the oven to finish the baking for 15 to 20 minutes, or until the Frangipane looks golden brown.
Tried this recipe? Make sure to leave a comment and star rating below!
Notes
The pastry will be quite soft so it needs at least one hour in the fridge to harden again. If you find the pastry hard to roll, put it back in the fridge for another 30 minutes.
Nutrition
Calories:
402
kcal
|
Carbohydrates:
48
g
|
Protein:
8
g
|
Fat:
21
g
|
Saturated Fat:
9
g
|
Polyunsaturated Fat:
1
g
|
Monounsaturated Fat:
4
g
|
Trans Fat:
1
g
|
Cholesterol:
73
mg
|
Sodium:
126
mg
|
Potassium:
142
mg
|
Fiber:
3
g
|
Sugar:
22
g
|
Vitamin A:
673
IU
|
Vitamin C:
3
mg
|
Calcium:
48
mg
|
Iron:
2
mg
Tried this Recipe?
Leave a comment + star rating below and tag us @a.baking.journey on Instagram with a photo of your creation!