If you are looking for an epic Winter Dessert, you must try this Tarte Tatin with Pears poached in Red Wine; the perfect dessert to serve at a dinner party and to put on your Holiday's Dessert Table!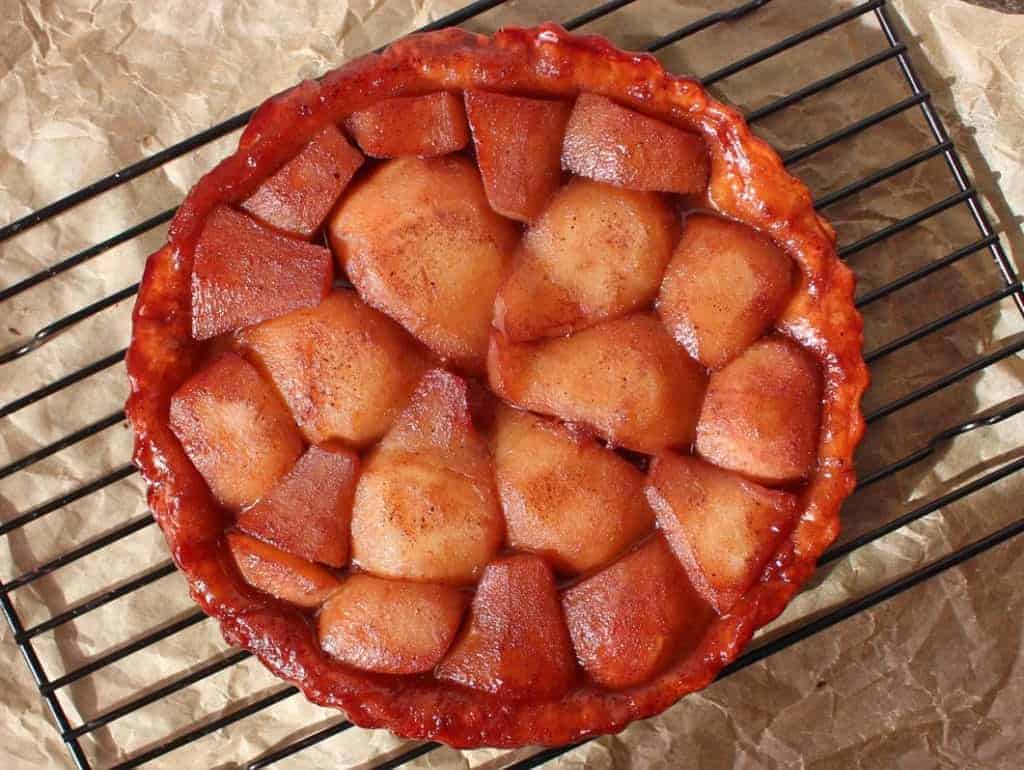 Jump to:
How to introduce this recipe... Well, imagine this: it's the middle of winter and it's freezing cold outside. The sky is dark, you can hear the wind blowing and it's starting to rain (... this is still Australia, so no, no snow...).
You are sitting by the fireplace, trying to warm up with a hot cup of Tea in your hands, or a warm glass of spicy Mulled Wine. Can you feel it? Now, imagine you could taste it. Well, this is exactly how this Red Wine Pear Tarte Tatin tastes like. Are you sold yet?
What is a Tarte Tatin?
Tarte Tatin is a classic French Dessert that can most easily be described as an Upside-Down Tart. It has two main elements:
a Tart Pastry
a Caramelised Fruit
You can basically use any fruit to make a Tarte Tatin like this Apricot Tarte Tatin or Peach Tarte Tatin - or even try a savoury version with a vegetable. I've made a Balsamic Tomato Tarte Tatin not too long ago and it was absolutely delicious!
To make a Tarte Tatin, simply inverse the process of making a tart. Put the fruits at the bottom of a pan and cover it with the pastry. Once baked, simply flip the tart and voila! You've got a Tarte Tatin!
This Tart may sound super fancy but it is ridiculously easy to make. It is one recipe that can hardly be failed. I mean, deliciously caramelised fruits and easy tart pastry: what else!?
Tarte Tatin Pastry
First element: the Pastry. This one is rather easy. You can use your favourite tart or pie pastry recipe or simply buy one from the supermarket to save time. All you need to do with it is to roll in into a circle the size of your tart pan. Not too complicated, right!?
For the Pastry, I used my favourite - and most simple - tart pastry recipe that can be used in so many different ways. It starts with a basic ratio "1 butter to 2 flour". So if you use 100 gr of butter, mix it with 200 gr of flour. Once the butter and flour have been incorporated, just add a little bit of water to fully combine it and you've got your pastry.
Depending on the recipe, you may want to add a little bit of sugar, spices or even cacao powder. In the case of this Pear Tarte Tatin, I added a little bit of Cinnamon Powder.
Caramelised Pears
The second main element is the caramelised fruit. The most traditional version of a Tarte Tatin usually uses Apples. They are caramelised with sugar and butter in a pan before being transferred onto a tart pan and covered with the pastry.
Although the classic recipe is fairly basic, there are so many flavours you can add to your fruits while caramelising them: spices, condiments, herbs, fruit juice or zest,... You hardly can go wrong here!
For this recipe, I used Pears instead of Apples and create a mix between poached pears and an apple tart tatin. How did I do that? I caramelised the pears with Red Wine and Spices you would usually use to poach pears like Cinnamon, Nutmeg and Ginger.
The smell of my kitchen was RIDICULOUS - exactly how you would imagine the smell of a wintery Christmas market. With the addition of a little bit of sugar and butter, all these ingredients provide the most amazingly caramelised pears!
Although it mainly uses the same ingredients as for poached pears, the main difference here is that you don't want to use too much liquid. You want to create a nice, crispy outside layer on the fruit but not cook it overall.
Poached Pears are absolutely delicious eaten alone or in a cake, but this is not the texture of fruit you want for this recipe. Remember that the fruits will continue to cook in the oven, so you do not need to worry about fully cooking them in the pan.
Assembling the Tarte Tatin with Pears
Once your two main elements are ready, it is time to put them together and bake the Tart. Although you can use a classic Tart or Pie Pan, I highly recommend assembling the Tarte Tatin in a Tart Pan with Removable Bottom to make it easy to flip over.
Like I did for my Blackberry Upside-Down Cake, I also lined my Pan with baking paper cut in a circle the size of my pan. Even if you use a non-stick pan, there is a risk of your fruits getting stuck at the bottom when it caramelises. Using baking paper is the best way to avoid having this problem and end up with a clean end result!
More Winter Desserts
Vegan Banana Bread (Sugar Free)
Made this recipe?
Let us know if you liked it by leaving a comment below, and tag us on Instagram @a.baking.journey with a photo of your creation!
Recipe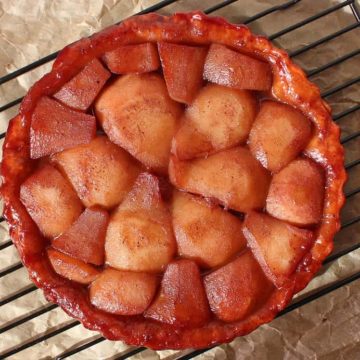 Pear Tarte Tatin
Get ready for winter with this incredible Red Wine Pear Tarte Tatin. Not only super easy to follow, this recipe will make the most fragrant tart ever!
Print
Pin
Rate
Ingredients
Tart Pastry
100

gr (3,5 oz)

Butter at room temperature

200

gr ( 1 1/3 cup)

Plain Flour

1

tbsp.

Brown Sugar

1/2

teasp.

Cinnamon Powder

50

ml (1/4 cup)

Cold Water
Red Wine Caramelised Pears
3

Large Pears

50

gr (1,75 oz)

Salted Butter

3

tbsp.

Brown Sugar

3

tbsp.

Lemon Juice

1

teasp.

Cinnamon Powder

1/4

teasp.

Nutmeg Powder

1/4

teasp.

Ginger Powder

200

ml (1 cup)

Sweet Red Wine
Disclaimer
I highly recommend using the measurements in grams & ml (instead of cups & spoons) for more accuracy and better results.
Instructions
Tart Pastry
Put the Four, Sugar and Cinnamon and your food processor bowl and pulse a couple of time until combined. Add the Butter cut in small cubes and pulse until it looks like thick sand.

Slowly add the Cold Water, a little bit at the time, pulsing in between each addition until the dough starts forming. Stop as soon as it seems combined (you may need a little bit less or more water).

Remove the dough from the food processor and arrange the dough into a thin circle, trying to work the dough as least as you can. Cover with wrap and set aside in the fridge.
Red Wine Caramelised Pears
Peal the Pears, cut them in half and remove the cores.

In a large pan, melt the Salted Butter with the Brown Sugar, Lemon Juice, Cinnamon, Nutmeg and Ginger. Add the Sweet Red Wine and whisk well until fully combined.

Put the Half-Pears over the wine caramel, reduce the heat and leave to caramelise for 10 to 15 minutes, flipping the pears every 5 minutes or so.
To assemble the Pear Tarte Tatin
Preheat your oven on 180'C.

Line your Tart Pan with baking paper and carefully arrange the pears on the bottom of the pan. Pour all the caramel and juices over the pears and set aside.

Take your Tart Pastry out of the fridge, slightly dust your kitchen bench with flour and roll the pastry into a circle the size of your tart pan. Fully cover the Caramelised Pears with the Pastry, pressing well around the edges to make sure there are no openings. Make a small cut in the middle of the pastry to allow steam to come out while baked.

Place the Tarte Tatin in the oven to bake for 15 to 20 minutes or until the Pastry looks fully baked. Rest for 20 minutes before flipping it and serve straight away, still warm.
Tried this recipe? Make sure to leave a comment and star rating below!
Nutrition
Calories:
315
kcal
|
Carbohydrates:
38
g
|
Protein:
3
g
|
Fat:
16
g
|
Saturated Fat:
10
g
|
Polyunsaturated Fat:
1
g
|
Monounsaturated Fat:
4
g
|
Trans Fat:
1
g
|
Cholesterol:
40
mg
|
Sodium:
125
mg
|
Potassium:
157
mg
|
Fiber:
3
g
|
Sugar:
14
g
|
Vitamin A:
487
IU
|
Vitamin C:
5
mg
|
Calcium:
25
mg
|
Iron:
1
mg
Tried this Recipe?
Leave a comment + star rating below and tag us @a.baking.journey on Instagram with a photo of your creation!