This Chocolate Cake is all about texture. Sometimes, you want your cake to be super fudgy, chewy or fluffy. Well, this Chocolate and Coffee Chiffon Cake recipe is the king of fluffy cakes! And what better way to finish it but with a Coffee Chocolate Ganache?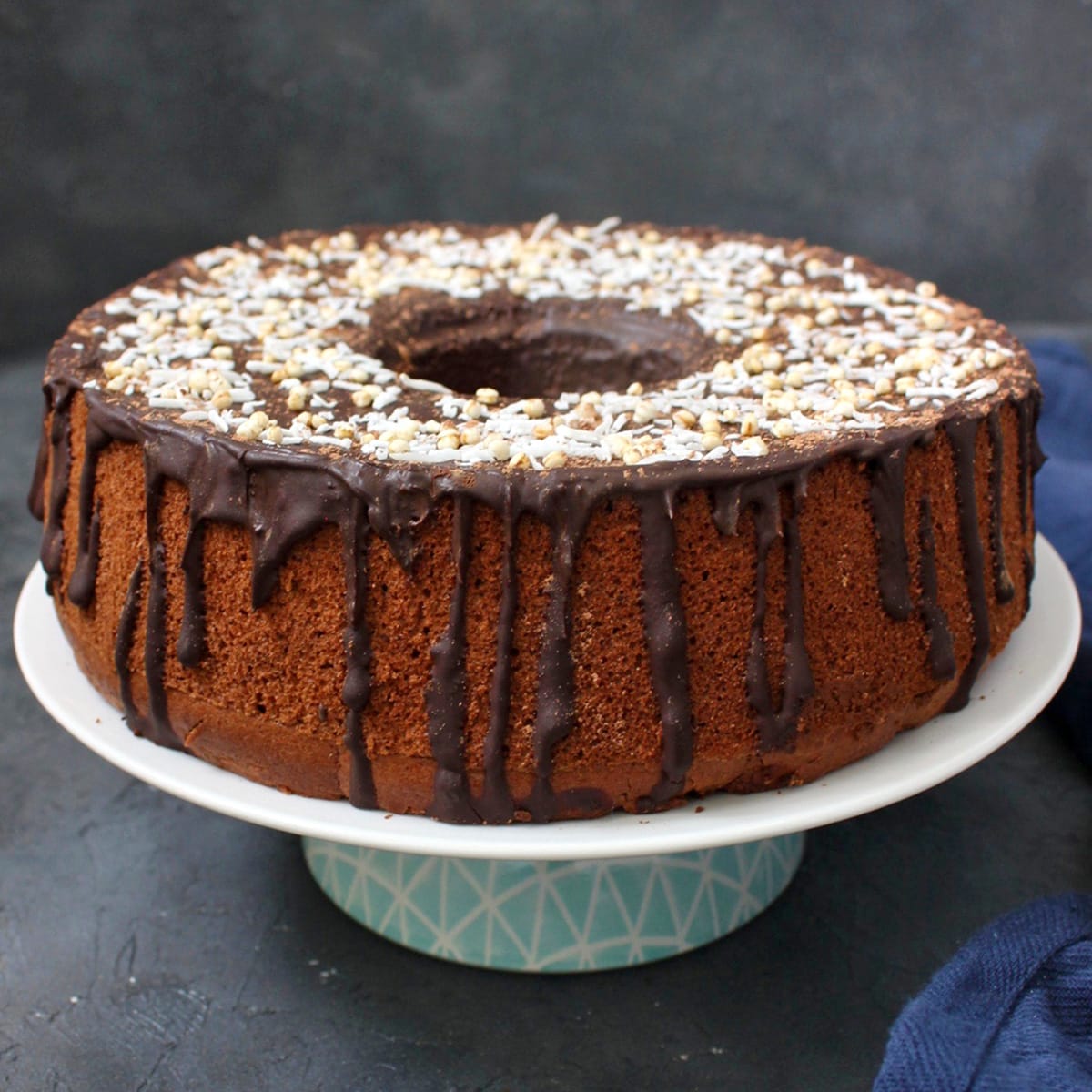 Why we love this recipe
Whether you want a ridiculously decadent and fudgy Magic Chocolate Cake, a fruity Pear Chocolate Cake or something lighter like a Chocolate Chiffon Cake, there is a chocolate cake recipe for everyone!
This was my first attempt at making a Chiffon Cake and oh, boy... this recipe is a real winner. The Chocolate Chiffon Cake is so light, airy and fluffy - it's like eating a cloud!
If that wasn't tempting enough, this cake is topped with a Coffee Chocolate Ganache. It's is the perfect rich, strong ganache to balance the soft chiffon cake. Chocolate Overload? Never!
What is a Chiffon Cake
Chiffon Cakes fall into the category of "Foam Cakes":
They are cakes that contain low quantities of fat.
They are mainly leavened with the air incorporated into Egg Whites while beaten into a meringue.
The first special characteristic of Chiffon Cakes is the use of Vegetable Oil instead of Butter or Shortening. As opposed to very similar Angel Food Cakes, both the Egg Whites and Egg Yolks are used to make a Chiffon Cake. That makes a Chiffon Cake more moist (and richer) than an Angel Food Cake.
The second specificity of a Foam Cake is the use of a Meringue (Egg Whites that have lots of air incorporated in them) as the primary leavening agent. This is what makes this cake so fluffy and light.
Chiffon Cake vs Sponge Cake
Both Chiffon and Sponge Cakes (aka Genoise) use Meringue as a leavening agent. The main difference between the two are what type of Fat is used. While Sponge Cakes are made with Butter (or Shortening), Chiffon Cake use Vegetable Oil. Because of this, Sponge Cakes tend to be richer and Chiffon Cake lighter and springy.
How to make a Chocolate Chiffon Cake
A few things are essential to the success of a Chiffon Cake:
The ingredients are to be separated into 3 categories: the dry ingredients, the wet ingredients and the egg whites for the meringue.
The texture of the Meringue is what will make or break your Chiffon Cake. You need to beat your Egg Whites into Stiff Peaks to achieve an airy, fluffy cake texture. To insure that your Meringue is stable and will not break when folded in the rest of the ingredients, use Cream of Tartar.
Use a proper Chiffon Cake Pan, or Tube Pan. And make sure you do NOT grease it or your cake will not rise. The cake batter will need to "climb" on the edges of the pan to rise, which is not possible if your pan is greased.
Let the Chiffon Cake cool down Upside-Down but without removing it from its pan. To get the perfect tall Chiffon Cake, you will need the help of gravity. The cake needs to "hang" upside-down while it cools down.
If you would like to read more about Chiffon Cakes before you try to make one, you can also read this super detailed article on Just One Cookbook.
How to make a Chocolate Chiffon Cake
Now that we know everything that there is to know about Chiffon Cakes, let's focus on how to make this Chocolate Chiffon Cake. This recipe uses basic cake ingredients: Eggs, Flour, Sugar, Baking Powder and Soda, Oil, Milk and Cacao Powder.
Most Chiffon Cake recipe use Cake Flour. It is a finely milled flour that is low in protein and often bleached. The low protein content also means that is has less gluten. It is not a type of Flour that is easily found in Australia but do not worry - you can simply use a mix of Plain Flour and Cornstarch instead.
As mentioned above, I also used Cream of Tartar to get a more stable meringue. How? Cream of Tartar makes air bubbles stronger, which means that will deflate less easily.
Because it is an Acid, it will also react with the Baking Soda to act as an additional leavening agent. It's a win win situation! You can also substitute it for other Acids like Lemon Juice or Vinegar.
To bake your Chocolate Chiffon Cake, I will highly recommend using a proper Tube Pan. You will find different types of Chiffon Cake / Angel Food Cake Pans but all have the characteristic of having smooth sides and a hollow tube in the middle.
You can use a Pan that has a Removable Bottom but will need to be careful when flipping the cake to cool as you do not want the cake to slide down and rest on it's bottom.
Coffee and Chocolate Ganache
Once your Chocolate Chiffon Cake is ready, it will be time to make the super rich and decadent Coffee Chocolate Ganache. This is probably the easiest part of the recipe as it only requires to melt Dark Chocolate with Coffee Milk.
Because I used Dark Chocolate for this ganache - my favourite Callebaut 70% Cacao Chocolate, I also added a little bit of sugar. If you use Chocolate that has a lower Cacao content, I would not use any additional sugar.
More Chocolate Desserts Ideas:
Made this recipe?
Let us know if you liked it by leaving a comment below, and tag us on Instagram @a.baking.journey with a photo of your creation!
Recipe
Chocolate Chiffon Cake with Coffee Chocolate Ganache
This Chocolate Chiffon Cake with Coffee Chocolate Ganache is the lightest, fluffiest cake you will ever make. The perfect mix of soft cake and rich ganache!
Print
Pin
Rate
Ingredients
Chocolate Chiffon Cake
6

Eggs, separated

180

gr (1 cup + 3 tablesp.)

Plain Flour

20

gr (2 tbsp)

Cornstarch

30

gr (1/4 cup)

Unsweetened Cacao Powder

75

gr (1/3 cup + 1 tbsp)

Brown Sugar

1 1/2

teasp.

Baking Powder

1/4

teasp.

Baking Soda

1

pinch

Salt

120

ml (1/2 cup)

Canola Oil (or other vegetable oil)

180

ml (3/4 cup)

Full Cream Milk

1/2

teasp.

Cream of Tartar

-

Optional
Coffee Chocolate Ganache
75

gr (2,5 oz)

Dark Chocolate

75

ml (5 tablesp.)

Full Cream Milk

1 1/2

tbsp.

Instant Coffee Granules

1

tbsp.

Brown Sugar
Disclaimer
I highly recommend using the measurements in grams & ml (instead of cups & spoons) for more accuracy and better results.
Instructions
Chocolate Chiffon Cake
Preheat your oven on 180'C.

Prepare 3 large bowls.

Seperate the Egg Whites and Yolks in two seperate bowls.

In the third bowl, sift the Flour, Cornstarch, Cacao Powder, 2/3 of the Brown Sugar, Baking Powder, Baking Soda and Salt.

Whisk the Egg Yolks with the Canola Oil and Milk. Add them to the dry ingredients and mix well until fully incorporated.

Add the Cream of Tartare to the Egg Whites and beat into medium peaks (see note 1). Slowly add the rest of the Brown Sugar (about 1/3) and beat into stiff peaks.

Gently fold the Meringue into the cake batter in three times. Do not overwork the batter - as soon as all the meringue as been integrated, stop folding.

Pour the batter in an non-greased tube pan (see note 2). Tap the pan on your bench to remove big air pockets. Bake for 25 to 30 minutes or until a knife comes out clean.

Take the cake out of the oven and directly flip the pan upside down. This will allow for the cake to keep its shape when it sets. Let the cake cool down completely before turning it around again. Run a sharp knife around the edges of the cake and invert it one last time to release the cake.
Coffee Chocolate Ganache
Warm up your milk and dissolve the Instant Coffee and Brown Sugar in. Pour the hot milk on the Dark Chocolate and gently stir until fully melted. Drizzle over the Chocolate Chiffon Cake.
Tried this recipe? Make sure to leave a comment and star rating below!
Notes
The use of Cream of Tartare is optional, but this will help your Meringue to be more stable.
Not greasing your pan is an essential step of the recipe. This will allow for your cake to "climb" on the edges of the pan. If you grease your pan (or use a non-stick pan), the cake batter will slide down the edges and never rise properly.
Nutrition
Calories:
326
kcal
|
Carbohydrates:
33
g
|
Protein:
7
g
|
Fat:
19
g
|
Saturated Fat:
4
g
|
Polyunsaturated Fat:
4
g
|
Monounsaturated Fat:
10
g
|
Trans Fat:
1
g
|
Cholesterol:
101
mg
|
Sodium:
81
mg
|
Potassium:
287
mg
|
Fiber:
2
g
|
Sugar:
12
g
|
Vitamin A:
187
IU
|
Calcium:
75
mg
|
Iron:
3
mg
Tried this Recipe?
Leave a comment + star rating below and tag us @a.baking.journey on Instagram with a photo of your creation!