This Dark Chocolate Loaf Cake with Chocolate Whipped Ganache Frosting is any chocolate-lover dream dessert. Intense, decadent and packed with dark chocolate, this cake is a great celebration cake or dinner party dessert!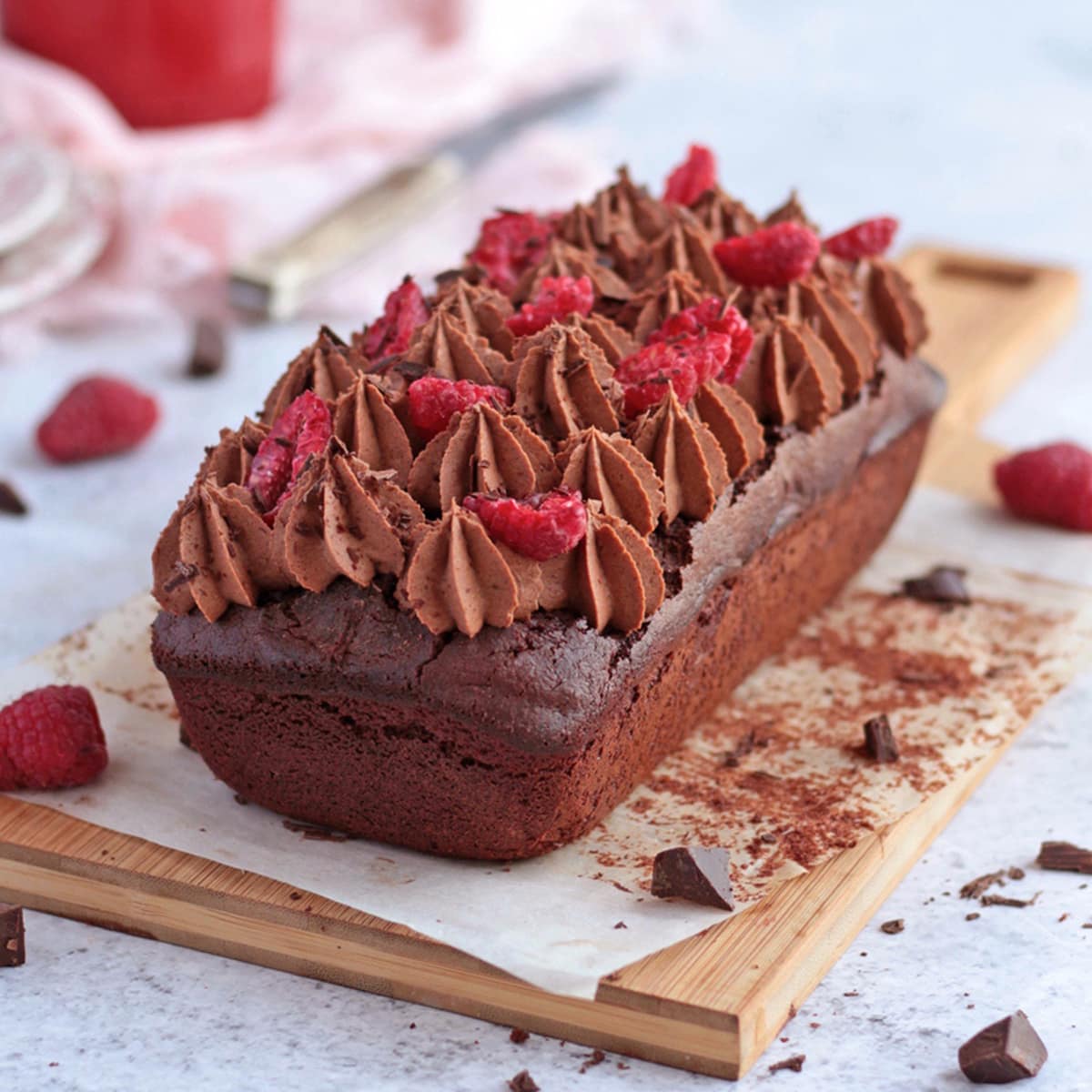 Jump to:
Why we love this recipe
Do you love chocolate? Yeah... so do we! This cake is the perfect dessert for you then: a combination of rich chocolate loaf cake made with real dark chocolate and a creamy, indulgent whipped ganache.
It is a crowd-pleasing dessert to serve at the end of a dinner party or as a birthday cake. The Whipped Ganache Frosting really brings this chocolate cake to another level!
Just like my Marble Loaf, Coffee Loaf Cake and Chocolate Chip Quick Bread, this cake can also be sliced and enjoyed for breakfast.
Ingredients
This Chocolate Cake is made from only a few ingredients that you will find very easily in any supermarket. Rather than using Cacao Powder like most Chocolate Loaf recipes, it is made with Cooking Chocolate to get an intense taste of chocolate.
No need to add a lot of sugar here, it is all about the natural flavour of dark chocolate!
To make this Chocolate Quick Bread, you will need (scroll down for all quantities):
Dark Chocolate: it needs to be Cooking Chocolate - not eating chocolate. This is very important for the texture and final result of the cake. Eating chocolate or a chocolate bar will not melt properly.
Eggs: at room temperature
Brown Sugar: always my favoured sugar option when mixed with chocolate!
Flour: Plain / All-Purpose
Espresso Powder (optional)
As always, I highly recommend to use a chocolate that has a high percentage of cacao in it. I personally only use 70% Cooking Chocolate to bake - the best quality the better (trust me...I'm Belgian!).
The taste of any chocolate dessert really relies on the use of a good quality chocolate so if there is a little bit of money to spend on ingredients, it would be for the chocolate.
How to make Chocolate Loaf Cake
Making this Chocolate Cake is really easy and quick. It shouldn't take you more than 10 minutes to prepare and will bake for 30 to 40 minutes, depending on your oven.
There are four steps to follow to make this cake:
Melt the Chocolate and Butter together.
Whisk the Eggs and Sugar, then add the melted chocolate and butter.
Stir in the Dry Ingredients: Plain Flour, Baking Powder, Salt and Espresso Powder (optional).
Tips to Melt Chocolate
The first important tip is to always thinly chop your chocolate before melting it. It will help the chocolate to melt much quicker (so less risk to burn it) and in a more homogeneous way.
The best way to melt chocolate without burning it is by using a "bain-marie" or "double-boiler technique". You will need a small pot with a little bit of water at the bottom and a heat-proof bowl placed over it with the chopped chocolate and butter cubes (without touching the water). Gently stir with the heat set on low until fully melted.
For a quicker (and cleaner) melt, you can also use your microwave: Thinly chop the chocolate first so that it melts quickly and place it in a microwave-safe bowl.
Add the Butter cut into small cubes then place in the microwave for 30 seconds. Stop and Stir, then repeat for another 30 seconds until melted.
Read more about the best way to melt chocolate here.
What is a Whipped Ganache
A 'Whipped Ganache" (Ganache Montée in French) is a mix between a Ganache (Chocolate melted with Cream) and a Whipped Cream. It is made from a chocolate ganache that has a 1:3 chocolate to cream ratio, cooled completely then whipped like a whipped cream.
It can be made with any type of chocolate (white, milk and dark) and a cream that can be whipped (at least 30% of fat content).
How to make a Whipped Ganache
Does "Whipped Ganache" sound fancy? Don't worry... it is actually an extremely easy method to create a chocolate buttercream-like consistency without any butter, cacao powder or sugar.
You will only need two ingredients to make a whipped ganache: heavy, thickened or whipping cream and cooking chocolate.
To make the whipped ganache:
Thinly chop the Chocolate and place it in a heat-proof bowl.
Heat up the Cream in a Small Pot until it starts to simmer, then pour it over the Chocolate. Wait a couple of minutes without touching or stirring it so that the cream has time to melt the chocolate before cooling, then gently stir with a spatula until smooth and shiny.
Place in the fridge to cool down completely - it needs to be really cold to whip. I recommend leaving it to rest for at least 2 to 3 hours for the best results.
Transfer the ganache in the bowl of your stand-mixer (or use a hand-mixer) and whip until thick and stiff.
You can read more about this chocolate whipped ganache with detailed instructions, tips and troubleshooting.
Recipe FAQs
Can I use a traditional Chocolate Ganache instead of a Whipped Ganache?
Absolutely! You can replace the whipped ganache with a simple ganache to finish your chocolate cake. The ratio of cream / chocolate will be different in a classic ganache though.

You will need an equal amount of chocolate and cream to make a traditional chocolate ganache. It can be drizzle or poured over the loaf when it is cold.
Can I make this recipe in advance?
Yes you can. Both the loaf cake and the whipped ganache can be made in advance and assembled just before serving.

- prepare the loaf cake and keep it wrapped at room temperature for 2 to 3 days (1 to 2 days preferably).
- prepare the chocolate ganache and keep it in the fridge for up to 2 days. When ready to serve, whip it and pipe it over the loaf.
How to store this cake
This cake will need to be stored differently if you have already added the whipped ganache or not:

- without the Whipped Ganache: wrap the cool Loaf and keep at room temperature for 2 to 3 days.
- with the Whipped Ganache: keep in the fridge for 24 hours.

I recommend to add the Whipped Ganache just before serving it, as it will otherwise need to be kept in the fridge where the chocolate loaf will start to dry out more quickly.
Can I freeze this cake?
Although it is recommend to eat it fresh for a more moist cake, the chocolate loaf can be frozen and kept in the freezer for a few months. Simply wrap it in plastic wrap or foil when completely cool and store in the freezer.

The Whipped Ganache should never be frozen though - it needs to be made and served fresh for a better texture and avoid having it loose its shape and stiffness.
What to serve with this Whipped Ganache Cake
For me, this dessert is perfect as it is. There are many other things you can serve it with to make it an even more decadent dessert though!
For example: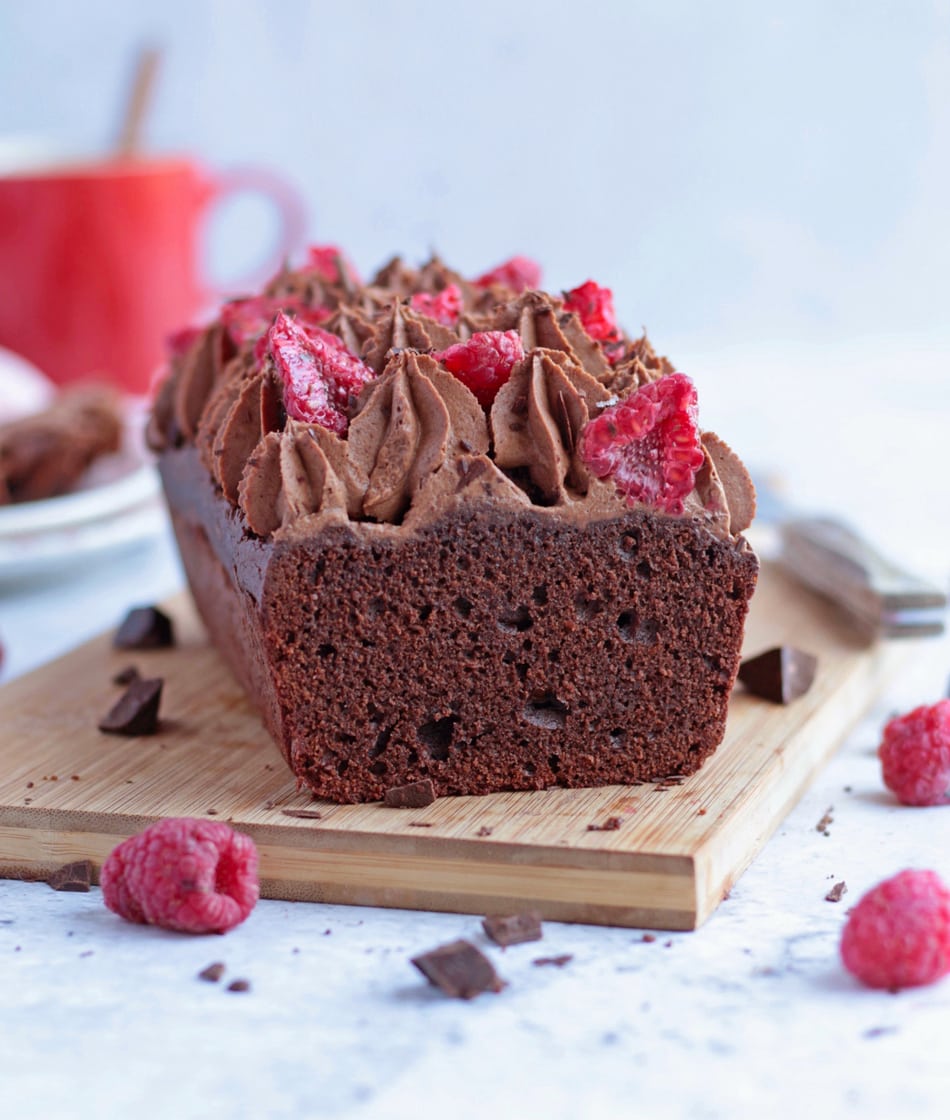 Made this recipe?
Let us know if you liked it by leaving a comment below, and tag us on Instagram @a.baking.journey with a photo of your creation!
Recipe
Chocolate Loaf Cake with Whipped Ganache
This Chocolate Loaf Cake with a Dark Chocolate Whipped Ganache is any chocolate-lover dream dessert: moist, decadent and made with real dark chocolate!
Print
Pin
Rate
Ingredients
Chocolate Loaf Cake
200

gr (7 oz)

Dark Cooking Chocolate

150

gr (2/3 cup)

Unsalted Butter

3

Eggs

120

gr (1/2 cup + 2 tablesp.)

Brown Sugar

200

gr (1 1/3 cup)

Plain / All Purpose Flour

1 1/2

teasp.

Baking Powder

1

pinch

Salt

1

teasp.

Espresso Powder

-

optional
Whipped Ganache
50

gr (1,5 oz)

Dark Cooking Chocolate

150

ml ( 1/2 cup + 2 tbsp)

Heavy / Thickened Cream

-

or whipping cream - at least 30% fat content (see note 1)
Garnish
8

Fresh Raspberries

Dark Chocolate Shavings

-

to taste
Disclaimer
I highly recommend using the measurements in grams & ml (instead of cups & spoons) for more accuracy and better results.
Instructions
Whipped Ganache
Thinly chop the Dark Cooking Chocolate and place in a heat-proof bowl.

Warm up the Cream in a small pot until it starts to boil. Pour over the chopped chocolate then wait 2 minutes without touching it. With a spatula, gently stir the cream and chocolate starting in the middle of the bowl until all the chocolate has melted (see note 2).

Place in the fridge to cool down completely.
Chocolate Loaf Cake
Preheat your oven on 160'C/325'F. Grease and Flour a 25 cm / 10 inch Loaf Pan. Turn it over and tap it over a hard surface to remove any excess flour.

Thinly chop the Dark Chocolate and place in a microwave-safe bowl with the Unsalted Butter cut into small cubes. Melt in the microwave in 30 seconds increments, stopping to stir each time. Stop as soon as the chocolate has melted and stir more to combine if needed. Set aside to cool.

In a seperate large bowl, whisk the Eggs and Brown Sugar. Add the Melted Chocolate and Butter, and stir.

Add the Flour, Baking Powder, Salt and Espresso Powder. Whisk until combined then pour into the loaf pan.

Bake for 30 to 40 minutes or until a skewer comes out clean (see note 3). Leave to cool for 10 minutes in the pan than remove from the pan and transfer onto a cooling rack until completely cool.
To finish the loaf
When the Chocolate Loaf is completely cool, get the Whipped Ganache mixture out of the fridge. Beat on high speed with a mixer until stiff and well whipped.

Transfer into a piping bag with a star nozzle and pipe over the chocolate loaf cake (see note 4).

Optional: garnish with some fresh raspberries sliced in half and dark chocolate shavings (see note 5).
Tried this recipe? Make sure to leave a comment and star rating below!
Notes
General Disclaimer: I highly recommend using the measurements in grams/ml for more accuracy and a better result.
You need to use Cooking Chocolate (versus eating chocolate/chocolate bar) for this recipe - eating chocolate will not properly and will end up adding an unpleasant grainy texture to the cake and ganache.
Make sure the cream you use has at least 30% of fat content in it. Otherwise, the ganache will not whip.
If you still see small pieces of un-melted chocolate, place the bowl over a 'bain-marie" or double boiler until completely smooth and homogeneous.
Don't worry if you can still see a few crumbs on the skewer - you want the cake to be baked but still very moist.
You can also simply spread the whipped ganache with a spatula if you do not want to pipe it.
To make chocolate shaving, simply use a peeler over a bar of cooking chocolate.
Nutrition
Calories:
353
kcal
|
Carbohydrates:
29
g
|
Protein:
6
g
|
Fat:
27
g
|
Saturated Fat:
16
g
|
Cholesterol:
85
mg
|
Sodium:
46
mg
|
Potassium:
235
mg
|
Fiber:
4
g
|
Sugar:
10
g
|
Vitamin A:
556
IU
|
Vitamin C:
1
mg
|
Calcium:
56
mg
|
Iron:
5
mg
Tried this Recipe?
Leave a comment + star rating below and tag us @a.baking.journey on Instagram with a photo of your creation!