---
This Dark Chocolate Brownies with Raspberries is the ultimate chocolate lover snack. The super indulgent and fudgy brownie will be equally loved by kids and adults!
---
This post may contain affiliate links to products. We may receive a commission - at not cost to you - for purchases made through these links.
How much do you love Chocolate and Raspberries together? For me, it is the ultimate combo. The rich, decadent taste of dark chocolate is perfectly balanced by the tart raspberries. A match made in heaven! Whether it is in the form of healthy Crispy Chocolate Raspberry Cups or a more decadent Double Chocolate Bavarois Cake topped with Raspberry Domes, Raspberry and Chocolate is always a winner in my books!
Brownies with Raspberries Ingredients:
The ingredients needed to make these raspberries brownies are really straightforward. If you are like me and like to always keep raspberries in the freezer, you should basically have all the ingredients in your kitchen already!
To make these super fudgy brownies, you will need:
Unsalted Butter
Dark Chocolate
Brown Sugar
Eggs
Plain Flour
Unsweetened Cacao Powder
Salt
Raspberries – fresh or frozen
Optional: Dark Chocolate Chips or Chopped Chocolate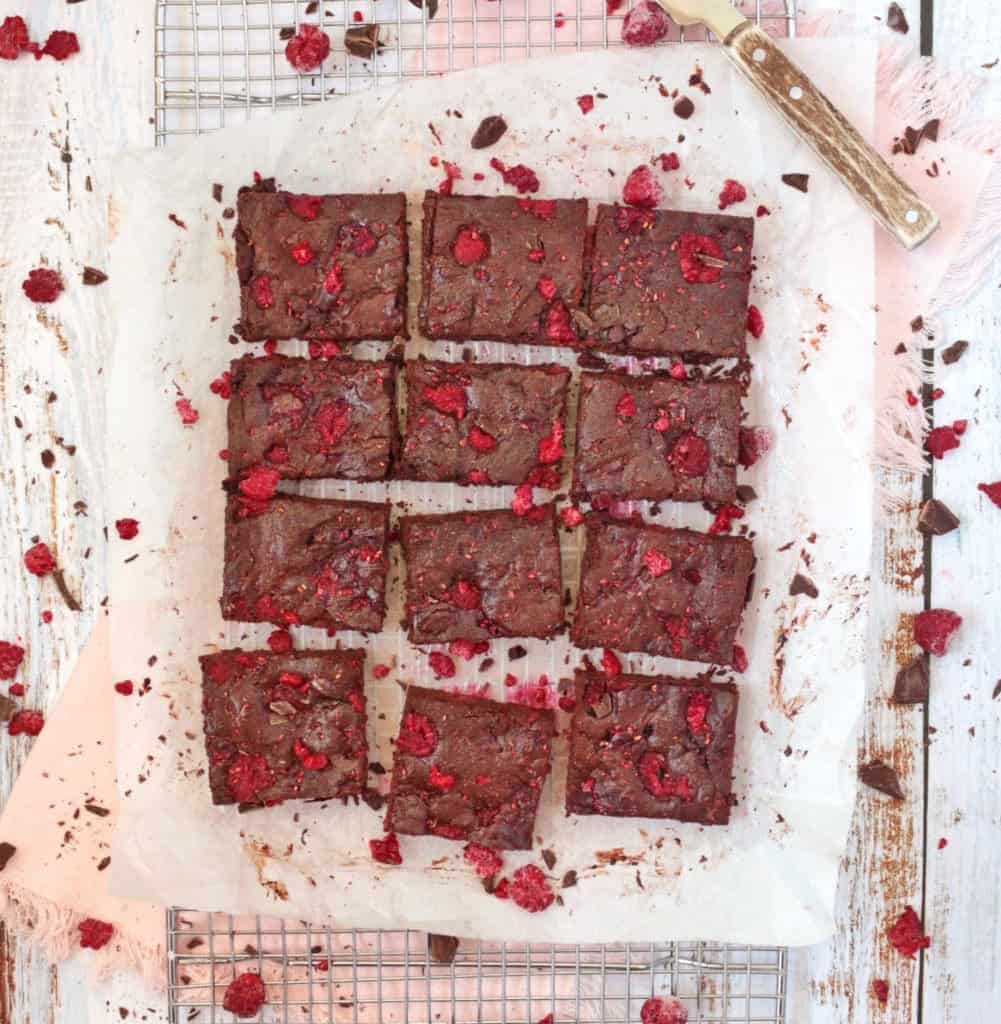 More than ever, the quality of the chocolate you use will make a real difference in this dessert. As a proud Belgian, I will always recommend a good Belgian Cooking Chocolate like Callebaut. I personally almost never use cooking chocolate with less than 70% cacao for 2 reasons:
The taste, obviously… If you like dark chocolate, using anything that has less than 70% cacao in your baked goods will taste very sweet. You can even go for a higher percentage of chocolate if you can find some!
Less cacao mass in your chocolate means more room for sugar and more fat instead. This will always have an impact on the taste and texture of your desserts.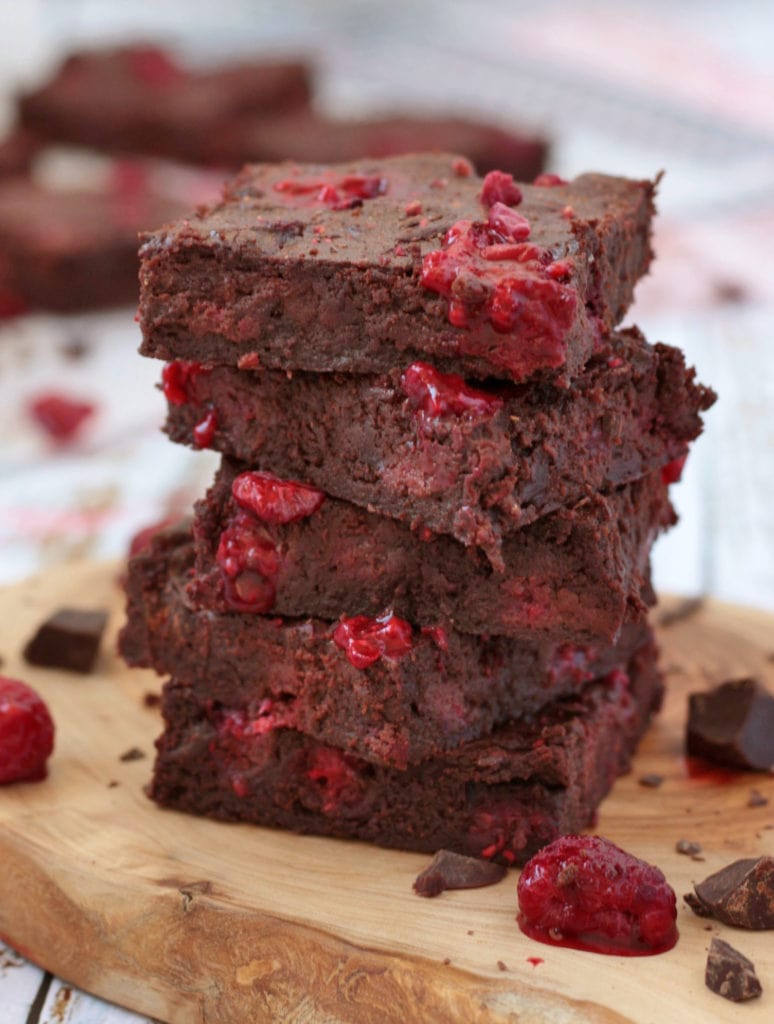 How to make these Easy Chocolate Raspberry Brownies:
What I love the most about these brownies – other than obvious ooey gooey fudgy texture – is how easy they are to make. All you need is one bowl, a microwave and a whisk. Not that complicated, right!? Yes, this is a one-bowl brownie recipe so no need to worry about endless washing! Follow these steps to make these Raspberry Brownies:
Melt the Chocolate and Butter together
Add the Brown Sugar, then the eggs one at the time
Sift in the dry ingredients: Flour, Cacao Powder and Salt
Fold in the Raspberries and if you want, more chocolate chips / chopped chocolate
Bake and enjoy!
I know, how easy is that!?
Make sure you are using a heat-proof AND microwave-safe mixing bowl to make the brownie batter. When it comes to melting ingredients in the microwave, I prefer to use glass mixing bowl like Pyrex. I baked these brownies in a rectangular 20x30cm (or 9x13inch) baking pan to get 12 slices. You can also use a square pan to get 9 more generous pieces.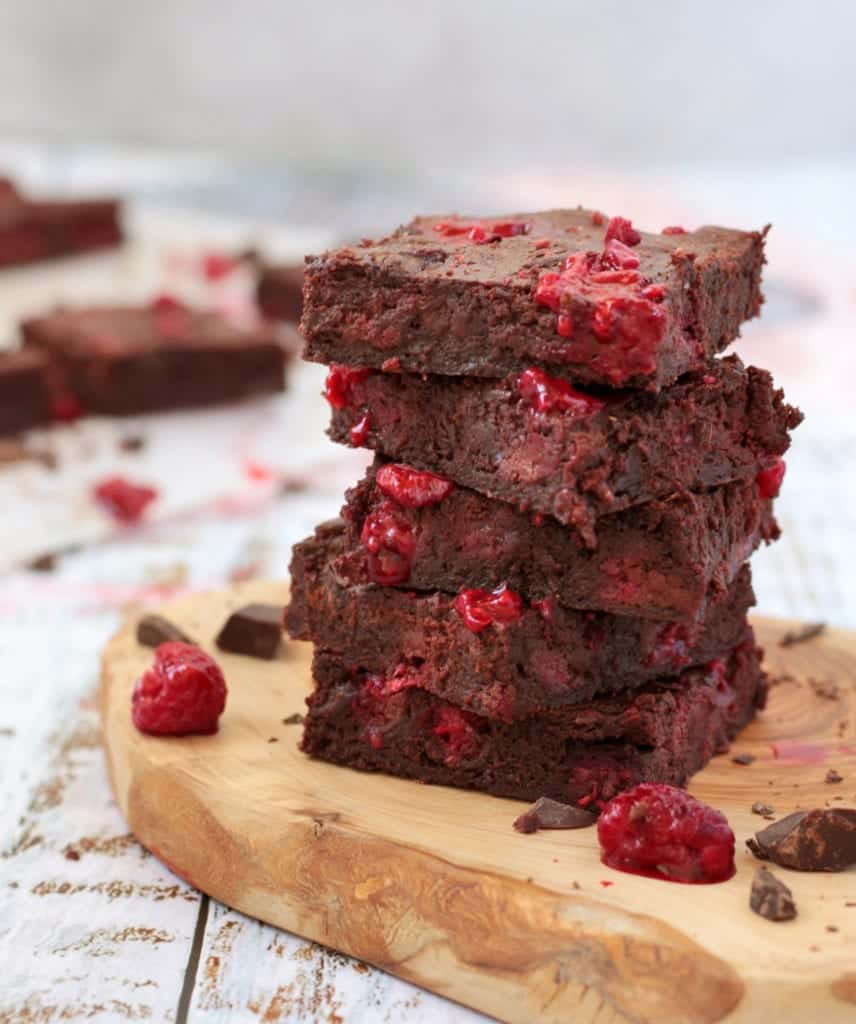 Chocolate Brownies with Raspberries Recipe:
Print Recipe
Fudgy Chocolate Raspberry Brownies
This fudgy Dark Chocolate Brownies with Raspberries is the ultimate chocolate lover cake. The super indulgent fudgy brownie will be equally loved by kids and adults!
Ingredients
120 (1/2 cup)

gr

Unsalted Butter

200 (7oz)

gr

Dark Cooking Chocolate

,

preferably 70% Cacao minimum

40 (2,5 tbsp)

gr

Brown Sugar

3

Eggs

70 (1/2 cup)

gr

Plain Flour

20 (2 tbsp)

gr

Unsweetened Cacao Powder

1

pinch

Salt

125 (1 cup)

gr

Fresh or Frozen Raspberries

60 (2 oz)

gr

Dark Chocolate Chips or Chopped Chocolate

,

Optional
Instructions
Preheat your oven on 160°C / 325°F.

Line a rectangular baking pan with baking paper (about 20x30cm / 9x13 inch baking pan).

Place the Butter and Dark Cooking Chocolate in a microwave-safe heat-proof bowl. Melt in the microwave in 30 seconds increments until fully melted, stiring well in between each time. Set aside to cool down for 5 minutes.

Whisk in the Brown Sugar, then the Eggs one at the time - stiring well between each eggs.

Sift in the Plain Flour, Cacao Powder and Salt and mix until combined.

Quickly Fold in the Chocolate Chips / Chopped Chocolate (optional) and lastly the Raspberries (see note 1 if using frozen raspberries). Pour into the lined baking pan and bake for 15 to 20 minutes.

Leave to cool down for 10 minutes when out of the oven before cutting into slices.
Notes
If using frozen raspberries, take them out of the freezing before starting the recipe so that they they have time to get to room temperature. If you use them straight out of the freezer, they will tend to freeze the brownie batter around them when folded in.
Do you love Chocolate and Raspberries together too?
Get inspired by these recipes: