This super easy and healthy 3 Ingredients Banana Pancakes recipe is the proof that breakfasts don't have to be complicated to be delicious. These quick Sugar-Free Banana Pancakes will be ready in less than 20 minutes and kids LOVE them!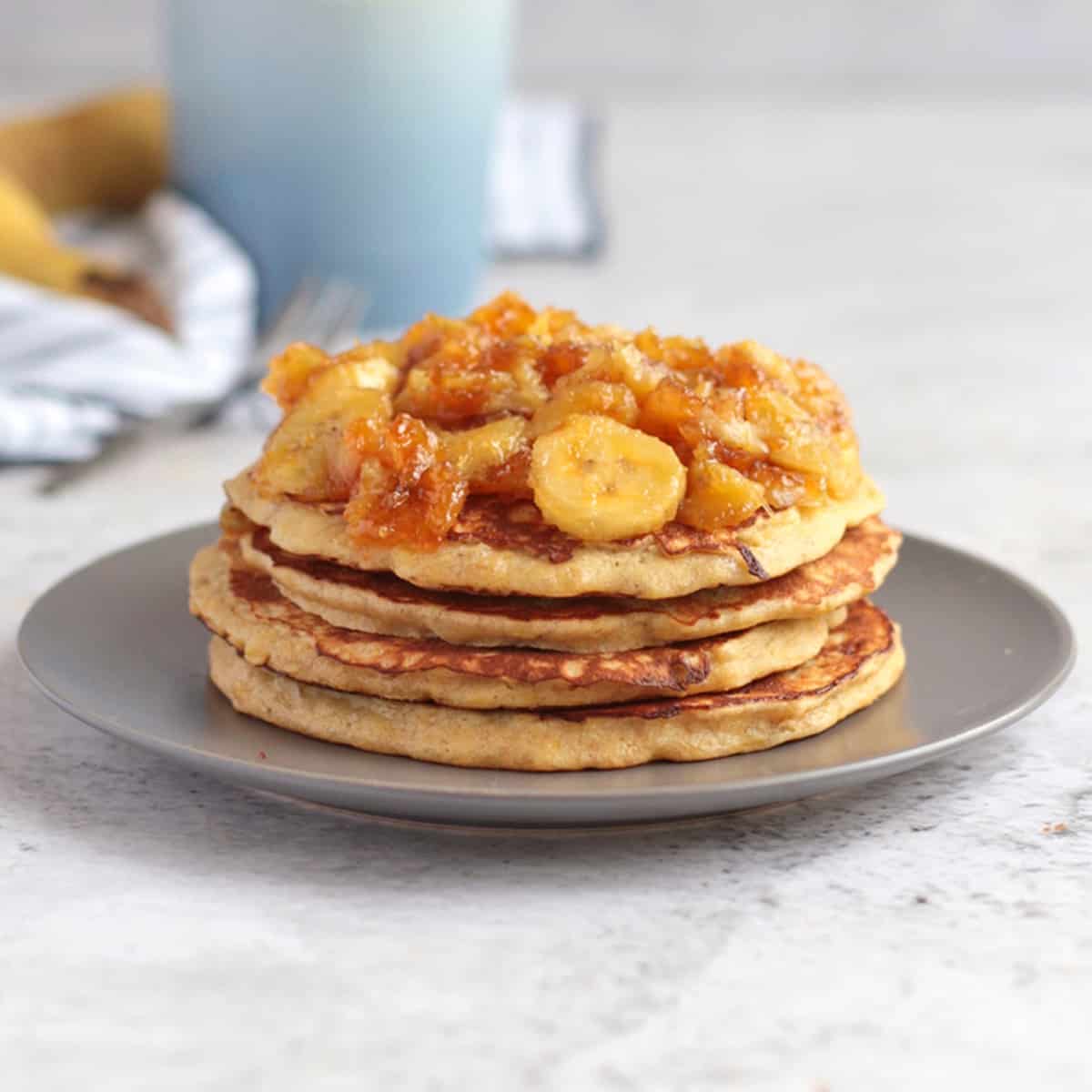 Jump to:
Why we love this recipe
You will be surprised by how good these Three Ingredients Pancakes taste. It's like you would never guess that they are an awesome Diet Pancakes Recipe!
Whether you are looking for an healthier - yet tasty - breakfast recipe, a super quick pancake recipe or awesome Healthy Pancakes for Kids, these Sugar-Free Banana Pancakes are the ones for you!
If you ask me, these Healthy Sugar-Free Pancakes topped with Honey Caramelised Bananas are the ultimate Sunday Breakfast Recipe. Just like my Sugar-Free Chocolate Chip Banana Muffins and my Banana Breakfast Cookies, they are super quick to make, easy, and oh so delicious...
You will never want to open another box of pancake mix after making these Sugar-Free Banana Pancakes!
If you like Banana Pancakes, you will also love these Gluten-Free Banana Buckwheat Pancakes!
Ingredients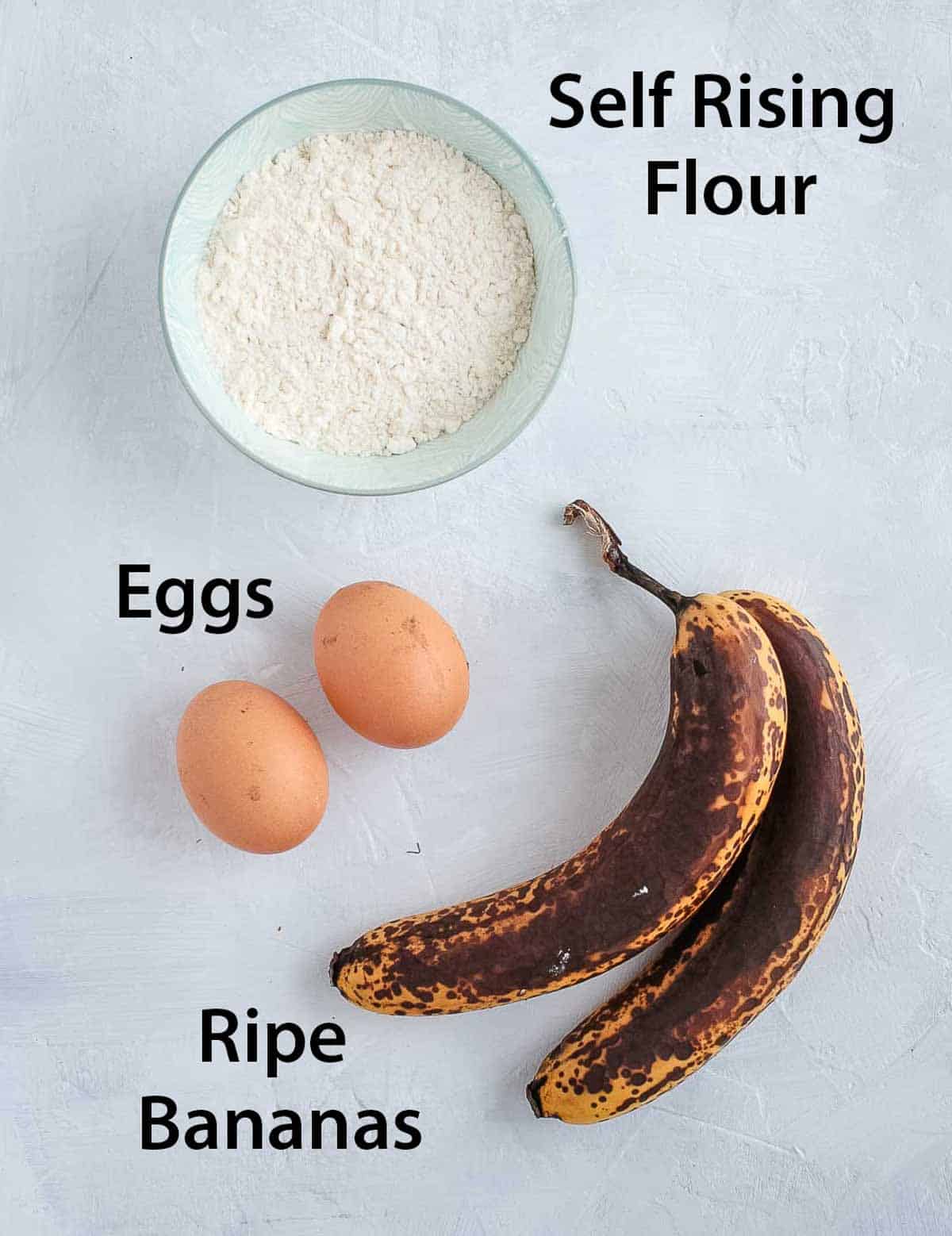 Can you believe that you can make healthy banana pancakes with 3 ingredients only!? I must admit, I was a bit skeptical too! But since I can't resist something as tempting as a 3 ingredients breakfast recipe, I gave it a go and oh did they surprised me!
Not only these Banana Pancakes taste absolutely delicious and are ridiculously fluffy, I LOVE the fact that they can be made without sugar!
To make this recipe, you will need (scroll down to the recipe card for all quantities):
Ripe Bananas - the ripest the are, the sweeter the pancakes will be
Eggs - medium size, at room temperature
Self-Rising Flour - you can use Plain/AP Flour instead with the addition of Baking Powder if you don't have self-rising flour. See how to make your own self-rising flour below.
So No Milk and No Sugar needed here!
The best Bananas to use for this recipe are very ripe ones. There is no added sugar in this recipe, so the naturally sweet ripe bananas are a great alternative!
Using ripe bananas is a great way to completely remove processed sugar from your baked goods. Wanna give it a go? Try my Vegan Sugar-Free Banana Bread or my Banana Oatmeal Muffins!
Note that the size of the Bananas will affect the texture of the pancakes: if you use very small bananas, the pancakes might bit a bit more dry. Alternatively, if using large bananas, you might need to add some extra flour to avoid getting rather soggy pancakes. I personally use medium-sized bananas for this recipe.
Additional Ingredient Ideas
See this recipe as a "blank canvas" you can customise to your liking. Many, many other ingredients like nuts, fruits or spices can be used to make this recipe your own!
Here are a few ideas:
Shredded or Desiccated Coconut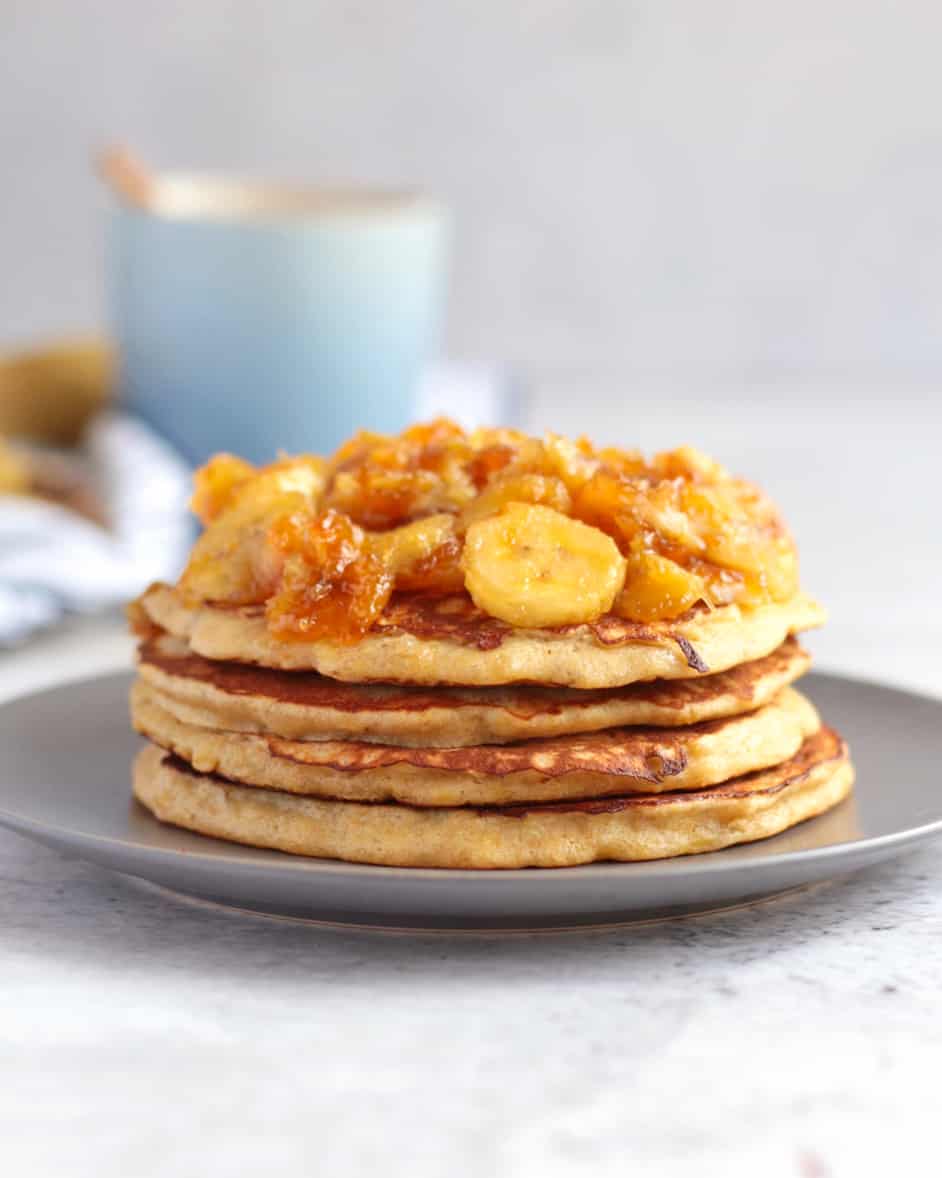 How to make these Banana Pancakes
These Fluffy Banana Pancakes are literally the easiest recipe ever. Just as easy as opening a box of pancake mix! Well, almost...
There are only 3 steps to make these quick and healthy pancakes with no added sugar.
Photo 1: Mash the Ripe Bananas into a mixing bowl (if you find it hard to mash because the bananas are not ripe enough, place them for 30 seconds to 1 minute in the microwave. They will become much softer). The riper the bananas, the sweeter the pancakes will be.
Photo 2: Whisk in the Eggs
Photo 3 & 4: Add the Self-Rising Flour and whisk until combined. You will see small lumps, that's normal - it's usually small chunks of mashed bananas.
Cook the pancakes in a greased or non-stick skillet the same way you would cook any pancakes. When you see small bubbles form on the surface of the pancake, it is time to flip it.
Done. Literally. Quickest Recipe ever written on this blog!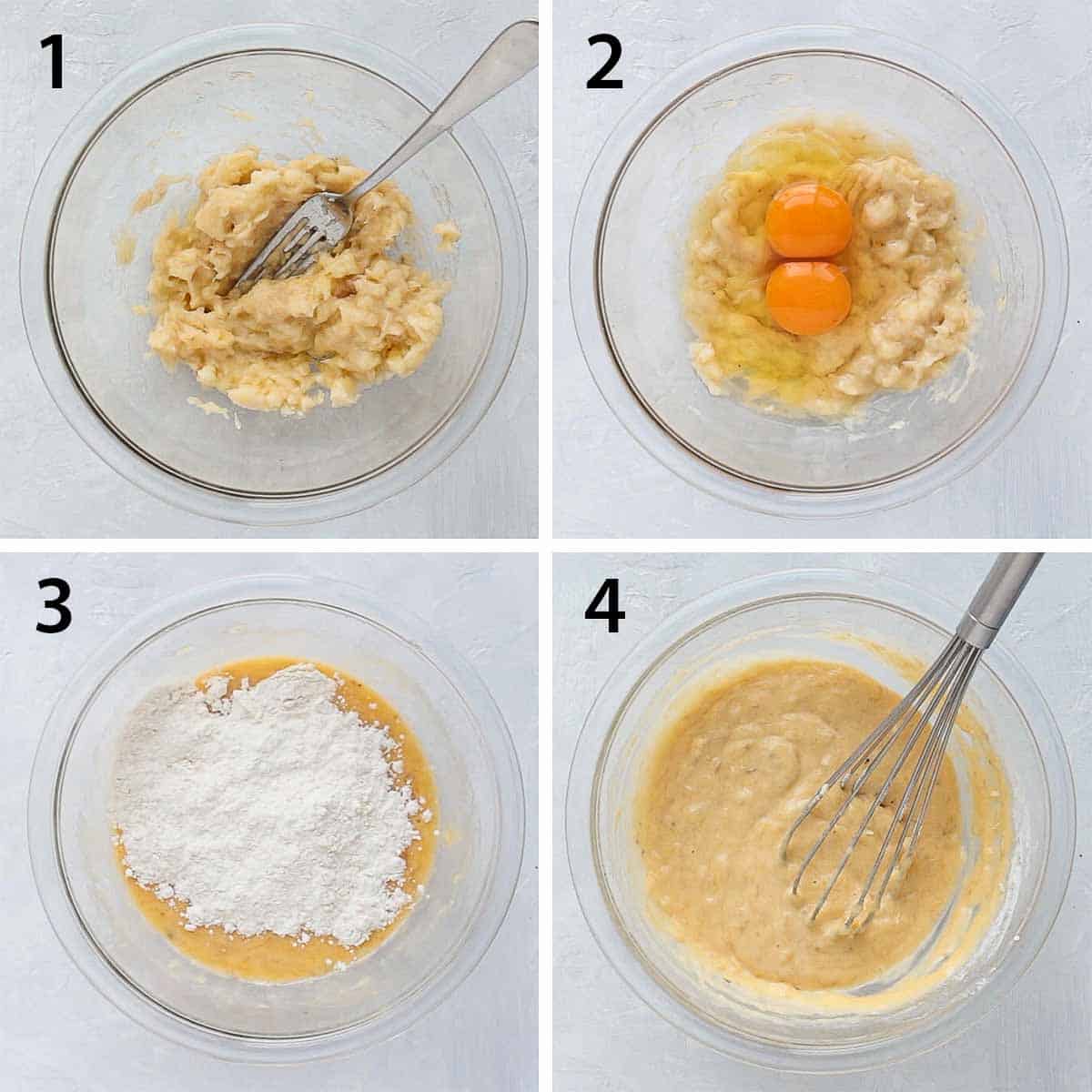 Recipe Troubleshooting
Because the size of Bananas and Eggs can vary, you might need to slightly adjust the quantities. I always say that the first cooked pancake (just like the first Crepe!) should be a test run.
Getting the right pancake texture
The pancakes are a bit soggy (or they seem raw in the middle): add a little bit more Self-Rising Flour, one tablespoon at the time. That is probably because your bananas or eggs are on the larger side
The pancakes are dry: usually happens when you use small eggs and bananas. You might need to add a little bit more mashed bananas - start with half a banana and see if it improves the texture!
Cooking the Pancakes
The Pancakes are burning before they are fully cooked: the stove temperature is probably too high - simply reduce the temperature and cook for a bit longer.
They are hard to flip: they are either not ready to be flipped yet, or this could be caused by using not enough flour (see above). You should see bubbles on the surface before you flip them.
Recipe FAQs
How to make Homemade Self-Rising Flour
Self-Rising Flour may not be an ingredient you have in your pantry; I personally never use it so I don't tend to buy it. Good thing is: it is SUPER easy to make at home. I now have a nice jar of homemade self-rising flour sitting in my pantry, waiting to be used to make these Banana Pancakes!

You will need:
- 1 cup of Plain / AP Flour
- 1 1/2 teasp of Baking Powder
- 1 pinch Salt

That's it! Simply mix the three ingredients together and store it in an air-tight container or jar in your pantry. You will never need to buy some ever again!

Note that this is a ratio to replace 1 cup of flour - you will not need all of it for this recipe. Feel free to reduce or double the quantities as required!
How to get perfectly round pancakes
Use a Round Pastry Ring or Large Round Cookie Cutter to create perfectly round pancakes. Place the Ring or Cutter in your pan and pour the pancake batter.

Let it spread to the edges of the ring (rotating your pan to direct the batter if needed) then remove it straight away. Your pancakes will cook in a perfectly round shape!
Can I make them in advance?
Yes, these banana pancakes can be made ahead and stored in a container in the fridge for 2 days. You can make a larger batch too, which is great for meal-planning!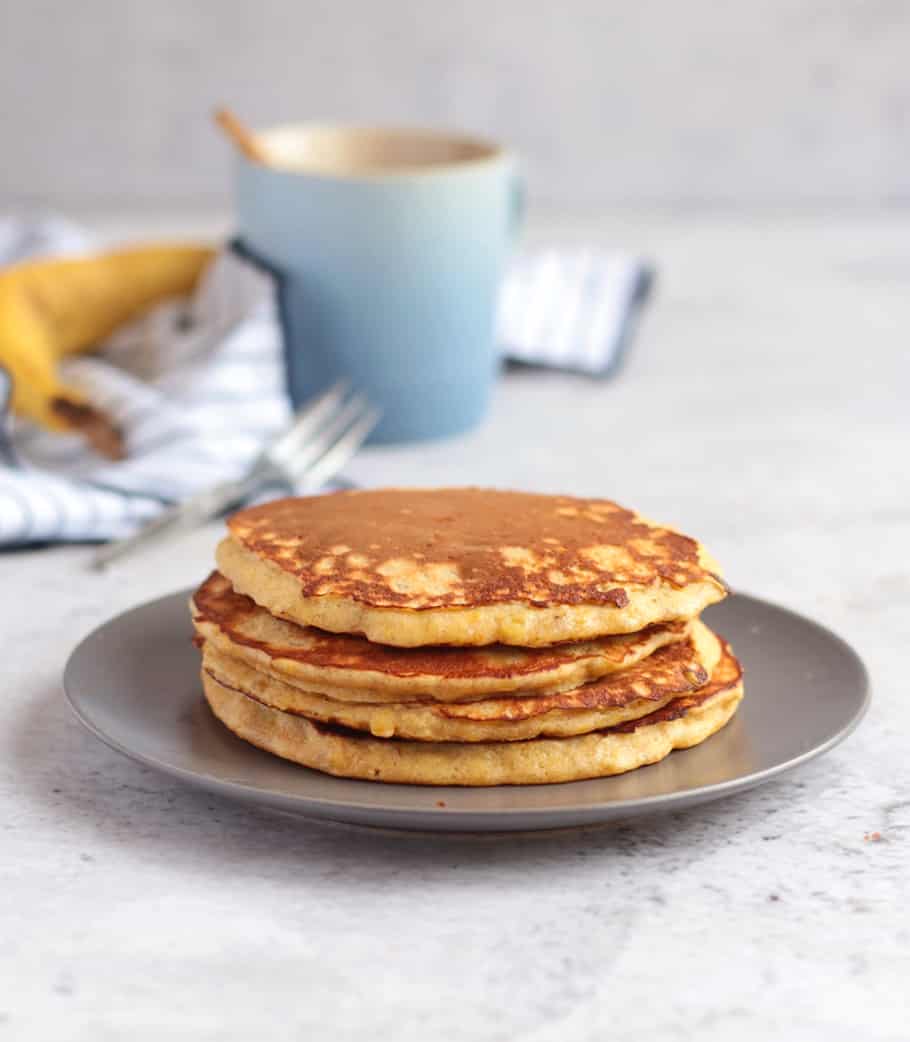 Sugar Free Caramelised Bananas Topping
To stay in the Healthy Banana Theme, I made some Sugar-Free Caramelised Bananas to serve with the Pancakes. It is just as easy to make as the pancakes.
To make the the Honey Caramelised Banana Toppings, you will need:
One Banana, sliced
1 tablespoon of Honey
Place the honey in a warm skillet - it will melt and bubble straight away. Add the sliced Banana, quickly stir for 30 seconds to a minute until you get coloration on the bananas, then pour over the bananas.
More Topping Ideas
This breakfast will be delicious with other toppings and sauces as well, for example:
If you want more ideas of Pancake Toppings, check out my favourite 30 Pancake Toppings Recipe!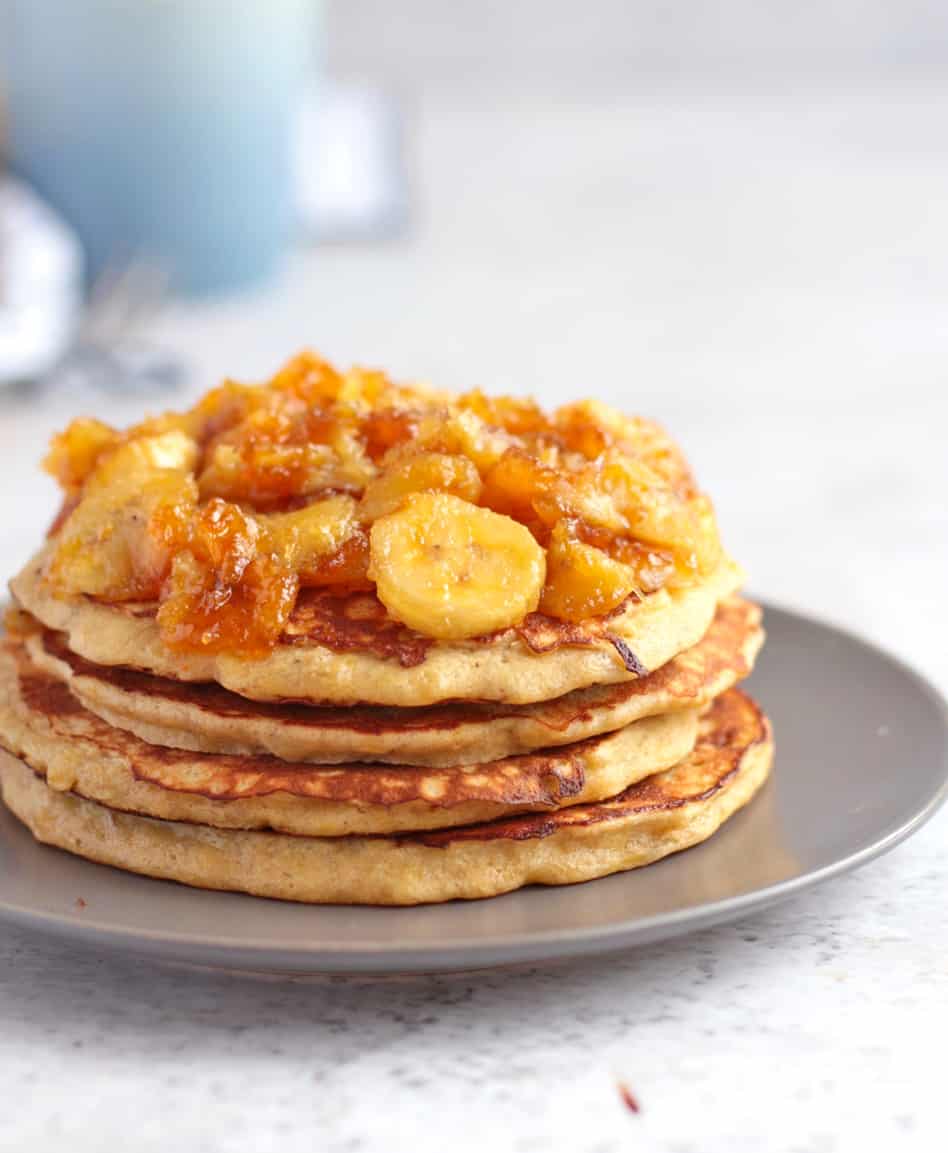 Made this recipe?
Let us know if you liked it by leaving a comment below, and tag us on Instagram @a.baking.journey with a photo of your creation!
Recipe
Healthy 3 Ingredients Banana Pancakes (Sugar-Free)
This Super easy 3 Ingredients Banana Pancakes Recipe is Sugar-Free and will be ready in less than 20 minutes. Perfect for a healthy and quick breakfast!
Print
Pin
Rate
Servings:
4
Large Pancakes
Ingredients
Banana Pancakes
2

Bananas

-

medium size

2

Eggs

1/2

cup

Self-Rising Flour

-

(*)
Caramelised Bananas
1

Banana

-

medium size

1

tbsp

Honey
Disclaimer
I highly recommend using the measurements in grams & ml (instead of cups & spoons) for more accuracy and better results.
Instructions
Banana Pancakes
Mash the Bananas into a large mixing bowl until smooth.

Add the Eggs and whisk until combined, then whisk in the Self-Rising Flour until no lumps remain.

Grease a small skillet with cooking spray (or butter). Pour some Banana Pancake batter in the middle of the skillet, on medium heat. Leave to cook for about 1 minute, or until you can see bubbles appearing on the surface. Flip and leave to cook for another minute. Repeat until all the batter is cooked.

See note under (*) below if the centre of the first pancake is mushy or soggy - you might need to add a little bit more flour.
Caramelised Banana Topping
Heat up a small skillet on low heat and drop the tablespoon of honey. It will melt and bubble straight away.

Add the sliced Bananas and leave to caramelise for about a minute, stiring occasionally to flip the banana slices (see note 1)

Serve over the Banana Pancakes, warm. Optionally, pour some Honey over the Pancakes if you would like them to be sweeter.
Tried this recipe? Make sure to leave a comment and star rating below!
Notes
Yield: This recipe will make 4 large Pancakes, or 8 Small Pancakes.
Ingredient Notes:
(*) Depending on the size of the Bananas and Eggs, you might need to add a little bit less or more Self-Rising Flour. Start with 1/3 of a cup (50 grams) and add more up to 1/2 cup (75 grams) if the first cooked pancake seems soggy or is hard to flip. If using large bananas or large eggs, you may need to add more than the recommended 1/2 cup of flour. Simply add a little bit more Flour, 1 tablespoon at the time, to get a thicker and fluffier consistency.
Instruction Notes:
Remove the caramelised bananas from the heat as soon as they turn golden, or they will start to become mushy.
Nutrition
Calories:
129
kcal
|
Carbohydrates:
23
g
|
Protein:
5
g
|
Fat:
2
g
|
Saturated Fat:
1
g
|
Cholesterol:
82
mg
|
Sodium:
32
mg
|
Potassium:
254
mg
|
Fiber:
2
g
|
Sugar:
7
g
|
Vitamin A:
157
IU
|
Vitamin C:
5
mg
|
Calcium:
15
mg
|
Iron:
1
mg
Tried this Recipe?
Leave a comment + star rating below and tag us @a.baking.journey on Instagram with a photo of your creation!