These Buckwheat Crêpes - or "galettes de sarrasin" are a classic recipe from the Brittany region of France. These naturally gluten-free Crêpes are made with Buckwheat Flour and can be used to make a sweet dessert or a savoury dish.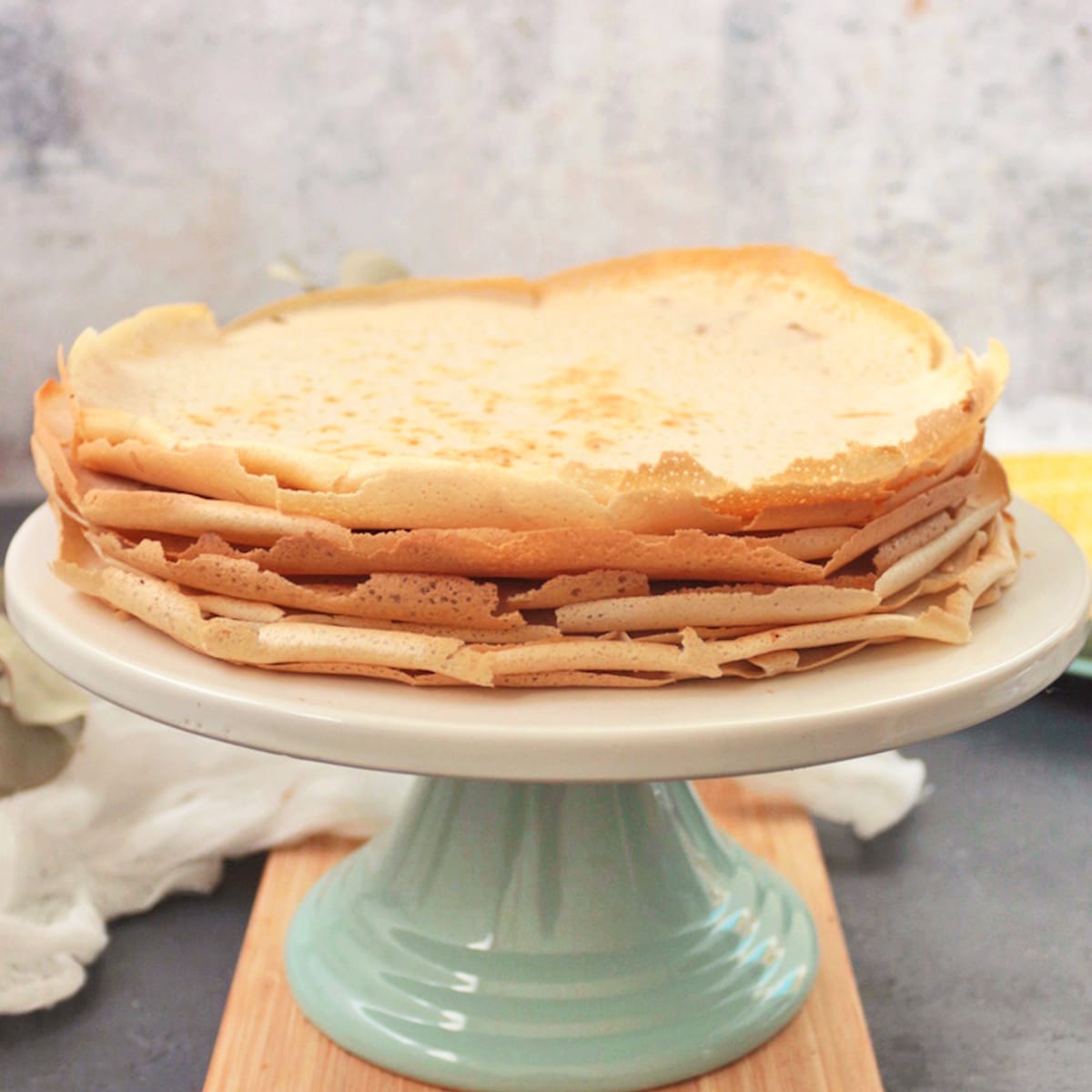 Jump to:
Why we love this recipe
What I love the most about this recipe is that it can be used to make both sweet AND savoury Galettes. And there are never-ending possibilities when it comes to toppings and fillings!
These buckwheat galettes are an awesome gluten-free alternative to traditional French Crêpes, and are just as easy to make! Made with 4 or 5 basic ingredients only, these gluten-free crepes are super versatile and can be served for every meal of the day.
I personally love them for breakfast with a fruity topping, just like my Banana Buckwheat Pancakes, or served for dinner with mushroom, cheese and an egg!
Where do Buckwheat Crêpes come from
Buckwheat Crepes are a traditional recipe from the French region of Brittany. Typically served with savoury fillings, these naturally Gluten-Free Crepes are also called 'Galettes' (or Galettes Bretonnes) in French.
Buckwheat Galettes are also called "Galettes de Sarrasin" or "Galettes de Blé Noir" (Black Wheat Galettes) in French. That is because the traditional French Buckwheat Crêpes have a very dark colour thanks to the unbleached, often un-hulled buckwheat flour used.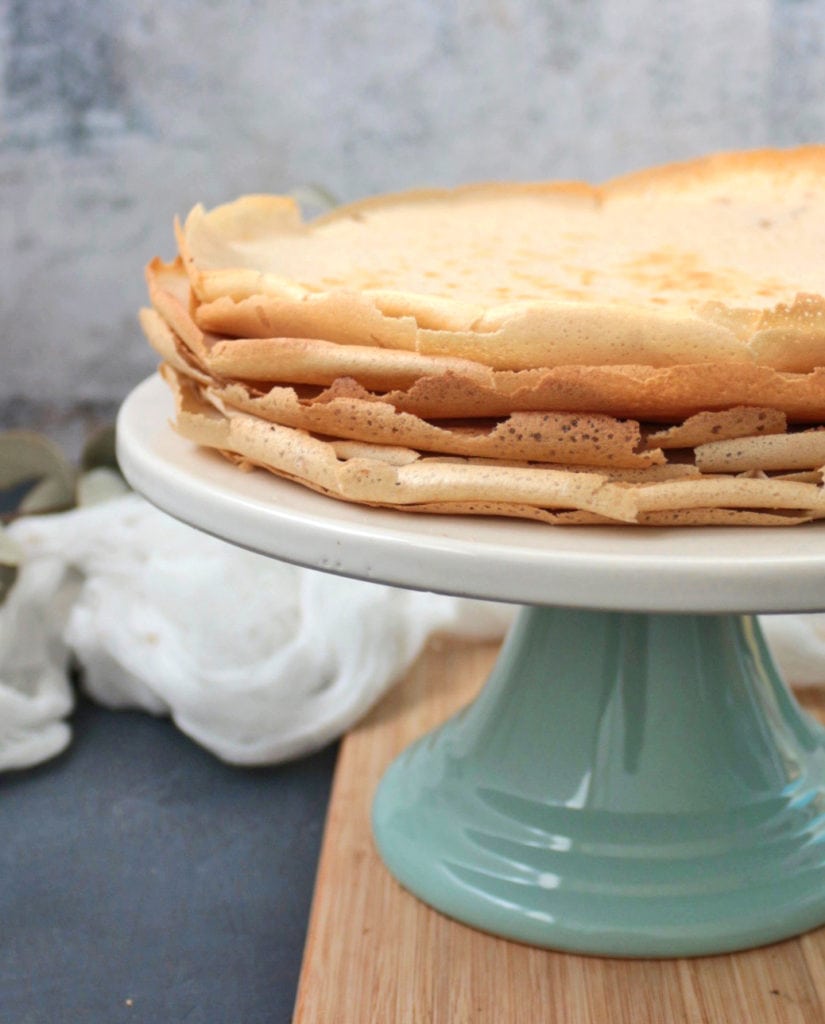 Ingredients
When it comes to traditional recipes, it is always hard to give one set of ingredients only - especially with recipes as old as this one!
With family recipes passed down from generation to generations, you will find many variation of the Buckwheat Crepes.
As a general rule though, you will need only a few ingredients to make this recipe:
Buckwheat Flour (Farine de Sarrasin): the traditional recipes will use a non-bleached buckwheat flour that gives a natural brown colour to the crepes.
a Liquid: Water or Milk - or a mix of both to create light yet flavourful crepes. You can also use sparkling water to get super, super light crepes!
Salt or Sugar: depending on whether you are making this recipe sweet or savoury.
The quality of the Buckwheat Flour is obviously essential here. You should easily find slightly bleached Buckwheat Flour in most supermarket or health store (like the one I used here), but if you want to make the real traditional crepes, try to go for the unbleached version.
The ingredient that varies most in recipes is the choice of Liquid. Some recipes call for simple Water, others go for Milk or even Beer. When I make Crepes, I always make them the way my Mum does: with a mix of Sparkling Water and Milk.
Combining both ingredients give a rich, creamy texture to the crepes thanks to the milk but keeps them super light and fluffy because of the Sparkling Water.
Note that you can absolutely use 100% of Water, Sparkling Water OR Milk if you want to play with the texture of the crepes.
To make the recipe savoury, add a little bit of salt into the batter. You can also choose to add some spices into your crepe batter to play with the taste. For Sweet Crepes, simply add some Caster Sugar instead of Salt.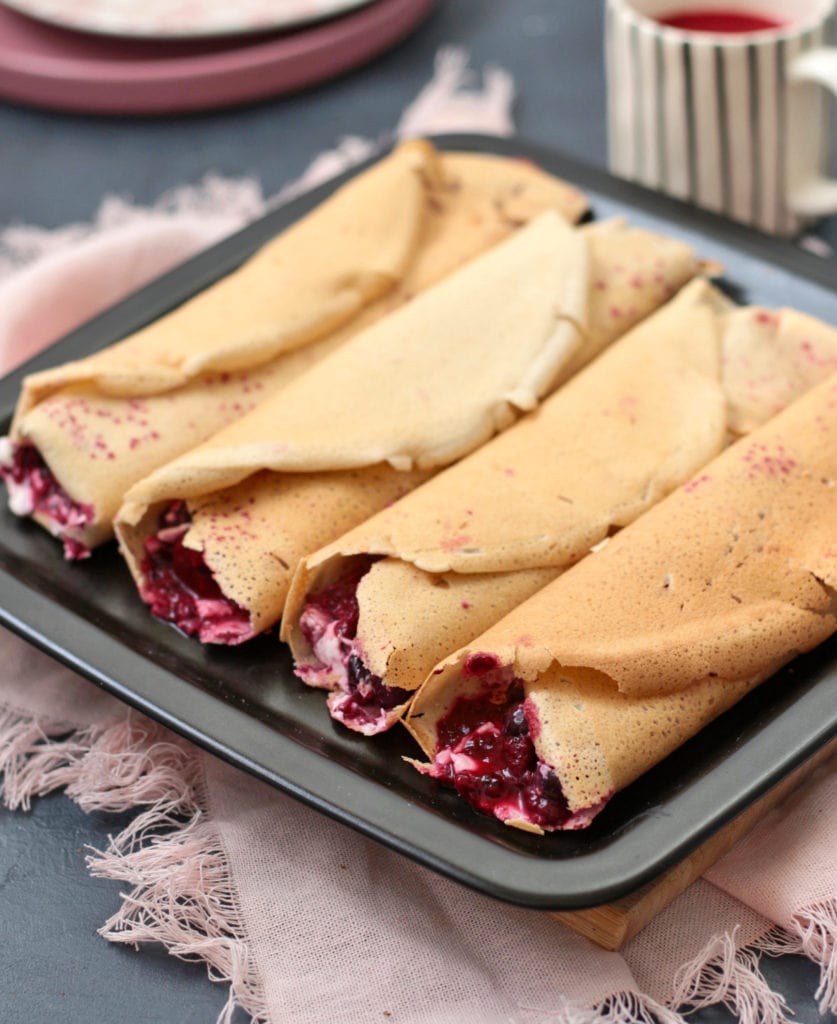 How to Make Buckwheat Galettes
Making Gluten-Free Crepes with Buckwheat Flour is EXTREMELY simple. Like... ridiculously simple. Simply:
Place the Buckwheat Flour in a large mixing Bowl with the Salt (for Savoury Crepe) OR Caster Sugar (for Sweet Crepes).
In a seperate bowl, whisk the Eggs, Sparkling Water and Milk.
Create a well in the centre of the dry Ingredients and pour in the Wet Ingredients. Mix until completely smooth, then leave to rest in the fridge for at least 30 minutes - preferably for 1 to 2 hours.
Leaving the crepe batter to rest is very important in this recipe, even more than for crepes made with wheat flour. Buckwheat is a Gluten-Free Flour, so without the gluten in your batter, your crepes will tend to break more when cooked.
By allowing the batter to rest, the Buckwheat Flour will have time to soak in all the liquid and become flexible and workable. Note that you may need to re-whisk the batter when ready to be cooked as it will have thickened while resting.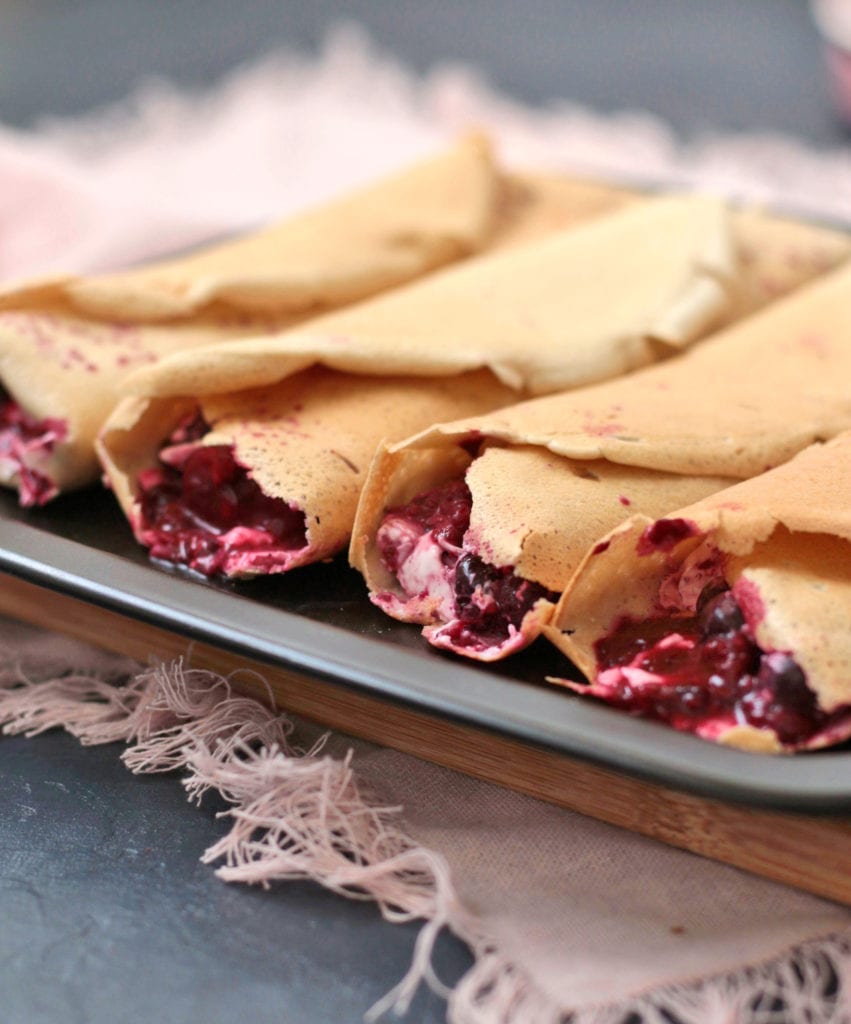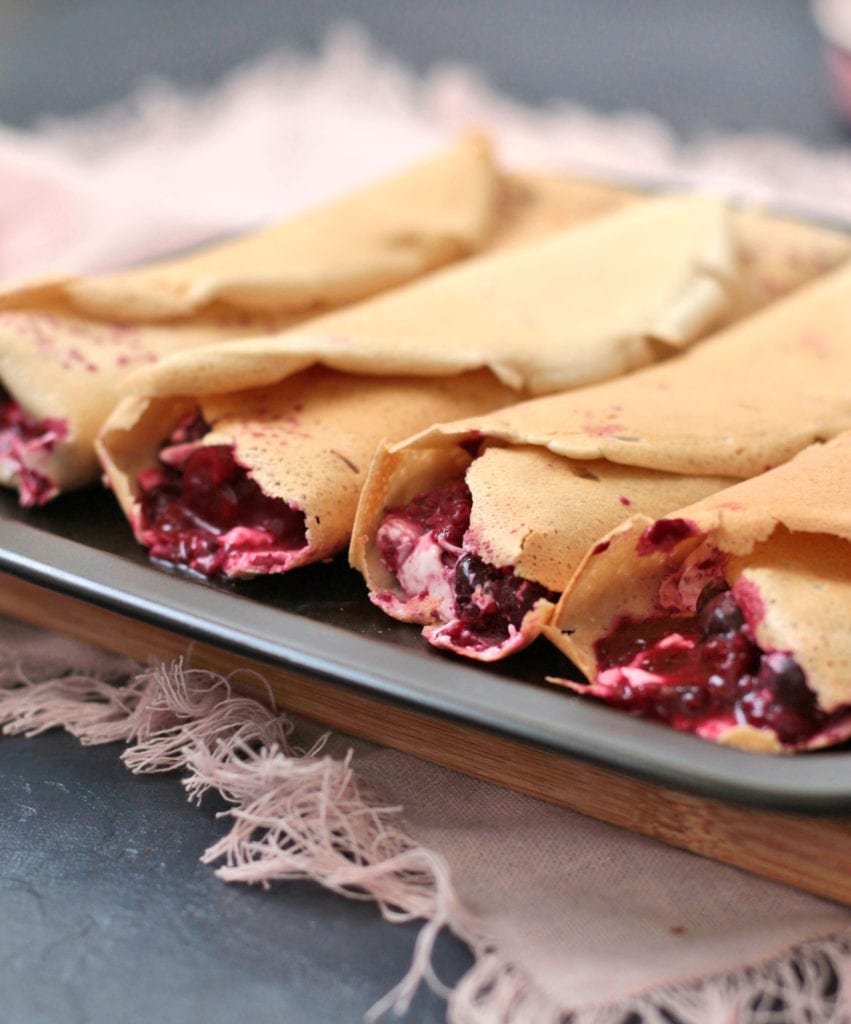 How to cook Crêpes
Making Crepes at home can be a bit tricky for one reason: the pan. If you have even been to France, you know that they will traditionally make the Crepes on very heavy and large heated round machine.
Not something us homebakers keep in the pantry! There are a few utensils that are easily available to cook crepes at home:
a Non-Stick Crepe Pan, made specifically for cooking the perfect crepes. This is what I used here and find that it is the best way to get thin, crispy crepes. Those pans often come with specific utensils to spread and flip the crepes.
a home Crepe Machine - perfect for serial-creperes who make crepes at home all the time
alternatively, any non-stick large pan or Cast Iron Frying Pan will do. Simply make sure to grease the pan well in between each crepe so that they don't stick to it.
The Crepes should be cooked in the pan on an even medium-heat. It may take a few attempts to get the perfect temperature, so keep an eye on your crepes and adjust the heat if needed.
If served sweet, simply cook the crepes before fill them with your choice of fruits, chocolate or other condiment.
When served savoury, you can either
Cook one side of the crepe, flip it then place your choice of ingredient over the cooked side while the other side is cooking.
Fully cook the crepes, then fill them and re-cook them in the oven - preferably with a sauce or some cream to avoid getting very dry crepes.
Recipe FAQs
How to store Crepes
Crepes are best eaten straight away or within a few hours, when still slightly warm. You can also keep them longer in the fridge.
How long will Crepes last in the fridge?
Crepes are best eaten within 48 hours if kept in the fridge. Pile them up on a large plate and cover with plastic wrap so that they don't dry out.

Note that buckwheat crepes are more crispy and fragile than regular crepes, especially when kept in the fridge, so I always recommend re-heating them to soften them up before serving them.
Can you freeze crepes?
Although it is preferable to eat Crepes straight away or within 2 days, you can freeze them if needed. Make sure that each crepe is separated from the other ones by placing some baking paper in between each crepe.

Then, fully wrap them all in plastic wrap and/or aluminium foil. Keep in the freezer for up to a month. Simply place in the microwave for a few seconds (or oven on low temperature for about 5 minutes) when ready to be eaten.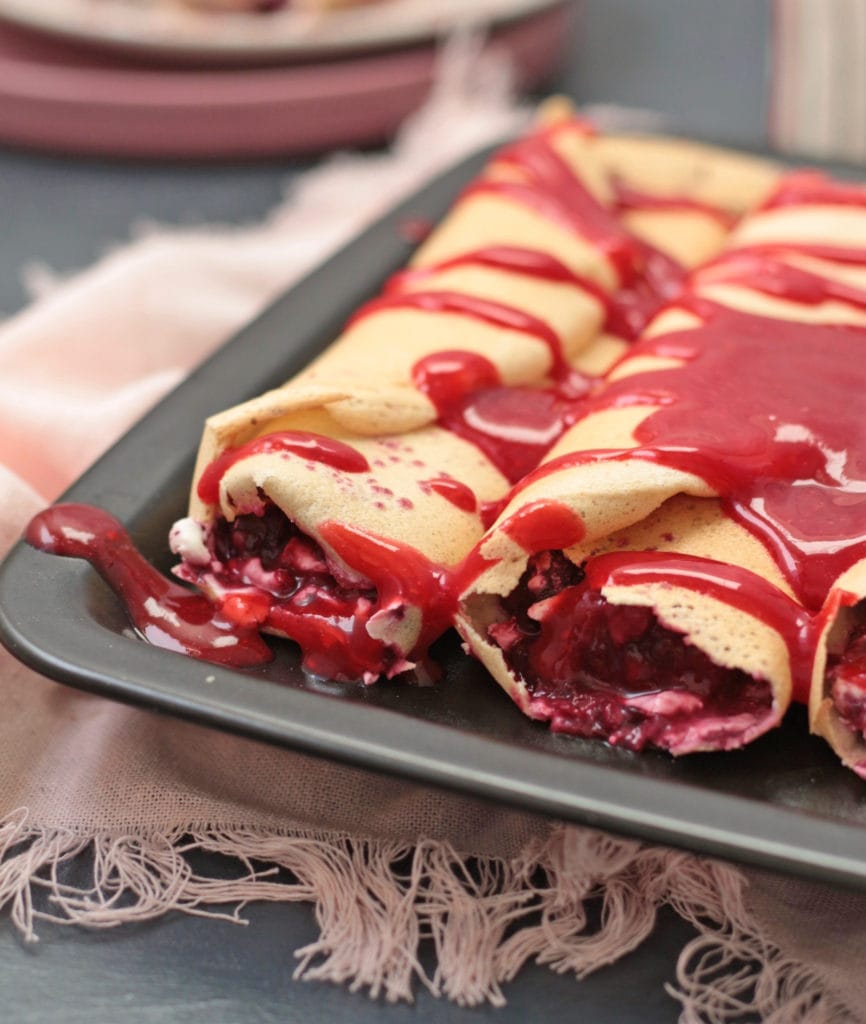 Fillings & Toppings Ideas
The best part of making crepes is choosing how to fill and top them. That's also what makes them a fun party dish, as you can prepare lots of different filling and toppings and let people create their own combination!
Savoury Crepes
Ham and Cheese
Creamy Mushrooms and Spinach
Smoked Salmon and Cream Cheese
Chicken and Mushroom
Cheese and an Egg
Sweet Crepes
Made this recipe?
Let us know if you liked it by leaving a comment below, and tag us on Instagram @a.baking.journey with a photo of your creation!
Recipe
French Buckwheat Crepes
These super easy Gluten Free French Buckwheat Crepes can be made Sweet or Savoury. Choose your favourite filling and topping to make this recipe your own!
Print
Rate
Servings:
12
Large Crepes (or 24 small)
Ingredients
250

gr (1 2/3 cup)

Buckwheat Flour

2

large

Eggs

240

ml (1 cup)

Full Cream / Whole Milk

240

ml (1 cup)

Sparkling Water -

or still water

1

teaspoon

Salt - to make savoury

1

tablespoon

Caster Sugar - to make sweet

Butter

-

to grease to pan
Disclaimer
I highly recommend using the measurements in grams & ml (instead of cups & spoons) for more accuracy and better results.
Instructions
Mix together the Buckwheat Flour and Salt (for savoury crepes) or Caster Sugar (for sweet crepes) in a large mixing bowl. Create a well in the centre and pour in the whisked Eggs, Milk and Sparkling Water. Whisk to get a thin, liquid batter.

Rest for at least 30 minutes (or up to 2 hours) to allow for the Buckwheat Flour to absorb all the liquid.

Preheat a medium size, non-stick pan with a little bit of melted butter. When warm, pour in a little bit of the crepe batter (see note 1).

Cook for about 1 minute on each side - you know the crepe is ready to be flipped when the edges are starting to curl.

- If the batter is appears to be very thick and does not spread around the pan easily: add a little bit more water and/or milk.- If the batter is very runny, add a little bit more Buckwheat Flour

To store, leave out to cool down completely then cover with plastic wrap or aluminium foil and keep in the fridge for up to 4 days.
Tried this recipe? Make sure to leave a comment and star rating below!
Notes
The most efficient way to cook a crepe is to hold the pan with one hand and pour the batter with the other one. While pouring the batter, make a slow, circular movement with your hand holding the pan to homogeneously spread the batter around. You can find more information about cooking crepes in my Classic French Crepe Recipe.
Nutrition
Calories:
97
kcal
|
Carbohydrates:
17
g
|
Protein:
4
g
|
Fat:
2
g
|
Saturated Fat:
1
g
|
Cholesterol:
29
mg
|
Sodium:
220
mg
|
Potassium:
158
mg
|
Fiber:
2
g
|
Sugar:
3
g
|
Vitamin A:
73
IU
|
Calcium:
37
mg
|
Iron:
1
mg
Tried this Recipe?
Leave a comment + star rating below and tag us @a.baking.journey on Instagram with a photo of your creation!