This Authentic French Crêpes Recipe makes the lightest and softest Crêpes ever. Super easy to make, this delicious classic French recipe can be served for breakfast, tea time or as a dessert with your favourite filling!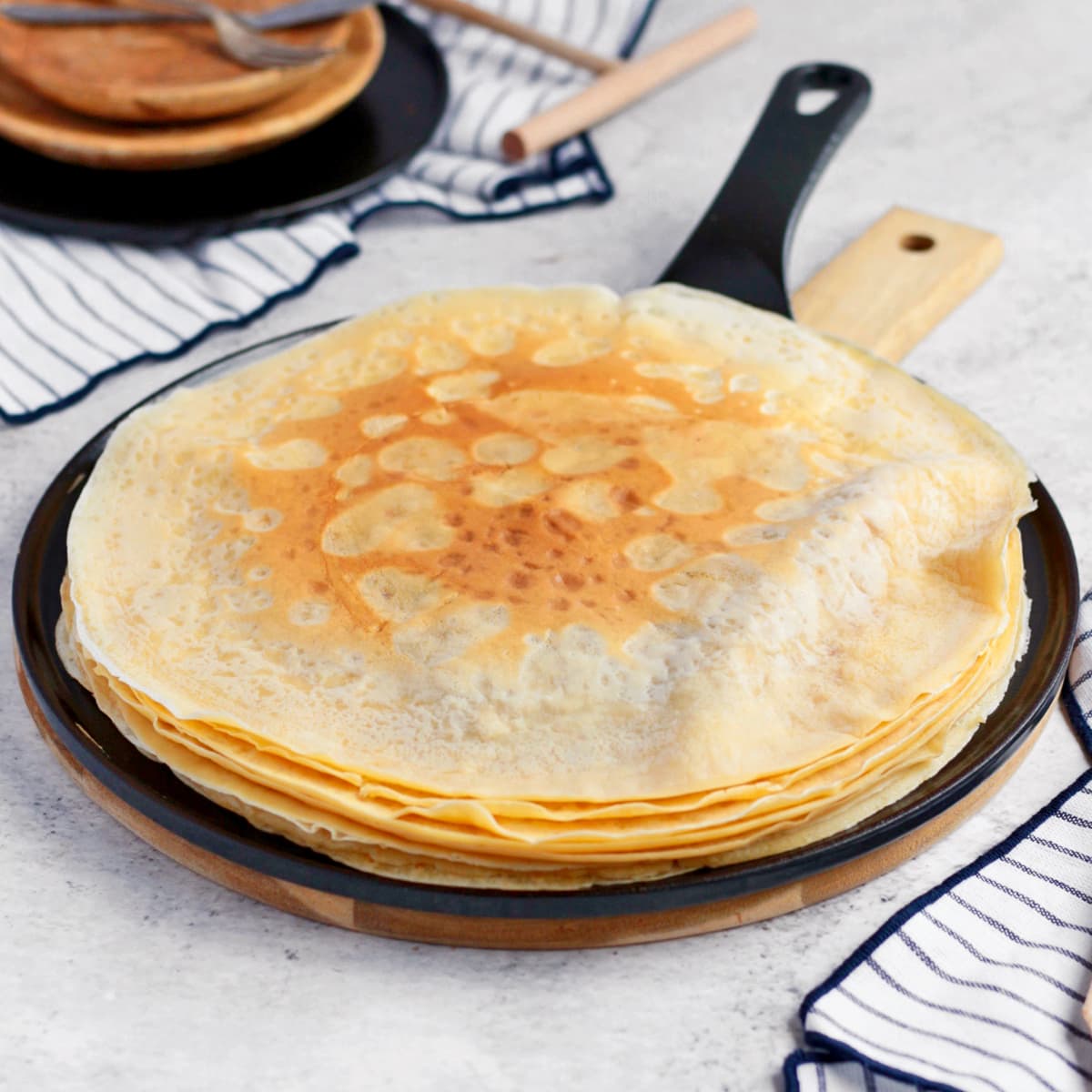 This article is written in collaboration with Everten
---
Jump to:
Why we love this recipe
There are probably millions of crepes recipes in the world but for me, this is the Best crepe recipe in the world for one reason: it is my Mum's recipe. And you simply cannot beat childhood memories of food!
But more than just for personal reason, I adore this recipe because it creates extremely light and airy crepes. This Sweet Crepe Recipe is also super easy to make and very forgiving, making it almost impossible to fail.
A perfect lazy Sunday afternoon activity if you ask me!
What is a Crêpe?
A Crêpe is a traditional French Thin Pancake made from 3 basic ingredients: Flour, Eggs and a liquid - usually Milk. They can be served as a sweet or savoury dish, with the addition of Sugar or Salt in the batter and a sweet or savoury filling.
Butter (or brown butter) is often added to the batter to bring some richness and flavour, but many other ingredients can also be used to flavour the dessert such as Vanilla, Lemon Zest or even Alcohol!
Ingredients
As explained above, the 3 main ingredients of a Crepe Batter are Flour, Eggs and Milk. A little bit of Sugar (and a pinch of Salt) is added to the batter if made sweet, as well as Butter for flavour and richness. The butter can be browned to add a nutty flavour, but I simply used melted butter here.
What are crepes made from (scroll down to recipe card for all quantities):
Flour: plain / all-purpose
Caster Sugar: or fine white sugar. The quantity of sugar can be adjusted to suit your taste if you want sweeter pancakes.
Salt: just 1 pinch to enhance the flavour of the crepes
Milk: preferably full cream milk for the best flavours - see below for substitution. It's important for it to be at room temperature.
Butter: unsalted and melted, back at room temperature.
Eggs: medium size, at room temperature
There are many flavouring ingredients you can also add to the batter such as Vanilla Extract, Lemon Zest or Orange Zest, Orange Blossom Water, Rhum (or other liquors/alcohols),...
For this batch, I added about 1/2 tsp of Vanilla Extract and the zest of 1/2 Lemon.
Ingredient Substitution
As mentioned above, one of the great thing about this recipe is that it is extremely forgiving. As opposed to other French Pastry recipes that require high precision, this one can be easily adapted to suit your taste or food requirements.
You can absolutely make this Crepe Recipe without Butter for example, or use a Plant-Based Milk instead of a Dairy Milk.
Flour: I do not recommend using another type of flour here, but you can find a Gluten-Free version of this recipe with my Buckwheat Flour Crepes
Caster Sugar

:

you can use any type of Fine White Sugar or even Brown Sugar instead. Or go sugar-free and omit the sugar all together.
Full Cream Milk: this recipe will work just as well with any type of Plant-Based Milk (I often make them with Soy Milk). You could technically use Water instead of Milk, but you will loose a lot of flavour and softness in the dessert
Butter: can be substituted for any cooking oil such as Canola Oil
A great tip I picked up from my mum is to substitute half of the milk with Mineral/Bubbly Water to create ever lighter crepes!
How to make perfect Crêpes from Scratch
Crepes are seriously SO easy to make. All you need is one bowl and a whisk! Let's look at the different steps in detail.
Before starting, I recommend weighting/measuring all the ingredients so they are ready to be used.
Melt the Butter and set aside to cool down for a few minutes.
Photo 1: Place the Flour, Sugar and Salt in a large mixing bowl and stir to combine. Create a well in the centre of the bowl.
Photo 2: Combine the melted Butter and Milk and pour about 2/3 of the liquid into the well (if the milk is cold and butter still warm, it will split but don't worry, it will all get mixed later on anyway).
Photo 3: Whisk to combine the liquid and dry ingredients - it will be a rather stiff batter, it's normal.
Photo 4 & 5: Add the whisked Eggs (they will incorporate more easily if whisked together before hands) and whisk well to combine.
Photo 6: Lastly, add the remaining Butter/Milk liquid and whisk really well until no lumps remain (*).
Cover the bowl and place in the fridge to rest for at least one hour, or up to a day. It is important to let it rest to develop the flavours and hydrate the flour.
(*) if you seem to have a lot of lumps you cannot get rid off, use an immersion blender to mix the batter until smooth.
How to use a Crepe Pan
Once your batter has had time to rest in the fridge, it is finally time to cook them! Cooking them is probably the more 'technical' part of this recipe, as it takes a bit of training to get the perfect round and thin crepe.
Don't worry though, you will get the hang of it very quickly if it is your first time! To cook the Crêpes, you could use a simple Non-Stick Pan or Skillet but I have found that I get the best results with a proper Crêpe Pan.
With a regular Non Stick Pan, you will need to pour some batter on your pan held on an angle, then move and rotate the pan to spread the batter and create a round shape. A bit tricky.
Alternatively, with my Chasseur Crepe Pan, I simply had to pour some batter in the centre of the hot pan and use the Crepe Spreader in a circular movement to create the perfect crepe shape.
The spreader also helps to make extremely thin crepes - which would be almost impossible to get with a regular pan. And because most Crepe Pans are heavy cast iron pans, the heat will transfer much more quickly and more evenly too.
The last step is to flip the crepes. Although it is very tempting to attempt to flip it in the air (of course I do it all the time, it's so much fun!), the "safest" way to flip a crepe is with a spatula. To avoid damaging the pan, you should always use a wooden spatula instead of a metal one that could scrap the surface of the pan.
Crepes Troubleshooting & Tips
Batter Consistency
Like I said previously, crepe batters are very forgiving and can be adjusted at any time to get the perfect consistency. Just like for pancakes, consider the first Crêpe to be a test-crepe and adjust the batter after it if needed.
The batter needs to be very smooth and liquid, as opposed to a pancake batter that will be much thicker.
Batter too thick
Add a little bit of Milk, one tablespoon at the time until you get a very smooth, light and liquid consistency.
Batter to thin
Whisk in a little bit of flour, one tablespoon at the time.
Cooking the Crepes
Do you need to flip crepes?
Yes, they need to cook on both sides - though the second side will cook much faster than the first one
How thin should crepes be?
As thin as possible - as long as it does not break apart when you try to flip it
How do I know the crepe is ready to be flipped?
Usually, looking at the edges is a good indication: they will start to crisp and lift up. You could also see some air bubbles in the middle of the crepes. When in doubt, simply lift up a side and look at the colour. It should be golden, but not too dark in colour.
How hot should the pan be?
Start with a hot pan, then adjust if needed or if the crepes seem to burn. You will probably need to adjust the temperature a few times while cooking them.
Recipe FAQs
What is the difference between a Crepe and a Pancake
The main difference between a Crepe and a Pancake is that a crepe is made without any leavening agent - so they do not rise. Pancakes are usually made with Baking Powder (or other rising agents) to become thick and fluffy, but Crepes stay paper thin and soft.
Do I need to rest the batter in the fridge?
It is highly recommended, as it will help flavour development and give time to the flour to hydrate. It is not absolutely necessary though, and if you cannot wait, start cooking the crepes straight away.
Is a crepe pan necessary?
If you do not make Crêpes often or are making them for the first time, the quick answer is no: you can absolutely use a regular non-stick pan or skillet.

But I have really found that using a proper Crepe Pan is a real (crepe) game changer. Not only using the spreader is much much easier than trying to find the right hand movement (I know it doesn't look like it, but it REALLY is!), you also get a much thiner crepe that will cook much faster than on a regular pan.
How to store Crêpes
Crepes are best eaten straight away - but in case you have any leftover Crepes (trust me, you probably won't!), cover the stack with plastic wrap and store in the fridge for 1 or 2 days. Reheat individually when needed.

I do not recommend freezing crêpes.
How to serve Crêpes
A great thing about this basic recipe is that you can serve it exactly how you want - and change it up every time! I personally prefer my crepes served warm, but they could also be served cold.
For the filling, there are SO many options, going from a basic Sugar drizzle or Chocolate spread to more cooked toppings - and even ice cream!
Here are a few of my favourite fillings and toppings:
Brown Sugar and Lemon Juice
Vanilla Ice Cream and Hot Chocolate Sauce
Caramelised Apples or Stewed Pears
Fresh Fruits and Whipped Cream
And if you are looking for more original ideas, check out my 30 favourite Pancakes Toppings that could work just as perfectly with French Pancakes!
More Classic French Recipes
Made this recipe?
Let us know if you liked it by leaving a comment below, and tag us on Instagram @a.baking.journey with a photo of your creation!
Recipe
Easy French Crêpes
This Basic French Crêpes Recipe makes the lightest and softest Crêpes ever. Super easy to make, this delicious classic French recipe can be served for breakfast, tea time or as a dessert with your favourite filling!
Print
Pin
Rate
Servings:
12
large crepes
Ingredients
250

gr (1 2/3 cup)

Plain / All Purpose Flour

15

gr (1 tbsp)

Caster Sugar -

or fine white sugar

1

pinch

Salt

30

gr (2 tbsp)

Unsalted Butter -

melted

500

ml (2 cups)

Full Cream Milk

3

Eggs
Disclaimer
I highly recommend using the measurements in grams & ml (instead of cups & spoons) for more accuracy and better results.
Instructions
Melt the Butter and set aside to cool down.

In a large mixing bowl, whisk together the Plain Flour, Caster Sugar and Salt. Create a well in the middle of the bowl.

Mix the melted Butter and Milk (see note 1), then pour about 2/3 of the batter into the well. Mix well with a whisk until you get a thick batter.

In a separate bowl, whisk together the Eggs (see note 2), then add it to the Batter. Whisk until combined and smooth - you should not have big lumps anymore.

Add the rest of the Butter/Milk Liquid and whisk well until all combined. You should have a rather liquid batter (see note 3). Cover the bowl and place in the fridge to rest for at least an hour, or up to 24 hours (see note 4).

Heat up a Non-Stick Skillet or Crepe Pan on medium/high heat and grease it with a little bit of butter.

Pour some batter over the Pan:

- if using a regular pan, hold the pan on an angle while pouring the batter and continuously turn the pan around in a rotating movement to spread the batter

- if using a crepe pan, use the crepe spreader to spread the batter, doing one circular movement from the centre of the pan

Cook for 1 to 2 minutes, or until the edges of the crepe start to lift up. Use a wooden spatula to go under the crepe and flip it over. Cook the other side for about 1 minute.

Place the cooked crepe on a plate and repeat until you have cooked all the batter. Adjust the temperature of the stove if needed, and re-grease the pan between each crepe if they seem to stick to it.
Notes
If the butter is warm and the milk is cold, it will split when you try to combine them. Don't worry though, it will all get mixed in together with the dry ingredients.
You could crack the eggs directly over the batter, but they will be easier to incorporated if whisked together first
If you still have lumps that don't seem to mix in, use am immersion blender to smooth out the batter and break any lumps
Resting the batter is optional but highly recommended. This will allow for the flavours to develop and the flour to hydrate, resulting in lighter and tastier crepes.
Nutrition
Calories:
140
kcal
|
Carbohydrates:
19
g
|
Protein:
5
g
|
Fat:
5
g
|
Saturated Fat:
2
g
|
Cholesterol:
50
mg
|
Sodium:
37
mg
|
Potassium:
92
mg
|
Fiber:
1
g
|
Sugar:
3
g
|
Vitamin A:
189
IU
|
Calcium:
56
mg
|
Iron:
1
mg