This Classic French Profiteroles Recipe with Ice Cream Filling and Warm Chocolate Sauce Topping is probably one of the most iconic French Dessert. The perfect combination of crispy and chewy, warm and cold, light yet decadent!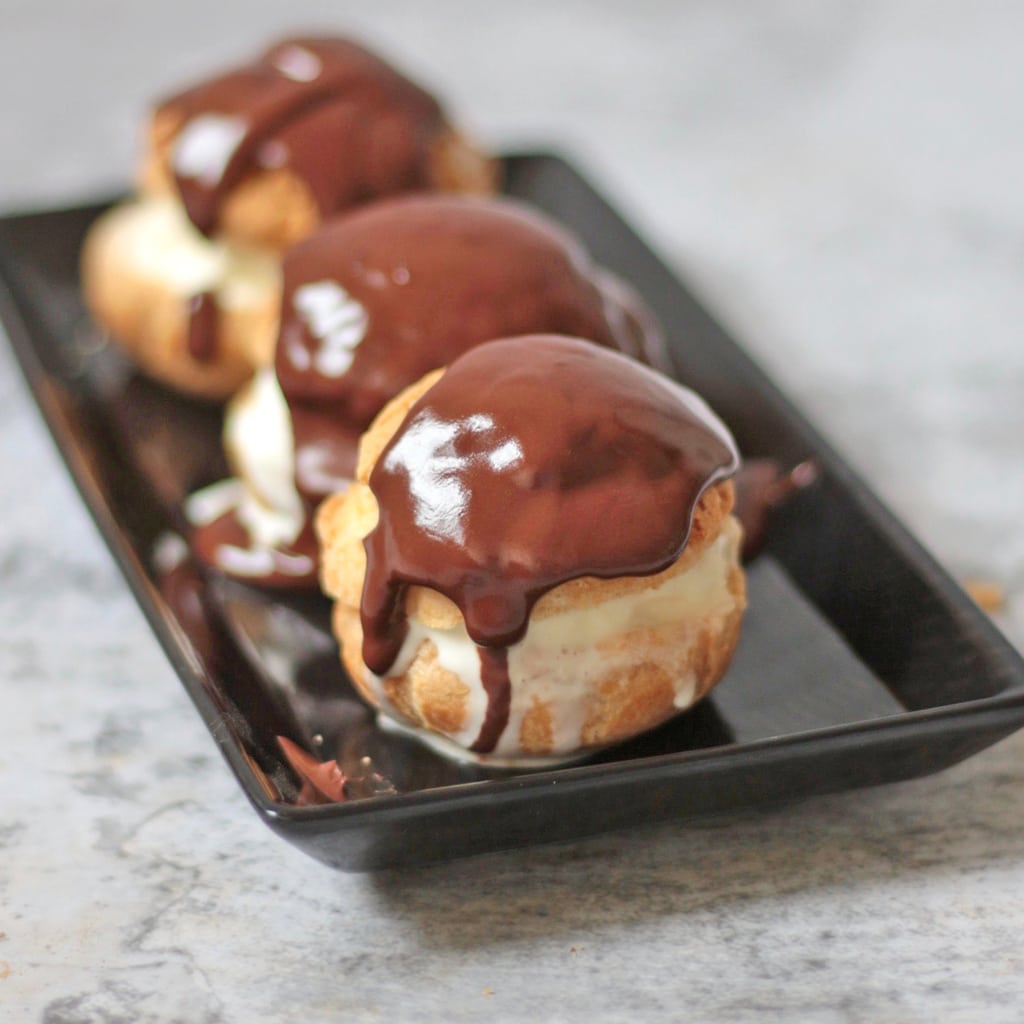 Jump to:
Why we love this recipe
Frozen Profiteroles with Warm Chocolate Sauce are probably one of my favourite dessert ever. Not only because I am obsessed with anything Choux Pastry, but also because it brings back many childhood memories.
It is an epic dessert that the whole family always loves, and is perfect to be served at the end of a dinner party, for the Holidays or as a celebration dessert!
Although many recipes will have a cream as the profiteroles filling, the only way I have ever had Profiteroles in Belgium and France was with Ice Cream and a Warm Chocolate Sauce. For me, it's that contrast between the frozen Ice Cream and the Warm Chocolate Sauce that defines this decadent dessert.
Today, I will show you exactly how to make Profiteroles, along with all of my favourite tips and tricks to make the best profiteroles recipe ever!
What are Profiteroles
We have probably all heard the name before, but some of you may not know what they are, really. These Choux Buns are a classic French Patisserie dessert that is composed of three elements.
What are they made of:
Choux Pastry Buns
A Cream Filling: Ice Cream, Whipped cream or Pastry cream
Warm Chocolate Sauce
Profiterole Origins are linked to 17th Century French Pastry, but funnily enough, they are known to have been served as a savoury dish at the time.
Today, Profiteroles are a sweet Patisserie dish that can be served with different types of Cream Fillings and topped with a warm Chocolate Sauce.
I know that for some people, a Profiterole is filled with Whipped Cream or Pastry Cream. But for me - and most French/Belgians, they are always filled with Vanilla Ice Cream and not a cream. Instead, choux buns filled with creams are called Choux à la Crème!
More Choux Pastry Recipe Ideas: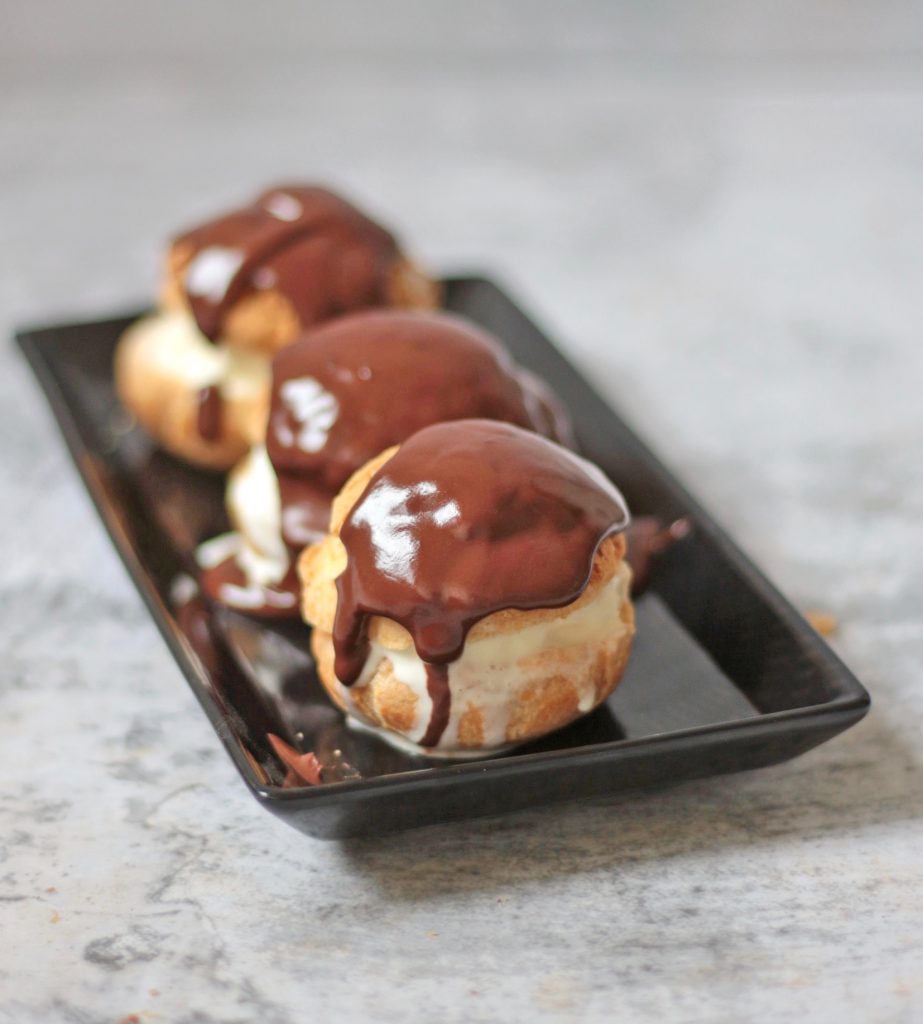 Choux Pastry Buns
The Choux Buns for Profiteroles are made the exact same way any Choux Pastry is made: by adding Flour to a mix of Water, Melted Butter (and optionally Sugar or Salt) in a Pot on the stove to dry it out, then mixing in Eggs.
Ingredients
You will only need a few basic ingredients to make this recipe:
Water - can be replaced by milk for a richer bun, or combined with milk (half and half). I personally prefer to use water only for super light buns.
Caster Sugar - just a tiny bit, the profiteroles buns should remain relatively plain as all the flavours will come from the filling!
Flour - Plain / All-Purpose. Make sure it is sifted to avoid any lumps
Eggs - at room temperature. The exact quantity of eggs will always depend on on a few elements like their size and how dehydrated your choux batter is, so it is important to add them a little bit at the time and assess whether or not you have added enough.
How to make Profiterole Buns
Place the Water, Sugar and Butter in a medium size pot on medium heat and leave until the butter and sugar have melted. Stir to combine.
Remove from the heat and drop the Flour at once.
Using a stiff spatula or wooden spoon, stir the flour in very well until you get a thick paste.
Place back on low heat and continue to stir by pressing the paste against the hot edges of the pan to dehydrate the batter as much as you can until you see a thin film appear at the bottom of the pan.
Transfer into a clean, cool bowl or the bowl of your stand mixer and leave to cool down for 10 to 15 minutes. You can also slowly beat the batter with the paddle attachment to cool it down more quickly.
Once back at room temperature (or not steaming hot at least), start mixing in the eggs one at the time. Mix very well between each eggs - it will appear not to come together at first, it's normal.
When you get to the last egg, whisk it in a separate bowl and add it a little bit at the time into the batter, mixing between each addition. You might need a little bit less or more eggs depending on the flour you used, the size of your eggs and how much you dehydrated the pastry on the stove.
You know the choux batter doesn't need more eggs when it it smooth and light. You can check for the exact texture by dipping one finger into the batter then flipping your finger upside-down. The batter should slowly fall back to create a reverse "C" shape.
If the batter is still standing upright on your finger, it means it needs more eggs. Be really careful at this point when adding more eggs though - it is almost impossible to save the choux batter if you add too much eggs.
The choux are now ready to be piped into small balls over a grease tray then baked.
Note that I added a Craquelin Topping to my Profiteroles, but this is completely optional. You can ready all about the craquelin topping here, with all my tips and tricks to make it.
Filling & Topping
Ice Cream Filling
Like I explained above, technically you can use Whipped Cream, Custard, a Vanilla Pastry Cream or Chocolate Pastry Cream (or any type of thick cream really) to fill the Profiteroles but for me, Profiteroles are always made with Ice Cream.
I always go for the Classic combination of Vanilla Ice Cream and Chocolate Sauce - but you could really fill these Choux Buns with your favourite Ice Cream Flavour.
Go all-in with the Chocolate with a Chocolate Ice Cream Filling, or play the combination of Chocolate and Fruits with a Sorbet Filling. The possibilities are endless!
Warm Chocolate Sauce
The thick, glossy and delicious Chocolate Sauce is made from two ingredients only:
Dark Cooking Chocolate - make sure it is cooking chocolate and not eating chocolate. These are two different types of chocolate and only cooking chocolate will melt properly without burning or becoming grainy.
Milk - preferably a Full-Cream Milk for more flavour, but you could use a dairy-free or plant-based milk as well if required. You could also use Cream to create a real ganache if preferred!
All you need to do is warm up the milk and use it to melt the Chocolate.
Like always when it comes to Chocolate, using the best quality you can find makes all the difference. Using a chocolate with a high percentage of Cacao (I try to always go for a 70% Chocolate) will also improve the taste of the sauce and make it less sweet.
There is no added sugar here - what you really want to taste is the intense flavour of chocolate!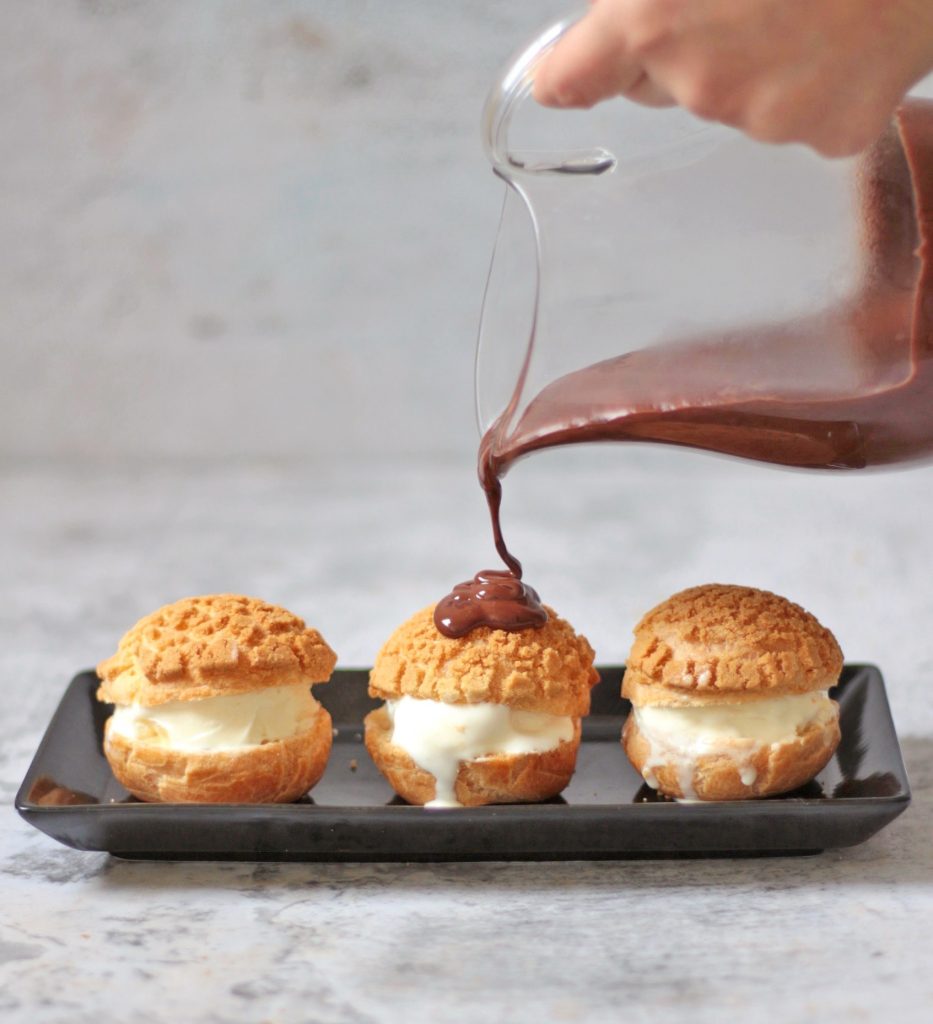 Tips and Troubleshooting
How do you keep profiteroles crisp
Unfortunately, there is no magic tip to keep profiteroles (or choux pastry) crisp for days. Choux are a ratter fragile pastry and their texture will be highly influenced by temperature and humidity.
They are best eaten within 2 days and can be kept in an air-tight container at room temperature or in the fridge.
Read more about tips to make Crispy Cream Puffs here
Why did my Choux Buns collapse?
Choux Pastry collapsing can mean two things:
They were not dried enough when first cooked in the pot and/or too much eggs were added to the mixture and the batter was runny
The Profiteroles Buns were not baked for long enough and/or the oven door was opened before they were fully puffed.
It's the humidity contained in the raw eggs that will make the choux pastry puff so it is important to get the right amount of eggs in the batter and let them puff in the oven for long enough.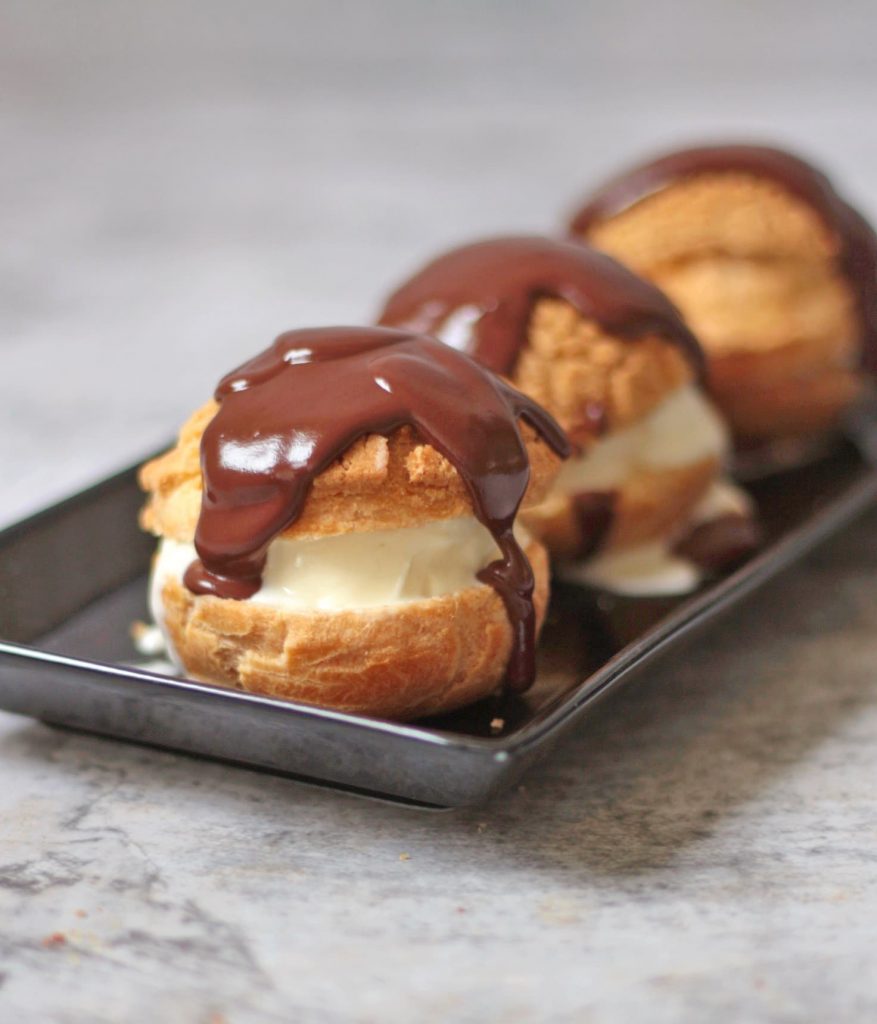 Recipe FAQs
What is the difference between eclairs and profiteroles
The main difference between Eclairs and Profiteroles is the shape given to the Choux Pastry: one is thin and long while the other one is small and round.

The filling is often also different. An eclair is always filled with a cream (whipped cream, pastry cream,...) while a Profiterole can also be filled with Ice Cream - and that's usually how they are served in France.

Also, Eclairs are usually finished with a glaze and Profiteroles with a Chocolate Sauce.
Are Cream Puffs and Profiteroles the same?
They are very similar and can often be mixed up. And to be honest, it is fair enough because there are no real definition of what a Profiterole is and how it is different from a Cream Puff.

Since a Profiterole Bun is made the exact same way as a Cream Puff and they can be both filled with a Cream, I would say that for me, the main difference is that Profiterole can be served frozen (not Cream Puffs / Choux à la Crème) and that Warm Chocolate Sauce is usually only served on top of Profiteroles - not Cream Puffs.


Can I make them in advance?
Maybe because they make the perfect dinner party dessert, it is very tempting to want to make them ahead and have them ready in time for the big time. In this case, you may wonder how long do profiteroles last once baked and ready.

The main thing to know is that although the Choux Buns can be made in advance (and even frozen), the final dessert should always be put together at the last minute and eaten straight away for obvious reasons: the ice cream will melt and the chocolate sauce will harden.
Can you freeze them?
Well, that's the great thing about Profiteroles (and again, Choux Pastry in general): they Choux Buns can be frozen very easily, and you will just need to prepare the chocolate sauce / vanilla ice cream last minute!

There are two ways of freezing Choux Pastry:

- Prepare the choux batter and pipe it on a baking tray. Place the baking tray in the freezer and once frozen, move the choux in a container for a few months. When ready to be eaten, baked them the traditional way with an extra 5 to 10 minutes to thaw in the oven.

- Make and bake the Choux Buns. Leave them to cool down completely then freeze them in a container. Leave to thaw in the fridge and place back in the oven for 5 minutes to crisp again.

Note that if frozen after being baked, the Choux will most probably deflate when thawed and you will not get the same crisp finish.
Can they be frozen with a Cream Filling?
If you make the Profiteroles Filling with cream instead of Ice Cream, you should not freeze the cream filling along with the choux pastry. Always freeze the Profiteroles Buns only, and add the cream filling once thawed.
Made this recipe?
Let us know if you liked it by leaving a comment below, and tag us on Instagram @a.baking.journey with a photo of your creation!
Recipe
Classic French Profiteroles
The perfect combination of crunchy and chewy, warm and cold, light yet decadent,... With their Choux Pastry Buns, Vanilla Ice Cream and Warm Chocolate Sauce, Profiteroles are probably one of the most iconic French Dessert ever for a reason: they are simply heavenly!
Print
Rate
Servings:
20
Profiteroles
Ingredients
Craquelin Topping (Optional)
40

gr (3 tbsp )

Unsalted Butter

20

gr (1 1/2 tbsp)

Brown Sugar

50

gr (1/3 cup)

Plain Flour
Choux Pastry Buns
125

ml (1/2 cup)

Water

60

gr (1/4 cup)

Unsalted Butter

15

gr (1 tbsp)

Caster Sugar

75

gr (1/2 cup)

Plain Flour

2

Eggs
Ice Cream
500

ml (2 cups)

Vanilla Ice Cream

-

or to taste
Chocolate Sauce
150

gr (5,5 oz)

Dark Cooking Chocolate

150

ml (1/2 cup + 2 tbsp)

Full Cream Milk
Disclaimer
I highly recommend using the measurements in grams & ml (instead of cups & spoons) for more accuracy and better results.
Instructions
Craquelin Topping (Optional)
Melt the Butter and set aside to cool down. In a small bowl, mix the Flour and Brown Sugar. Pour over the melted Butter and stir with a fork or a small spatula until completely combined.

Place the dough between two sheets of baking paper and spread as thinly as possible with a rolling pin. Place on a flat tray and transfer in the fridge to set for about 30 minutes.
Choux Pastry Buns
Place the Water, Butter and Sugar in a medium size pot on medium heat and leave to heat up until the butter and sugar have melted.

Away from the heat, drop in the Flour at once. Using a wooden spoon or stiff spatula, stir the batter until it starts to come together then place back on the stove over low heat. Keep stiring to dehydrate the pastry as much as possible (at least a couple of minutes) to remove as much moisture as possible until you see a thin film create at the bottom of the pan (see note 1).

Transfer into a large clean bowl (or the bowl of your Stand Mixer) and leave to cool down for 10 to 15 minutes. The batter should be at room temperature (or at least not steaming hot).

Beat the eggs together in a seperate bowl. Slowly start to add the mixed eggs into the batter, a little bit at the time. Mix well between each addition of eggs until they are fully incorporated, then add a little bit more eggs and repeat (it is easier to do this step with a Stand Mixer). The pastry should be fluid and shiny, not too liquid or too hard (see note 2).

Preheat your oven on 180'C / 350'F and grease the bottom of a baking tray (wipe any excess of grease with a paper towel).

Place the Choux Pastry in a piping bag with a large round nozzle. Pipe small mounds of pastry, leaving room between each choux as they will puff in the oven.

Optional: Take the Craquelin out of the fridge. Use a small cookie cutter, about the size of each choux, to cut out the craquelin and place them over each choux.

Put in the oven for 20 minutes or until puffed and golden, then open the oven door to let the steam out and directly re-close it. Leave them to bake for another 10 to 15 minutes - If they Choux are not baked enough, they will fall down once cold.

Transfer the Choux on a cooling rack and leave to cool down completely.
Chocolate Sauce
Finely chop the Dark Cooking Chocolate and place in a heat proof bowl.

In a small pot, heat up the milk until it starts to boil then directly remove from the heat and pour over the chopped chocolate. Wait 30 seconds then stir with a spatula to melt the chocolate. Keep stiring until the chocolate is fully melted, shiny and glossy (see note 3)
Putting the profiteroles together
When ready to serve, slice each Choux in half. Place a scoop of Vanilla Ice Cream on the bottom of each Choux and place the Choux lid back on. Re-heat the Chocolate Sauce to be fluid if needed then pour it over the Profiteroles. Serve straight away.
Tried this recipe? Make sure to leave a comment and star rating below!
Notes
Disclaimer: I highly recommend using the measurements in grams/ml instead of in cups/spoons for the best results.
To find more information about the craquelin topping, read my Choux au Craquelin recipe. For more information, tips and trick on Choux Pastry, read my Choux à la Crème Recipe.
Notes:
Press the dough again the sides of the pot to dry it out as much as possible using the wooden spoon or spatula, . If the dough is not dry enough, it will not puff in the oven.
It is important to check the consistency of the batter before adding all the eggs; sometimes the choux will need a little bit more or a little bit less eggs depending on the flour, the size of the eggs or how dehydrated the batter got on the stove. To know that the choux batter has the right consistency and you can stop adding more eggs, place a finger against the batter and lift it up. Holding your finger straight (parallel to the ground), the pastry should slightly fall back to form an oval. If the pastry looks too stiff and doesn't fall back, add a little bit of egg. If the batter look to be super runny, you have added too much eggs.
If the chocolate has not fully melted, place the bowl over a small pot filled with a little bit of water on low heat. The "Bain-Marie" will finish to melt the chocolate without burning it.
Nutrition
Calories:
165
kcal
|
Carbohydrates:
15
g
|
Protein:
3
g
|
Fat:
11
g
|
Saturated Fat:
7
g
|
Cholesterol:
39
mg
|
Sodium:
33
mg
|
Potassium:
135
mg
|
Fiber:
2
g
|
Sugar:
7
g
|
Vitamin A:
266
IU
|
Vitamin C:
1
mg
|
Calcium:
53
mg
|
Iron:
2
mg
Tried this Recipe?
Leave a comment + star rating below and tag us @a.baking.journey on Instagram with a photo of your creation!