This Chocolate Pastry Cream Recipe is a delicious chocolate cream that can be used for cream puffs, eclairs, as a cake filling or for a chocolate pie filling. Made with Dark Chocolate, the classic French Chocolate Cream is a truly decadent filling or topping you will even want to eat with a spoon!
Jump to:
Why we love this recipe
I seriously could use this recipe for Chocolate Pastry Cream with every single dessert I make. Because nothing is better than a decadent, creamy and delicious chocolate custard cream to accompany your favourite cake and dessert!
Typically used to fill French Pastries like Choux Pastry, Entremets Cakes or fruit Tarts just like a Chocolate Cremeux, Namelaka or Whipped Ganache, this cream can also be used to fill a layer cake, a pie - or any of your favourite cakes and desserts, really!
This cream is a simple twist on a classic Vanilla Pastry Cream. The same yummy rich taste with the addition of Dark Chocolate. Heavenly! I love to use this chocolate cream to fill Mini Chocolate Éclairs or Choux au Craquelin, or even used as a filling inside a Chocolate Shortcrust Pastry or a classic Pâte Sablée, topped with fresh berries!
What is Pastry Cream
Pastry Cream - or Crème Pâtissière in French - is one of the Basic French Pastry Cream use to fill pastries, cakes and baked goods. It is used as a base for many other French Creams like Diplomat Cream or Mousseline Cream, but is often used on its own as well.
Made from Milk (and/or cream), Egg Yolks, Sugar and Flour (or Cornstarch), this cream can be flavoured with many ingredients like Vanilla, Coffee, a Fruit Purée or like here, Chocolate.
It is a cream that is typically cooked on the stove. The Egg Yolks and Flour/Starch are used to thicken the Milk and create a thick cream that can be piped in/over desserts or used as a filling.
Ingredients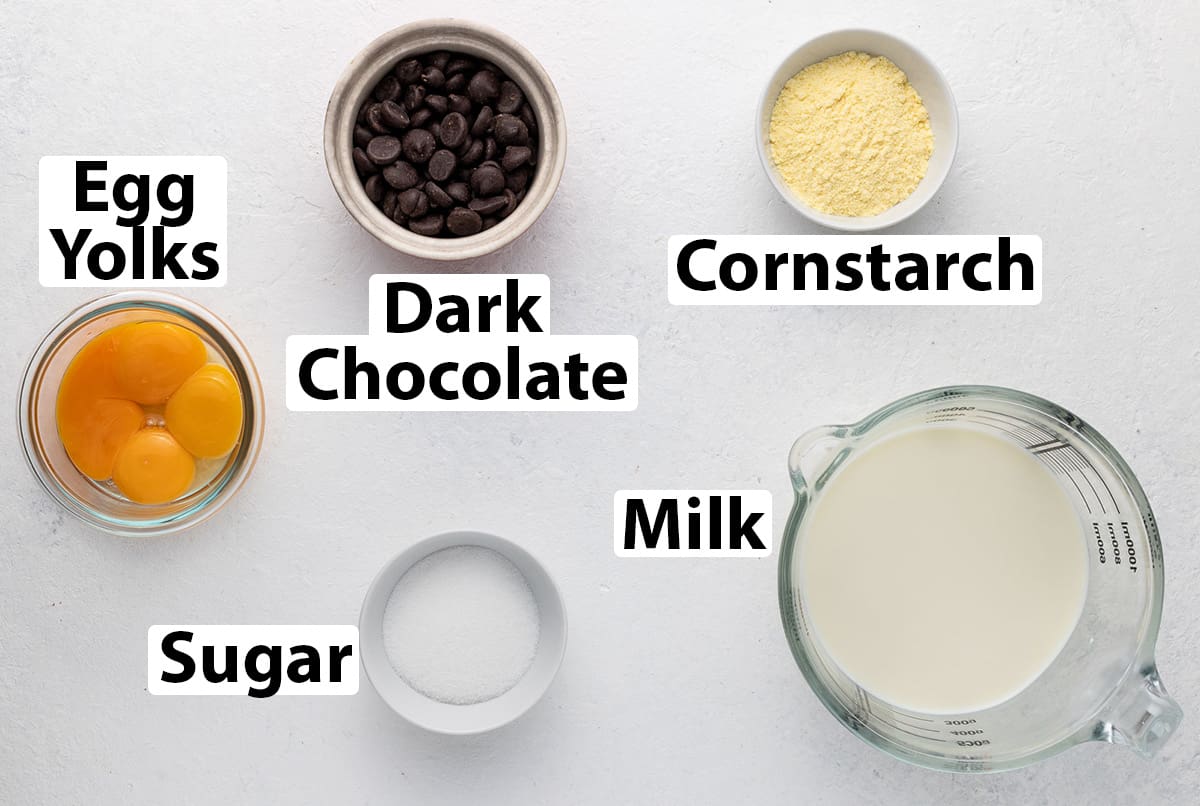 What is Chocolate Pastry Cream made of:
Scroll down to recipe card below for all quantities
Milk: always go for Full Cream when you can for the best flavour and texture. I don't recommend using a light milk for baking.
Egg Yolks: will give the cream its richness of flavour and help it thicken as well.
Sugar: Caster Sugar or Fine White Sugar.
Cornstarch: what is used to thicken the cream, along with the Egg Yolks.
Dark Chocolate: only use proper Cooking Chocolate when baking - I used a 70% Dark Chocolate here.
Optionally, you can also use a little bit of vanilla paste or vanilla extract to flavour the chocolate custard.
Ingredient Substitution
Milk: I often make this recipe with a Dairy-Free Milk like Soy Milk and it does work fine. But you will get the best taste and texture with a full cream milk.
Cornstarch: you can actually make this cream without cornstarch and use Plain / All-Purpose Flour instead - or another kind of starch like Tapioca. I personally prefer to use starch instead of flour as it creates a lighter cream, but flour will work just as fine.
Dark Chocolate: use your preferred chocolate to make the cream, but the type of chocolate you use will affect the overall sweetness of the cream. I personally love to use a very dark 70% Cacao Chocolate for a very intense chocolate taste, but you can absolutely use a less dark chocolate or even milk chocolate instead - it entirely up to you.
Unfortunately you cannot use an Egg Replacer like Chia or Flaxseed here as the egg yolk is fundamental for both the texture and the taste of the cream.
How to make Chocolate Pastry Cream
Making Chocolate Pastry Cream follows the same process as making a basic Vanilla Pastry Cream, with one extra step at the end: adding the chocolate.
There are three main steps to follow to make this chocolate custard filling:
Mixing the Yolks, Sugar and Cornstarch
Adding it to the hot Milk (and optionally the Vanilla Paste) and cooking it on the stove
Whisking in the Chocolate until melted and combined.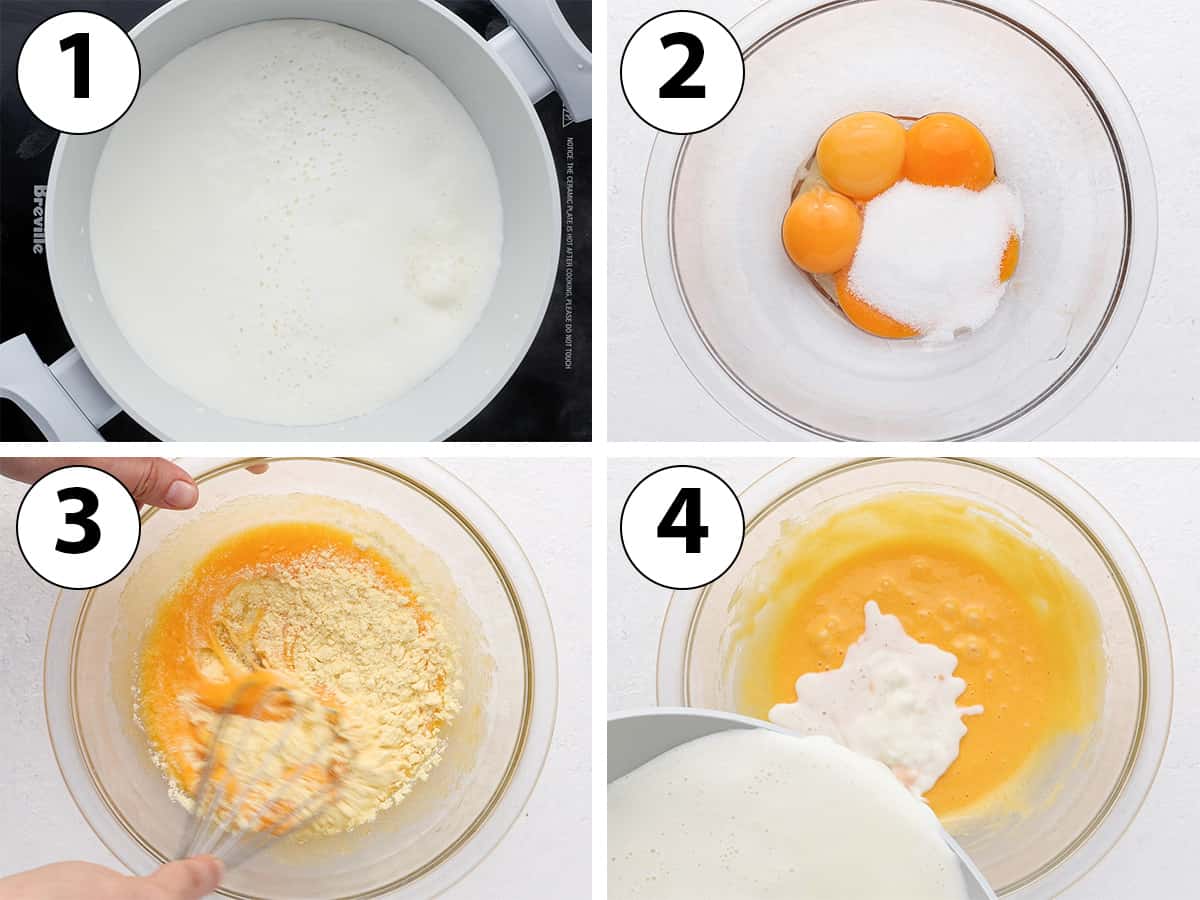 Photo 1:

Place the Milk and vanilla paste in a small saucepan. Heat it up on low heat until the Milk starts to simmer.
Photo 2:

In the meantime, whisk the egg yolks and sugar in a heat-proof bowl for about a minute.
Photo 3:

Add the Cornstarch and mix until smooth.
Photo 4:

Pour the warm milk over the egg mixture while continuously whisking. Mix well until smooth.
This step is called "tempering"; it allows to slowly heat up the eggs to avoid overcooking (and scrambling) them.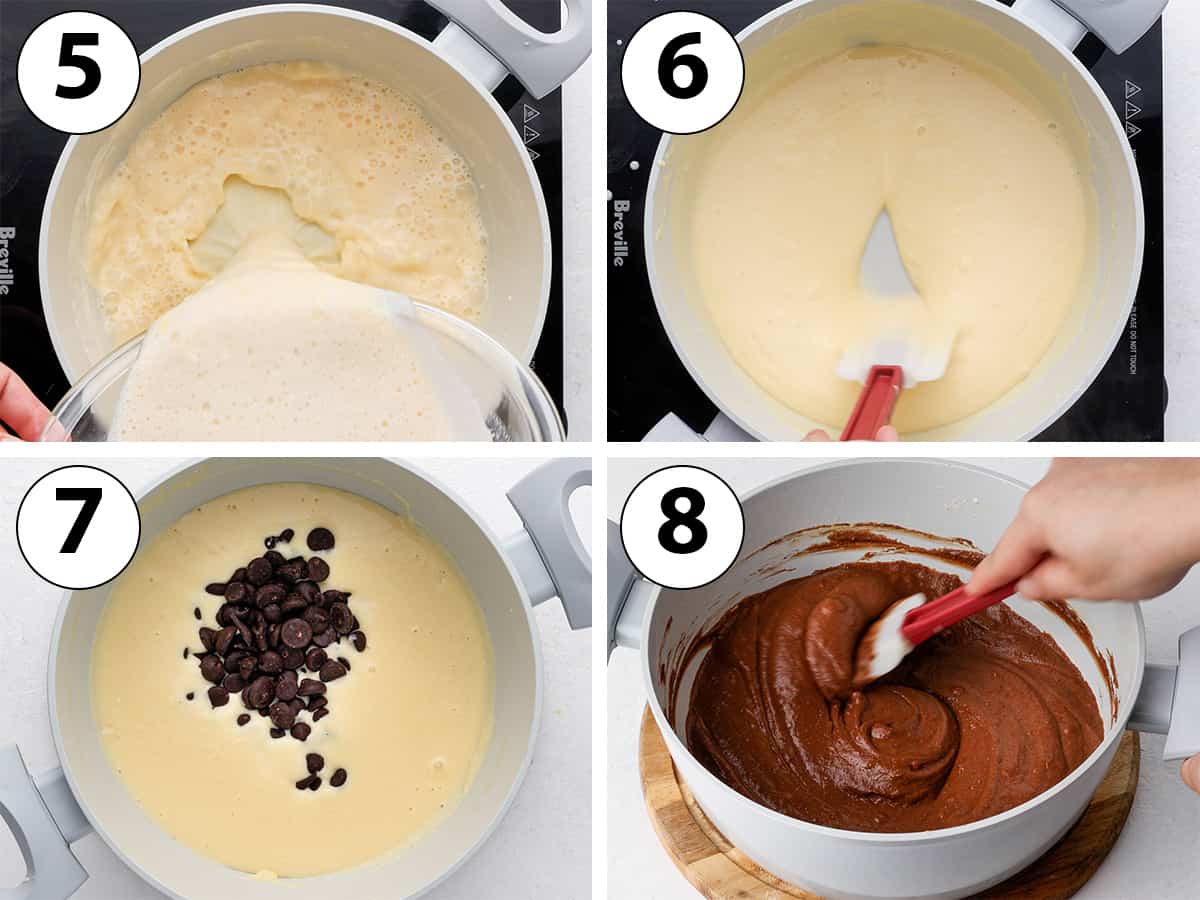 Photo 5:

Pour the whole mixture back into the saucepan. with the rest of the Milk and place back over low heat. It is important to work with a low heat to avoid cooking the eggs too quickly, which would result in a lumpy cream.
Photo 6:

Turn on very low heat and cook for 5 to 8 minutes while continuously stirring. Once the mixture starts thicken, cook for an additional 30 seconds then remove from the stove.
Photo 7:

Away from the heat, add the finely chopped chocolate or couverture chocolate pistols.
Photo 8:

Set aside for 2 minutes to allow for the chocolate to start melting, then stir well until all the chocolate has completely melted and you get a smooth, thick chocolate pastry cream.
Transfer the Chocolate Cream into a clean bowl or shallow pan such as a brownie pan. Cover with plastic wrap touching the surface of the cream and refrigerate for at least 2 hours before using it.
Chilling the pastry cream inside a shallow pan will allow for the cream to cool down more quickly and evenly.
Tips & Troubleshooting
The main issues you might encounter when making this recipe are related to consistency and texture.
The most important question is: "How thick should pastry cream be?". The answer completely depends on how you will be using the recipe. This recipe will make a thick cream that is smooth enough to be piped in Choux Pastry.
If using this cream as a cake filling for example, you might want a stiffer cream. This can be achieved by adding a little bit more Cornstarch and cooking the cream for a little bit longer.
The pastry cream is too thick
If after cooling down, the cream seems to be very hard and/or thick and you struggle to pipe it, try to whisk a little bit more milk in.
You may need to vigorously whisk the pastry cream first to loosen it. If the milk does not seem to incorporate well, place it all back in a pot on the stove to slightly melt the cream.
The chocolate cream is too liquid
This generally happens when not enough Cornstarch (or Flour) - or too little egg yolks - was used. First, let the cream cool down completely in the fridge; it will always thicken more when set.
If the cream is still too liquid after resting in the fridge, mix a little bit of Cornstarch with Milk in a small bowl (1 tbsp at the time) and whisk it in the chocolate pastry cream. Place the cream back on the stove to cook and keep whisking until it thickens. Cool again as advised.
The custard is lumpy
One of the most common problem with this cream is that is the temperature of the stove was too high or the cream was not whisked enough (or not evenly enough), it will create lumps.
This is because at a higher temperature, the eggs will start to coagulate more quickly or that the cream was not evenly whisked ( the bottom and side of the pan will always be hotter and the cream will cook much more faster there).
First, try to break the lumps by vigorously whisking the cream away from the heat. If that does not solve the problem, use an immersion blender on low speed to break down the lumps. Don't over-blend the cream do or it will turn into a soup.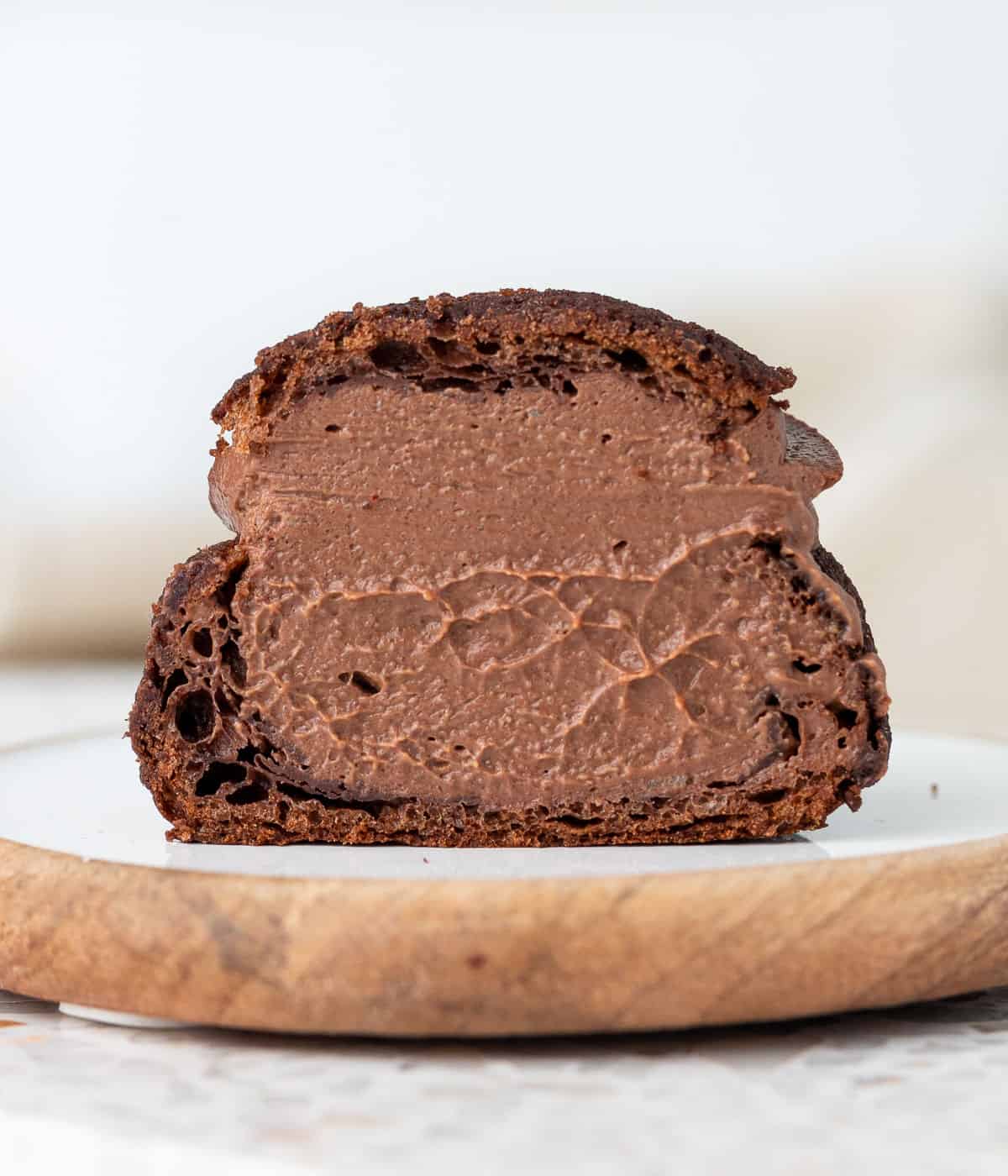 Recipe FAQs
How to know the cream is cooked?
The best way to know that the cream is cooked is to check its temperature with a food thermometer: pastry cream (or any egg based custard) is cooked when it reaches between 82 and 84 degrees Celsius (around 180 degrees Fahrenheit).
Is pastry cream the same as pudding?
Pastry Cream and Pudding (or Custard) are very similar and often use the same ingredients. The main difference is the way they are used. A pudding is usually served on its own as a dessert while pastry cream is used to fill pastries and cakes.
What's the difference between pastry cream and bavarian cream
They are both basic French Pastry Creams used in cakes and desserts, but are not made from the same ingredients or techniques.

A Bavarian Cream is made from a Crème Anglaise base (Milk, Egg Yolks and Sugar) to which Gelatine and Whipped Cream are added to thicken and stabilise the cream. A Pasty cream only relies on the cooked egg yolks and the flour/cornstarch to thicken.
Storing Pastry Cream
Do you have to refrigerate the cream?
Yes - Pastry Cream (or any cream that contains eggs) should always be kept in the fridge. The pastries or cakes made with pastry cream should also be refrigerated once the cream has been added.
How long can I keep chocolate pastry cream?
This cream can be kept in the fridge for up to 3 days. It should be store in a clean bowl or container and covered with plastic wrap touching the surface of the cream to avoid drying out.
Can I freeze Crème Pâtissière?
It is not recommended to freeze it, as it will very likely split and become very watery when thawed.
How to use Chocolate Pastry Cream
It can be used as a chocolate cream frosting or chocolate cream filling. My favourite ways to use it are:
for a Triffle or a Layer Cake.
Made this recipe?
Let us know if you liked it by leaving a comment below, and tag us on Instagram @a.baking.journey with a photo of your creation!
Recipe
Chocolate Pastry Cream
This Chocolate Pastry Cream Recipe is a delicious chocolate cream that can be used for cream puffs, eclairs, as a cake filling or for a chocolate pie filling. Made with Dark Chocolate, the classic French cream is a truly decadent filling or topping you will even want to eat with a spoon!
Print
Pin
Rate
Servings:
2
cups (approx)
Ingredients
500

ml (2 cups)

Full Cream Milk

1/2

teaspoon

Vanilla Paste

-

or extract

4

large

Egg Yolks

-

at room temperature

30

gr (2 tablespoons)

Caster Sugar

30

gr (1/4 cup)

Cornstarch

120

gr (4,5 oz)

Dark Cooking Chocolate
Disclaimer
I highly recommend using the measurements in grams & ml (instead of cups & spoons) for more accuracy and better results.
Instructions
Place the milk and vanilla in a medium size saucepan and turn on low heat.

In the meantime, separate the egg yolks from the whites. Place the yolks in a heat-proof mixing bowl along with the sugar and whisk for a minute. Keep the egg whites in the fridge for another recipe.

Add the Cornstarch and whisk it until smooth.

Once the milk has started to simmer, pour it over the egg mixture while continuously whisking. When smooth, pour it all back inside the saucepan.

Put back on the stove and cook on very low heat for about 5 minutes or until the custard starts to thicken (see note 1). Make sure to continuously stir while the cream is cooking. Once the cream starts to thicken, cook for another 30 seconds then remove from the heat (see note 2).

Away from the heat, add the finely chopped chocolate or couverture chocolate pistols (see note 3). Leave for 2 minutes to melt then stir until the chocolate has completely melted and you get a smooth, thick chocolate pastry cream.

Transfer the pastry cream in a clean bowl or shallow pan such as a brownie pan (see note 4). Cover with plastic wrap touching the surface of the cream and place in the fridge to chill and set for at least 2 hours. Keep in the fridge until ready to use.
Tried this recipe? Make sure to leave a comment and star rating below!
Notes
It will take a few minutes for the cream to thicken on low heat, but this is to make sure you do not end up with lumps. If cooked on a higher heat, the eggs might start to coagulate too quickly which will create a lumpy cream with cooked egg bits in it.
The time required to cook the cream is dependant on the quantity of milk used and the exact temperature of your stove. It should reach 82 degrees Celsius (180 degrees Fahrenheit) to be fully cooked.
Only use proper Cooking Chocolate (and not eating chocolate or chocolate chips) or the cream might be grainy. It is important to add the chocolate into small pieces so that it melts more easily with the residual heat from the cream.
Using a shallow baking pan to cool down the cream will make it cool down and set much more quickly than in a bowl where the layer of cream is thicker. Cooling the cream more quickly will also reduce the risk of bacteria development in the cream.
Nutrition
Calories:
389
kcal
|
Carbohydrates:
43
g
|
Protein:
14
g
|
Fat:
18
g
|
Saturated Fat:
8
g
|
Cholesterol:
416
mg
|
Sodium:
126
mg
|
Potassium:
369
mg
|
Fiber:
1
g
|
Sugar:
29
g
|
Vitamin A:
924
IU
|
Calcium:
329
mg
|
Iron:
1
mg
Tried this Recipe?
Leave a comment + star rating below and tag us @a.baking.journey on Instagram with a photo of your creation!