Sundays wouldn't be the same without a big family breakfast and some warm, homemade pancakes. These Light and Fluffy American Blueberry Pancakes are a classic breakfast recipe to make again and again… every Sundays!
This post may contain affiliate links to products. We may receive a commission - at not cost to you - for purchases made through these links.
---
Picture this… You've had a long long week and it's finally Sunday – aka time to indulge and relax. You feel like having a big breakfast or preparing a nice brunch for your significant other/family.
Well, it's exactly when these super fluffy Blueberry Pancakes will shine! They are not only super easy and quick to make, they will also be absolutely perfect for a special breakfast and packed with yummy fruits. What more can you ask!?
Blueberry Pancakes Ingredients
The ingredients required to make these pancakes are rather traditional, with the addition of the blueberries and a little bit of lemon juice.
I love to make this recipe using Frozen Blueberries but you can obviously use fresh ones too!
Here are the ingredients needed for these pancakes (see all quantities below):
Eggs
Caster Sugar
Full Cream Milk
Canola Oil (or your preferred flavourless Vegetable Oil)
Lemon Juice
Plain Flour
Baking Powder
Baking Soda
Salt
Blueberries – fresh or frozen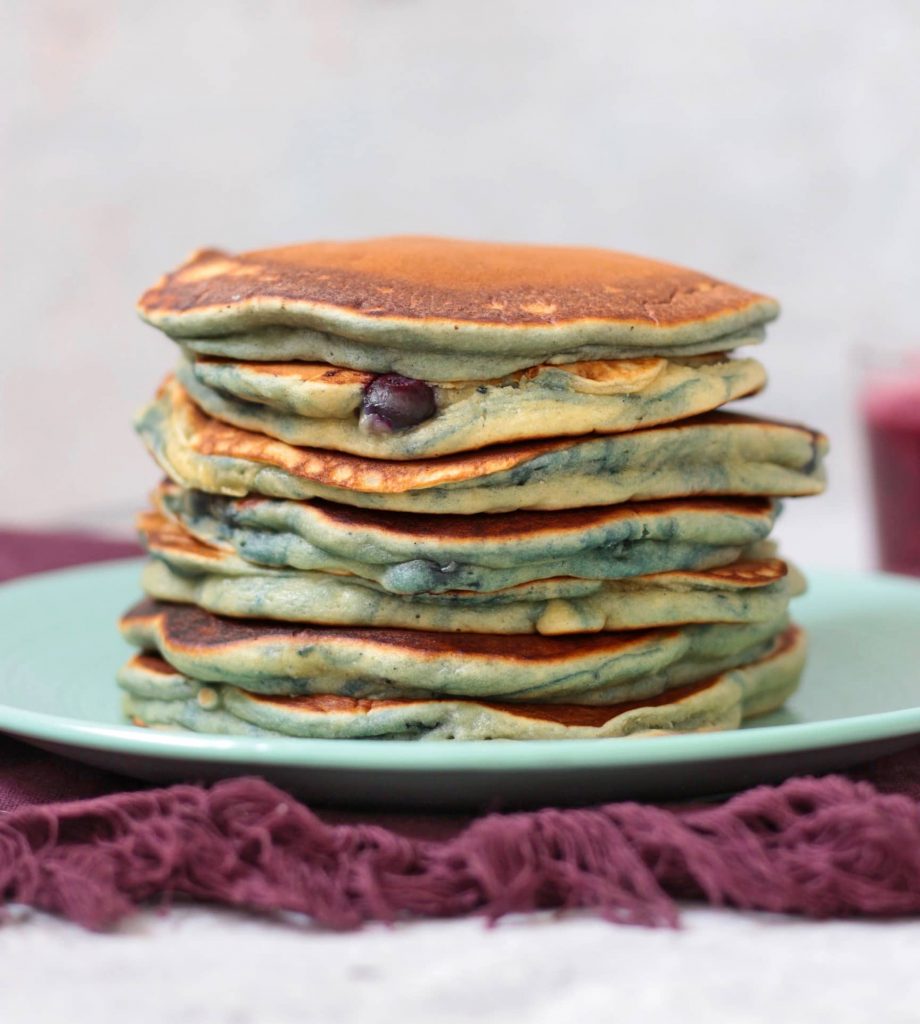 Can you use Frozen Blueberries to make Pancakes?
Yes, you can absolutely use Frozen Blueberries to make your Pancakes – that's actually one of the thing I love the most about this recipe. These pancakes aren't only for summer berry season – they can be made all year long!
There are two ways to incorporate frozen blueberries into your pancakes:
Straight from the freezer into the pancake batter

: make sure not to stir your pancake batter too much or the blueberries will start to turn it blue. That being said, I personally love to see little swirls of blue colour in my pancakes – but it is up to you!

Over the individual pancakes in the pan

: keep your frozen berries aside and add them over the raw side of the pancakes just after pouring some into the pan.
How to make Fluffy Pancakes from Scratch
There is nothing special or original about the way these blueberry pancakes are made. But you know what they say… why change a classic winning recipe when it works perfectly!? Here is my favourite way to make pancakes from scratch:
Beat the Eggs and Sugar in a large Bowl until frothy. Add the Milk, Lemon Juice and Canola Oil.
Sift in the dry ingredients: Flour, Baking Powder, Baking Soda and Salt.
Gently fold in the Blueberries (or add them directly on each pancakes in the pan). Cook in a pan on medium-heat.
Why are my Pancakes not Fluffy?
There are many reasons for getting not fluffy pancakes. The ratio of flour/wet ingredient, overworking the batter or using the wrong combination of ingredients are all reasons for your pancakes to not be fluffy.
A few tips for fluffy pancakes:
Make sure to use enough wet ingredients – if your first pancake is flat and dry, add a little bit of milk into the batter.
Don't overwork the batter – the ingredients just need to be stirred until combined. Otherwise, the gluten formed by over-mixing the batter will create a tough, chewy pancake
Use a combination of Baking Powder and Baking Soda for an optimal leavening action. Baking Soda needs an acid to be activated, so the lemon juice used in this recipe is very important!
Read more about the science of fluffy pancakes on The Spruce Eats
Pancake Toppings Ideas for your Berry Pancakes:
a Blueberry Compote or Blueberry Sauce
a Mixed Berry Compote – what I used here (with extra blueberries!)
simple Maple Syrup or Honey
some Whipped Cream and Fresh Blueberries
Still looking for more Pancake Toppings Ideas?
Check out my 30 Favourite Pancake Toppings here!
More Blueberry Recipes:
Fluffy Blueberry Pancakes Recipe:
Print Recipe
Fluffy Blueberry Pancakes
These Light and Fluffy American Blueberry Pancakes are a classic breakfast recipe to make again and again on Sunday morning… or any other day of the week!
Ingredients
2

Eggs

1/4

cup (40gr)

Caster Sugar

1

cup (250ml)

Full Cream Milk

1/4

cup (60ml)

Canola Oil

,

or your prefered Vegetable oil

1

tbsp

Lemon Juice

1 1/2

cup (225gr)

Plain Flour

1 1/2

teasp.

Baking Powder

1/2

teasp.

Baking Soda

1

pinch

Salt

1

cup (150gr)

Blueberries, fresh or frozen
Instructions
In a large bowl, beat the Eggs and Sugar until frothy. Add the Milk, Canola Oil and Lemon Juice.

Sift in the Plain Flour, Baking Powder, Baking Soda and Salt. Stir until combined.

Gently fold in the Blueberries, trying not to break them (see note 1)

In a small non-stick pan on a medium heat, cook the pancakes for about 1 minute on each side (see note 2). Grease the pan if needed. Eat straight away.
Notes
There are two ways of adding blueberries to your pancakes:
– by folding them directly into the pancake batter (if you don't mind the "blue swirl" it will create in the batter)
– by adding them over the un-cooked side of your pancakes with in the pan.
When you see bubbles appearing on the facing side of the pancake, it usually means that it is ready to be flipped.