This Baked Lemon Ricotta Cheesecake is super creamy, light, fluffy and packed with flavours - you would never guess it's a baked cheesecake! It is a crowd-pleasing dessert the whole family will love.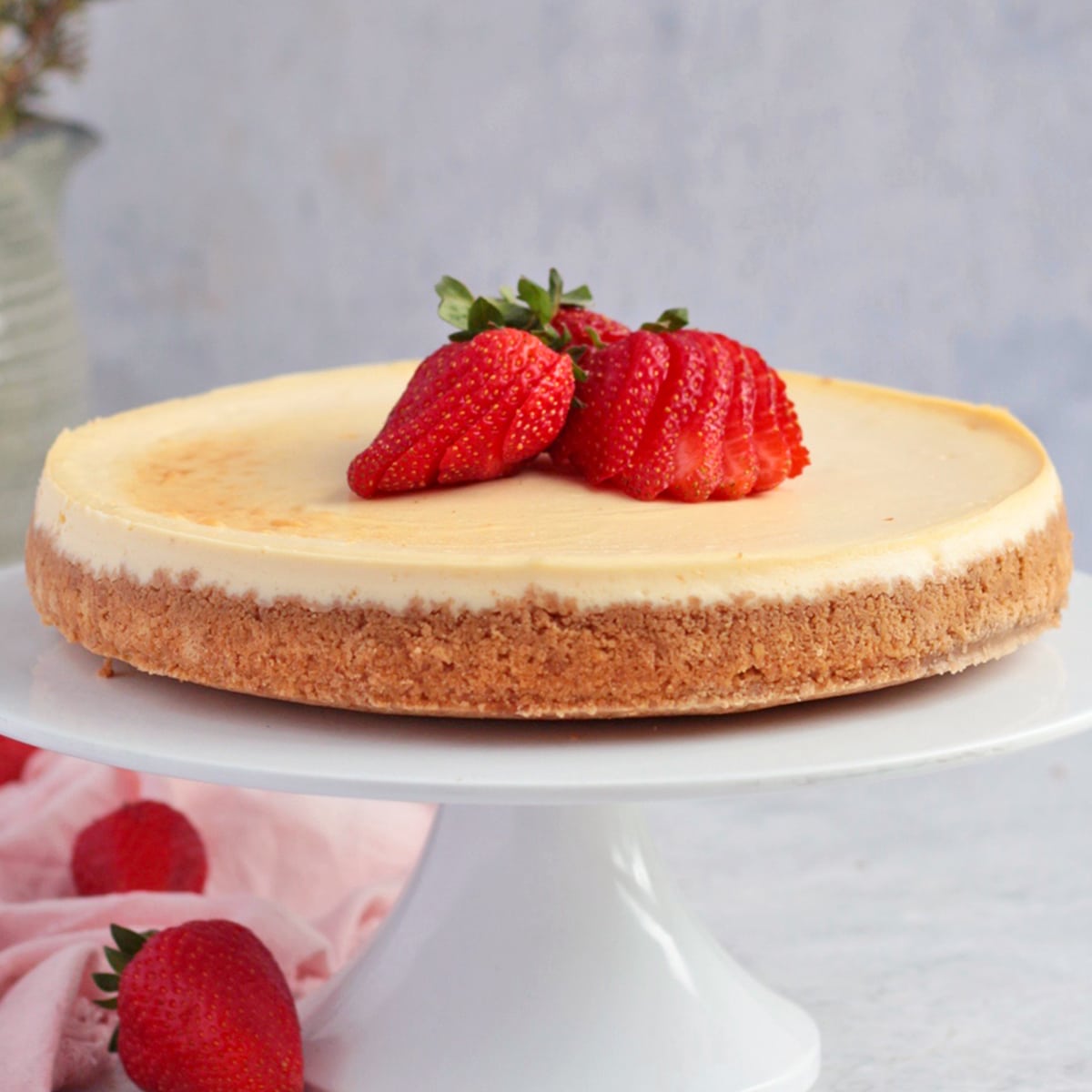 Jump to:
Why we love this recipe
Cheesecakes may not be my every day go-to cakes, but man... this one is seriously addictive and will leave you craving for more! The texture of this cheesecake, created by the combination of cream cheese and ricotta, is oh so light and creamy!
This Baked Ricotta Cheesecake with Biscuit Base is simply a classic. The type of recipe you can serve over and over again, and always get a happy reaction to. Just like this Lemon Ricotta Cake, this cheesecake has a perfect balance between sweetness and sourness, which a delicious crunch added by the biscuit base.
It is absolutely delicious on its own or topped with a homemade Lemon Curd like these Mini Lemon Cheesecakes.
I know that many people only go for no-bake cheesecake, but I simply cannot get over how silky and creamy baked cheesecake can be. Trust me, you need to give it a try and see for yourself!
Ingredients
The Cheesecake biscuit crust is made with 2 ingredients only. Easy! But the lemon ricotta cream is just as simple. 6 Ingredients and made with your mixer in one bowl, making a cake could not be more easy!
Biscuit Base
Like I said... 2 ingredients only (scroll down to recipe card for all quantities):
Biscuits - I used Digestive Biscuits as Graham Crackers aren't really a thing in Australia. But you can basically make a cheesecake base with any type of Digestive, Shortbread Biscuits - or graham crackers.
Unsalted Butter: simply melted to mix with the crushed biscuits.
To add a slightly different flavour, you can also make the crust with some Spiced Cookies (Gingerbread, Speculoos,...) like I used for my Biscoff Cheesecake.
Cheesecake Filling
The lemon ricotta filling is made with the expected baked cheesecake ingredients, with the addition of Ricotta Cheese and Lemon (scroll down to recipe card for all ingredients and quantities):
Ricotta Cheese: the most important ingredient of this recipe. Ricotta is much lighter in texture than Cream Cheese so it really gives this cheesecake this deliciously light consistency!
Cream Cheese: your regular baking cream cheese
Vanilla Extract: Vanilla is always a simple way to boost flavours. It is optional here.
Lemon Juice and Zest: not too little, not too much - just enough to add a little bit of a tang and extra flavours! Make sure you add a LOT of Lemon Zest - it will really add a lot of flavours to your cheesecake!
More recipes with Ricotta:
Beetroot Ravioli with Mint and Ricotta
How to make Ricotta Cheesecake
Cookie Crust
First, make and pre-bake the Biscuit Base
You will need to crush your biscuits and mix it with melted butter. The easiest way to crush the biscuits is in the Food Processor, but you can also do it by hands with the biscuits in a freezing bag and a rolling pin.
Pack the crumbs very firmly onto the Springform Pan, otherwise it will fall apart once you un-mold it. Also make sure the springform pan is lined with baking paper at the bottom and the edges are well greased.
Blind bake the crust for about 10 minutes before adding the cheesecake filling, so that the base holds together.
I made a biscuit edge but you can also only make the crust flat without going back up on the edges.
Ricotta and Cream Cheese Filling
All you need to make the filling is one bowl. And preferably the one of your stand mixer, if you have one! Otherwise, it can be made with a hand mixer or even by hands.
First, beat the Ricotta and Cream Cheese together with the paddle attachment until fully mixed. You shouldn't see any lumps. Beat in the Caster Sugar, then add the Lemon Juice, Zest and Vanilla.
Once you get a homogeneous batter, add your Eggs one at the time, stirring well between each eggs. Make sure all the ingredients are well mixed; you should not see any streak of egg yolks.
Pour it over the pre-baked crust, then wrap the pan with two layers of aluminium foil. Bake the cheesecake at low temperature (150'C/300'F) in a water bath for 50 to 1 hour.
Tips to make a perfect Baked Cheesecake
Here are a few tips to make sure you make the best baked cheesecake ever:
Make sure all of your ingredients are at room temperature. It will be much easier to mix together the Ricotta, Cream Cheese and Eggs when they are at room temperature.
Blind bake the Crust: I have found that the base will never hold together if you do not blind bake it.
Wrap the Springform Pan with two layers of Aluminium Foil. This is to make sure heat is equally spread around the pan, and avoid cracks.
Bake the cheesecake in a Water Bath. Again, this is the best way to evenly bake the cheesecake and avoid cracks.
Slowly cool down the cheesecake. If you were to put the cheesecake straight in the fridge without leaving it to cool down at room temperature, the temperature shock will make the cheesecake sink and crack. A good tip is to leave it in the turned-off oven for about an hour once the cake is baked.
What to serve with this dessert
This Ricotta Cheesecake is always delicious on its own, but I also love the mix of Cheesecake and Berries. So for me, a berry sauce or a fruit compote always make the perfect combo! But this dessert is great with any type of fruity topping, really!
Here are a few of my favourite:
Recipe FAQs
Can this Cheesecake be made Gluten-Free?
Absolutely - the cream does not contain any ingredients with gluten and the biscuits used to make the crust can be substituted with your choice of gluten-free biscuits.
How do you know when a baked Cheesecake is done?
The cheesecake centre should not wiggle when you move the pan - or very lightly only. To know if the cheesecake is done, carefully shake the pan (using oven mits) and look at the middle of the cheesecake. If it is still moving, it means the cheesecake is not done.
How to store this Cake
This Baked Cheesecake should always be store in the fridge and covered so that it does not absorb other smells. It should be eaten within 3 days.
Can Cheesecakes be frozen?
I personally prefer to have fresh Cheesecake, but technically, yes - it can be frozen. Make sure it is completely cool before wrapping it in a layer of plastic wrap and one layer of aluminium foil (or a large air-tight, freezer-friendly contain).

Place it on a tray to freeze it at first - you can remove the tray once the cheesecake is fully frozen. You can also freeze individual slices. Place it in the fridge overnight to thaw, and eat the defrosted cheesecake within 2 days.
Made this recipe?
Let us know if you liked it by leaving a comment below, and tag us on Instagram @a.baking.journey with a photo of your creation!
Recipe
Lemon Baked Ricotta Cheesecake
This Baked Ricotta Cheesecake with Lemon and Biscuit Base is so creamy, light and packed with flavours. The perfect classic dessert to finish a meal or to enjoy with your afternoon tea!
Print
Pin
Rate
Ingredients
Biscuit Base
200

gr (7 oz)

Digestive or Shortbread Biscuits, crushed

- about 20 biscuits

120

gr (1/2 cup)

Unsalted Butter
Lemon Ricotta Cheesecake Cream
400

gr (1 1/2 cup)

Smooth Ricotta Cheese

- at room temperature

350

gr (1 1/3 cup)

Cream Cheese

- at room temperature

100

gr (1/2 cup)

Caster Sugar

- or fine white sugar

1

Lemon - Juice + Zest

- about 45 ml / 3 tablespoons of juice

4

Eggs

- at room temperature

1 1/2

teaspoon

Vanilla Extract
Disclaimer
I highly recommend using the measurements in grams & ml (instead of cups & spoons) for more accuracy and better results.
Instructions
Biscuit Base
Line a 25cm/10inch Springform Pan with baking paper and Grease the Edges.

Preheat your oven on 180'C/350'F

Crush the biscuits to get very thin crumbs. Using your food processor will make it easier.

Melt the Butter and pour it over the biscuit crumbs. Firmly press the crumbs in the bottom the pan (see note 1), using the bottom of a cup or offset spatula.

Bake for 10 minutes, then set aside.
Lemon Ricotta Cheesecake Cream
Drop the oven temperature to 150'C/300'F.

With a hand or stand Mixer, beat the Ricotta and Cream Cheese until smooth. Whisk in the Caster Sugar. Add the Lemon Zest, Lemon Juice and Vanilla Extract and stir until combined.

While beating, add the Eggs one at the time until fully incorporated.

Pour the cheesecake batter over the baked biscuit crust.

Wrap the exterior of the springform pan with two layers of aluminium foil. Place the pan in a large roasting tray (see note 2). Carefully pour boiling water in the tray around the springform pan, to reach about half the level of the cheesecake.

Place in the oven to bake for 50 minutes to 1 hour, or until the middle has set.

Carefully remove from the oven and leave in the tray with the water until completely cool. Transfer in the fridge to set for at least 1 hour.
Tried this recipe? Make sure to leave a comment and star rating below!
Notes
You can create an edge or not - it is up to you.
Or any large baking pan or tray at least as high as the springform pan, an larger so it can fit in.
Nutrition
Calories:
361
kcal
|
Carbohydrates:
25
g
|
Protein:
9
g
|
Fat:
26
g
|
Saturated Fat:
15
g
|
Polyunsaturated Fat:
2
g
|
Monounsaturated Fat:
7
g
|
Trans Fat:
0.3
g
|
Cholesterol:
123
mg
|
Sodium:
228
mg
|
Potassium:
138
mg
|
Fiber:
1
g
|
Sugar:
14
g
|
Vitamin A:
871
IU
|
Vitamin C:
5
mg
|
Calcium:
123
mg
|
Iron:
1
mg
Tried this Recipe?
Leave a comment + star rating below and tag us @a.baking.journey on Instagram with a photo of your creation!