This Dairy-Free, Egg-Free and Vegan Sticky Date Puddings Recipe is an all time favourite. The combination of the sticky, moist date puddings with the sweet and decadent dairy-free caramel sauce is just to die for!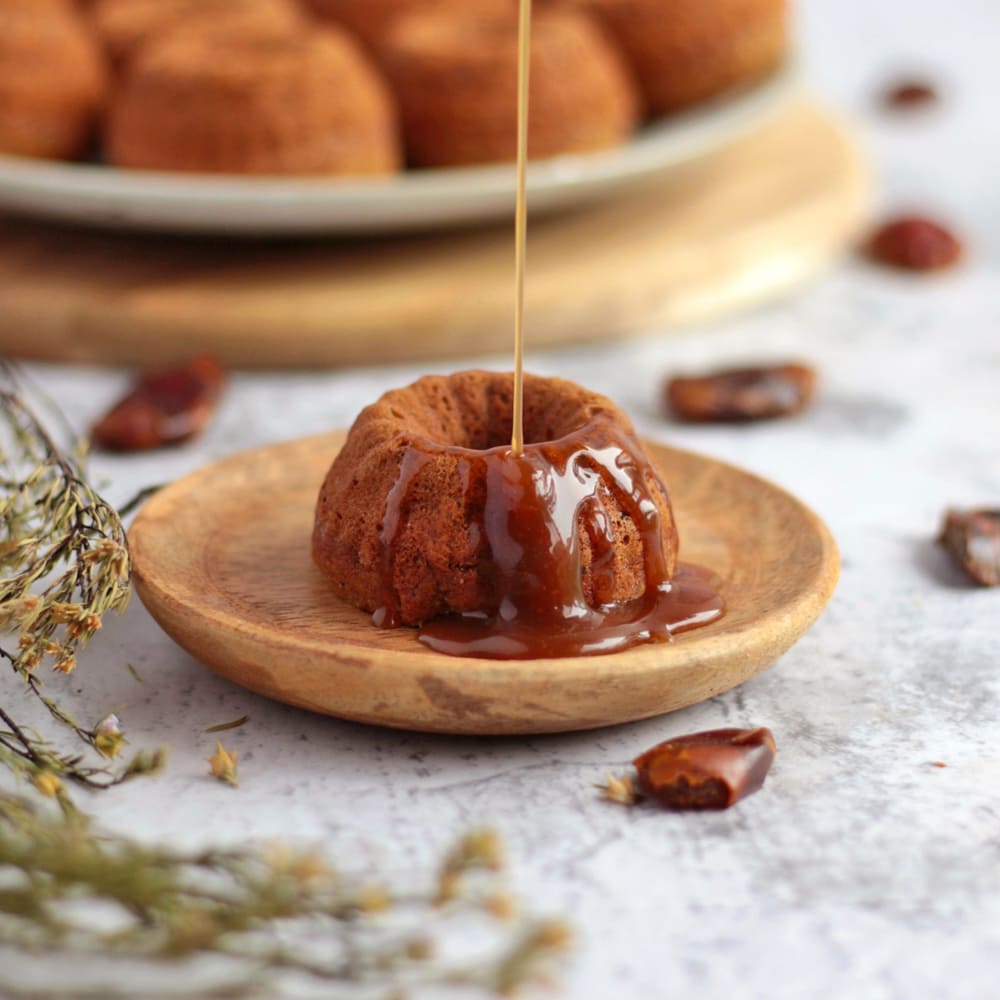 Why we love this recipe
Sticky Date Puddings are always a hit and party favourite. They are just waaaay too addictive with their mix of moist cake and deliciously sweet caramel sauce.
And what a better way to include all of your guests - and their dietary requirements than by making these classic individual puddings without dairy or eggs?
The individual puddings are made without sugar. It is a somehow healthy sticky date pudding that relies on the natural sweetness of dates only.
The vegan caramel sauce made with brown sugar and coconut cream brings all the sweetness you crave though!
Where is Sticky Date Pudding From?
Sticky Date Puddings are an Australian/New-Zealander version of the classic British (or Scottish?) Sticky Toffee Puddings. It is a fluffy yet moist sponge-like cake made with dates and topped with a Caramel Sauce, Butterscotch Sauce or Toffee Sauce.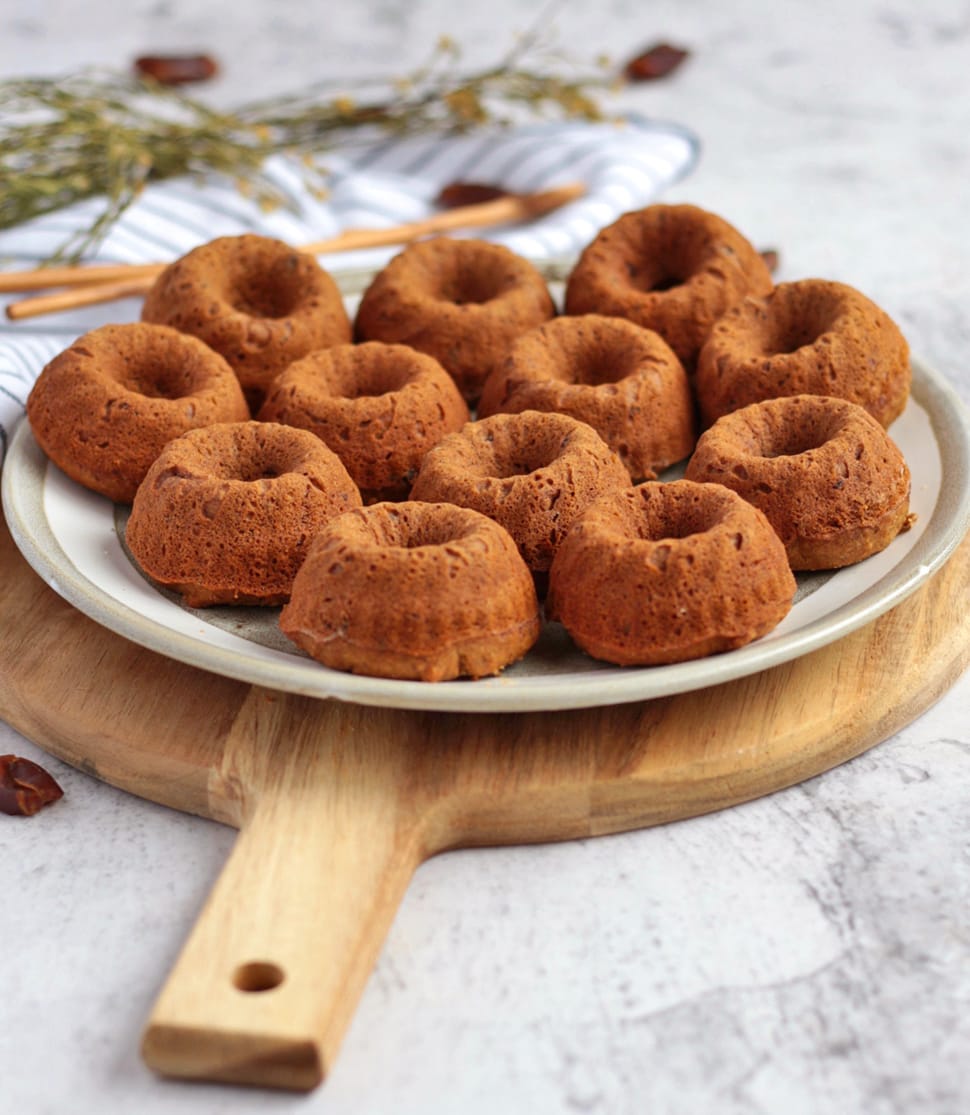 Ingredients
The classic - non-vegan - puddings use Eggs and Butter to make the sponge cakes. This Vegan, Eggless version only relies on the pureed Dates, Coconut Oil and a Plant-Based Milk of your choice.
This Sticky Date Pudding Cake also uses Almond Meal for an extra softness, Vanilla Extract and a few different Spices. All these ingredients work perfectly with the naturally sweet and sticky dates.
Together, they create the perfect combination of sweet, moist and spiced cake. So perfect to serve warm in Winter!
To make Vegan Sticky Toffee Puddings with Dates, you will need (see quantities below):
Plant-Based Milk: I used Soy but you can use whichever Milk you prefer
Baking Soda: aka Bicarb Soda
Coconut Oil: or your preferred neutral-flavoured oil
Flour: Plain / All-Purpose
Almond Meal: or almond flour
Spices: Cinnamon Powder, Nutmeg Powder, Ginger Powder
I used a Plant-Based Milk to soak the dates here, but you could actually replace it with warm Water, Coffee or even Tea!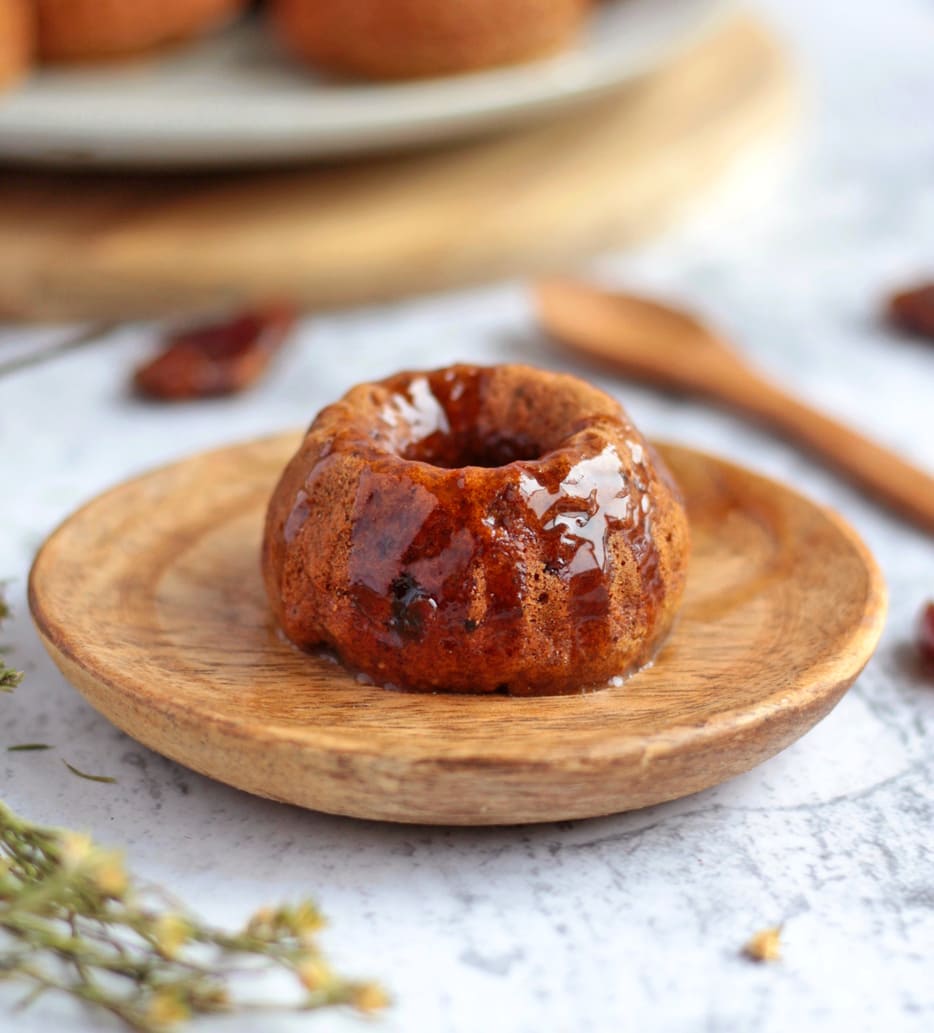 How to make Vegan Date Puddings
Vegan or not, this dessert is basically always made the same way. There are three main steps to follow to make these Dairy-Free Sticky Date Puddings.
First, you need to break down the Dates to help them blend nicely with the rest of the ingredients. That is done by pouring a warm liquid over the chopped dates and adding Bicarb Soda. After about 30 minutes of soaking, the Dates will be nice and soft - ready for step 2!
The second step requires a Food Processor to break down the dates into a purée. This is done with the rest of the wet Ingredients (Coconut Oil and Vanilla Extract).
How much you mix the Dates in the Food Processor is up to you. I personally like to keep a few pieces of un-processed dates in there to bring some texture to the puddings.
Lastly, you will need to mix in all the dry ingredients. No need to whisk them a lot here, you simply want all of the ingredients to be combined.
Baking the dessert
I used a Mini Bundt Cake Pan to bake the cakes. I find the hole in the middle of the pans to be the perfect receptacle for the Caramel Sauce! If you don't have one, you can also use a Muffin or Cupcake Pan.
It is really important to grease and flour the pan before you fill them with the cake batter, especially with Bundt Pan. The cakes will be relatively soft and sticky so you want to avoid not being able to release them from the pan.
Lastly, don't fill the pan all the way to the top as the Puddings will rise a fair bit while they bake. If they rise a lot and the bottom is uneven, don't worry; simply use a serrated knife to cut the bottom.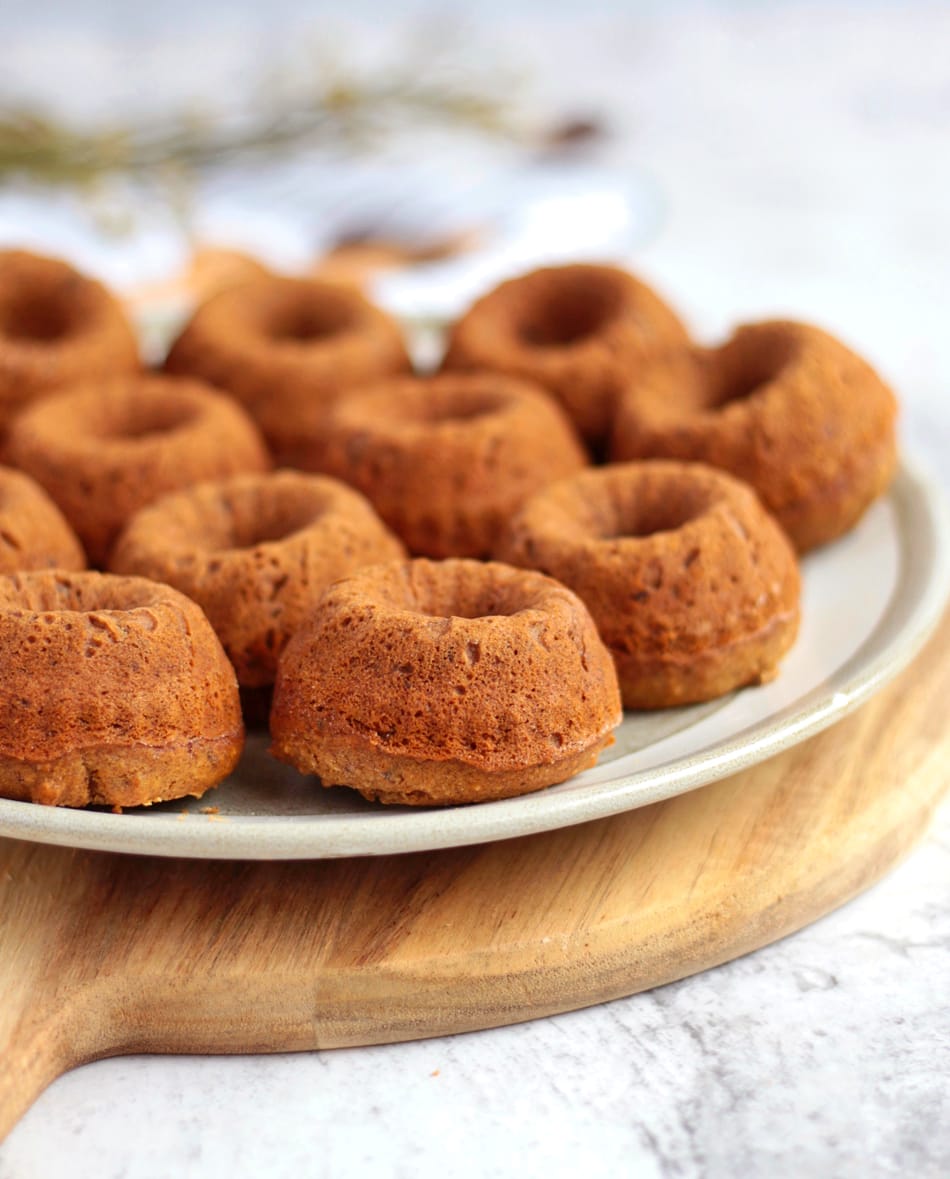 Vegan Caramel Sauce Topping
If you are looking for a Sticky Date Pudding Sauce without Cream, this one is for you. And if you are looking for a general non-dairy caramel sauce, well... this one is for you too!
I made this dessert for some of my Vegan relatives and they told me they had used leftovers of this Brown Sugar Caramel Sauce over their coffee. How delicious!?
To make a Vegan Caramel Sauce, you need 3 ingredients:
Brown Sugar
Coconut Cream
Salt (optional but highly recommended!)
To make a Caramel, you would usually use the "dry method": melt the sugar in a pot then add the cream. But because we are using Brown Sugar here - and this type of sugar burns very quickly - we will use a different (safer) method.
The Sugar and Cream (along with the Salt) are cooked together in a pot from the start. Does it make a difference in the end? No. The end result will be exactly the same. The only difference is that it will take longer for the liquid to evaporate and for the sugar to melt and cook.
Longer, yes, but with much less risk of burning it and having to start all over again! It took me about 20 minutes on the stove to get the perfect consistency.
Recipe FAQs
How do you thicken sticky date sauce?
There is nothing you need to do to thicken the sauce. It will happen naturally as the liquids evaporate and the sugar cook. Don't worry if you think that the caramel is too liquid - just leave it on the stove for a little bit longer and eventually, it with thicken on its own!
Do sticky toffee puddings need to be refrigerated?
The puddings will be fine kept at room temperature in an air-tight container if not served straight away. If you make them in advance though and plan to serve them more than 24 hours later, it is better to leave them in the fridge.

The Caramel Sauce - if not served straight away - should be kept in the fridge and can last for over a week.
How long can you keep the cakes?
If not served within 24 hours, you should keep the puddings in the fridge. They can be made in advance and I recommend eating them within 2 to 3 days. After that, they will become dry and not as nice.

You can also make them in advance and freeze them. They can be kept in the freezer for up to 2 / 3 months. To thaw sticky date puddings, simply place them back in the oven for about 10 minutes or in the microwave until soft. Serve straight away.
How to reheat the mini cakes
Because these vegan cakes can be made in advance, you may wonder "Can I reheat sticky toffee pudding?" once you are ready to serve them. The answer is simply YES.

To re-heat these vegan sticky date puddings, I simply placed them in the microwave for about a minute. This can also be done in the oven for about 5 minutes, but simply make sure not to leave them in there for too long or they will become dry.
More Vegan Desserts
Made this recipe?
Let us know if you liked it by leaving a comment below, and tag us on Instagram @a.baking.journey with a photo of your creation!
Vegan Sticky Date Puddings
This Dairy-Free, Eggless and Vegan Sticky Date Puddings Recipe topped with Caramel Sauce is an all time favourite: a moist and decadent warm vegan dessert!
Print
Pin
Rate
Ingredients
Vegan Sticky Date Puddings
1

cup (140gr)

Pitted Dates

3/4

cup (180ml)

Plant-Based Milk

1

teasp.

Baking Soda

1/2

cup (120ml)

Coconut Oil

1/2

teasp.

Vanilla Extract

1/2

cup (75gr)

Plain / All-Purpose Flour

1/4

cup (25gr)

Almond Meal

1/2

teasp.

Baking Powder

1/2

teasp.

Cinnamon Powder

1/4

teasp.

Nutmeg Powder

1/2

teasp.

Ginger Powder

1/2

teasp.

Salt
Vegan Caramel Sauce
1/2

cup (100gr)

Brown Sugar

1/2

cup (120ml)

Coconut Cream

1/4

teasp.

Salt
Disclaimer
I highly recommend using the measurements in grams & ml (instead of cups & spoons) for more accuracy and better results.
Instructions
Vegan Sticky Date Puddings
Roughly chop the Pitted Dates and place them in a heat-proof bowl. Sprinkle the Baking Soda over the dates, then pour oven the warm Plant-Based Milk. Set aside for 30 minutes (note 1)

Preheat your oven on 180'C/350'F. Generously grease your Mini Bundt Pan (or your choice of small cake pan) with Coconut Oil and dust with flour. Tap the pan upside-down to remove any excess of flour (note 2)

Transfer into the bowl of your Food Processor alond with the Coconut Oil and Vanilla Extract. Process until thick and smooth (note 3). Pour into a seperate large bowl.

Sift in all the dry ingredients: Plain Flour, Almond Meal, Baking Powder, Cinnamon Powder, Nutmeg, Ginger ans Salt. Mix in all the ingredients until combined.

Pour the batter in the pans, about 3/4 of the height (they will rise a fair bit in the oven).

Bake for 15 to 20 minutes. Leave to cool down for about 10 minutes, then flip the pan to release the puddings.
Vegan Caramel Sauce
While the puddings are in the oven, start making the sauce.

Place the Brown Sugar, Coconut Cream and Salt in a small pot. Melt the sugar on low heat then increase the temperature to medium and leave to cook until thick (note 4). Remove from the heat when glossy and thick.

Serve the Sticky Date Puddings Warm with the Warm Caramel Sauce.
Notes
The Baking Soda will help break apart the Dates during this time so it is important to leave them to set for at least 30 minutes.
It is really important to grease and flour the pan you use to help releasing the cakes. As their name indicates, they are quite moist and sticky and could stick to the pan. Make sure to generously grease AND flour the pans to avoid not being able to un-mold the cakes.
I like to leave a few pieces of un-processed dates in the mix to bring some texture to the puddings. You can leave them roughly mixed or keep blitzing until fully smooth.
It will take about 20 minutes for the caramel to start to thicken, so make sure you keep an eye on it and check it does not burn.
Nutrition
Calories:
294
kcal
|
Carbohydrates:
32
g
|
Protein:
3
g
|
Fat:
19
g
|
Saturated Fat:
15
g
|
Sodium:
375
mg
|
Potassium:
202
mg
|
Fiber:
2
g
|
Sugar:
23
g
|
Vitamin A:
77
IU
|
Vitamin C:
2
mg
|
Calcium:
69
mg
|
Iron:
1
mg