This Vegan Coconut Panna Cotta is a delicious light Dairy-Free and Gluten-Free dessert. Topped with a quick homemade strawberry compote, this healthy dessert is the perfect way to finish any meal!
This post may contain affiliate links to products. We may receive a commission - at not cost to you - for purchases made through these links.
Vegan Coconut Panna Cotta Ingredients
This Coconut Panna Cotta is simply too simple to make not to try! It is made with a few ingredients only and can be customised in so many different (and yummy ways).
Today, I made this Gelatin-Free Panna Cotta with a yummy homemade strawberry Sauce but you could really just use any fruit you have to top up the dessert.
To make this Dairy-Free Panna Cotta, you will need:
Panna Cotta can be made with only Coconut Cream or Coconut Milk but I personally like to mix both of them to get a creamy yet light texture.

Dairy-Free Panna Cotta with Agar Agar Powder
The main ingredient to make a Vegan Panna Cotta is Agar Agar Powder. This plant-based gelling agent is made from seaweed and thus completely vegetarian and vegan.
I love to use Agar Agar because it sets way more quickly than classic gelatine and it is also reversible when gelatine isn't. That means that if you put one of these Coconut Milk Panna Cotta in a pot on the stove after it is set, it would melt back into a liquid!
Agar Agar Powder is very easy to use; no need to dilute it with water or blend it in with a mixer. The only thing this gelling agent needs is a high temperature to get activate.
In our case, it means bringing the Panna Cotta liquid to a boil before adding the gelling powder, then whisking it in for a couple of minutes. That's it!
Find more recipes that use Agar Powder:
Quick Strawberry Compote Topping
A great way to finish your Vegan Coconut Panna Cotta is with a homemade fruit sauce or fresh fruits. You can use many different types of berries of tropical fruits like mango, passion fruit or even pineapple.
This time, I chose to make a compote with Frozen Strawberries. It is extremely easy to make and will only take 10 minutes or so!
Here are the steps:
If using fresh strawberries, wash and core the fruits.
Place the strawberries (fresh or frozen, directly from the freezer) in a small pot with the Syrup and the Lemon Juice. Turn on low to medium heat and leave to reduce for about 10 minutes
If using frozen strawberries, it may take another 5 minutes or so to thaw completely.
Optional: to get a very smooth sauce, use an immersion blender to mix the strawberry compote.
Leave to cool down completely before topping the strawberry compote on the coconut panna cottas. Otherwise, store in a sealed jar/container in the fridge for a couple of weeks.
Alternatively, you can also make a Raspberry Coulis or Strawberry Coulis instead of a Strawberry Compote!!
Is this Coconut Milk Panna Cotta also Gluten Free?
Yes, this dessert is completely Gluten Free, as it only requires Coconut Milk/Cream, Agave Syrup and Agar Agar Powder!
Simply make sure that the Agar you get is Gluten Free, although in its pure form, it will always be gluten and grain free. You can read more about it here.
How to store this Vegan Panna Cotta
Panna Cottas should always be stored in the fridge. They are best eaten within 48 hours. I wouldn't recommend freezing Panna Cottas as they are better fresh, and may become quite watery when thawed.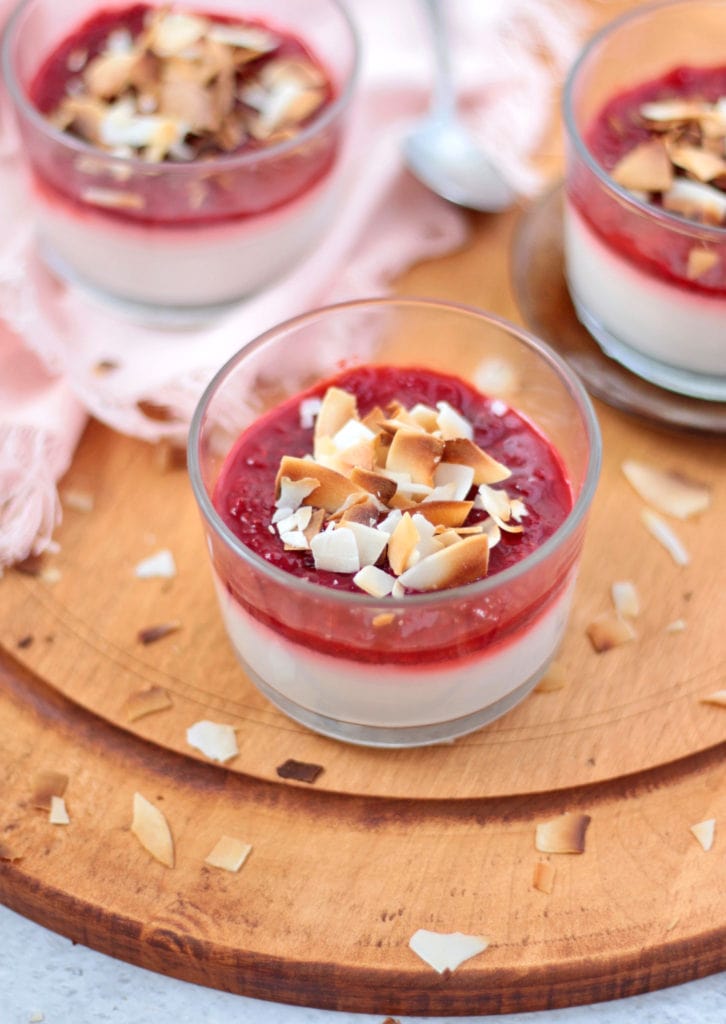 More Vegan Dessert Ideas:
Vegan Coconut Panna Cotta with Strawberries Recipe:
Print Recipe
Vegan Coconut Panna Cotta with Strawberry Sauce
This Coconut Panna Cotta is a delicious Dairy-Free, Gluten-Free and Vegan dessert. Topped with a quick homemade strawbery sauce, this light dessert is the perfect way to finish any meal!
Ingredients
Vegan Coconut Panna Cotta
1

can (400ml)

Coconut Cream

350 (1 1/2 cup)

ml

Unsweetened Coconut Milk

1/2

teasp.

Vanilla Paste (or 1 Vanilla Bean, sliced in half lenghtwise)

3

tbsp

Agave Syrup or Maple Syrup

1

teasp.

Agar Agar Powder
Strawberry Sauce
250 (1 cup)

gr

Fresh or Frozen Strawberries

1

tbsp

Agave Syrup or Maple Syrup

1

tbsp

Lemon Juice
Garnish
1

handfull

Coconut Flakes

,

optional
Instructions
Vegan Coconut Panna Cotta
Pour the Coconut Milk and Coconut Cream in a small pot (shake the can of coconut cream well before opening). Add the Vanilla Paste and Agave Syrup and turn on low heat. Bring to a simmer and leave until the syrup is fully dissolved.

Bring the liquid to a boil, then add the Agar Agar Powder. Whisk for 1 to 2 minutes, then remove from the heat.

Directly pour into individual heat-proof cups/jars or into silicone molds. Place in the fridge to set for 1 to 1,5 hours.
Strawberry Sauce
Place the washed and cored strawberries in a small pot with the Agave Syrup and Lemon Juice. Turn on low to medium heat and leave the strawberries to reduce for 10 minutes.

Remove from the stove and leave to cool down completely. Keep chunky as a compote or use an immersion blender to get a smooth sauce.

Pour the Strawberry Sauce over the Coconut Panna Cotta. Serve directly or keep in the fridge for up to 48 hours.

Optional: place a handful of coconut flakes on a baking sheet lined with baking paper. Toast under the broiler in your oven for 30 seconds to 2 minutes, depending on your oven (make sure to keep an eye on it because it will start to burn fairly quickly). Garnish the Strawberry Coconut Panna Cottas with the Toasted Coconut Flakes