Panna Cotta is one of my favourite dessert. It is so easy to make and no matter what flavour you pick, it is always delicious! This time, I used seasonal fruits and made an Orange and Grapefruit Panna Cotta topped with a Grapefruit Syrup and Fresh Grapefruit.
Jump to:
I have tried many different combination of Panna Cotta. I love how versatile this dessert is; you can really just use any fruits you have and it always turns out great.
I've made Panna Cotta with Mango, Raspberries, Vanilla or even a Vegan Coconut Panna Cotta,... it is always a crowd-pleasing treat!
As I always try to use seasonal fruits, this time I chose Citrus and made a Grapefruit and Orange Panna Cotta.
Even though we are in the middle of winter Down Under, this dessert turned out like the freshest summer-y dessert ever! Make it in winter with seasonal citrus or enjoy it during a hot summer day, it is completely up to you!
What is Panna Cotta
It may sound like a fancy and somehow complicated to make dessert but Panna Cotta is actually one of the easiest one to make. Originally from Italy, Panna Cotta (literally 'cooked cream') is simply made out of cream and gelatine.
There are many ways to flavour this dessert, the most commons ones being Vanilla or Coffee. I personally prefer the fruit-y versions best. Although usually only topped with fresh fruits or a fruit coulis, I chose to use the fruits directly in the cream to flavour it.
You can usually make Panna Cotta with only cream, but I found the dessert to be lighter and tastier with a mix of Cream and Milk. I often use Coconut Cream instead of regular dairy cream because I love the light coconut flavour it brings to the dessert.
For this recipe, I mixed the Coconut Cream with Soy Milk but you could also use Coconut Milk if you feel like a stronger coconut taste. This way, the Panna Cotta is also Vegan!
Citrus Panna Cotta
I'm not gonna lie, Winter is not be the most enjoyable season in Australia. But Winter also means Citrus Season, and that is a good enough reason to be happy! I love to include Citrus in both sweet and savoury recipes. From a French Orange Tart to these delicious Lemon Poppy Seed Muffins, Citrus always bring a punch of flavour to recipes!
Out of all the Citrus Fruits, Grapefruit is my fiancé's favourite so it was a no-brainer to make a Panna Cotta with it! I also used Oranges to balance the somehow bitter taste of Pink Grapefruit and the combination turned out super yummy!
Panna Cotta is normally made with Gelatine, which is an ingredient I try to avoid using. Instead, I prefer to use Agar Agar, a natural plant-based alternative to gelatine made out of Algae.
Agar is an awesome ingredient to have in your pantry to make gels, jelly or simply thicken any liquid. In Australia, you can find it in most Health Food Stores but you can also simply find some online like here or here.
Agar is great but also needs to be used the right way; it has a very strong solidifying effect and needs to be precisely weighted!
How to make Panna Cotta with Orange and Grapefruit
To make these Grapefruit and Orange Panna Cotta, I used Semi-Sphere Silicone Molds. It is one of my favourite baking mold because it instantly give a 'fancier' look to my desserts.
That may sound a bit superficial but it is true: a semi-sphere Panna Cotta looks way more impressive than a square or rectangular one! Not being able to get Panna Cottas out of their molds happened to me way to many times and is so frustrating!
So now, when making Panna Cotta (or any other jelly-type dessert), I only use Silicone Molds. If you don't think you will use a Semi-Sphere one, you can also simply get a Silicone Muffin Pan that is more versatile.
To finish the Grapefruit and Orange Panna Cotta, I made a simple Citrus Syrup with some of the Pink Grapefruit Juice, Cinnamon Powder and a little bit of Brown Sugar. Just bring these ingredients to a boil in a small pot and let it simmer until the sugar has dissolved.
Then remove it from the stove and let it cool down completely. Add some Fresh Grapefruit segments to the syrup and let them soak in for about an hour. When serving the Panna Cotta, simply pour a little bit of the Citrus Syrup and Fresh Grapefruit Segments and top with Orange Zest.
This is obviously optional (which is why I won't include this in the recipe below) and the Panna Cotta will also be delicious without this element!
Recipe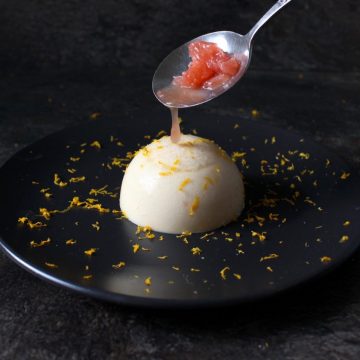 Grapefruit and Orange Panna Cotta
The freshest of all desserts, this Grapefruit and Orange Panna Cotta is a Vegan Sweet Treat you won't be able to stop eating!
Print
Pin
Rate
Ingredients
100

ml (1/3 cup + 1,5 tbsp.)

Orange Juice

100

ml 1/3 cup + 1,5 tbsp.)

Pink Grapefruit Juice

1/2

Orange Zest

1/2

Pink Grapefruit Zest

100

ml 1/3 cup + 1,5 tbsp.)

Plant-Based Milk (Soy Milk, Coconut Milk or Similar)

250

ml (1 cup)

Coconut Cream

1

tbsp.

Brown Sugar

1

tbsp.

Agar Agar Powder
Disclaimer
I highly recommend using the measurements in grams & ml (instead of cups & spoons) for more accuracy and better results.
Instructions
In a medium-size pot, bring the Orange Juice and Zest, Grapefruit Juice and Zest, Milk, Cream and Sugar to a boil. Keep beating with a whisk to make sure the milk doesn't burn.

When the liquid is boiling, add the Agar Agar Powder. Keep whisking for 3 to 5 minutes until the Agar has dissolved and the liquid starts slowly thickening.

Remove from the heat and pour into the Silicone Molds. Place into the fridge to cool down until set.

When the texture of the Panna Cotta sets as a thick jelly, it is ready to serve.
Tried this recipe? Make sure to leave a comment and star rating below!
Notes
The Agar will only work if brought up to a certain temperature. It is really important to have the liquid boiling and stir the Agar in it for long enough to activate it.
Tip: Place the Silicone Molds on a small tray before pouring the hot liquid in. This will help to keep the mold straight and steady when moving it to the fridge.
Tried this Recipe?
Leave a comment + star rating below and tag us @a.baking.journey on Instagram with a photo of your creation!