Looking for an egg-free meringue recipe? Here is everything you have always wanted to know about eggless, Vegan Aquafaba Meringue Cookies made with Chickpea Water!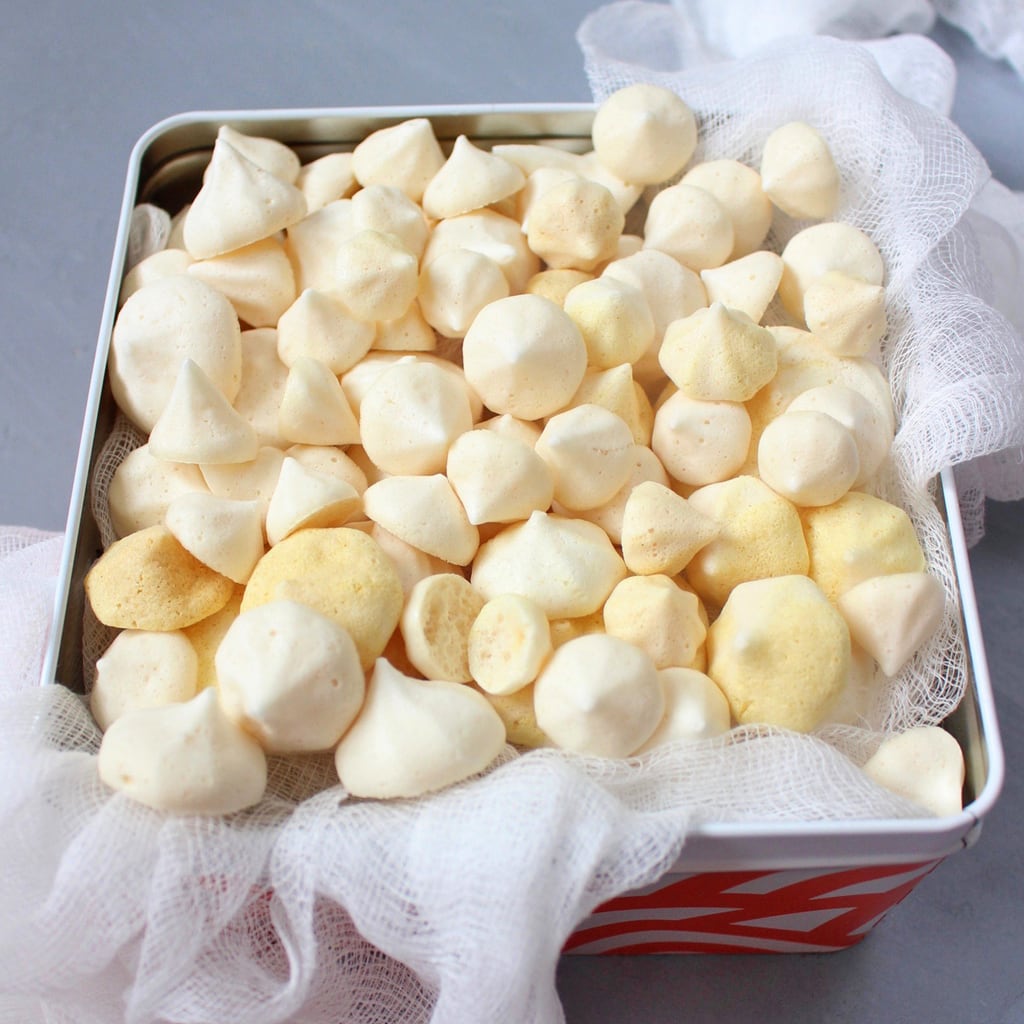 ---
Maybe you are Vegan and don't eat eggs. Maybe you are just out of eggs and need something to replace egg-whites straight away. Whichever reason, it is awesome to know that there IS an alternative to Egg Whites to make Meringues.
And no, it isn't complicated. It is literally the same process than making traditional meringues, and all it takes is one fabulous ingredient: Aquafaba.
There are many ways you can use these Eggless Meringue Kisses. I used them over my Vegan Lemon Tart for example!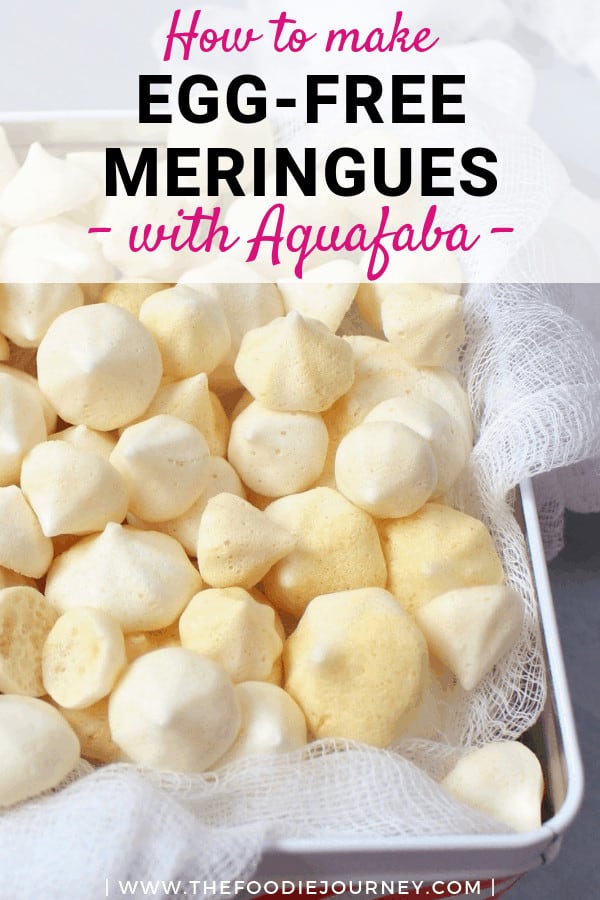 What is Aquafaba
The name may sound a bit intimidating, but don't worry - it isn't terrifying as it sounds! Aquafaba is simply the name given to the liquid left from cooking legumes, and especially Chickpeas.
Although you can make aquafaba from any legumes, Chickpeas are known to work best.
There are two ways to get Aquafaba:
Buy a Can of Chickpeas from the supermarket, and seperate the liquid from the chickpeas. This liquid is Aquafaba! With the leftover chickpeas, make Hummus or use in a salad.
Make your own Aquafaba by cooking Chickpeas at home. First, soak your dry chickpeas in lots of water overnight. Discard the water and place the chickpeas in a pot covered with fresh water. Bring to a boil, then reduce the heat and leave to simmer for about an hour, or until the chickpeas are tender. Turn off the heat and let the chickpeas cool down completely in their cooking water. Seperate the cooked chickpeas and the cooking liquid with a clean slotted spoon and voila! Aquafaba ready to use!
You can read more about Aquafaba in this super interesting article "What Exactly is Aquafaba, and how to use it?" on America's Test Kitchen website.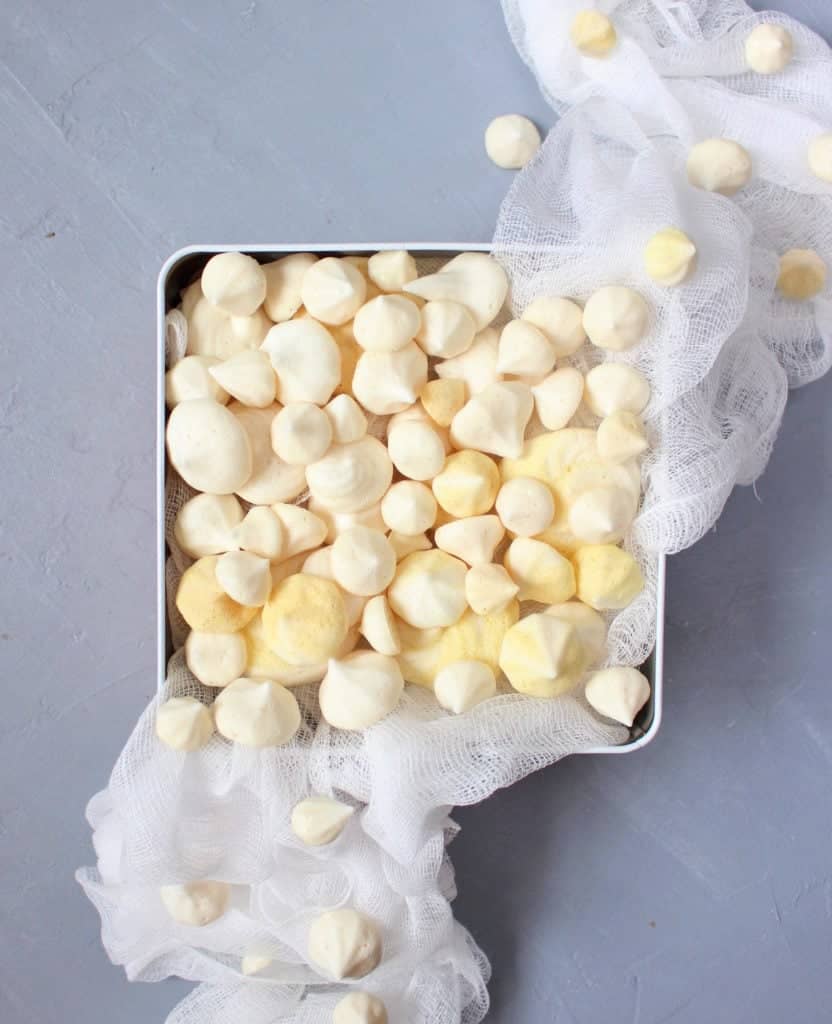 How to make Aquafaba Meringue Kisses
Although Aquafaba isn't as protein-rich as Egg Whites, it will basically work the same. Simply put your liquid in a clean, grease-free bowl and use either a hand-mixer or stand-mixer to whip it.
I found that Aquafaba takes longer to whip than Egg Whites so don't worry if it workes very slowly.
You can whip it alone, but ingredients like Cream of Tartar will help to stabilise your aquafaba, just like for egg whites.
For recipes like Aquafaba Meringues, Cream of Tartar is really a must. Not only it will help your liquid to whip faster, it will also make it more stable - and less likely to deflate, or break.
What you will need to make Chickpea Water
Meringues
Because we are making Meringue Cookies here, I used Caster Sugar as a sweetener.
If you were to make whipped aquafaba for another recipe like a Vegan Chocolate Mousse, you wouldn't necessarily need to add sugar to it - the cream of tartar will be enough to stabilise it.
Vegan Egg-Free Meringue Cookies
Now, for the recipe. Making Chickpea Juice Meringue Kisses sounds like an impossible task, but as explained above, it is just as easy as whipping egg whites:
Pour the liquid of 1 can of Chickpeas into the clean, grease-free bowl of your stand-mixer.
Add 1 teaspoon of Cream of Tartar and start whipping it. It will slowly get foamy
When it starts to thicken, gradually add the Caster Sugar
It is important not to add all the sugar at once. Keep whipping it until stiff peaks form. Make sure all the sugar has dissolved by rubbing a little bit of the meringue between your fingers. If it feels a bit grainy, you need to whip it more.
The exciting thing about Aquafaba Cookies is that, as opposed to egg white meringue, you cannot over-whip aquafaba.
That being said, there is not need to keep whipping it if it is ready! Now that your meringue is ready, you can transfer it into a pipping bag or add some colour to it.
I made these vegan meringues for a Vegan Lemon Tart, so I decided to colour half of my meringue with Turmeric Powder to give it a yellow shine. You can also use natural food colouring, or experiment with other spices or juices like beetroot juice.
Lastly, line a baking tray with a silicone baking mat or baking paper. Choose the piping tip you want; there is no right or wrong here!
I used a few different shapes and sizes, but mainly sticked with a traditional star-shaped nozzle. Once you are done piping, place your baking trays in the oven that has been pre-heated to 120'C (250'F).
It is really important to bake these vegan meringues cookies on a low heat to allow for all the moisture to evaporate without burning the cookies.
Bake for 1h (more if you are making large cookies), then turn off the oven and leave to cool down completely without opening the oven door.
They should then be hard and dry. Keep in an air-tight container until ready to use - they will melt really easily if exposed to moisture.
More Vegan Dessert Recipes
Vegan Chocolate Mousse Tart with Raspberries
No Bake Chocolate Espresso Tart
No Bake Mini Blueberry Tarts
Vegan Carrot Cake Muffins
Vegan Aquafaba Meringue Cookies Recipe:
Recipe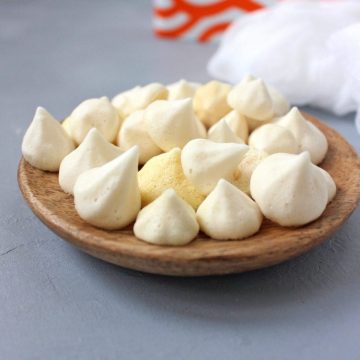 How to make Aquafaba Meringue Cookies
Looking for an eggless meringue alternative? Here is everything you have always wanted to know about Vegan, Egg-Free Meringue Cookies made with Aquafaba!
Print
Pin
Rate
Ingredients
1

Can of Chickpeas - Liquid Only

-

Equivalent to about 200ml - 3/4 cup

75

grams (1/3 cup)

Caster Sugar

1

teaspoon

Cream of Tartar
Disclaimer
I highly recommend using the measurements in grams & ml (instead of cups & spoons) for more accuracy and better results.
Instructions
Note that this recipe will make about 3 trays of cookies. Divide the quantities accordingly if you want to make less.

Preheat your oven on 120'C / 250'F.

Place the liquid of 1 can of chickpea (aquafaba) in the clean, grease free bowl of your stand-mixer (or same process with a hand-mixer) with a whip attachment.

Add the Cream of Tartar, then slowly start whipping. Gradually increase the speed of your mixer.

When the liquid starts to get foamy, slowly and gradually add the Caster Sugar while continuing to beat. Increase the speed to high, and keep whipping until stiff peaks form. This will take about 5 minutes or more. Check that all the sugar has dissolved by rubbing a bit of the meringue between your fingers. You shouldn't feel any grain.

Optional: add the food colouring if desired.

Line a baking tray with a baking mat or baking paper. Transfer your aquafaba meringue into a large piping bag with your choice of piping tip. Pipe the meringue cookies as your chosen size and shape.

Place the baking tray in the pre-heated oven and bake for 1 hour (more if you make large meringue cookies). Turn off the oven and leave the meringue to cool down completely, for about another hour. They should feel dry and hard. Directly place into an air-tight container (see note 1).
Tried this recipe? Make sure to leave a comment and star rating below!
Notes
If you will be using these eggless meringues to decorate a cake or a tart, make sure to place them on it only right before service. Otherwise, the moisture of your cake/tart will make your meringue become soggy and eventually, they will melt.
Tried this Recipe?
Leave a comment + star rating below and tag us @a.baking.journey on Instagram with a photo of your creation!