Do you like cookies? Do you like chocolate? Then this recipe is for you. You are going to LOVE eating one (or more) of these Vegan Chocolate Shortbread Sandwich Cookies!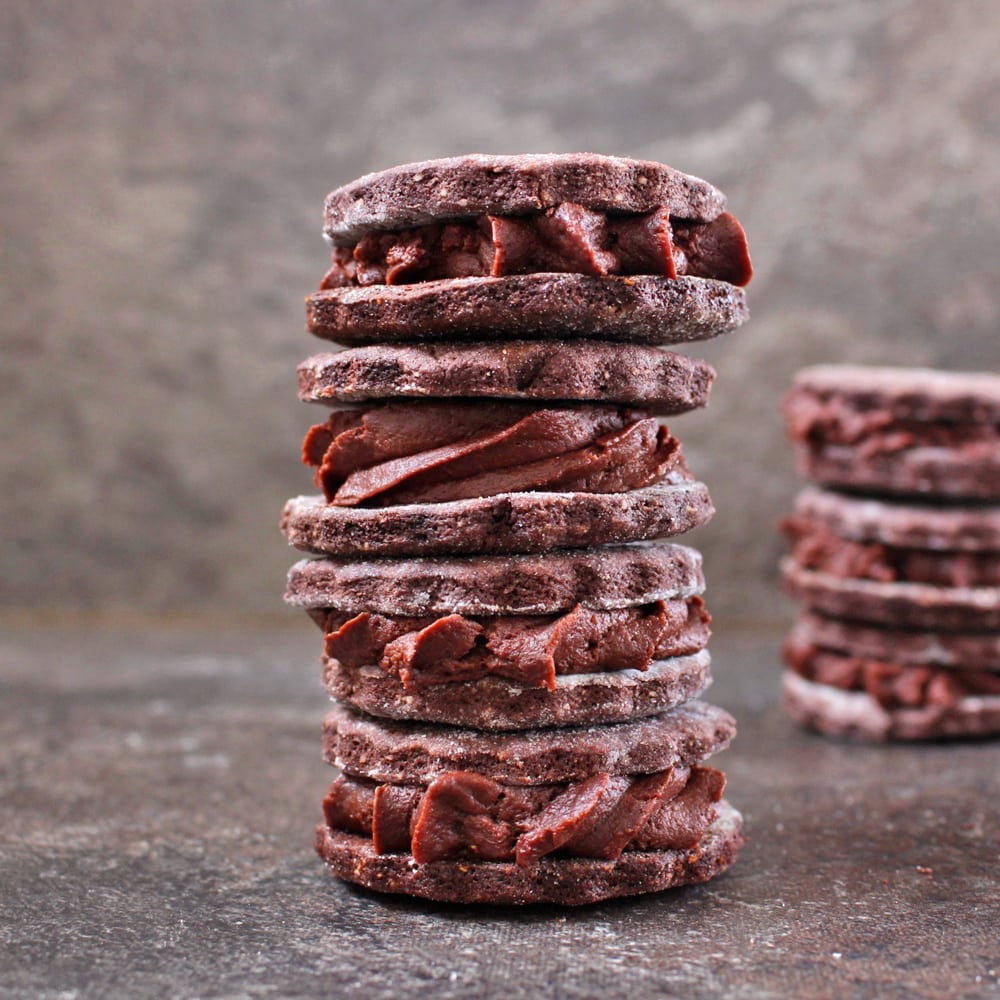 I have been making lots of fruity cakes lately. Passionfruit and Raspberry Cheesecake, Strawberry Cinnamon Galette, Peach and Almond Olive Oil Cake,.. although all equally delicious, I just cannot stay away from the Chocolate for too long!
What can I say? Sometimes, all you want is some rich, intense, yummy chocolate!
Vegan Shortbread Cookies
I cannot remember making Cookie Sandwiches before, but will definitely be remaking these ones soon. Coming up with vegan dessert recipes can be a bit challenging, especially when you are used to French Patisserie and using (a lot of) butter.
But since many of my friends are Vegan (and I cannot possibly eat all the cakes I am constantly making), I have gotten used to try to come up with more and more vegan dessert recipes.
I am personally not vegan, but I like the idea that anyone can eat my treats. Plus, they are usually quite delicious! If you have never made a vegan dessert before, I know it can seem challenging.
But don't let the word scare you; everyone will absolutely love these Chocolate Shortbread Cookie Sandwiches, whether they are vegan or not. Seriously, you would never guess these treats are dairy free and made without butter if you didn't know.
Double Chocolate Cookie Sandwich
I was a bit skeptical looking at vegan shortbread dough recipes. One of the main ingredient of shortbread doughs is butter. So, if you need a dairy-free alternative to butter... will the shortbread cookies turn out ok?
After having made this recipe, I really wondered what I was afraid of. This Vegan shortbread cookie dough was surprisingly the easiest dough to roll, ever! I don't know if it is the Coconut Oil or something else, but the dough was extremely malleable and easy to work with.
Maybe a bit too soft for a whole tart crust, but absolutely perfect for cookies. I will warn you though, the dough is SO easy to roll that you may roll it TOO much. When making the Chocolate Shortbread Cookies, try not to roll the dough too thin so that they don't dry out/burn fast in the oven.
I was also a bit skeptical about the Vegan Chocolate Frosting. Ok, I definitely did not believe in this recipe at all... I kept wondering how on earth this liquid ganache would turn into a frosting, and got way too excited when it did! All it needs is time to set in the fridge. The Coconut Oil will harden and transform the batter into a nice, thick, rich frosting.
You can find liquid Coconut Oil that is usually sold next to other bottled oils, but I prefer to use a non-liquid version like this one and just melt it when required.
You may need more or less of this Frosting, depending on the size of your shortbread cookies. The good news though is that if you have any leftover, simply transfer it into a sealed jar and leave it in your fridge to use as a chocolate spread!
I used Callebaut Belgian Chocolate for the Frosting because I am a good Belgian Citizen... Or because it is just the best chocolate to bake with!
I already mentioned using a 70% Callebaut Chocolate in my Dark Chocolate Mousse recipe.
This time, I went for something a bit sweeter with a 54.5% Chocolate. Because we are using Unsweetened Cacao Powder in the Cookies, I chose a non too dark chocolate for the Frosting so that the cookie sandwiches wouldn't be too bitter.
As a general rule, I always recommend using a chocolate that is at least a 50% Cacao and preferably more. You don't want all the added sugar that comes with milk chocolate!
More Vegan Sweet Treats
Vegan Banana Bread (Gluten Free + Sugar Free)
Almond Tahini Cookies
Vegan No Bake Blueberry Tartlets
Raw Raspberry Cheesecake Cups
Made this recipe?
Let us know if you liked it by leaving a comment below, and tag us on Instagram @a.baking.journey with a photo of your creation!
Recipe
Vegan Chocolate Shortbread Cookie Sandwich
These Vegan Shortbread Cookie Sandwich are a delicious dairy-free healthy sweet treats that kids will love to make, and eat!
Print
Pin
Rate
Ingredients
Chocolate Shortbread Cookies
1/4

cup

Brown Sugar

3

tbsp.

Coconut Oil

1/3

cup

Coconut Milk

1/2

cup

Plain Flour

1/3

cup

Almond Meal

1/4

cup

Unsweetened Cacao Powder

1

tbsp.

Cornstarch

1/2

teasp.

Baking Soda

1

pinch

Salt
Vegan Chocolate Frosting
1

cup

Dark Cooking Chocolate

1/4

cup

Coconut Milk

1/4

cup

Coconut Oil

1

pinch

Salt
Disclaimer
I highly recommend using the measurements in grams & ml (instead of cups & spoons) for more accuracy and better results.
Instructions
Chocolate Shortbread Cookies
In a large bowl, mix the Sugar, Coconut Oil and Coconut Milk.

Sift in the Flour, Almond Meal, Cacao Powder, Cornstarch, Baking Soda an Salt. Mix well to create a dough.

The dough will be really soft - it's normal. If you find that it is too soft to create a large ball of dough, add a little bit of Flour. If too hard, add a little bit of Coconut Milk.

Create a ball with the dough and place in the fridge to set for at least 30 minutes.

Turn on your oven on 160'C.

Put some Flour on your clean kitchen bench and rolling pin. I like to roll doughs on baking paper to having sticking to the bench.

Roll the dough in a large, thin circle. It should be really easy to roll, but try to avoid rolling it too thin.

With a cookie cuter, cut small rounds (or shape of choice) of dough and place them on a baking tray lined with baking paper.

Bake the cookies for 7 to 10 minutes, depending on the thickness of the cookies.

Place the baked cookies on a rack to cool down.
Vegan Chocolate Frosting
While your cookies are cooling, place your Dark Chocolate in a heat-proof bowl.

Warm up the Coconut Milk in the microwave or on the stove then pour it over the Chocolate. Stir until all the Chocolate has melted.

Add the Coconut Oil and mix well until shiny and smooth.


Place the Chocolate Frosting in the fridge to set. The liquid ganache will take between 15 to 30 minutes to set and harden into a frosting.
To Assemble the Cookies
Place the Chocolate Frosting in a Piping Bag with a large piping tip, or alternatively just use a spoon. Warning, this is not the easiest frosting to pipe so if you are not super confident with a piping bag, just use the spoon!

Pipe some Chocolate Frosting on a shortbread cookie, then place a second one over to create a sandwich.
Tried this recipe? Make sure to leave a comment and star rating below!
Nutrition
Calories:
78
kcal
|
Carbohydrates:
6
g
|
Protein:
1
g
|
Fat:
6
g
|
Saturated Fat:
5
g
|
Sodium:
11
mg
|
Potassium:
32
mg
|
Fiber:
1
g
|
Sugar:
2
g
|
Vitamin C:
1
mg
|
Calcium:
8
mg
|
Iron:
1
mg
Tried this Recipe?
Leave a comment + star rating below and tag us @a.baking.journey on Instagram with a photo of your creation!