Picture this: the smell. The taste. The look. This Spiced Orange Honey Cake recipe has it all! It makes the perfect Rosh Hashanah desserts and is delicious to enjoy all day long during Fall and Winter!
Why we love this recipe
I first baked this cake back in September for Rosh Hashanah, the Jewish New Year. As it is a tradition to eat Honey to celebrate a sweet year to come, Honey Cakes are a perfect Rosh Hashanah dessert.
You will find thousands of different Honey Cakes recipe as many families have their own one, passed from one generation to another. Here is my twist on the traditional honey cake: an Orange Glazed Spiced Honey Cake decorated with Candied Oranges.
There is something so special about baking with spices, just like my Biscoff Cheesecake, Vegan Sticky Date Puddings or Spiced Pear Muffins. I don't know if its the smell or the flavours (probably a mix of both), but I simply cannot resist it!
Ingredients
The list of ingredients is rather long - but don't freak out! This Dairy-Free Spiced Honey Cake recipe is super easy! There are a few elements make this Spiced Honey Cake so delicious. The Spices and the Honey, obviously, but also the Almonds and Hazelnuts ground into a thin meal.
I absolutely adore using spices in cakes and if you ask me, the more - the better! For this cake, I used Cinnamon, Nutmeg, Ginger, Clove and Star Anise Powder.
If you do not have all of these spices at home, you can also substitute them for an All Spices mix. Chinese 5 Spices also works great!
To make this Easy Honey Cake, you will need:
Eggs
Brown Sugar
Honey
Spiced Tea (your choice of tea) & Water
Oil
Orange Zest
Plain Flour
Almond Meal
Hazelnut Meal
Baking Powder
Salt
Spices: Cinnamon, Nutmeg, Ginger, Clove and Star Anise (or your choice of spice mix)
How to make Honey Orange Cake
There are 3 main steps to make this Honey Cake with Oranges. Prepare the tea, mix in the wet ingredients then add the wet ingredients:
Prepare your tea in boiling water and set aside.
Whisk the Eggs and Brown Sugar, then add the Honey. Stir in the Oil, Orange Zest and brewed Tea.
Add all the dry ingredients, whisk until combined then bake in a loaf pan.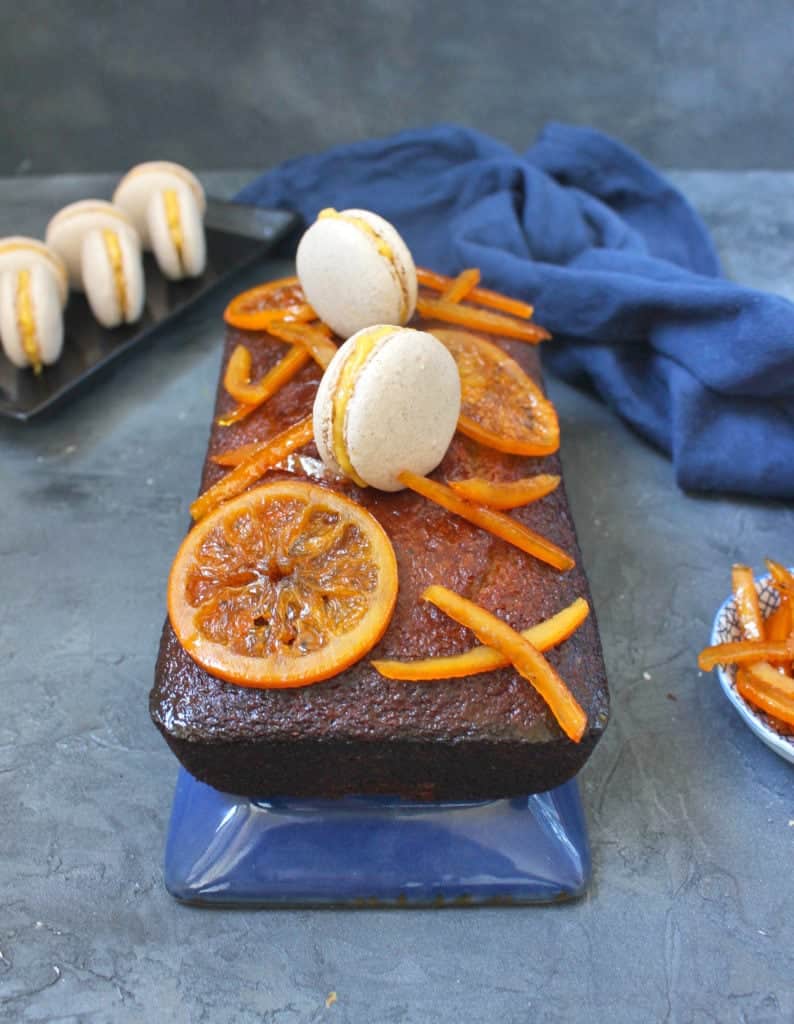 Baking with Honey
When it comes to Honey, we are very lucky here in Australia. We can easily find great quality Honey that has been produced locally and organically.
Like often when I bake with Honey, I used Tasmanian Honey we brought back from a previous trip.
Although the quality of all the ingredients matter, the quality of the honey is really what makes this cake. You want a Honey that is both floral and fragrant to bring a delicious taste to the cake.
How to make an Orange Glaze
If you have read some of my other recipes, you know that I love to make a simple fruit glaze. Not only it is WAY easier that you may think, it is also a great way to bring flavour - and a beautiful shine - to your desserts.
To make a Fruit Glaze, I use the juice of fruit and boil it with some Agar Agar Powder. This powder is a plant-based gelling agent that works way faster than gelatine and is also vegan.
And that's it - it is that easy! Not only this fruit glaze is ready in about 3 minutes, it is also full of flavours. Because the Spiced Honey Cake is rather sweet, I did not add any sugar to this Orange Glaze. The deliciously tangy citrusy glaze is the perfect way to balance the sweet Honey Cake!
Check out my other recipes made with a Fruit Glaze:
Mini Lemon Bundt Cakes with Blueberry Glaze
How to make Candied Oranges
To finish this Spiced Honey Cake, I decided to make Candied Oranges - my new obsession! Once again, it is one of these things that seem super complicated but is in fact rather easy.
Candied Oranges are both delicious and a beautiful treat to use as decoration for your cakes, tarts and other desserts. You can make Candied Oranges using both Orange Slices (the peal and the pulp) and Orange Peals only.
For this recipe, I made both. I used half of an orange to make Candied Orange Slices and the other half to make Candied Orange Peal Strips.
The key to make Candied Oranges - and any other candied citrus fruit - is to boil the peals in fresh water a few times. This will remove most of the bitterness you could find in a citrus peal or zest, as well as making them nice and soft.
Once they have been blanched a couple of times at least, the slices or peals are cooked in a sweet syrup until completely reduced. The syrup can be made with only water and sugar, or you can also add some spices like Cinnamon like I did here.
More Honey and Spiced Cakes recipes:
Made this recipe?
Let us know if you liked it by leaving a comment below, and tag us on Instagram @a.baking.journey with a photo of your creation!
Recipe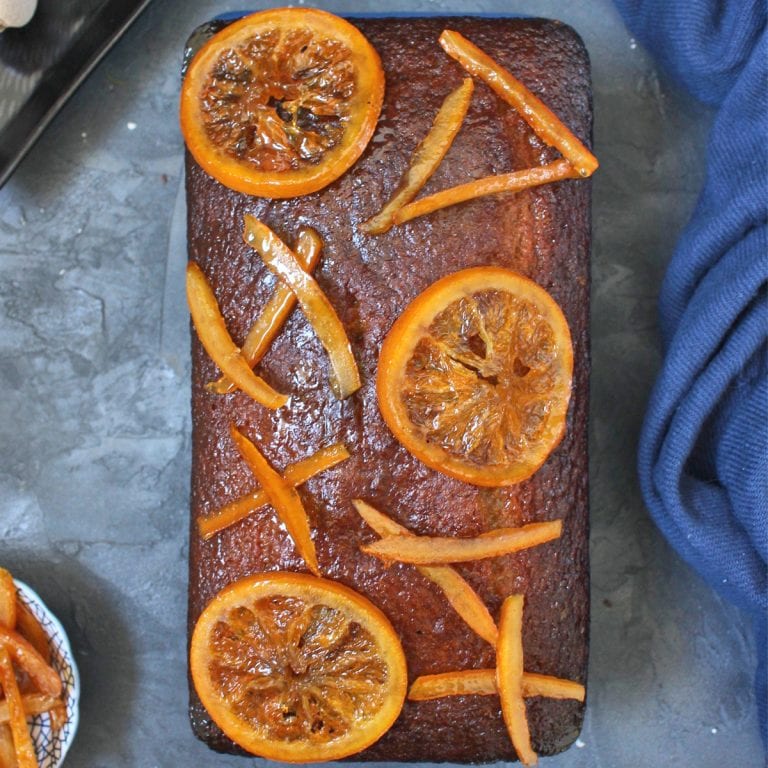 Orange Glazed Spiced Honey Cake
This Rosh Hashanah Orange Glazed Spiced Honey Cake with Candied Oranges will also be a perfectly delicious and fragrant winter cake.
Print
Rate
Ingredients
Spiced Honey Cake
3

Eggs

80

gr (1/3 cup + 1 tbsp)

Brown Sugar

175

gr (6 oz)

Honey

80

ml (1/3 cup)

Spiced Tea

125

ml (1/2 cup)

Canola Oil (or other vegetable oil)

1

Orange - Zest only

150

gr (1 cup)

Plain Flour

25

gr (1/4 cup)

Almond Meal

25

gr (1/4cup)

Hazelnut Meal

-

(Can be replaced by the same quantity of almond meal)

1

teasp.

Baking Powder

1

pinch

Salt

1

teasp.

Cinnamon Powder

1/2

teasp.

Nutmeg Powder

1/2

teasp.

Ginger Powder

1/2

teasp.

Clove Powder

1/2

teasp.

Anise Seed Powder (optional)
Orange Glaze
2

Oranges - juiced

2

tbsp.

Lemon Juice

1/2

tbsp.

Agar Agar Powder
Candied Oranges
1

Orange

3 x 250

ml (3 x 1 cup)

Water

60

gr (1/4 cup)

Caster Sugar

55

gr (1/4 cup)

Brown Sugar

1/2

teasp.

Cinnamon Powder
Disclaimer
I highly recommend using the measurements in grams & ml (instead of cups & spoons) for more accuracy and better results.
Instructions
Spiced Honey Cake
Preheat your oven on 170'C.

Boil the Water to brew the tea, then set aside to cool down. Preferably use a fragrant, fruity spiced tea.

Whisk the Eggs and Brown Sugar until foamy. Add the liquid Honey and whisk well.

Add the brewed Tea, Canola Oil and Orange Zest and whisk until combined.

Fold in all the dry ingredients: Plain Flour, Almond Meal, Hazelnut Meal, Baking Powder, Salt, Cinnamon Powder, Nutmeg Powder, Ginger Powder, Clove Powder and Anise Seed Powder.

Pour the cake batter into a greased loaf pan and bake for 30 to 40 minutes, or until the tip of a knife comes out clean. Set aside to cool down completely.
Orange Glaze
When the Spiced Honey Cake is completely cool, place the Orange Juice, Lemon Juice and Cinnamon Powder in a small pot and bring to a boil. Add the Agar Agar Powder and whisk for a couple of minutes.

Place the Spiced Honey Cake on a cooling rack, over a lined baking tray (see note 1). Gently pour the Orange Glaze over the cake, making sure it is fully covered. Repeat until you have used all the Orange Glaze, then put aside to set.
Candied Oranges
Cut the orange in half. Thinly slice the first half, then cut out the orange peal on the second half (see note 2). Slice the orange peals into thin strips.

In a small pot, bring the first 250 ml of water to boil. Place the Orange Slices and Peal Strips in the boiling water for about then minutes, then drain and rince well. Repeat a second time in with fresh water (the second 250 ml).

Clean your pot, then mix in the last 250 ml of water, the Caster Sugar, Brown Sugar and Cinnamon Powder. When all dissolved, place the Orange Slices and Peal Strips in the syrup and leave to reduce on low heat for about 30 minutes, or until all the water has evaporated. Try not to touch or stir the oranges while they are candying.

When all the syrup has evaporated, you should get sticky candied orange slices and strips. Carefully place them on a cooling rack to cool down.

Place the Candied Orange Slices and Candied Orange Peals on the Orange Glazed Spiced Honey Cake before serving.
Tried this recipe? Make sure to leave a comment and star rating below!
Notes
This is to make sure the glaze doesn't drip all over your kitchen bench. Lining the Baking Tray with baking paper or a baking mat also allows you to re-use all the orange glaze that has dripped.
You want peal strips that are relatively thick, so make sure you cut out the zest and the white part. Then, slice thin strips of orange peals.
Tried this Recipe?
Leave a comment + star rating below and tag us @a.baking.journey on Instagram with a photo of your creation!