These Raspberry and Almond Madeleines make the most delicious sweet treat to enjoy with your morning and afternoon tea. The French Madeleines made with Almond Meal are super light and fluffy and topped with a Raspberry Glaze for a beautiful finish!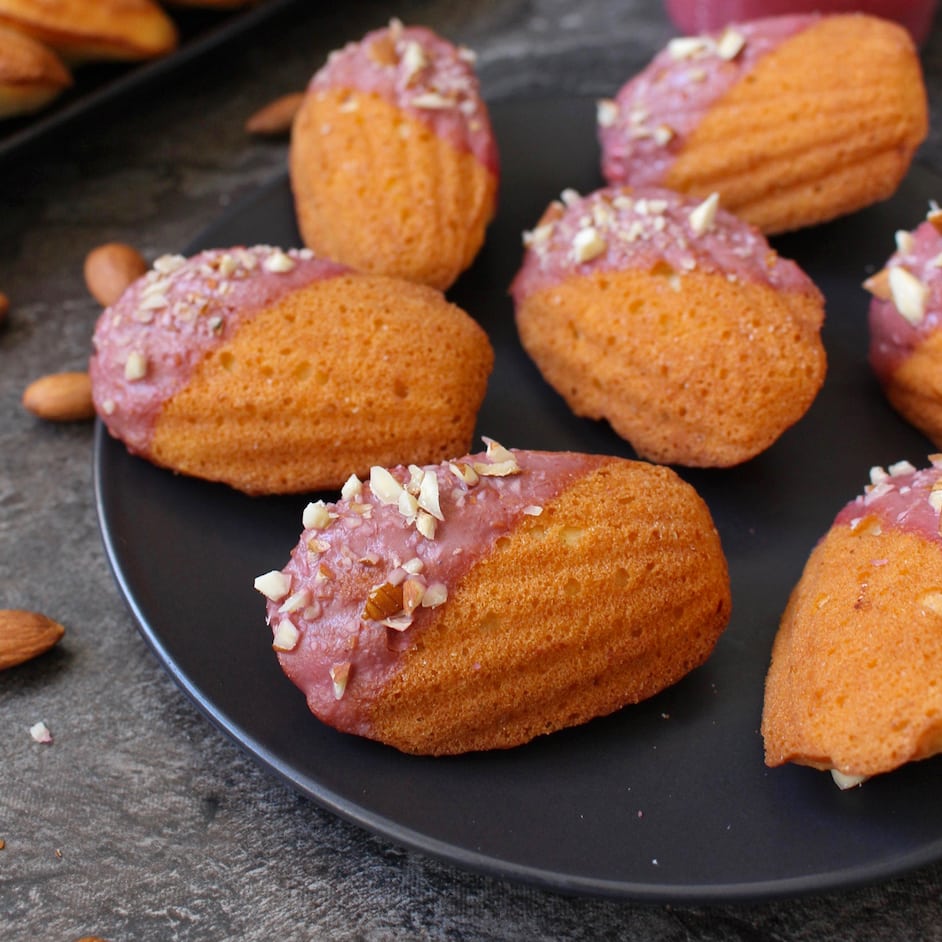 Jump to:
Why we love this recipe
Madeleines are such a classic French recipe. It's one of those treat that you simply cannot stop eating - they are usually gone way too fast! Today, I am sharing with you my latest madeleine experiment; these Raspberry and Almond Madeleines.
Tasting a freshly baked Madeleine for the first time is a moment you never forget. Nothing like the dry, store-bought bag of madeleines!
Fresh Madeleines are probably one of my favourite thing to eat - and make. Years ago, I became obsessed with making madeleines and tried dozens of recipes and combinations like these Chocolate Madeleines.
That's one of the best thing about Madeleines: there are so many flavours available!
What are Madeleines?
You may have heard the name before but have never tried one. Madeleines are small cakes made with a Genoise cake batter and baked in shell-shaped tins. A Genoise is a light sponge cake batter used in many French and Italian recipes.
The lightness of the sponge is created by whisking together the Eggs and Sugar until they have (at least) doubled in size. By doing so, a lot of air is incorporated into the batter making it light and fluffy.
Basic Madeleines Ingredients
Although you will find thousands of different recipes, the same basic ingredients are required to make a classic madeleine:
Eggs
Sugar
Butter
Flour
Baking Powder
Salt
Some recipes add a little bit of Lemon Juice and/or Zest, other just flavour the Madeleines with vanilla or chocolate; it is really up to you. You can even try to make a savoury version like these Semi-Dried Tomato Madeleines that are perfect as an appetiser!
Even though the ingredients are very basic - nothing you shouldn't have in your pantry - a special Madeleine Pan is needed to create the cute shell-like shape.
The most easily found ones are the small, elongated shells ones. I recommend using a metal pan like this one, but you can also try silicone ones that take less space and are easier to clean. If you want to try something a little bit different, you can also find super cute round shells pans.
Almond Meal Madeleines
For this recipe, I substituted some of the Flour with Ground Almond or Almond Meal to make the Madeleine batter ever lighter and fluffier. If you have been following this blog, you will have already heard me rave about Almond Meal and how awesome it is to make super moist cakes.
But I will say it again: Almond Meal is awesome to make super moist cakes, on top of being a great Gluten Free alternative to Wheat Flour. Try this amazing Pear and Almond Cake if you are curious!
Ok, back to the Madeleines... The Madeleines part of this recipe is - other than the Almond Meal - very classic. Like I explained above, you will simply need (scroll down to recipe card for all quantities):
Sugar
Eggs
Butter
Flour
Almond Meal
Baking Powder
Salt
Lemon Juice and Zest (optional)
You do not have to use the Lemon - the cakes will still be delicious - but it really brings out the taste of the other ingredients and add a little bit of freshness.
How to make Madeleines with Almond Flour
Whisking well the Sugar and Eggs is the most crucial step of the recipe. You DO want it to get airy and foamy. If you don't whisk them for long enough, your Madeleines will not rise properly and be heavier.
The temperatures are also very important. First, the temperature of your ingredients; they need to be at room temperature. Second, the temperature of the batter.
Make sure it has rested in the fridge for at least 15 to 20 minutes before baking. The madeleines will rise better if the dough is chilled.
Lastly, be careful with the temperature of your oven. You want to pre-heat it to a high temperature, but drop it as soon as your madeleines go in.
Raspberry Glaze
The Raspberry Glaze is really the fun element of this recipe. On top of adding an awesome pop of colour, the Raspberry Glaze will also bring a sharp freshness.
And it is really not complicated to make! You will need to reduce your Frozen Raspberries in a syrup, blend it with Coconut Cream and then boil it with Agar Agar Powder.
The Agar is the most important ingredient here; it helps the glaze stick together and stick to the madeleines. Dip your Madeleines in the Raspberry Glaze as soon as it is ready so that it hasn't had time to set yet.
More Tea Time Snack Ideas
Made this recipe?
Let us know if you liked it by leaving a comment below, and tag us on Instagram @a.baking.journey with a photo of your creation!
Recipe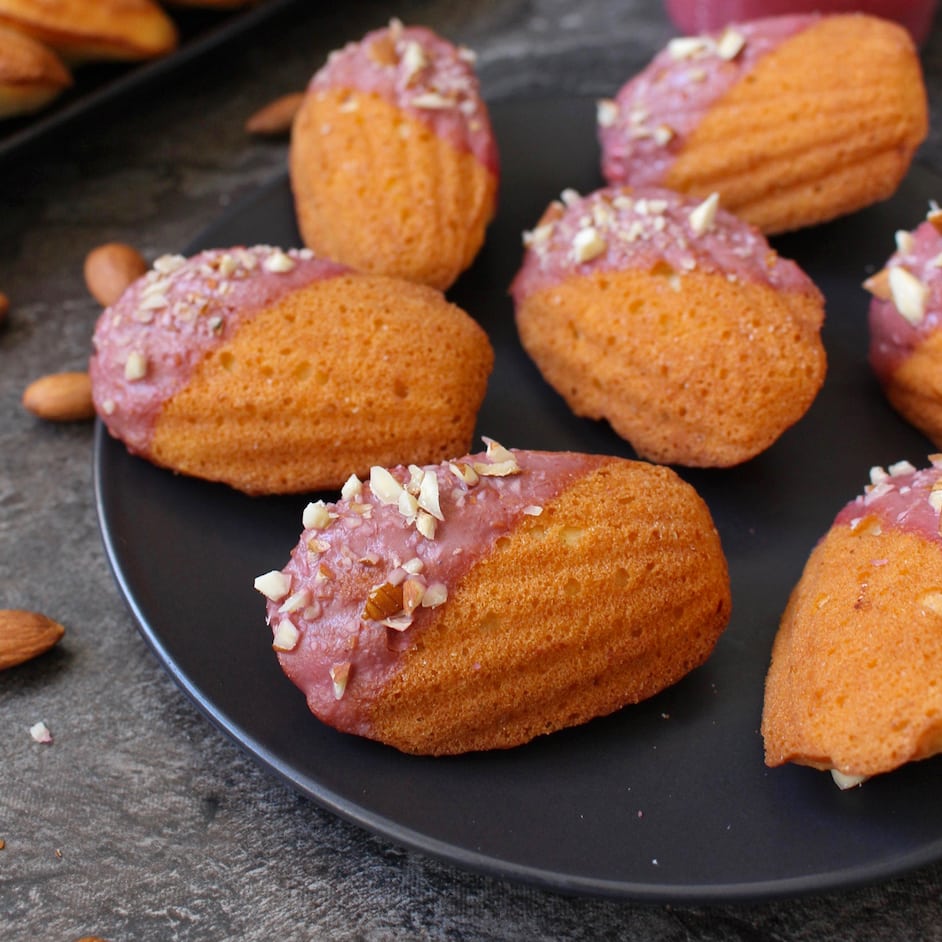 Almond Madeleines with Raspberry Glaze
These Almond Madeleines with Raspberry Glaze are the perfect tea party sweet treat. The Raspberry Glaze is a delicious tangy addition to these super light madeleines made with Ground Almonds.
Print
Pin
Rate
Ingredients
Almond Madeleines
1/3

cup (100 gr)

Melted Butter

1/4

cup (50 gr)

Caster Sugar

3

Eggs

1/2

Lemon: Juice + Zest

1

cup (100 gr)

Almond Meal

2/3

cups (110 gr)

Plain Flour

1

teaspoon

Baking Powder

1

pinch

Salt
Raspberry Glaze
1

cup (100gr)

Frozen Raspberries

1/2

cup (120ml)

Water

2

tbsp

Lemon Juice

1/2

teaspoon

Cinnamon Powder

1

tbsp.

Caster Sugar

1/2

cup (120ml)

Coconut Cream

1/2

teaspoon

Agar Agar Powder
Disclaimer
I highly recommend using the measurements in grams & ml (instead of cups & spoons) for more accuracy and better results.
Instructions
Almond Madeleines
Melt the butter in a small bowl and set aside to cool down.

In a large mixing bowl, whisk the Sugar and Eggs for a few of minutes until it has doubled in size and foamy. Pour in the cooled melted Butter and stir well.

Fold in the Almond Meal, Lemon Zest and Lemon Juice.

In a separate bowl, combine the Flour, Baking Powder and Salt. Sift it in the batter, and once completely incorporated, place in the fridge to chill for about 15 minutes.

Turn on the oven on 230'C.

While the oven is heating up, spray your Madeleine Pan with Canola Oil or rub a little bit of butter in.

Pour about a tablespoon of batter in each shell. They should be about 2/3 filled.

When hot, put the Madeleines in the oven and directly reduce the temperature to 170'. Bake to 8 to 10 minutes. Transfer onto a cooling rack.
Raspberry Glaze
Once the Madeleines have completely cooled down, start preparing the Raspberry Glaze. Put the Water, Frozen Raspberries, Lemon Juice, Cinnamon Powder and Caster Sugar in a pot, bring to a boil and let reduce into a Puree for about 10 minutes.

Set aside to cool down for 5 minutes, then transfer the Raspberry Puree in the Blender. Add the Coconut Cream and blend until completely smooth.

Pass the liquid through a sieve to remove all the seeds then pour it back into the pot. Bring to a boil.

Once the liquid is boiling, add the Agar Agar Powder. Leave on the heat for about 2 minutes - constantly whisking - until the liquid starts thickening. Remove from the heat.

Dip your Madeleines in the Raspberry Glaze and sprinkle with finely chopped Almonds. Let the Madeleines set for at least 20 minutes.

Tried this recipe? Make sure to leave a comment and star rating below!
Notes
Make sure your oven is really hot before putting the Madeleines in: the heat is what will make your Madeleines Centre to rise. Don't forget to directly reduce your oven's temperature to avoid burning your madeleines.
Nutrition
Calories:
105
kcal
|
Carbohydrates:
8
g
|
Protein:
3
g
|
Fat:
8
g
|
Saturated Fat:
4
g
|
Trans Fat:
1
g
|
Cholesterol:
27
mg
|
Sodium:
50
mg
|
Potassium:
48
mg
|
Fiber:
1
g
|
Sugar:
3
g
|
Vitamin A:
111
IU
|
Vitamin C:
3
mg
|
Calcium:
30
mg
|
Iron:
1
mg
Tried this Recipe?
Leave a comment + star rating below and tag us @a.baking.journey on Instagram with a photo of your creation!