These classic French Financiers Cakes make the most delicious little treat. Perfect with your morning or afternoon tea, these Brown Butter Almond Tea Cakes are a great sweet snack and edible gift idea.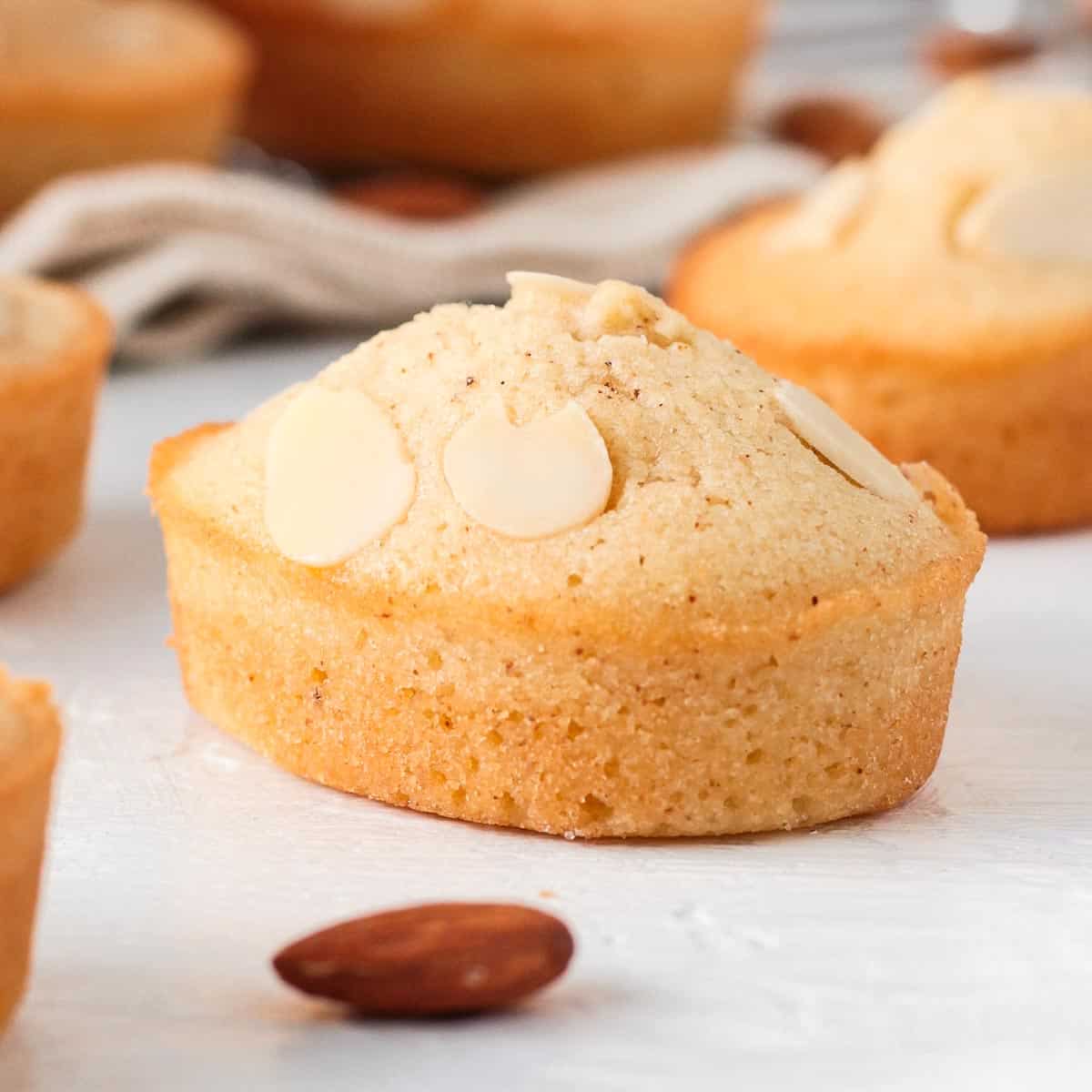 Jump to:
Why we love this recipe
Financiers make the best tea time treats if you ask me! They are very quick and easy to prepare without a mixer. They can easily be customised with many ingredients like fruits or nuts, or be turned into Chocolate Financiers or Coffee Financiers.
Packed with flavours thanks to the Brown Butter and Almond Meal, these mini almond cakes are super soft, light and fluffy. The perfect afternoon sweet treat and a great edible gift idea!
This French Financier recipe is also a great way to use leftover egg whites you might have after making Crème Pâtissière (Pastry Cream), Crème Brulée or even custard-based Ice Cream.
What are Financiers
A "Financier" (originally called "visitandine") is a traditional French tea cake made with Almond Meal and Brown Butter ("beurre-noisette" in French). They can be enjoyed plain like here, or flavoured with many other ingredients like fruits, chocolate, spices, nuts,...
They are known for their distinctive rectangular shape (or oval like here) that resembles a bar of gold - which could explain the origin of their name.
Ingredients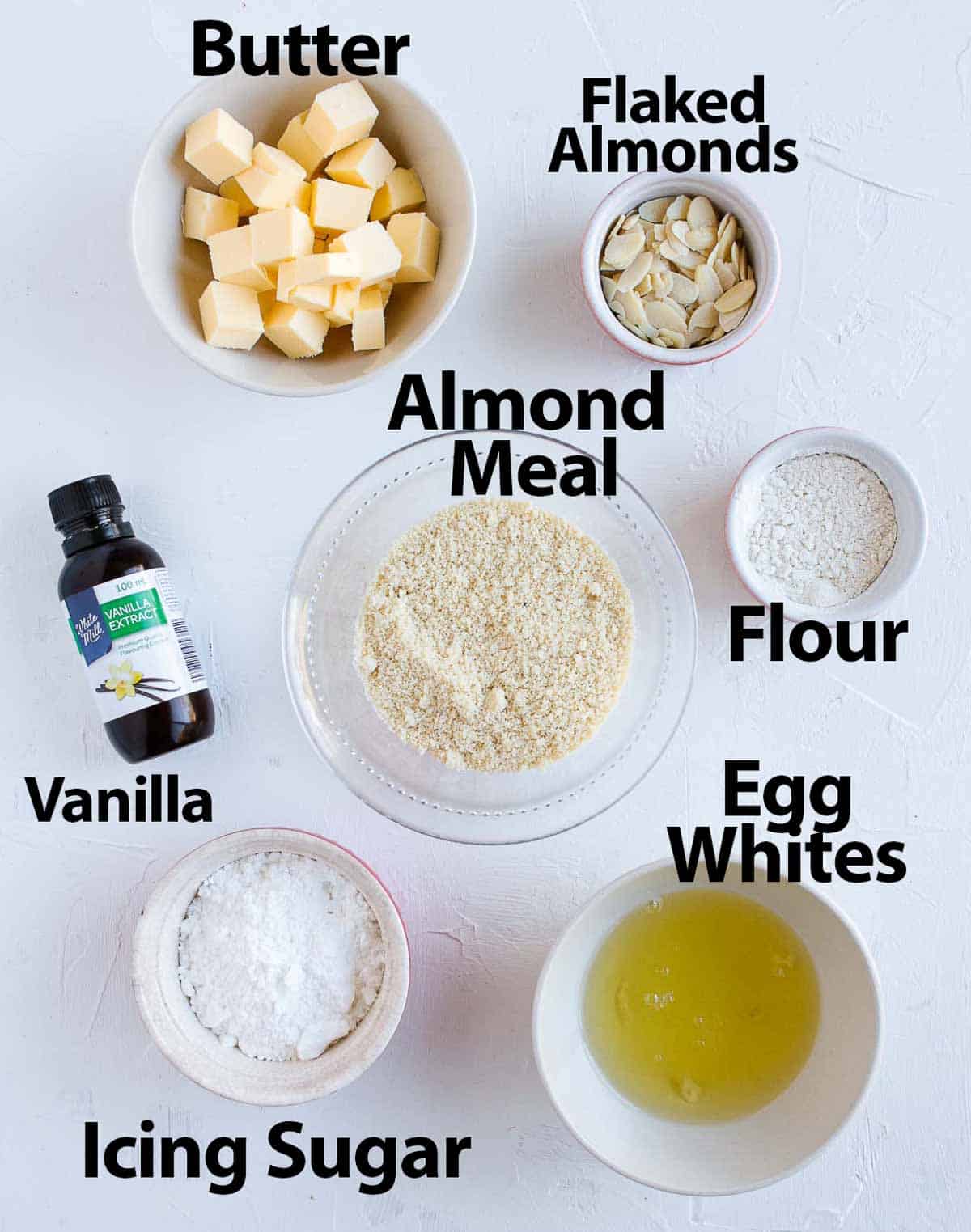 Financiers Cakes are super easy to make out of 5 basic ingredients, plus another optional 2 (scroll down to recipe card below for all quantities).
Butter: we are using Unsalted Butter here, slowly melted on the stove to make Brown Butter (see how to make brown butter below). If you don't want to make brown butter, you can simply use melted butter, but the brown butter does provide a LOT of flavour here.
Dry Ingredients: a mix of Almond Meal (Almond Flour will work too), Plain/All-Purpose Flour (I have not tried this recipe with a gluten-free flour substitute), Icing Sugar (or more traditionally Confectioners/Powdered Sugar) and a pinch of Salt. Make sure to sift them well so you don't get lumps in the batter.
Egg Whites: some recipes use straight egg whites but I like to use slightly whipped Egg Whites. There is no raising agent in this recipe like baking powder, so slightly whipping the egg whites will make your financiers lighter.
Optional: a little bit of Vanilla in the batter for flavour and some Flaked Almonds on top for texture.
Optional Addition & Flavour Variation
This recipe is for a basic financier cake. But you can vary much create thousands of variation using this basic recipe and adding ingredients like:
Fruits: Berries, Figs, Cherries, chunks of Pears or Apples or some Citrus like Orange and Lemon juice / zest.
Nuts: replace (or combine) the Almond Meal with other nut flour such as Hazelnut Flour or Pistachios for example.
Chocolate: replace a little bit of the flour with Cacao Powder, or add Chocolate Chunks to the batter like I did in these Chocolate Financiers.
Spices: cinnamon, ginger, allspices, cardamom,... any of your favourite spice will add lots of flavors to these cakes.
How to make Financiers Cakes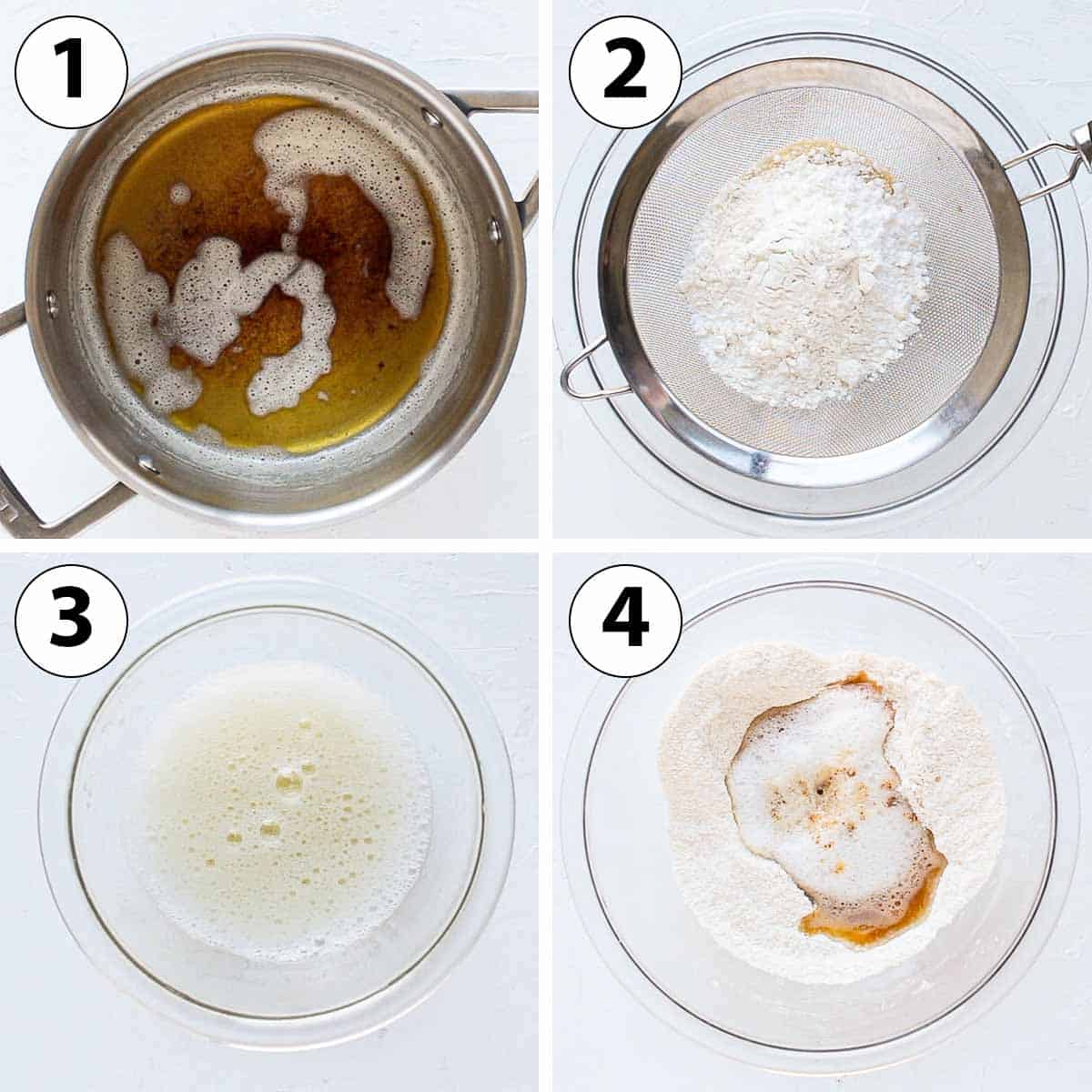 Making Financiers is quite easy and straight forward, but you will need one saucepan to make the brown butter and two bowls to mix the ingredients.
The first step is to make the Brown Butter. You can read more about Brown Butter here.
Photo 1: Place your Unsalted Butter in a small Saucepan and turn on medium low to medium heat. Leave to melt completely, occasionally stirring. Continue to cook until the butter starts to get foamy.
After about 5 to 8 minutes, the butter will turn to a golden colour and you should smell nutty aromas coming from the pan. You should also see brown specks at the bottom of the pan, which are the caramelised milk solids that have separated from the fat. Remove from the stove and set aside to cool down.
In a separate large mixing bowl:
Photo 2: Sift together the Almond Meal, Icing Sugar (or Powdered Sugar), Flour and Salt. Mix to combine.
Photo 3: in a separate bowl, whisk your Egg Whites for a few minutes until a light foam appears on top. This step can be skipped, but whisking the egg whites slightly will give your financiers cakes a better, lighter, more airy texture.
Photo 4: Pour the cooled Brown Butter (making sure to include all the little brown specks that are packed with flavours!), Egg Whites and Vanilla to the bowl with the dry ingredients. Stir to combine until you see no lumps (but don't over-work the batter).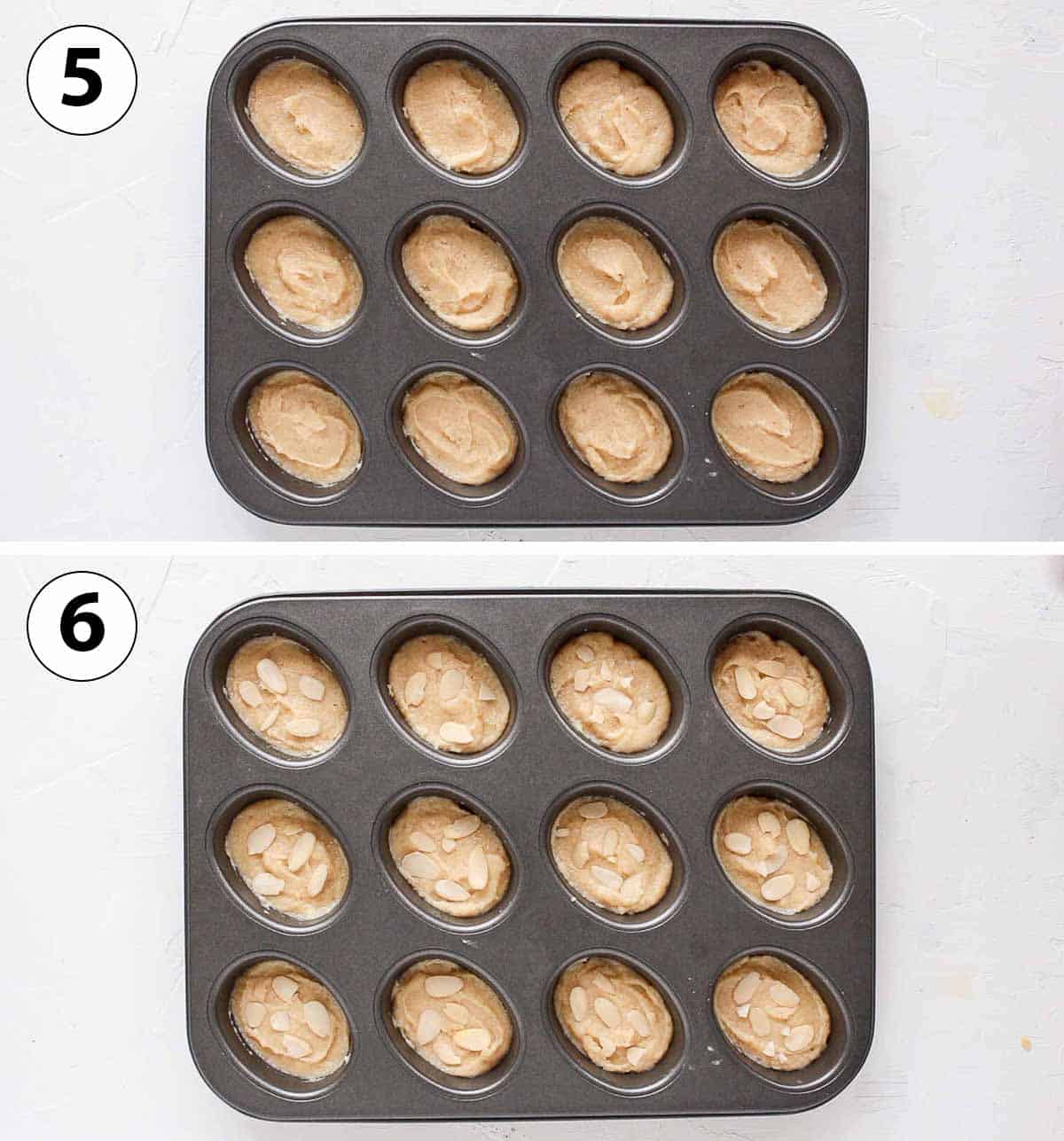 Photo 5: place the batter inside your Financier Pan. I use a piping bag first then slightly smooth it out with the back of a spoon, but you could also just spoon it (or scoop it) in if preferred.
Photo 6: optionally, top each financier with some Flaked Almonds to add some texture. Alternatively, you could also use a different nut like pistachios or hazelnuts or some fruits like Blueberries or Raspberries.
Bake for about 20 minutes or until lightly golden.
Take out of the oven and leave to cool down for about 10 minutes. Remove the Financiers from the molds and leave them on a wire rack until completely cool.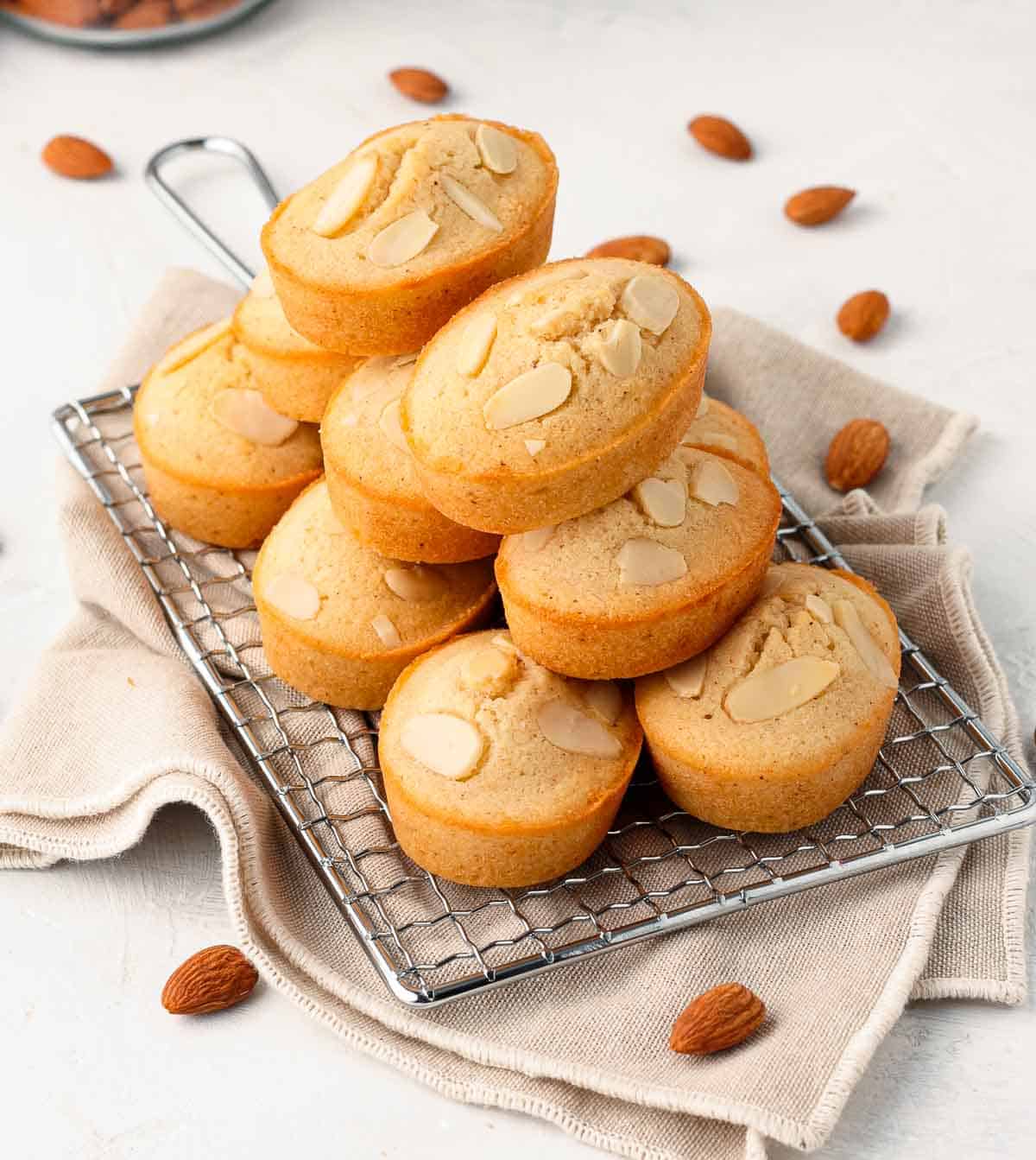 Recipe FAQs
Why are financiers called financiers?
There are a few different theories as to why these cakes were named "Financiers". One of them is that the rectangular mold they were baked in made them resemble a bar of gold. Another is that the cakes were made small enough to fit into the pockets of the traders working at the Paris stock exchange.
What is the difference between Financiers and Madeleines?
Both are classic French Tea Cakes, but are different both in taste and shape. The financiers only use egg whites and no raising agent like baking powder while Madeleines use whole eggs and baking powder.

Although the most traditional Financiers have a long, rectangular shape, they can be baked using many other small cake tins like a round muffin pan. Madeleines are always baked in a madeleine pan.
Can I use Melted Butter instead of Brown Butter?
Absolutely, although most of the flavour comes from the nutty brown butter so I highly recommend using it!
Do I have to use a Financier mold?
Traditional Financiers cakes are made in rectangular molds. You can also find them in oval shapes (like the mold I used here). If you don't have either baking tins, you could simply use a regular muffin tin, mini-muffin tins or even a Mini Loaf Pan.

I recommend to use a metal pan instead of silicone for a better caramelisation.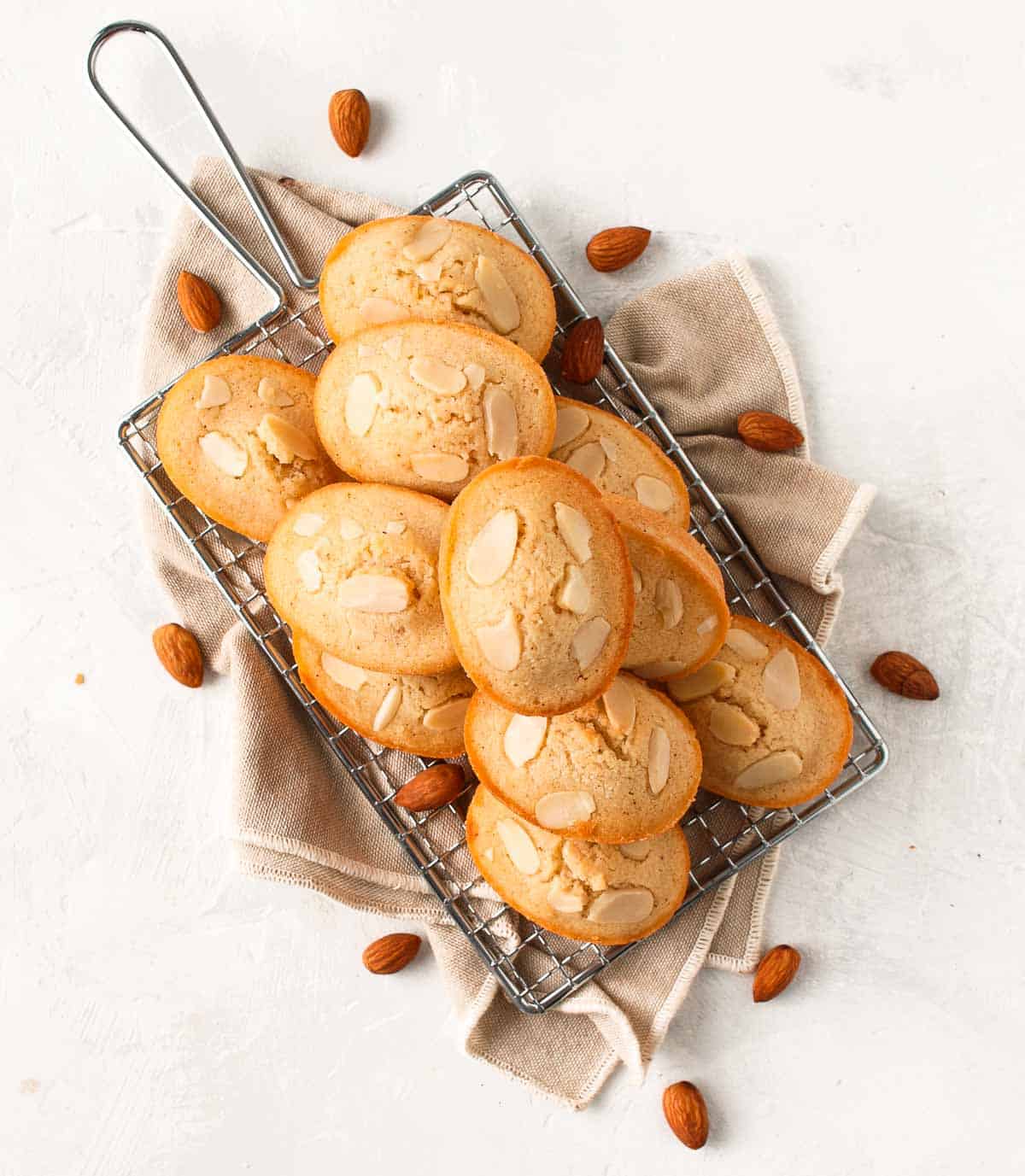 Tips for Success
To develop the flavours even more, cover the financier batter with plastic wrap touching its surface and leave in the fridge for a few hours before baking.
Make sure to grease the cake tin you are using as Financiers tend to stick a bit. If the almond cakes seem to not release from the pan, use a small knife to gently lift the sides until the cakes are released.
To create different flavours, finish your cakes with a few Blueberries or a Raspberry, some Chocolate Chips, whole nuts like Pistachios or Hazelnuts or incorporate some Lemon or Orange Zest to the batter.
If using a Mini Muffin Pan instead of a Financier Pan, reduce the baking time by about half (then check them and assess whether or not they need to cook for longer).
Storing & Freezing Financiers
Financiers Cakes are best eaten fresh, within 24 hours, but can be kept at room temperature for up to 2 days in an airtight container. They can be kept for longer in the fridge but this will make the crumb more dry.
These almond cakes can be frozen, although it will slightly change the texture. I recommend freezing them for up to a month. Leave them to thaw at room temperature when ready to eat, or for a few minutes in the oven.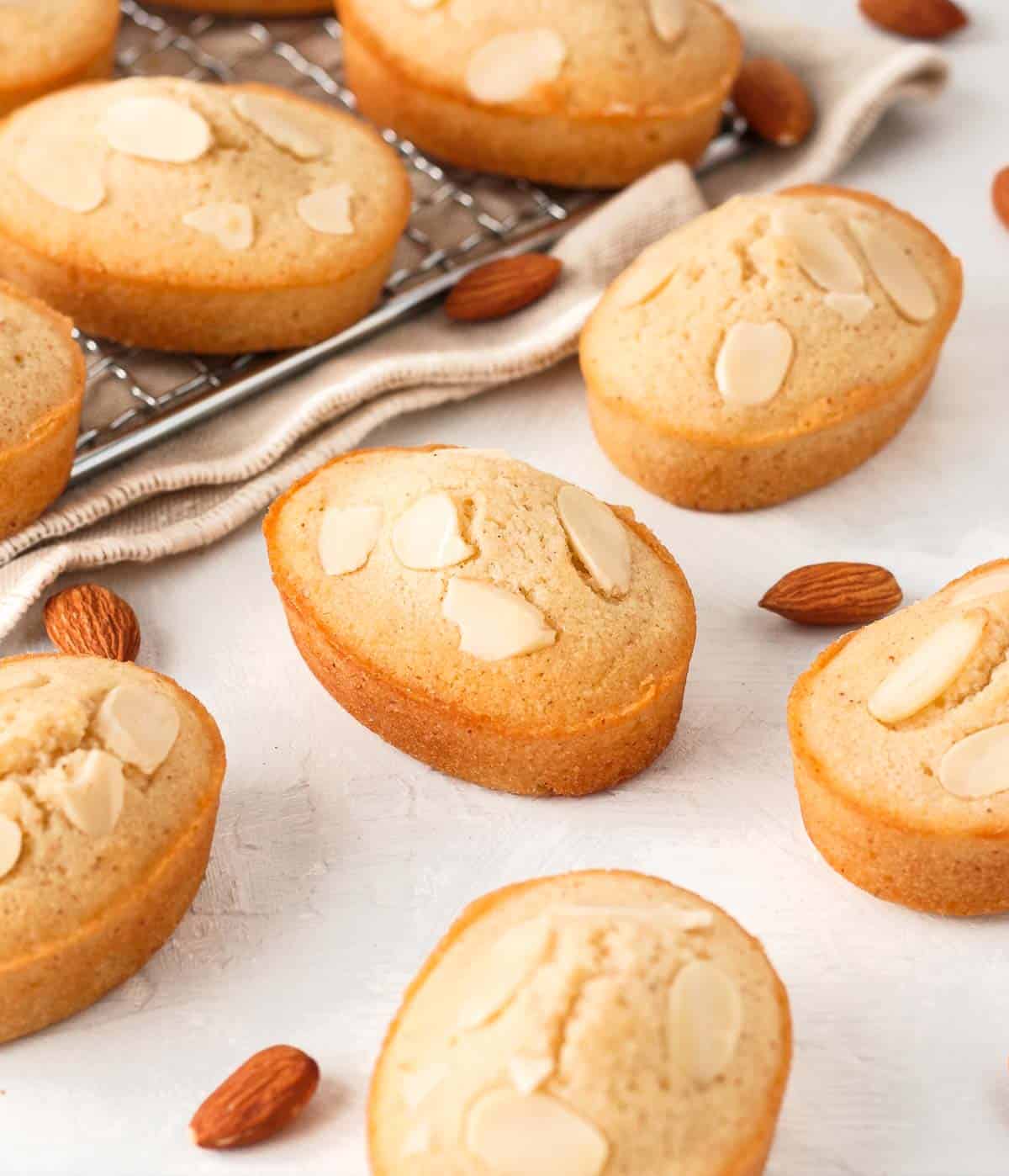 Made this recipe?
Let us know if you liked it by leaving a comment below, and tag us on Instagram @a.baking.journey with a photo of your creation!
Recipe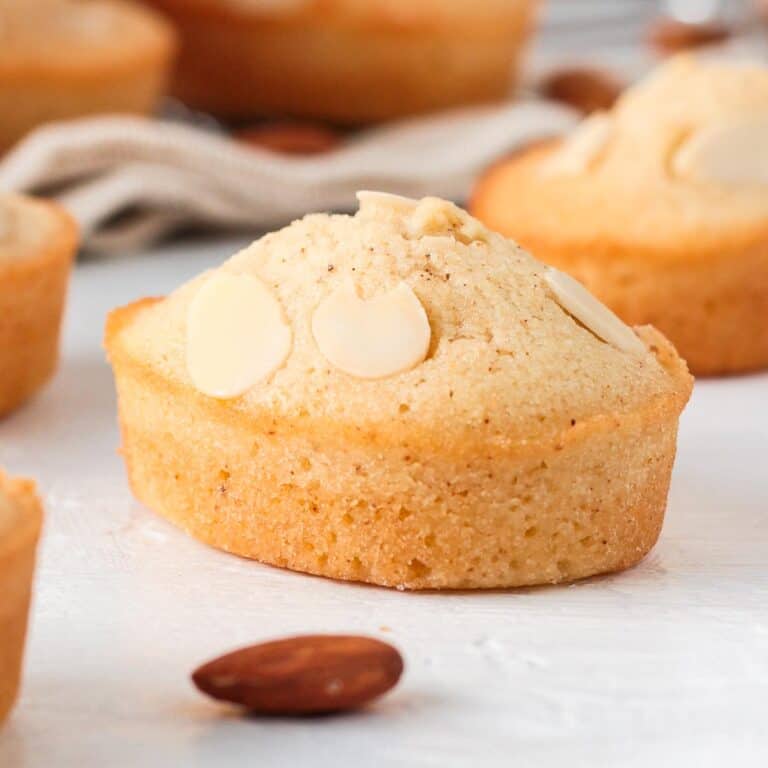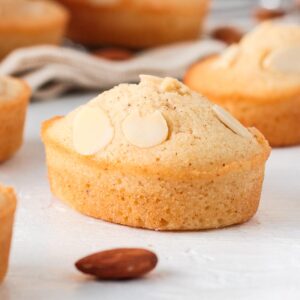 Financiers (French Almond Tea Cakes)
These classic French Financiers Cakes make the most delicious little treat. Perfect with your morning or afternoon tea, these Brown Butter Almond Tea Cakes are a great sweet snack and edible gift idea.
Print
Pin
Rate
Ingredients
150

gr

Unsalted Butter

25

gr

Plain / All-Purpose Flour

125

gr

Almond Meal

100

gr

Icing Sugar - or Powdered Sugar

1

pinch

Salt

5

Egg Whites - about 150 grams

1

teaspoon

Vanilla Extract - optional
Flaked Almonds - optional, to taste
Disclaimer
I highly recommend using the measurements in grams & ml (instead of cups & spoons) for more accuracy and better results.
Instructions
Preheat your oven on 160'C/325'F and generously grease a Financier Pan (see note 1). Optionally, dust the pan with flour and tip out any excess.

Prepare the Brown Butter: place the butter in a small saucepan and turn on low to medium low heat. Cook until the butter has completely melted and starts to get foamy. Keep on cooking, occasionally stirring, until the melted butter starts to turn golden and releases a nutty aroma (about 5 to 8 minutes approximately). Once you see small brown specks at the bottom of the saucepan, remove from the heat (see note 2). Set aside to cool down.

In a large mixing bowl, sift together the Flour, Almond Meal, Icing Sugar and Salt. Mix to combine.

In a separate bowl, lightly whisk the Egg Whites until slightly bubbly (see note 3). Add the egg whites to the dry ingredients and mix until smooth.

Add the slightly cooled Brown Butter and Vanilla to the dry, whisking until just combined.

Place the batter in a piping bag and pipe into a Financier Pan (or simply spoon/scoop it). Spread with the back of a spoon if needed, then top with Flaked Almonds (optional).

Bake for about 20min, or until lightly golden. Take out of the oven and leave for about 10 minutes before removing from the financier pan (see note 4). Leave on a cooling rack until cold
Tried this recipe? Make sure to leave a comment and star rating below!
Notes
Note: This recipe was very slightly adjusted in December 2022. The ingredients quantities are as per the written recipe, not the video.
If you don't have a Financier Pan, you can use any small cake pan instead like a regular or mini muffin pan or mini loaf pan.
The small specks are the caramelised milk solids than have separated from the fats. They contain most of the flavours of brown butter so don't discard it - make sure you use it all in the batter!
There are no raising agents used here. Slightly whipping the egg whites will incorporate some air into the batter, resulting in a much lighter crumb - but it is optional. I have made financiers with fully whipped egg whites (stiff peaks) and it does work - you will get extremely fluffy cakes.
The cakes will be very soft when they just come out of the oven so leaving them for 10 minutes in the pan will make it easier to release. Financier batter can be a bit sticky, so if the cakes are sticking to the pan, use a small knife to gently lift the edges until the cakes are released.
Nutrition
Calories:
196
kcal
|
Carbohydrates:
12
g
|
Protein:
4
g
|
Fat:
15
g
|
Saturated Fat:
7
g
|
Polyunsaturated Fat:
1
g
|
Monounsaturated Fat:
3
g
|
Trans Fat:
1
g
|
Cholesterol:
27
mg
|
Sodium:
26
mg
|
Potassium:
28
mg
|
Fiber:
1
g
|
Sugar:
7
g
|
Vitamin A:
312
IU
|
Calcium:
26
mg
|
Iron:
1
mg
Tried this Recipe?
Leave a comment + star rating below and tag us @a.baking.journey on Instagram with a photo of your creation!