When I came across French Cruller Donuts not too long ago, I knew that it was a recipe I needed to try ASAP. So last week, I made some Honey Lemon Glazed Cruller Donuts and was blown away by those delicious sweet treats!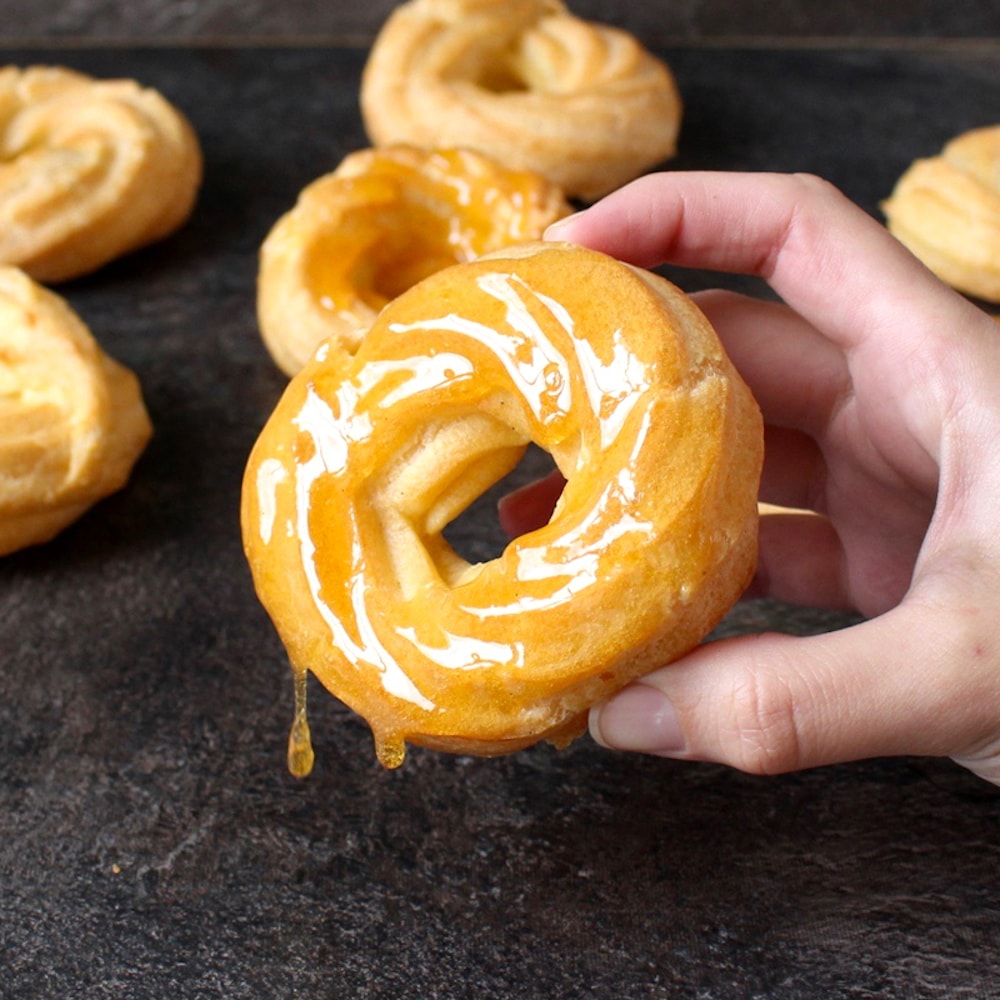 Jump to:
I am going to be honest with you, I don't think I had ever heard of " French Cruller Donuts" before I stumbled upon them on Pinterest a few weeks ago.
Baked Donuts that seem to be made out of Choux Pastry!? Of course I had to stop and research them further. And by researching, I mean make and eat them all. For scientific purpose, of course!
What are French Cruller made of?
French Crullers are round-shaped donuts made from Choux Pastry or Pâte à Choux in French. They can be oven-baked or fried and topped with a glaze or icing.
They are much lighter, fluffier and softer than regular donuts because they are made for a very airy pastry called "Choux Pastry" rather than a cake batter.
What is the difference between a Donut and a Cruller?
Although they are bought circular-shaped sweet treats, Classic Donuts and French Crullers are made from two different types of doughs.
Classic Donuts can be made out of a yeast-dough like these Bavarian Cream Donuts or Brioche Donuts, or a cake batter like these Biscoff Donuts, baked in a ring shaped mold or fried. Crullers are made out of Choux Pastry piped in a ring shape and baked or fried.
What is Choux Pastry
Lately, I have been working on lots of traditional French Pastry recipes like this Plum Vanilla Custard Tart. Choux Pastry - or "Pâte à Choux" in French - is a classic French Dough that is used to make many desserts and pastries like Choux à la Crème or Choux au Craquelin.
The most famous ones are probably Profiteroles (Cream Puffs) or Eclairs. Although often used to make sweet treats, this dough can also be used to make delicious savoury pastries.
The Donuts made here may be called "French" Crullers, I must admit I have never seen them in a French Bakery. That being said, you can't really do more French than Choux Pastry, so this recipe is a fun mix between traditional and modern!
To make Choux Pastry, all you need is 4 super basic ingredients:
Nothing that you shouldn't already have in your pantry! Once you have made the base of the recipe - the traditional Pâte à Choux - you will need to pipe it in a donut shape, bake them in the oven then glaze them.
The success of a Choux is very dependant on the way it is baked. It needs to be baked twice; once on the stove, then in the oven.
Baked French Cruller Donuts
It is the moisture of the dough that will allow for the pasty to rise in the oven. For that reason, the first part of the recipe - baking on the stove - is essential.
The dough needs to be "dried out" for the gluten from the flour to develop, then new moisture and air is added with the Eggs. Once placed in the oven, the air contained in the dough will evaporate and steam the pastry, making it rise.
When done properly, you will end up with an extremely light, fluffy and eggy pastry. And because they are simply baked in the oven without any oil, Baked Donuts are an healthier option to fried donuts.
Healthy Donuts!? Whaaat!? Ok, ok, it is still French Pastry and you still need to use lots of butter... but out of all the different types of donuts you can find, these will probably be the 'healthiest' ones.
Once your Choux Pastry is ready, you will need to pipe it to look like Donuts. You can use many different types of piping tips to obtain different looks.
Having a good set of decorating tips is a kitchen essential if you love to bake so get creative! I personally used a Open Star Piping tip to get the classic French Cruller Donut look.
Honey Lemon Glaze
If you were to make a Profiterole or an Eclair, you would fill the dough with a cream or ice cream. But to finish the French Cruller Donuts, the process is way easier. Simply glaze them!
I made a very easy, 2 Ingredients Glaze made with:
To make this glaze, simply place the Honey and Lemon Juice in a small pot on low heat and melt together. When it starts to bubble, remove from the heat and leave to cool down. Then, simply dip your baked Cruller in the glaze!
I love the combination of sweet and sour, so nothing better than a Honey Lemon Glaze. When I made those Cruller Donuts, I was a little bit sick so I convinced myself that using a Honey Lemon Glaze would also be great for my soar throat. Again, it was all done for scientific reasons... Ahum...
More Small Cakes Ideas:
Mini Lemon Blueberry Bundt Cakes
Recipe
Honey Lemon Glazed French Cruller Donuts
Super light and Fluffy Baked Donut Recipe with a sweet and sour Honey Lemon Glaze. French Cruller Donuts are a great guilt-free sweet recipe that kids (and adults) will love.
Print
Pin
Rate
Ingredients
Choux Pastry
250

ml (1 cup)

Water

120

gr (1/2 cup)

Butter

140

gr (1 cup)

Plain Flour

3

Eggs
Honey Lemon Glaze
3

tbsp.

Honey

1

Lemon, Juiced

1

Lime, Zest (Optional)
Disclaimer
I highly recommend using the measurements in grams & ml (instead of cups & spoons) for more accuracy and better results.
Instructions
Choux Pastry
Place the Water and Butter in a pot and bring to a boil. Remove from the heat and drop the Flour in the liquid at once.

Mix well with a wooden spoon or spatula until a smooth ball forms. The dough shouldn't stick to the edges of the pot.

Place the pot back on to the stove on low temperature for a couple of minutes will mixing the dough with the wooden spoon. You want to press the dough against the edges on the pot to allow for the heat to dry the dough.

Continue the process until you stop seeing steam coming out of the dough - that means that all the moisture is gone.

Remove from the stove and let the dough cool down for a few minutes.

Add the Eggs one by one, mixing them into the dough each time. You want to make sure the dough is not too hot to avoid cooking the eggs.

To make sure the dough has the right consistency, draw a line with the bottom of your spoon. If the dough slowly fills the hole, the consistency is right. Otherwise, it is either too runny or too hard.

Preheat your oven on 190'C.

Place the Choux Pastry in a piping bag with a star shaped nozzle.

On a baking tray lined with baking paper, pipe the dough into small donuts shapes.

Place in the oven for 20 minutes. Make sure you do not open the oven door during that time to keep the steam in. For the last 5 minutes of baking, slightly open the oven door and place a wooden spoon in the opening to keep it open.

Remove the Cruller Donut from the oven and let the cool down on a cooling rack.
Honey Lemon Glaze
Pour the Lemon Juice and Honey in a small pot and bring to a boil. Remove from the stove as soon as bubble/foam starts appearing.

Let the glaze cool down for a few minutes, then dip your Cruller Donuts in it.

If the glaze cools down too fast and is too hard to glaze, place it in the microwave for 10 seconds.

Optional: Sprinkle some Lime Zest over the Cruller Donuts as a garnish.
Tried this recipe? Make sure to leave a comment and star rating below!
Tried this Recipe?
Leave a comment + star rating below and tag us @a.baking.journey on Instagram with a photo of your creation!