This quick and easy Banana Chia Seed Pudding is made with 4 ingredients only. It is a delicious and healthy make-ahead Breakfast, Sweet Snack or Dessert recipe that is also Gluten Free, Sugar Free and Dairy-Free / Vegan Friendly!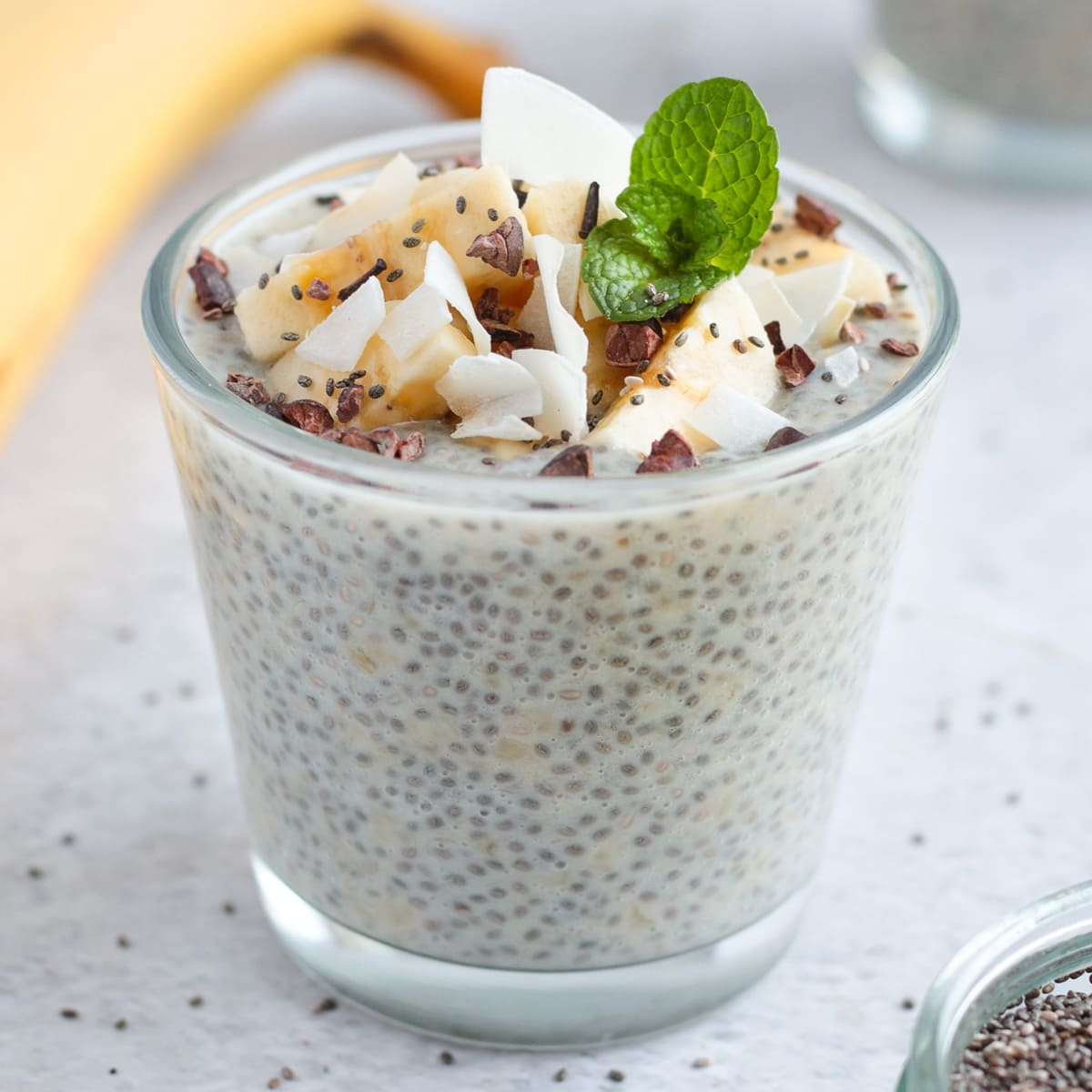 Why we love this recipe
Chia Puddings used to be one of my favourite sweet snack to take to work. They are super easy and quick to make, are easily transportable and can also be made-ahead - which is always a big plus!
This recipe uses Ripe Bananas exclusively to sweeten the dish, just like my Sugar-Free Banana Pancakes, Banana Peanut Butter Oat Cookies or my Chocolate Chip Banana Muffins. Not having to add any extra sugar is always a winner in my books!
This Banana Chia Pudding is great if you are after a healthy yet delicious breakfast meal to can be prepared in advance, snack or light dessert. With many filling and toppings option, this recipe can easily be customised to suit your taste. Or will be just as delicious on its own!
Ingredients
The ingredient list is so simple and straight-forward... All you need is a ripe Banana, some Milk and Chia Seeds:
Banana - the ripest the best for a sweeter taste
Chia Seeds - I used Black Chia Seeds but you can use White too
Milk - Dairy or Non-Dairy, it is up to you. To speed up the process, you can slightly heat up the milk before mixing in the Chia Seeds
Vanilla Extract - optional
I added a little bit of Vanilla Extract for a boost of flavour, but this ingredient is optional. You can absolutely make this recipe with 3 ingredients only if preferred!
How to make Chia Seed Pudding with Banana
Chia Puddings are probably one of the easiest dessert you will ever make. It does not require any fancy utensil or equipment, and is simply made with one bowl, a fork and a whisk.
First, peel and mash the Banana into a mixing bowl. You can mash it finely or leave small chunks of fruits if preferred - it is up to you. To mash the banana, simply use a fork or a potato masher. The ripest the fruit, the easier it will be to mash.
if adding Vanilla, whisk it in with the mashed Banana.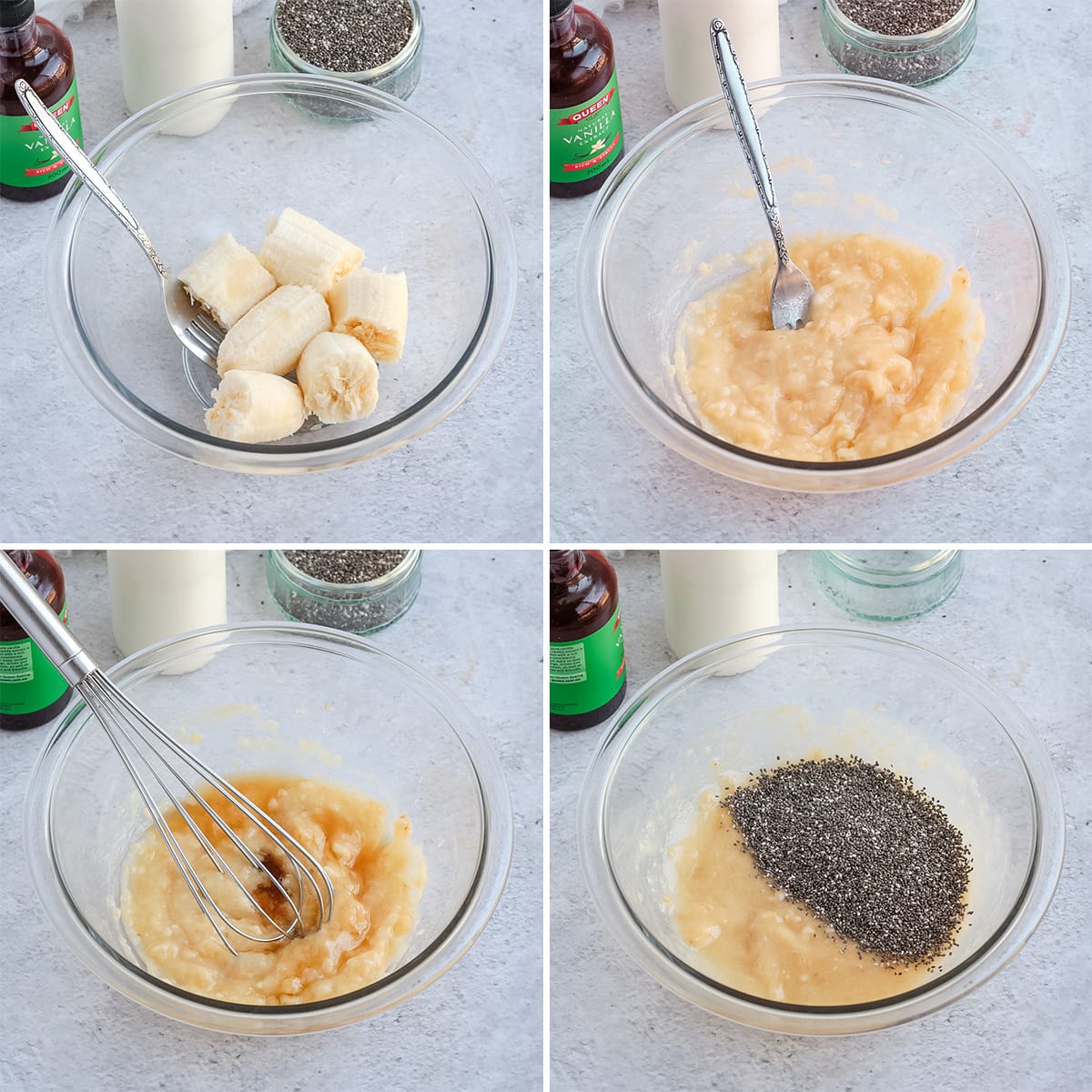 Pour in the Milk. You can use cold milk directly from the fridge, but the pudding will thicken much more quickly if you slightly heat up the milk first.
Whisk it all together until combined, then set aside to soak.
Regularly whisk the pudding while the seeds are soaking to avoid large lumps.
Once the pudding has thickened (the soaked seeds will create a sort of light gel texture), pour it into individual cups, jars or container and transfer in the fridge.
The time it will take for the pudding to thicken will really depend on the temperature of the ingredients - mainly the milk.
With a slightly warm Milk, it should take about 15 minutes to get the desired texture, but could take longer if the milk is cold.
If you are making this recipe ahead, you can directly pour the banana chia seed puddings into cups without leaving it to soak first. The seeds will thicken in the fridge overnight.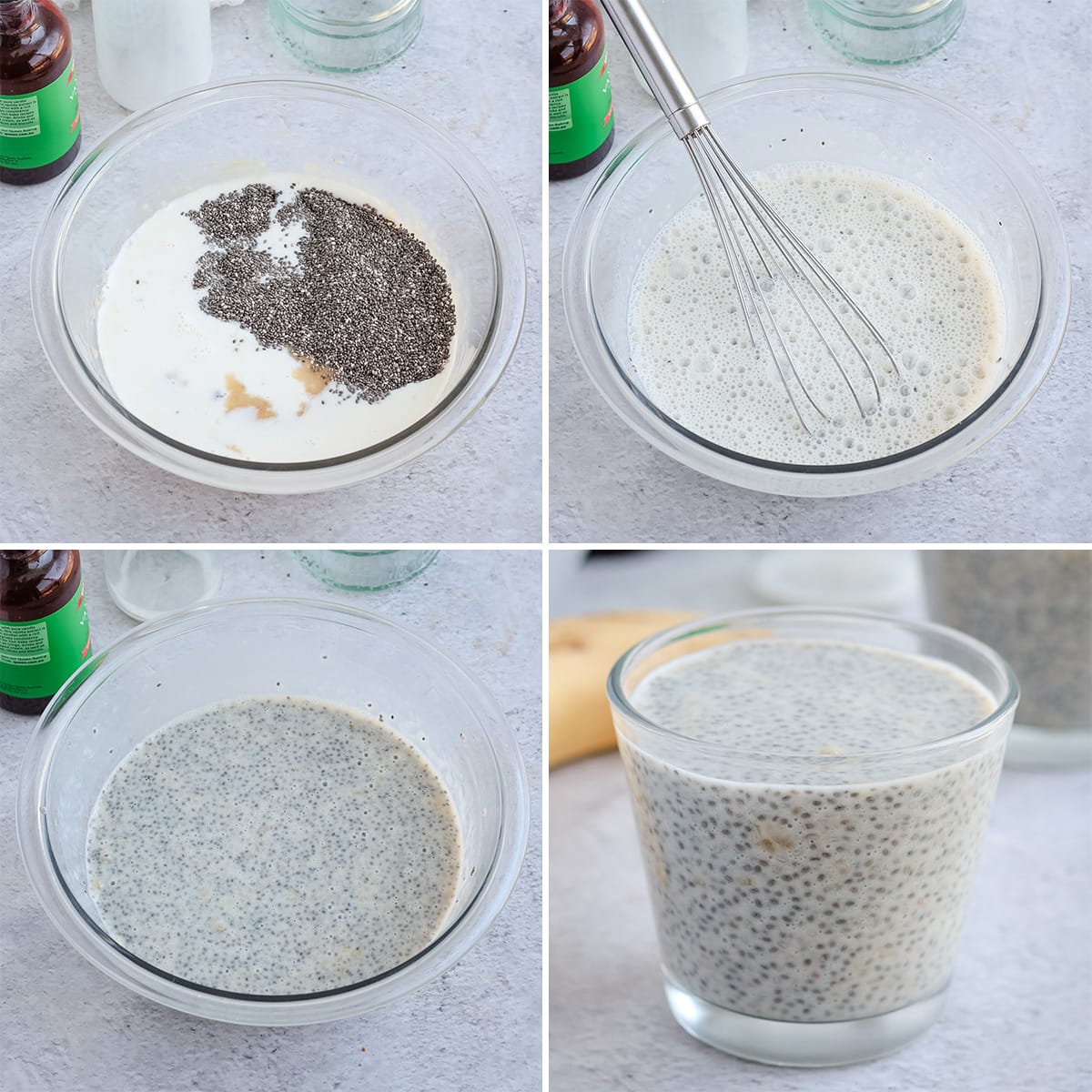 Tips to make this recipe
Use very ripe Bananas for a sweeter pudding and creamier texture.
Mash the Banana very well if you want a very creamy finish, or leave small chunks for more texture if preferred. It is up to you!
Heat up the Milk slightly to reduce soaking time. With warmer milk, the Chia Seeds will expand much quicker!
If you are not sure of the pudding texture you want, start with less Chia Seeds - about 3 tablespoons - and add a little bit more if you find the pudding to be too liquid after soaking.
Make sure to whisk well all the ingredients together at the start of the recipe, as well as a one or two times while the seeds are soaking and expanding. Chia Seeds tend to lump up and harden if left soaking for too long.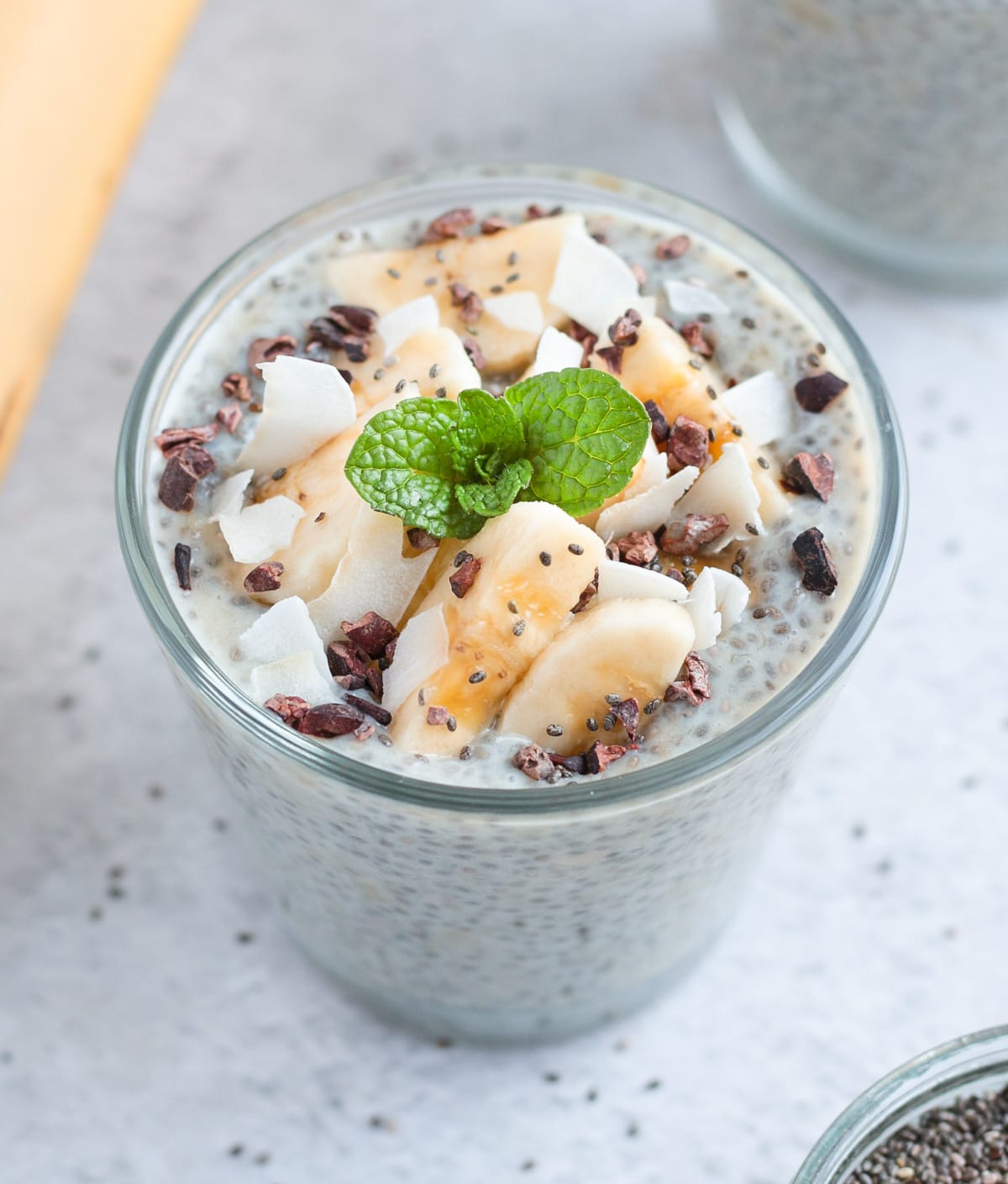 Filling and Toppings Ideas
This recipe can be used as a base to create your dream dessert, by adding both fillings and/or toppings of your choice.
I kept the banana chia pudding plain - made with 4 ingredients - but finished it with a few toppings to bring some freshness and texture to the dessert.
I topped the puddings with sliced Bananas, Cacao Nibs, Coconut Flakes and Fresh Mint. But again, pick your favourite ingredients to finish the dessert!
Additional Fillings Ideas:
In addition to the basic 4 ingredients, you can also add a lot of other things for both texture and flavour, such as:
Note that any liquid or creamy filling added to the recipe will potentially make the pudding more liquid, so you might need to add a little bit more Chia Seeds to it to balance it.
Toppings Ideas:
Fresh slices of Bananas - or other fresh fruits like Berries
Homemade Banana Chips for some added crunch!
Coconut: flakes, shredded, desiccated,...
Cacao Nibs
Fresh Mint Leaves
Chocolate Chips or Chocolate Shavings
Nut Butter Drizzle
Chopped Nuts
For summer, you can also use frozen fruits to turn this dessert into something even fresher! I love to top my chia puddings with frozen blueberries or raspberries for example.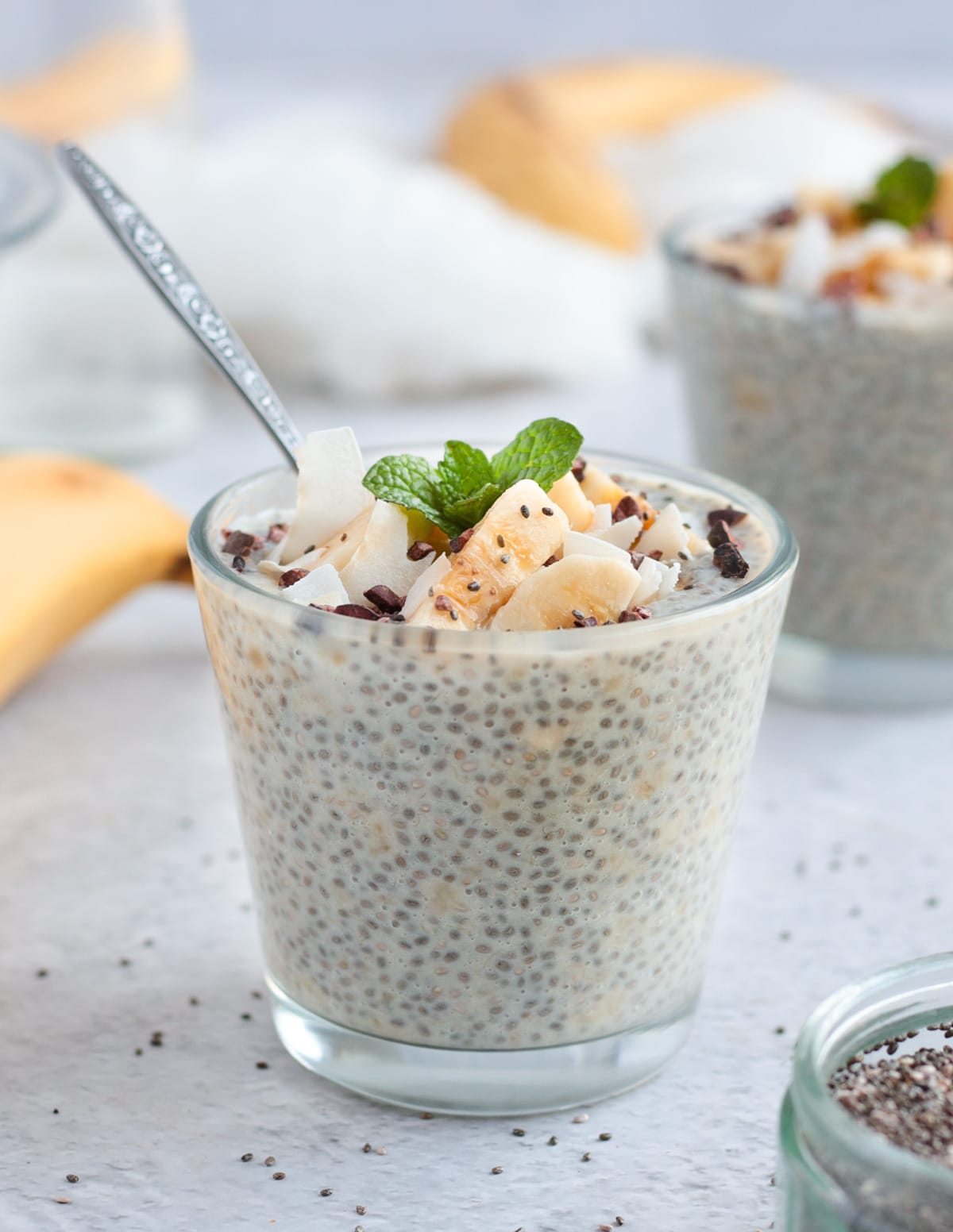 Recipe FAQs
What are Chia Seeds
Chia Seeds are tiny seeds originating from South and Central America. They are a great ingredient to use for baking - and not just for puddings! Chia Seeds are known to have many nutritional benefits and are packed with nutrients.
What type of Milk to use
It is completely up to you - you can basically use ANY type of milk you want to make this recipe. And trying different types of milk is a great way to change up the flavour slightly too!

Use a simple Full Cream Milk for a basic Pudding, or explore different flavours with Almond Milk, Coconut Milk, Soy Milk, Oat Milk,... the possibilities are endless!

You can use a Dairy or Dairy-Free Milk, depending on your liking and dietary preferences. So this recipe can easily be made Vegan if needed!
Liquid to Chia Seed Ratio
When it comes to the liquid to seed ratio, there is really no right or wrong. It simply depends on your taste and if you prefer a pudding that is super creamy or more dense.

I personally prefer it on the slightly more dense and crunchy side and have found that the best ratio was 1:4 chia seed to liquid. So for example, use 1/4 cup of Chia Seeds for 1 cup of liquid.

If you like it creamier, I would slightly reduce the amount of Chia Seed - about 3 tablespoons for 1 cup of liquid. I recommend starting with a small amount of Chia Seeds and adding a little bit more if needed once the seeds have soaked and expanded.
Can I make Chia Pudding ahead?
Yes, you can make this recipe ahead - it will stay fresh for up to two days in the fridge. If you are planning on making it for breakfast, you can absolutely prepare it the previous night and have it ready in the fridge when you get up!
How to store these Banana Puddings
Once the Banana Chia Seed Puddings are ready and poured into individual cups, jars or containers, they should be kept in the fridge for up to 2 days. Make sure to cover them with wrap or foil or the puddings top will quickly dry out.
I also recommend adding your choice of toppings just before serving. Many toppings will turn hard or soggy if kept in the fridge for too long.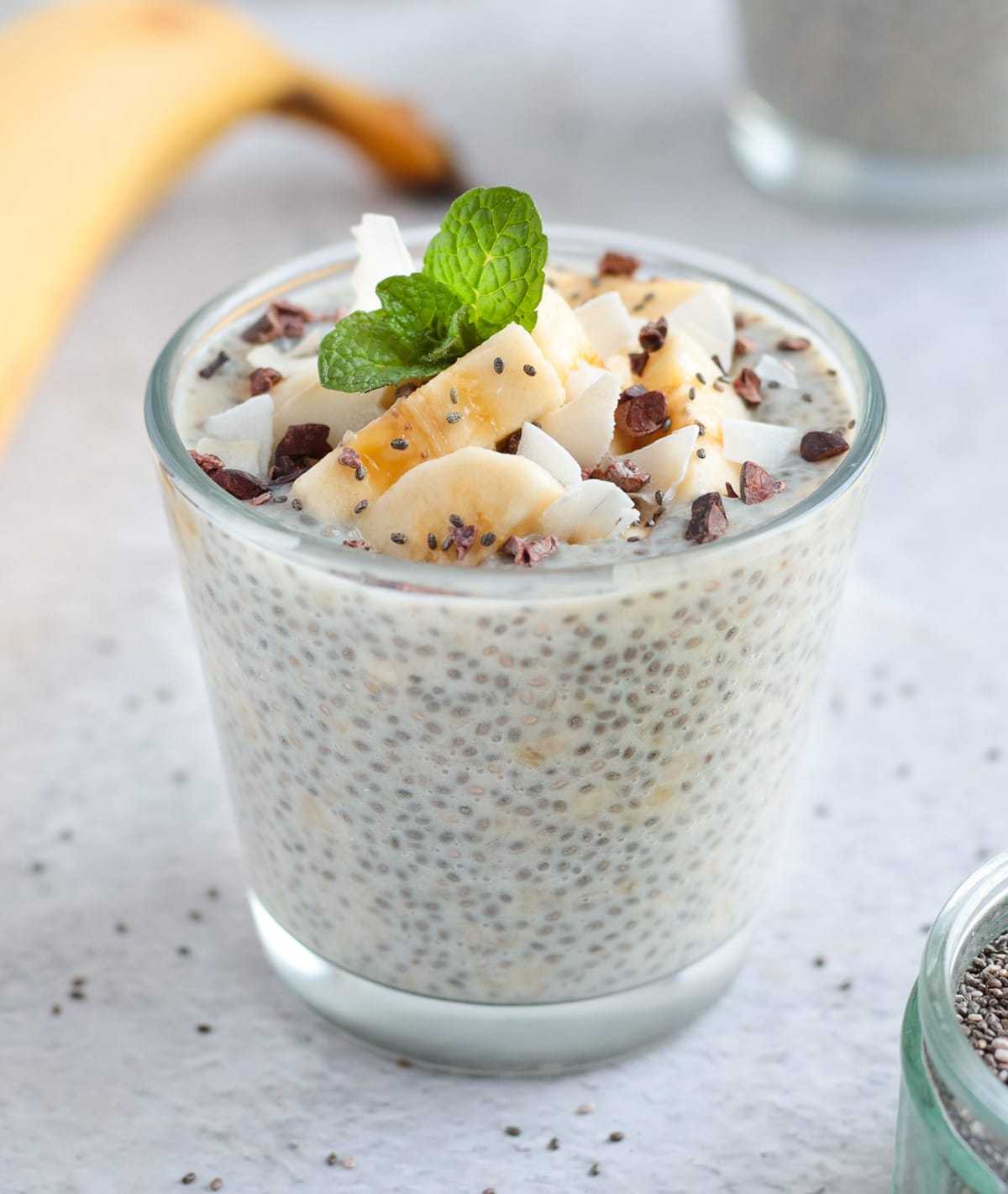 More Healthy Desserts:
Vegan & Gluten Free Banana Bread
Made this recipe?
Let us know if you liked it by leaving a comment below, and tag us on Instagram @a.baking.journey with a photo of your creation!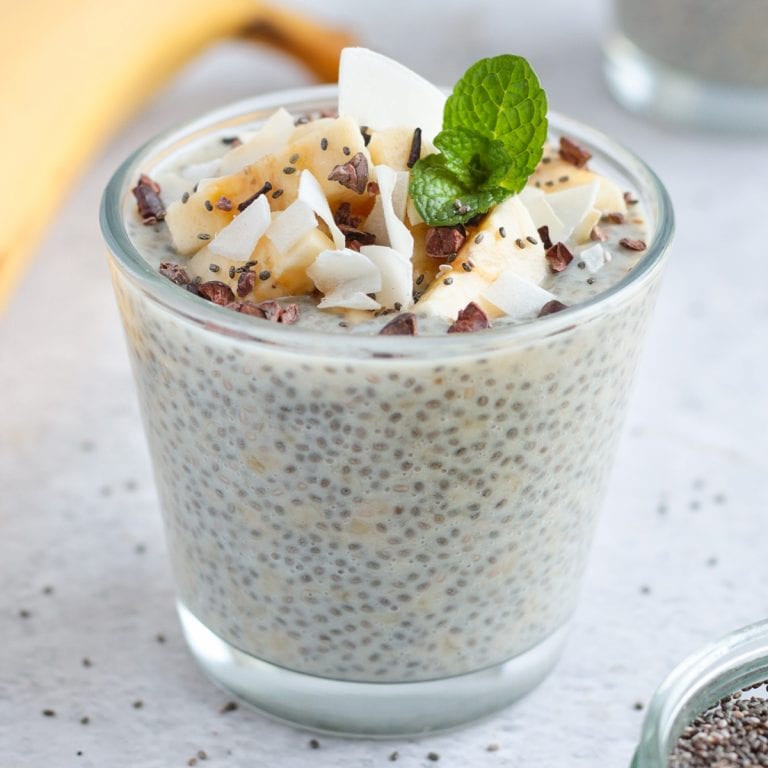 Banana Chia Seed Puddings
This quick and easy Banana Chia Pudding, made with 3 ingredients only, makes a delicious and healthy Breakfast or Sweet Snack that is Gluten Free, Sugar Free and Dairy-Free / Vegan Friendly.
Print
Pin
Rate
Servings:
2
large puddings
Ingredients
1

Ripe Banana

1

teasp.

Vanilla Extract - optional

50

gr (1/4 cup + 1 tablespoon)

Chia Seeds -

(*)

250

ml (1 cup)

Milk -

Dairy or Non-Dairy
Disclaimer
I highly recommend using the measurements in grams & ml (instead of cups & spoons) for more accuracy and better results.
Instructions
Peel and Mash the Banana in a mixing bowl (1).

Whisk in the Vanilla Extract.

Add the Chia Seeds and the Milk (2) and whisk well until combined. Set aside to soak for about 15 to 20 minutes (3). Regularly stir to avoid lumps of seeds.

Once the pudding has thickened, transfer into individual cups, jars or containers. Place in the fridge for up to 2 days, well covered, or until ready to eat.
Notes
Ingredient Notes:
(*) The quantity of Chia Seed really depends on the texture of pudding you would like. This quantity will give you a denser, crunchier dessert. If you prefer a more liquid pudding, start with 3 tablespoons then and add more if needed.
Instruction Notes
You can mash it finely for a creamy finish, or leave some chunks for more texture.
To speed up the process, slightly heat up the Milk in the microwave for a few seconds. The Chia Seeds will expand more quickly in a warmer liquid.
The time it will take for the pudding to thicken may vary,  mainly depending on the temperature of the ingredients. If using cold milk, it might take longer for the seeds to expand. 
Nutrition
Calories:
256
kcal
|
Carbohydrates:
30
g
|
Protein:
9
g
|
Fat:
12
g
|
Saturated Fat:
3
g
|
Cholesterol:
13
mg
|
Sodium:
59
mg
|
Potassium:
478
mg
|
Fiber:
10
g
|
Sugar:
14
g
|
Vitamin A:
240
IU
|
Vitamin C:
5
mg
|
Calcium:
299
mg
|
Iron:
2
mg