This Plum Clafoutis is an easy and classic French Dessert that will be ready to get in the oven in less than 15 minutes. The Fresh Plums are baked in a thick, custard-like batter, creating a deliciously creamy and fresh dessert that is perfect for afternoon tea!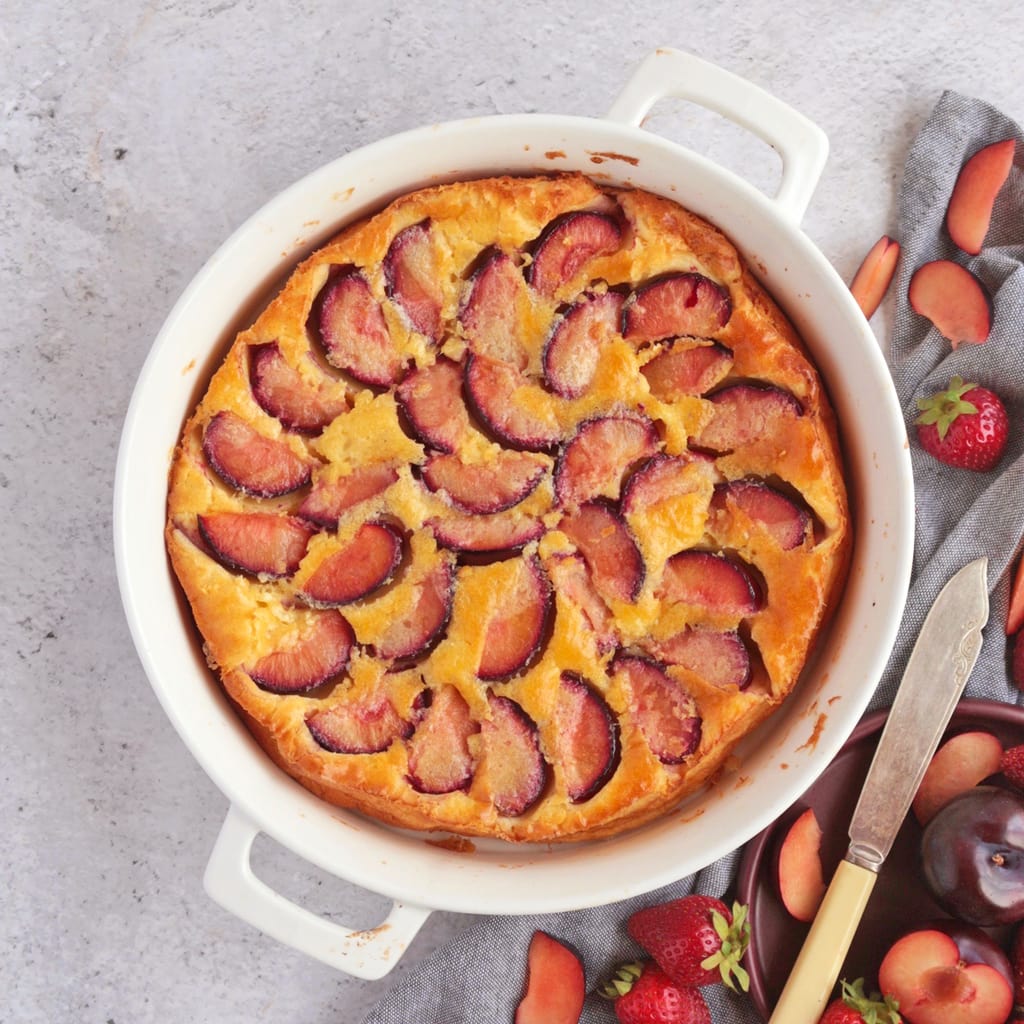 Jump to:
Why we love this recipe
If you are looking for a Fresh Plum Dessert Recipe, look no further - you have found the one! This French Clafoutis with Plums is a delicious summer dessert that can be enjoyed cold or warm.
When it comes to easy French desserts, Clafoutis are on top of the list. Often made with Cherries, clafoutis can actually be made with any of your favourite fruits - and sometimes even turned into a savoury dish!
This French Plum Cake is a great way to use delicious summer plums, just like my Upside-Down Plum Cake and Yogurt Plum Cake. A super easy, no fuss baked plum recipe that require no other utensils than a whisk!
What is a Clafoutis
A Clafoutis (Pronunciation: "kla-foo-tee") is a Classic French Dessert made with fresh fruits and a custard-like batter. The fruits and batter are baked in the oven, traditionally in a ceramic dish, until the custard sets. It is usually served warm.
To be technical, Clafoutis is the name given to this dessert when made with Cherries. With any other fruits, it is called a "Flaugnarde". But the name "Clafoutis" is simply more widely used where I grew up (with any fruits), and how I always called this dessert!
What does a Clafoutis taste like?
Well, it is an interesting mix between a baked custard, a flan and a pancake. And topped with fresh fruits (or sometimes even veggies when made savoury!).
That's right, a pancake! Which is not surprising at all, since Clafoutis are made with the exact same ingredients than a Crêpe! Have you ever tasted a Dutch Baby Pancake? Clafoutis are very similar, just much thicker.
Ingredients
Like just mentioned, a clafoutis is made with the same ingredients than a crêpe batter. Extremely basic ingredients most of you should already have in their pantry/fridge, which is why clafoutis are so easy to make.
To make traditional clafoutis recipe, you will need (see quantities below):
Eggs: medium size, at room temperature
Sugar: Caster or Fine White Granulated Sugar
Flour: Plain / All-Purpose
Salt: a simple fine table salt
Milk: use Full Cream Milk for the best results, but it will work with any type of dairy or non-dairy milk. To properly mix with the other ingredients, it is better to use milk at room temperature.
You can use the exact same recipe with any fruits you'd like. This is my Mum's recipe, and she often made it with Pears in winter.
More Plum Desserts: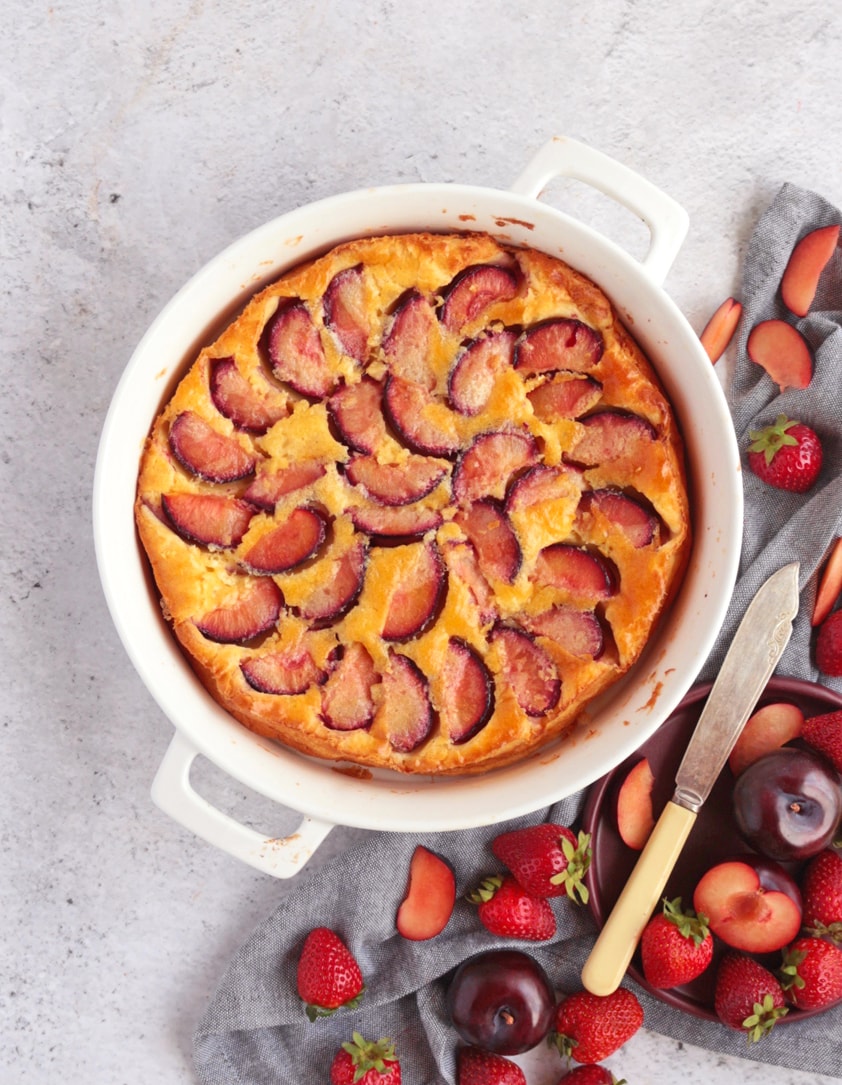 How to make a Clafoutis with Plums
This Plum clafoutis is made the exact same way than my Cherry Clafoutis. All you need is one bowl and one whisk. Super easy!
Cut your Plums into strips - I cut each Plum in 8 (you can also cut them into cubes - it is up to you). Set aside.
Melt the Butter and leave to cool while you start to make the custard.
In a large bowl, whisk the Eggs and Sugar. Whisk them well - the more air you add to the batter now, the lighter the dessert will be. You want the eggs to become paler and see bubbles/foam at the top.
Sift in the Flour and Salt. Mix until well incorporated and no lumps remain.
Add the Milk (preferably at room temperature), Melted Butter and Vanilla - and whisk well until really smooth. If you get big lumps you are struggling to get rid off, you can use an immersion blender to blend the batter.
Bake for 25 to 35 minutes, or until set in the middle.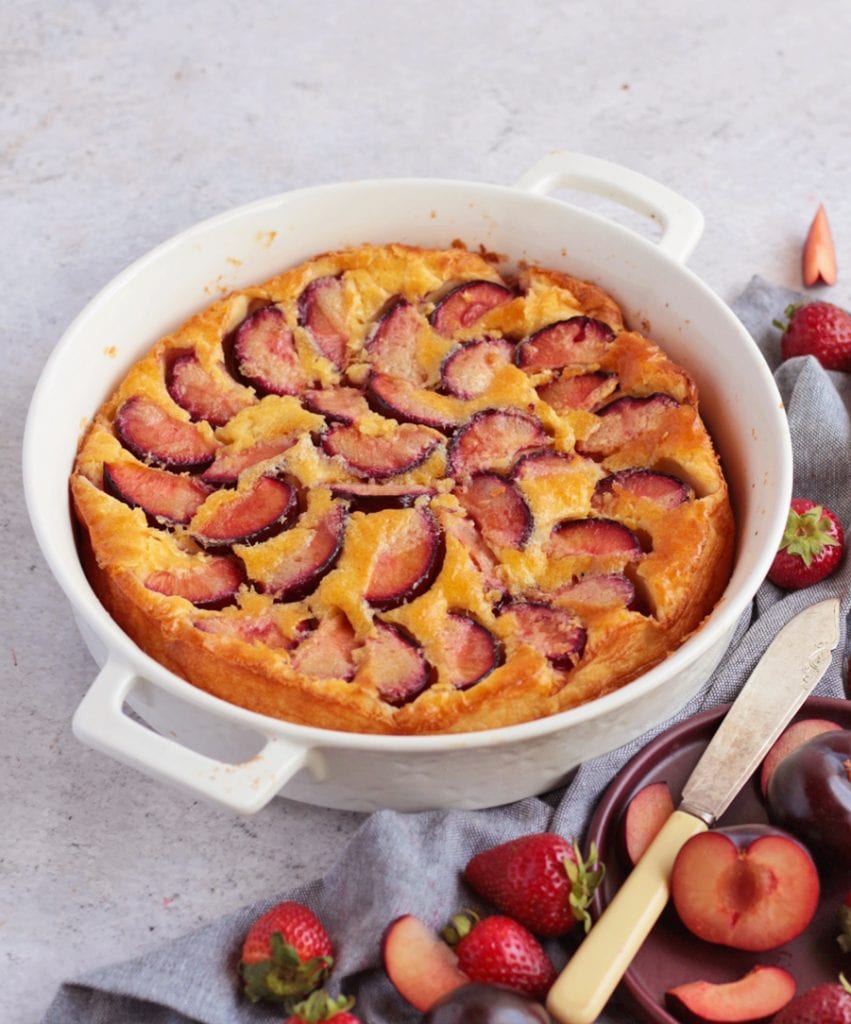 Recipe FAQs
What Plums to use to make Clafoutis
You can use any type of Plums you want: Black Plums, Red Plums, Yellow Plums,... I recommend to use rather ripe, sweet plums though. The custard part of the dessert is quite low in sugar, so you want to use sweet fruits.
Can you make this Clafoutis Gluten Free?
Yes, the Plain Flour can easily be substituted with a Gluten-Free Flour Mix. You can also find many recipes of clafoutis made with ground almonds.

They either use almond flour only (I have not personally tested this version though), or by substituting part of the Gluten Free Flour by an equal part of Almond Meal.
How to know when a clafoutis is done?
After 20 or 25 minutes in the oven, gently move the dish (don't forget to use oven mitts!). If you can see the batter jiggle in the centre, it means that the custard has not set yet.

A little bit of a jiggle is fine though, clafoutis are delicious when still creamy, but you shouldn't see any big movements in the custard.
Storing
The best way to eat a clafoutis is warm and just out of the oven. If not served/eaten straight away, a clafoutis should always be kept in the fridge. It will last for 3 to 4 days when refrigerated and covered with wrap.
Clafoutis keep really well in the fridge so they can easily be made in advance, preferably 1 to 2 days before serving. Simply make sure to re-heat them before serving it.
As it is best eaten warm, you can easily reheat this dessert before serving. The best way to re-heat this dessert is in a pre-heated oven at 150'C/300'F for about 10 minutes, or just until warm (no need to be boiling hot). You can also re-heat individual slices in the microwave.
Can you eat Clafoutis cold though? Yes, it is completely up to you. I have always eaten my clafoutis warm but they are also fine eaten cold!
I do not recommend freezing a clafoutis. They are much more delicious when fresh!
How to serve this dessert
The roasted plums will be a delicious topping on their own, but if you want to serve them with something else, here are a few ideas:
More easy French Desserts
Made this recipe?
Let us know if you liked it by leaving a comment below, and tag us on Instagram @a.baking.journey with a photo of your creation!
Recipe
Easy French Plum Clafoutis
Super quick and easy to make, this classic French recipe made with fresh Plums makes a great dessert or sweet treat to enjoy with your afternoon tea.
Print
Pin
Rate
Ingredients
80

gr (1/3 cup)

Unsalted Butter

5

Eggs

50

gr (1/4 cup)

Caster Sugar

-

or Fine White Granulated Sugar

200

gr (1 1/3 cup)

Plain / All-Purpose Flour

1

pinch

Table Salt

1/2

tsp.

Vanilla Extract or Vanilla Paste

500

ml (2 cups)

Full Cream Milk

4

Plums
Disclaimer
I highly recommend using the measurements in grams & ml (instead of cups & spoons) for more accuracy and better results.
Instructions
Preheat your oven on 180'C/350'F

Slice the Plums into thin strips - I cut each plum in 8. Set aside.

Melt the Butter and set aside to cool.

In a large bowl, whisk the Eggs and Caster Sugar until foamy - at least for 2 minutes.

Sift in the Flour and Salt. Whisk until smooth (see note 1)

Add the Milk, melted Butter and Vanilla Extract and whisk until completely smooth - again, you shouldn't have any lumps (see note 2).

Grease a Glass or Ceramic dish and pour the Clafoutis batter in. Top with the sliced Plums.

Bake for 25 to 35 minutes, or until set in the middle.
Tried this recipe? Make sure to leave a comment and star rating below!
Notes
Ingredient Note:
This recipe is relatively low in sugar. Feel free to increase the sugar quantity if you would prefer a sweeter dessert, or if the plums you are using are not very sweet.
Instructions Notes:
Try to get rid of as many lumps as possible at this stage
What to do if you get big lumps: use an immersion blender to dissolve any lumps remaining.
Nutrition
Calories:
280
kcal
|
Carbohydrates:
32
g
|
Protein:
8
g
|
Fat:
13
g
|
Saturated Fat:
7
g
|
Cholesterol:
130
mg
|
Sodium:
72
mg
|
Potassium:
199
mg
|
Fiber:
1
g
|
Sugar:
13
g
|
Vitamin A:
614
IU
|
Vitamin C:
3
mg
|
Calcium:
94
mg
|
Iron:
2
mg
Tried this Recipe?
Leave a comment + star rating below and tag us @a.baking.journey on Instagram with a photo of your creation!