If you are looking for a super moist Chocolate Cake, you must try this Beetroot Chocolate Cake with Dark Chocolate Ganache! Just like an Old Fashioned Red Velvet Cake, this dessert only uses beetroot not only for the colouring but also to create an incredibly fudgy texture!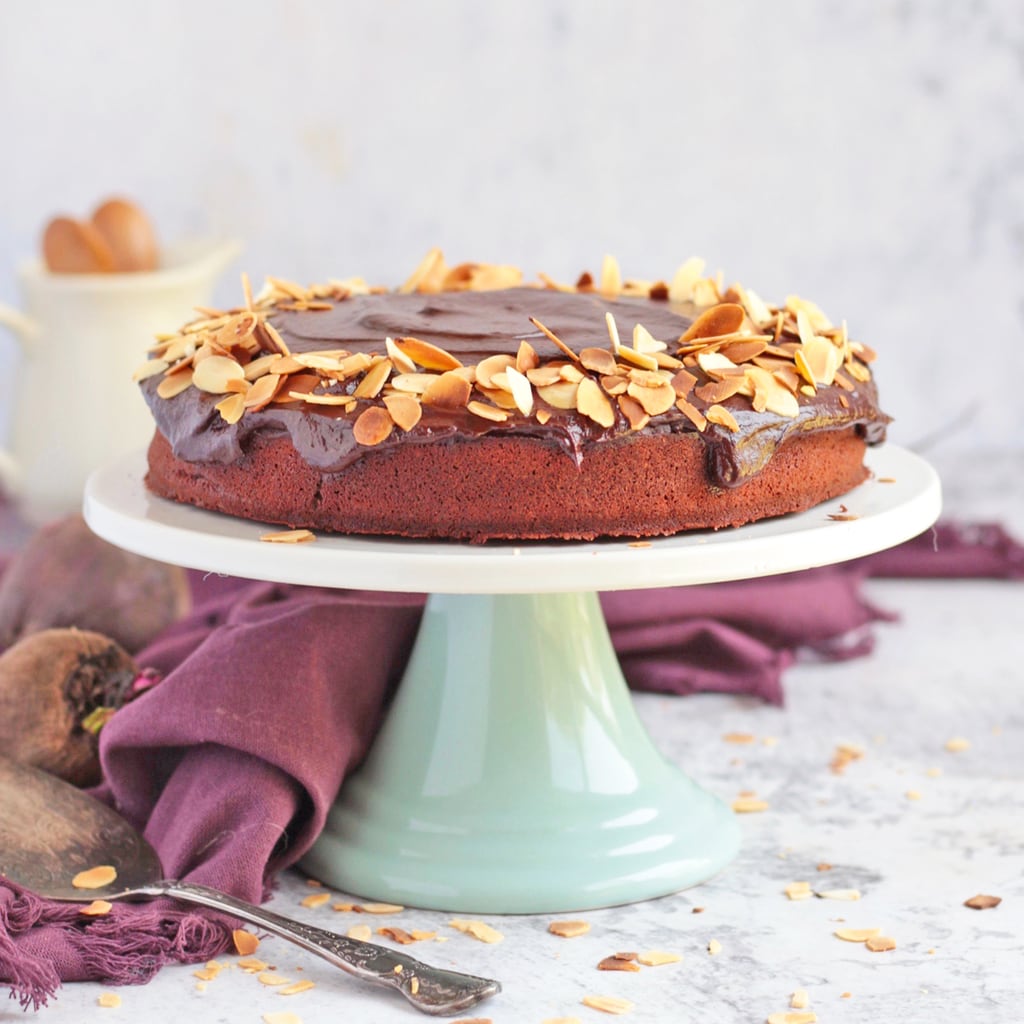 Why we love this recipe
If you had told me a few years ago I would be raving about a Healthy Beetroot Cake with Chocolate, I probably wouldn't have believed you.
Although packed with hidden veggies and low in sugar, this cake does not taste like anything healthy! It is seriously one of the most decadent chocolate cake I have ever made, with the same deliciously fudgy texture than a Flourless Chocolate Cake!
Extremely moist, fudgy and with an intense dark chocolate taste. All you want from a chocolate cake, right!?
Red Velvet Beetroot Cake
I have never really understood the deal with red velvet cake. They are essentially cacao cakes with added red food colouring? I guess we could say I'm not a fan of food colouring...
If like me you try to avoid using food colouring when you can, beetroots are great substitute for red food coloring in red velvet cake! In fact, they are exactly how the old school, original Red Velvet Cake used to be made.
This cake is basically like a delicious a red velvet cake without food coloring and made with dark chocolate instead of cacao. So good!
Ingredients
To make this Beetroot and Chocolate Cake, you will need
(scroll down to recipe card for all quantities):
Beetroots, pre-cooked
Full Cream Milk
Dark Cooking Chocolate
Unsalted Butter
Eggs
Brown Sugar
Plain Flour
Almond Meal
Baking Powder
Salt
The Beetroots and Chocolate are the obvious two essential ingredients of this recipe. Packing cakes with hidden veggies are such a fun way to include more vegetables into our diet. And who wouldn't like to eat chocolate cake as part of our 5 recommended veggies of the day!?
The mix of Plain Flour and Almond Meal also helps to create this extremely moist texture. I have tried to make this cake without the almond meal and it definitely turned out more dry.
For the Chocolate Ganache Topping, I used (scroll down to recipe card for all quantities):
Dark Cooking Chocolate
Heavy / Thickened Cream
I also roasted some Flaked Almonds to finish the cake, but you could also use some Chocolate Shavings or even some Coconut instead!
More Chocolate Recipe with hidden Veggies:
How to make Chocolate Beet Cake
The first main step is to pre-cook the beetroots. You can actually do that in advance if you want and keep the pre-cooked beets in your fridge for a few days, or until ready to make this cake.
The rest of the process is a rather classic one for a chocolate cake made without cacao powder.
Wash, peel and cook the beetroots in the oven until soft. To fasten the process, cut the beetroots into smaller pieces and wrap them in aluminium foil. Leave them to cool down for a few minutes.
Melt the chocolate and butter together. That can be done in the microwave (stopping every 30 seconds to stir), or on a double boiler. Set aside to cool down.
Blend the cooked Beetroots with the Milk in your food processor until smooth.
In a separate bowl, whisk the Eggs and Sugar until bubbly. Add the melted Chocolate and Butter, then the pureed Beetroots
Add the dry ingredients and whisk until all combined, then bake for 25 to 35 minutes.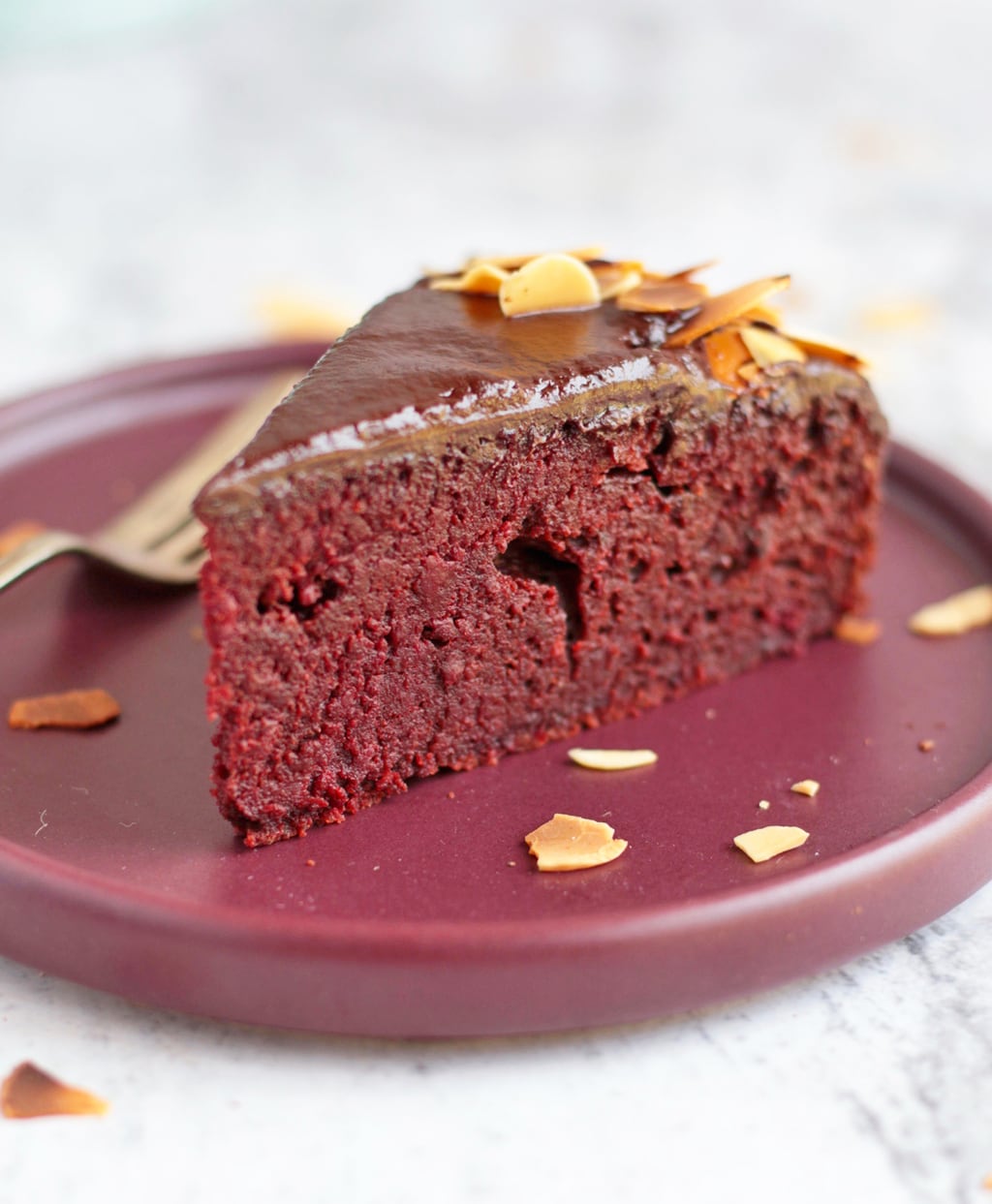 Cake Toppings
Although this cake could absolutely be served on its own, I added two more elements to it:
a Dark Chocolate Ganache
Toasted Flaked Almonds
Dark Chocolate Ganache
Instead of using Icing for chocolate beetroot cake, I opted for a decadent Dark Chocolate Ganache. Because you can never use too much chocolate, right!?
A Ganache only requires two ingredients: Chocolate and Cream. The cream needs to be heated up then poured over the chopped chocolate. Leave it to melt on its own without touching it for 2 to 3 minutes, then stir to combine.
The best tip to make chocolate ganache is to thinly chop the chocolate before pouring the hot cream over it. This will help to melt the chocolate much more quickly, as well as melting it more evenly.
Toasted Flaked Almonds
Finally, I toasted some Flaked Almonds under the broiler in my oven as an extra cake topping. To do so, simply sprinkle the flaked almonds on a flat tray (lined with baking paper or a baking mat).
Leave them under the broiler on low/medium for a couple of minute, or until they start to turn golden brown. They will toast very quickly under the broiler so make sure to keep an eye on them!
Recipe FAQs
Do I need to cook the Beetroots first?
I highly recommend it, yes! I have actually tested two versions of this cake. This first one was with raw grated beetroots, and the second (this one) with pre-cooked beets.
The difference in the texture was massive!

The one made with raw beets was more dense, dry and the taste of beetroot was more present. The top of the cake was lumpy as you could still see pieces of grated beetroot.

The second one, made with pureed cooked beets is much much smoother, fudgier and with a much more intense chocolate taste.
How to store this Cake
How long does Chocolate Beetroot Cake last? It depends on whether you have glazed the cake with the ganache yet or not. Both option will require different storage.

- the unglazed cake can be kept at room temperature for a day - protected in a large container or with wrap. After that, it should be kept in the fridge for an additional 2 to 3 days.

- with the chocolate ganache, the cake should be kept in the fridge for 3 to 4 days.

If kept in the fridge, you may want to re-heat individual slices in the microwave just for a few seconds only. You do not want to melt the ganache, but a little bit of heat will bring back the super moist texture of the cake.
Can you freeze this cake?
You can freeze this beetroot cake, but that should be done without the ganache. To freeze this cake, leave it to cool down completely at room temperature then wrap it in a layer of plastic wrap and one layer of aluminium foil. Freeze it on a flat tray, then remove the tray once frozen.

This cake can be kept in the freezer for up to 2 months. To thaw, leave at room temperature overnight, then add the chocolate ganache to finish it.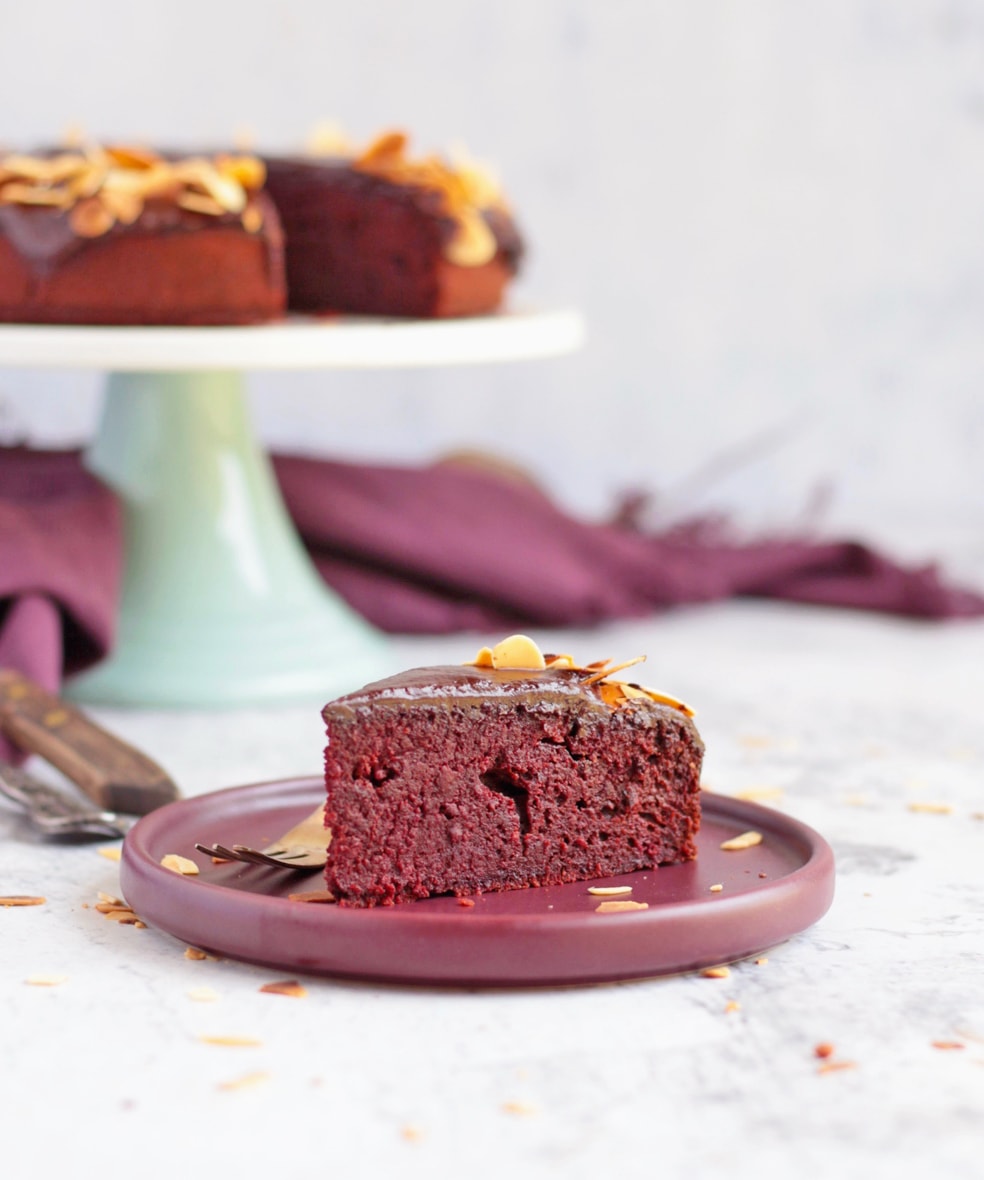 More Chocolate Recipes:
Made this recipe?
Let us know if you liked it by leaving a comment below, and tag us on Instagram @a.baking.journey with a photo of your creation!
Recipe
Chocolate Beetroot Cake with Dark Chocolate Ganache
This Beetroot Chocolate Cake topped with Dark Chocolate Ganache is the moist fudgy and moist chocolate cake ever, packed with hidden veggies!
Print
Pin
Rate
Ingredients
Chocolate Beetroot Cake
250

gr (9oz)

Beetroot

-

about 2 large beetroots

200

gr (7oz)

Dark Cooking Chocolate

-

I used 70% Chocolate

120

gr (1/2 cup)

Unsalted Butter

60

ml (1/4 cup)

Full Cream Milk

3

Eggs

50

gr (1/4 cup)

Brown Sugar

120

gr (3/4 cup)

Plain Flour

30

gr (1/4 cup)

Almond Meal

1 1/2

tsp

Baking Powder

1

pinch

Table Salt
Dark Chocolate Ganache
120

gr (4oz)

Dark Cooking Chocolate

-

I used 70% Chocolate

120

ml (1/2 cup)

Heavy / Thickened Cream
Toppings
40

gr (1/2 cup)

Flaked Almonds

-

or to taste
Disclaimer
I highly recommend using the measurements in grams & ml (instead of cups & spoons) for more accuracy and better results.
Instructions
Chocolate Beetroot Cake
Preheat your oven on 180'C/350'F.

Cut out the top of your beetroot and peel them. Cut them in half (1) and wrap them in aluminium foil. Cook for 30 to 45 minutes, or until very soft. Remove from the foil and set aside to cool down.

Thinly chop the Dark Chocolate and cut the Butter into small Cubes. Place both in a heat-proof bowl and melt in the microwave, stopping every 30 seconds to stir (2). Set aside to cool once fully melted.

Place the cooked beetroots in your food processor with the Milk, and blend until smooth.

In another large bowl, whisk the Eggs and Brown Sugar. Add the melted Chocolate & Butter and whisk until smooth and shiny.

Whisk in the blended Beetroot, then lastly add all of the dry ingredients: Plain Flour, Almond Meal, Baking Powder and Salt. Whisk until combined.

Pour the batter into a 23cm/9inch Springform Pan lined with Baking Paper and greased edges. Bake for 25 to 35 minutes (3) then set aside to cool down completely.
Chocolate Ganache
Heat up the Cream on the stove until it starts to simmer.

In the meantine, thinly chop the Dark Chocolate and place it in a heat-proof bowl. Pour the hot cream over it and leave it for about 3 minutes without stirring. Then using a stiff spatula, stir starting at the centre of the bowl and slowly making your way to the edges (4).

Remove the Cake from the Springform Pan and pour the Ganache over while still warm (your cake needs to be cool though). Use a spatula to spread it over the cake if needed.
Toasted Almonds (optional)
For additional topping, place the flaked almonds on a flat tray lined with baking paper or a baking mat. Leave under the broiler (set on low/meddium) in your oven for 2 to 3 minutes, or until it turns golden brown (5). Sprinkle over the Chocolate Ganache.
Tried this recipe? Make sure to leave a comment and star rating below!
Notes
Cutting the beetroot into smaller pieces will speed up the cooking time.
If melting it in the microwave, it is important to go slowly to avoid burning the chocolate. Alternatively, you can melt the chocolate and butter on a double boiler.
You want the cake to still be a bit fudgy in the middle. If placing a skewer in the middle of the cake, you should still see a few small crumbs on the skewer, but not liquid batter.
If you still see chunks of un-melted chocolate, it probably means you did not wait long enough for the hot cream to melt it. Simply place the bowl in the microwave for a few seconds and wait again before stirring.
Keep an eye on them as they will start to toast very quickly and you do not want to burn them.
Nutrition
Calories:
220
kcal
|
Carbohydrates:
16
g
|
Protein:
4
g
|
Fat:
16
g
|
Saturated Fat:
8
g
|
Cholesterol:
77
mg
|
Sodium:
105
mg
|
Potassium:
135
mg
|
Fiber:
1
g
|
Sugar:
6
g
|
Vitamin A:
471
IU
|
Vitamin C:
1
mg
|
Calcium:
76
mg
|
Iron:
1
mg
Tried this Recipe?
Leave a comment + star rating below and tag us @a.baking.journey on Instagram with a photo of your creation!