If you are looking for desserts and baked goods recipes to make with Biscoff Spread, here are some delicious and original Cookie Butter / Biscoff recipes to try ASAP!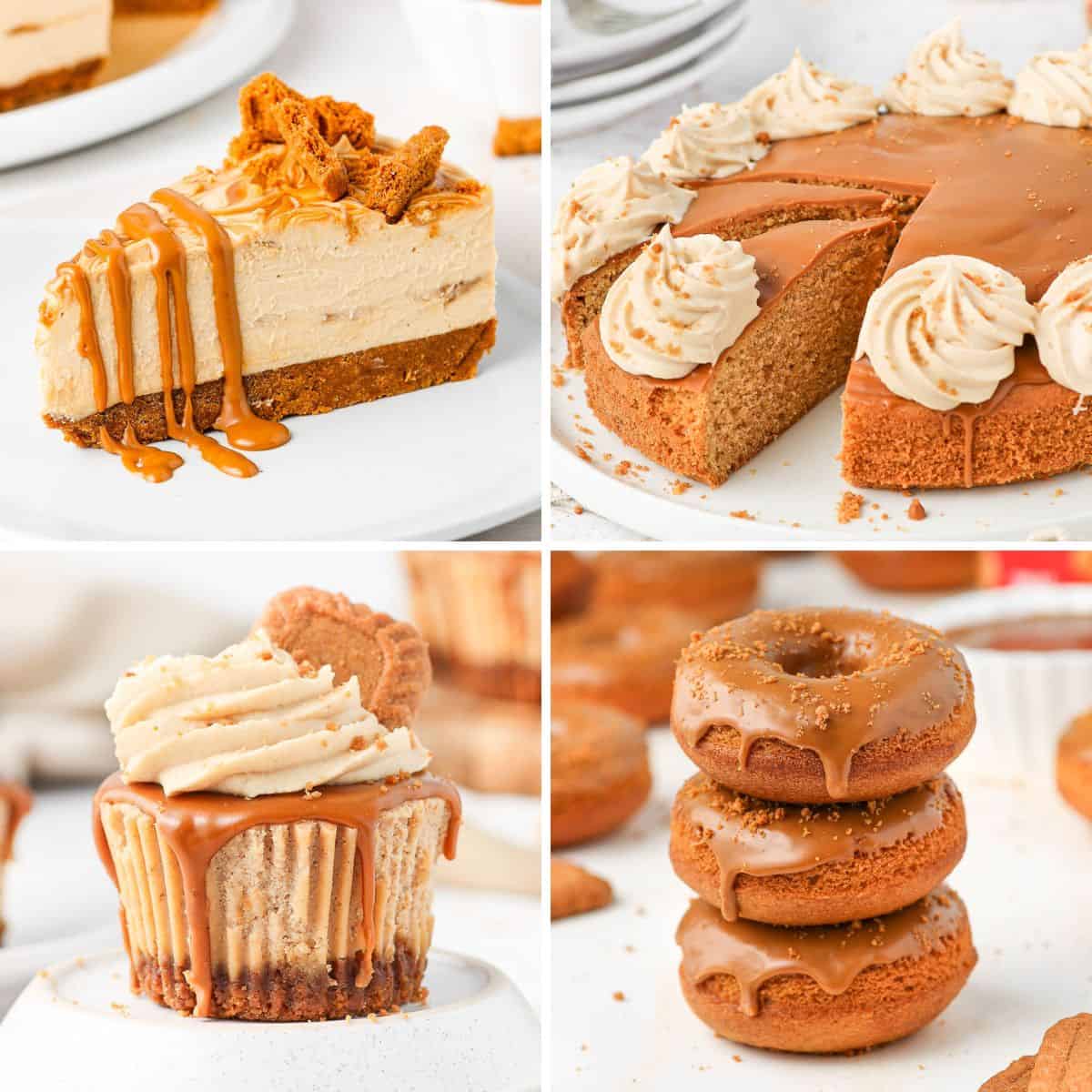 Jump to:
You know there aren't many things I love more than Biscoff - or Speculoos as we call it in Belgium. This traditional spiced cookie is not only delicious on its own, it is also a great ingredient to bake with.
Baking with Biscoff or Cookie Butter
Wether it is by grinding the biscoff cookie into crumbs or using a Speculoos Cookie Butter Spread, there are too many delicious ways to use this delicious ingredient!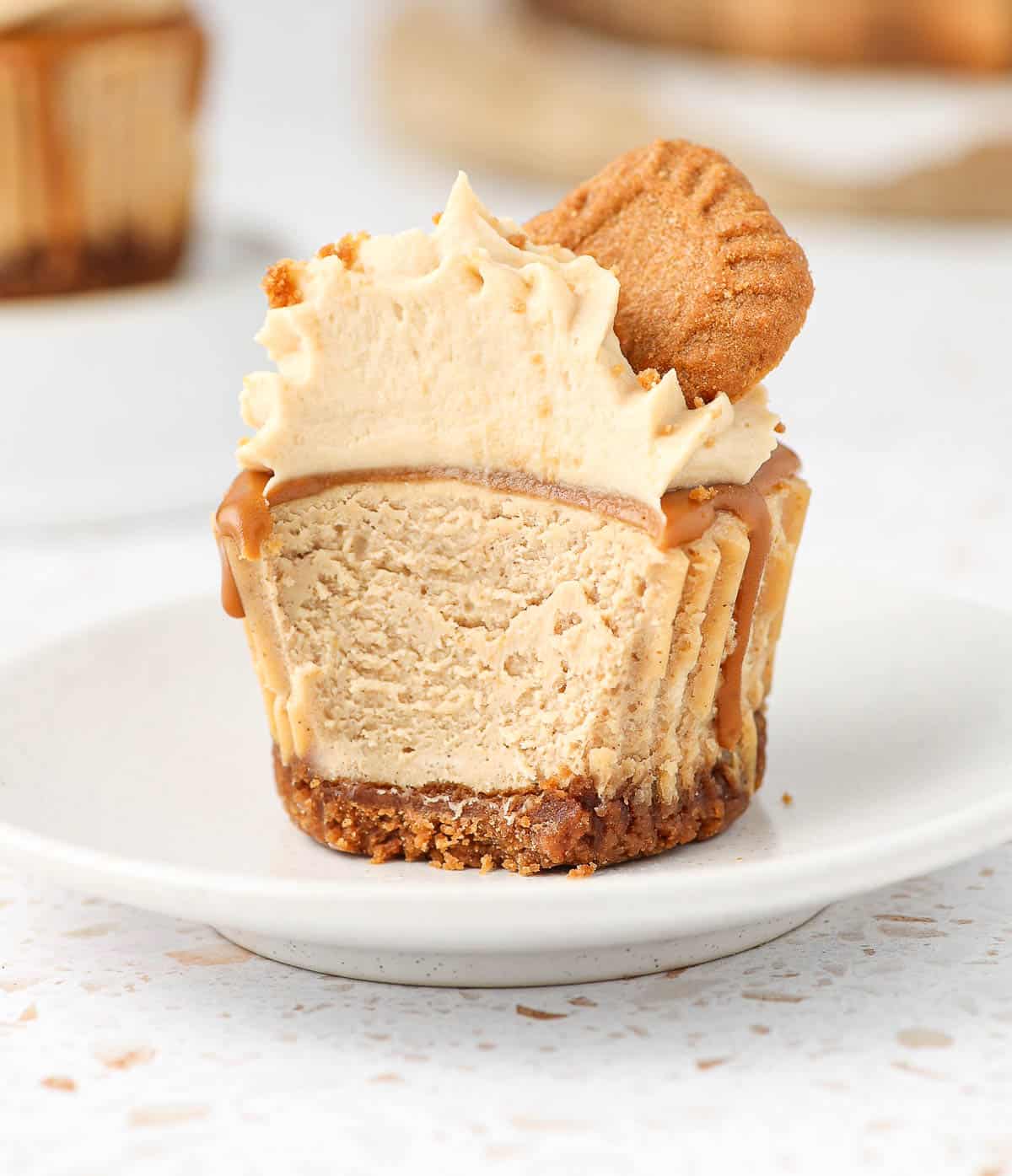 How to use Biscoff crumbs
What do you use Biscoff Spread for
As the most delicious spread over bread, pancakes or French Toast.
As an ingredient of its own when baking, incorporated into batters, mixtures and even cookie dough like for these Biscoff Butter Cookies!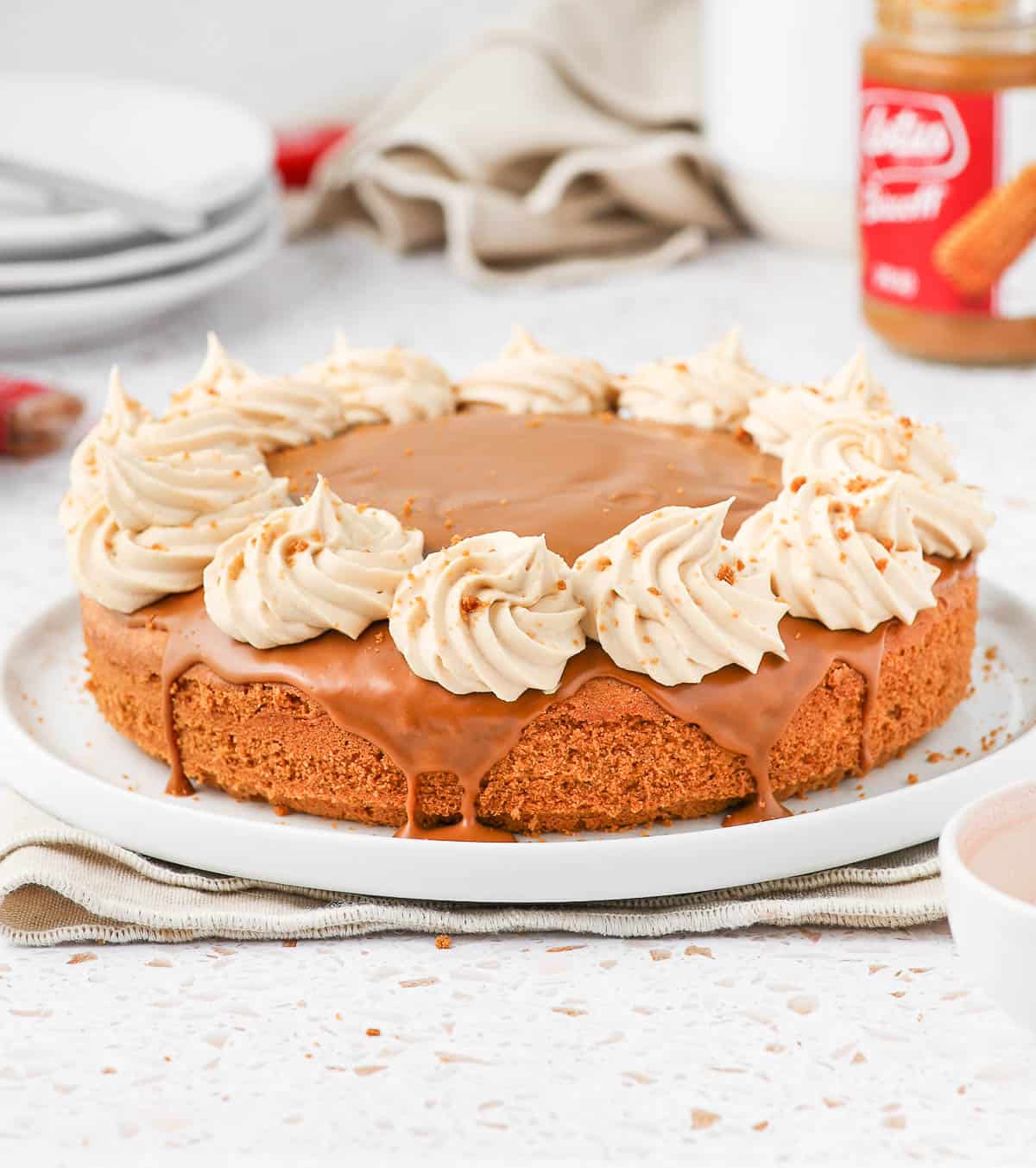 Biscoff Spread FAQs
What flavour is Biscoff Spread?
Traditional Speculoos Cookies are made with a combination of spices usually including Cinnamon, Coriander Seed, Nutmeg, Ginger, Caraway Seed and Cloves. They are also made with a specific type of Brown Sugar made from Sugar Beet. They have a delicious caramelised and spicy flavour, a bit similar to a gingerbread cookie.
What is Biscoff Spread made of?
Biscoff Spread - or Speculoos Cookie Butter Spreads - are basically all made from Speculoos Cookies that are ground up and mixed with oil.
Is Biscoff Spread the same as Cookie Butter?
They are both spreads made out of crushed Speculoos Cookies. Biscoff is a branded product by the Belgian company Lotus while Cookie Butter (sometimes called Speculoos Butter) is a more generic name used by different brands.
Should you refrigerate Biscoff Spread / Cookie Butter?
No, Biscoff Spread can be stored at room temperature!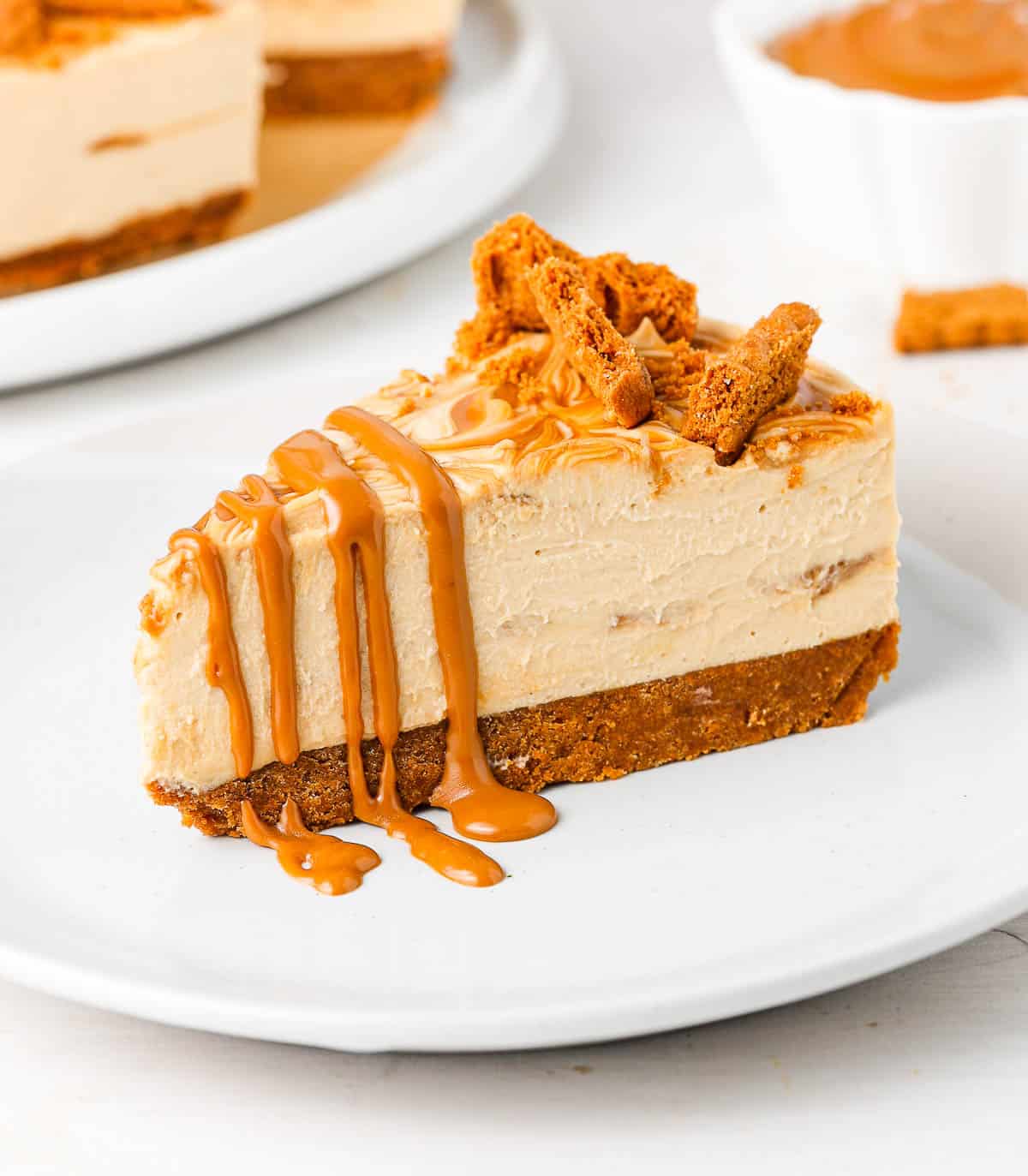 Recipes to make with Biscoff Spread
Here are some delicious recipes to try when you are wondering what to do with Biscoff spread / cookie butter.
Biscoff Muffins
These super quick and easy Lotus Biscoff Muffins are a delicious little treat that is perfect for breakfast, tea time or a sweet snack.
Read the Recipe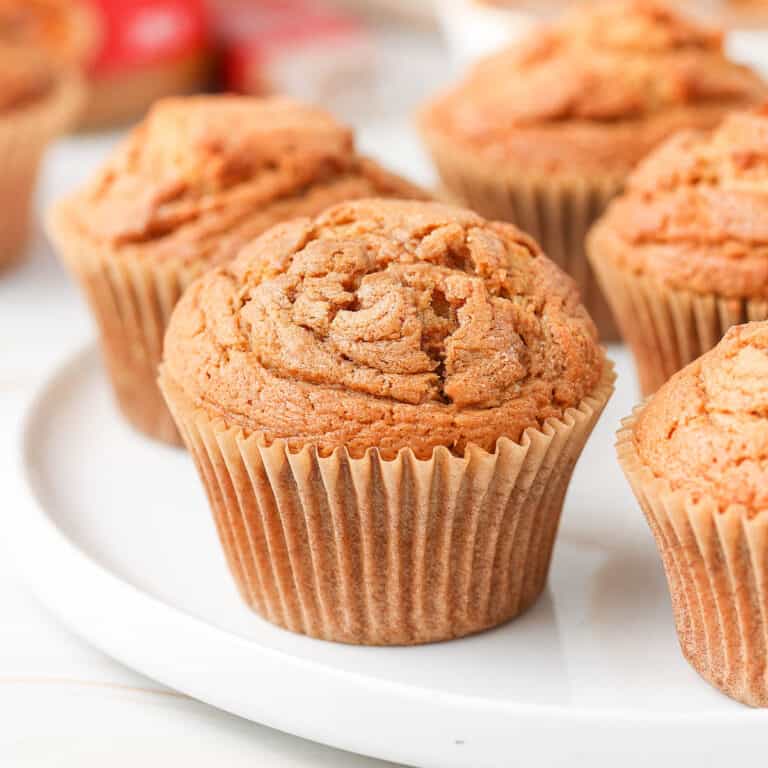 Easy Baked Biscoff Donuts
These super easy Baked Biscoff Donuts have a deliciously light and fluffy crumb with a decadent Biscoff Cookie Butter Glaze. Perfect for a quick sweet treat!
Read the Recipe
No Bake Biscoff Cheesecake
This No Bake Biscoff Cheesecake is super easy to prepare with 7 ingredients only, no eggs and no gelatine. It is packed with decadent, spicy flavours of Biscoff Cookie Butter (Speculoos) and makes a delicious dessert for a special occasion.
Read the Recipe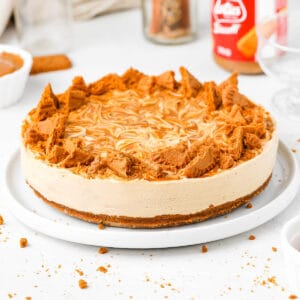 Biscoff Cupcakes
These delicious Biscoff Cupcakes have a super light and fluffy crumb. They are topped with a luscious Biscoff Cream Cheese Frosting, Cookie Butter Drizzle and Speculoos Cookies.
Read the Recipe
Easy Biscoff Cake
This super easy Biscoff Cake is a delicious dessert to make for a special occasion or afternoon tea. The light and airy cookie butter cake is topped with melted biscoff spread and topped with a biscoff whipped cream frosting.
Read the Recipe
Biscoff Cookie Butter Ice Cream
Packed with the spicy flavours and crunch of Speculoos Cookies, this creamy homemade Biscoff Ice Cream (aka Cookie Butter Ice Cream) is a dream dessert for all Biscoff lovers!
Read the Recipe
Mini Biscoff Cheesecakes
These Mini Biscoff Cheesecakes with Biscoff Whipped Cream topping are a decadent and delicious little treat that is great for a party, special occasion or just as an every day dessert!
Read the Recipe
Biscoff Butter Cookies
These easy Biscoff Butter Cookies with Chocolate Chunks are packed with flavours. The delicious gooey and chunky cookies are super easy to prepare and make a great treat!
Read the Recipe
Biscoff Brownies
These dark chocolate Biscoff brownies are the most decadent, fudgy and rich brownies ever - packed with biscoff and cookie butter!
Read the Recipe
3 Ingredients Biscoff Truffles
These super easy No Bake 3 Ingredients Biscoff Truffles are the most decadent bite size treat, perfect for the Holidays, as edible gift or an every day sweet treat!
Read the Recipe
Biscoff Cheesecake (Speculoos Cheesecake)
This incredibly decadent Baked Biscoff Cheesecake is the perfect dessert to make for a special occasion - or when you just want to treat yourself! With Biscoff used in every layer of this Cheesecake, you will get both the delicious caramelised spiced flavour of traditional Speculoos Cookies and the dense creaminess from a classic Baked Cheesecake.
Read the Recipe
Biscoff Cookie Butter Cream Cheese Frosting
This luscious Biscoff Cookie Butter Cream Cheese Frosting is super easy to make with 4 ingredients only. It is the perfect topping for your cupcakes, cookies and baked goods or to decorate, fill and frost cakes!
Read the Recipe