This Spinach and Feta Quiche is the perfect vegetarian savoury tart to enjoy for breakfast, brunch, lunch or dinner. The classic flavour combination of Spinach and Feta baked along a savoury custard and inside a super flakey Butter Pastry is a great make-ahead meal the whole family will enjoy!
Jump to:
Why we love this recipe
Quiches are probably one of the only dish that can be served for every meal of the day, making it so versatile! Great for breakfast, brunch and lunch, quiches also make a delicious light dinner or even appetiser for your next party!
And because they will keep well for a few days and can be frozen, they make the perfect make-ahead dish to consider for your next meal-prep session!
The classic combination of Spinach and Feta always works so well together, just like in these Spanakopita Triangles. And what a better way to compliment them than surrounded by a deliciously flakey all butter savoury shortcrust pastry?
This quiche is a delicious mix between my Spinach and Mushroom Quiche and my Asparagus and Feta Quiche. And you could even combine them all for an epic quiche!
Spinach is also one of my favourite ingredient when it comes to savoury bakes, as it can be used in many different forms. Check out my Spinach and Cheese Muffins or my Spinach and Ricotta Bread Rolls for more Spinach inspiration!
What is a Quiche made of?
A Quiche is made out of two elements: the pastry and the savoury filling.
The Pastry is similar to any Tart or Pie Pastry, but without sugar. It can be a Puff Pastry, but the Classic French Quiche Pastry is made with Flour, Butter and Water (sometimes Eggs) only.
The Filling is like a savoury Flan or custard made from mixing Eggs and Cream together. Your choice of Vegetables, Meat, Cheese or herbs can be added to the custard filling.
There are so many possibilities when it comes to fillings, whether you want to keep it vegetarian (check out my 18 favourite Vegetarian Quiches!), pack it with meat or even with fish like my Smoked Salmond Quiche!
Quiche Pastry Crust
When it comes to making savoury pastry, I always use the same basic Shortcrust Pastry recipe. It is the most basic Pastry you can make - and it always works perfectly! Super flakey and buttery, it is the perfect crust for a quiche.
This pastry can be used to make sweet desserts too but for the recipe, the sugar is replaced by a little bit of salt.
Ingredients
This quiche crust is made from 4 ingredients only: (scroll down to recipe card for all quantities):
Flour: Plain / All-Purpose
Salt: a simple Table Salt or Fine Salt
Butter: unsalted and very cold, cut into small cubes.
How to make a Quiche Crust
To make the crust of this Feta Spinach Quiche with Spinach, I used my Food Processor. It is much quicker (and cleaner) that making the pastry by hands. That being said, the pastry can absolutely be made by hands too!
Place the Flour and Salt in the bowl of your food processor. - photo 1
Cut the cold butter into small cubes and add it to the flour. Pulse until it looks like thin crumbs - you should not see any thick pieces of butter. - photo 2 & 3
Slowly add the Cold Water a little bit at the time. Keep pulsing between each addition and stop adding water/pulsing as soon as the dough starts to come together. - photo 4 & 5
Transfer over a sheet of baking paper, assemble into a ball, cover with another sheet of baking paper and roll into a large thin circle. - photo 6
Leave to rest in the fridge for at least 1 hour before lining the tart or quiche pan, then rest it again for another hour. Freeze it for 15 minutes just before blind-baking it for another 15 minutes.
You can read all about how to make this pastry in details, including lots of tips and tricks, in my Savoury Shortcrust Pastry recipe.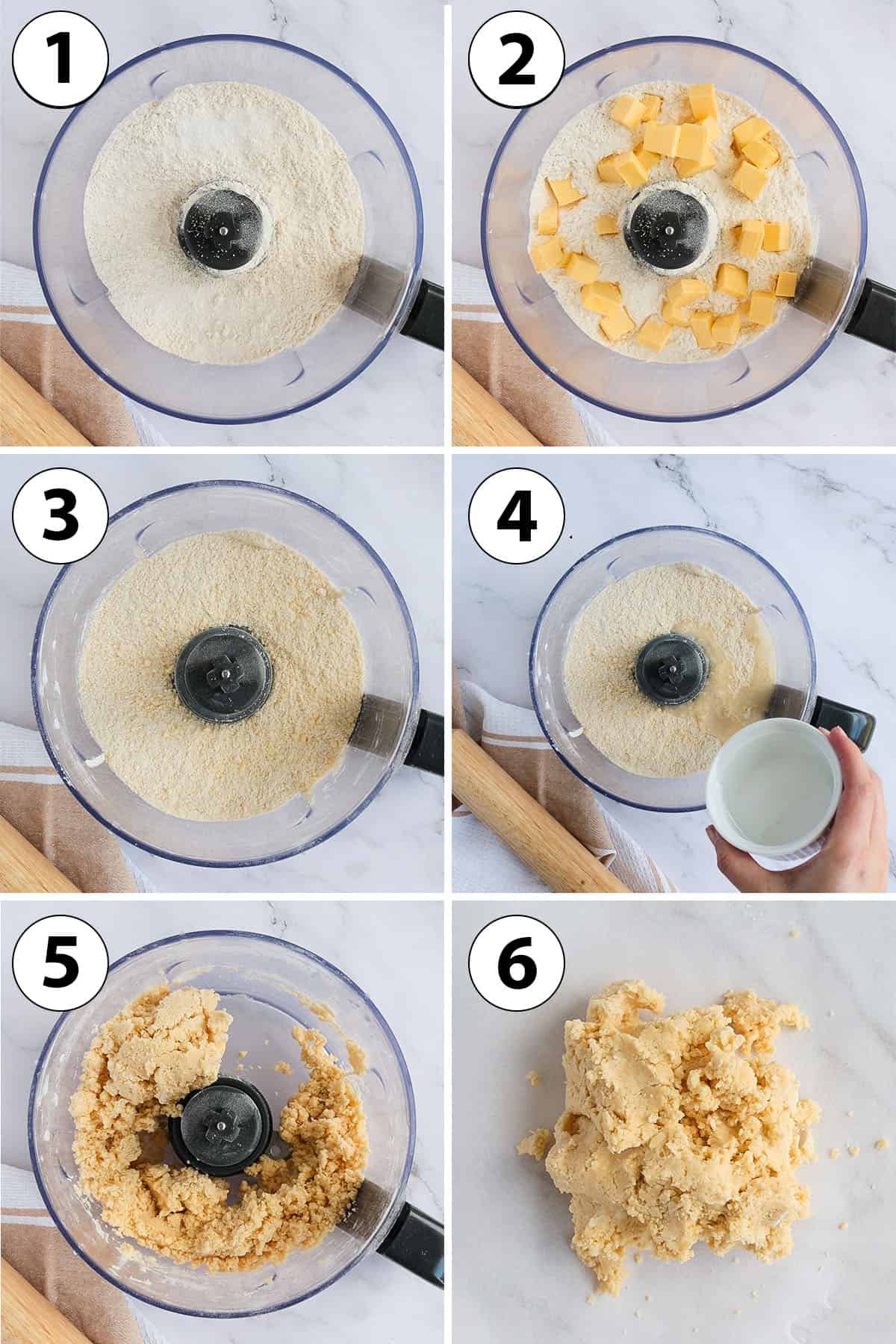 Spinach and Feta Quiche Filling
Ingredients
No unexpected ingredients here; you will mainly need Eggs, Cream, Spinach and Feta! I also used some Spring Onion (Scallion) that works perfectly with the spinach, but you could also use Onion instead.
To make this quiche, you will need (scroll down to recipe card for all quantities):
Eggs - preferably at room temperature
Cream: Heavy / Thickened Cream. I don't recommend using a Light Cream to make quiches.
Seasoning: I used Salt, Pepper and Garlic Powder - but you can really add any spices you want here.
Spinach: I used Fresh Spinach Leaves, finely chopped. Read the FAQ section below if using frozen spinach
Feta Cheese: cut into small cubes or crumbed.
Spring Onion / Scallion: finely chopped.
How to make the Quiche Filling
To make the Spinach Quiche filling with Feta, you will need to prepare the custard/flan batter first then prep the rest of the ingredients.
Whisk the Eggs and Cream together, along with the Salt, Pepper and Garlic Powder.
Thinly chop the Spinach Leaves and Spring Onion/Scallion, and crumb the Feta Cheese
Place the Cheese and Veggies over the blind-baked pastry, and pour over the Egg/Cream liquid.
I have found the quiche to look better when you add the Spinach, Feta and Spring Onion over the Pastry then pour over the Eggs/Cream. But the taste will be the same, so you can also mix it all together before pouring it over the pastry.
Tips to make the best Spinach and Feta Quiche
Making dishes like Quiches can be a bit scary if you are not used to working with pastries. Here are a few tips to help you succeed:
Resting time is essential for the Pastry. If the Gluten contained in the pastry does not have enough time to relax, the pastry will shrink in the oven. The butter also needs to be very cold to create a super flakey pastry
Use Fresh Spinach over Frozen, if possible. Frozen Spinach, even when thawed and drain, still retain a lot of water that might make the quiche filling runny. If using Frozen Spinach, make sure to drain as much moisture as possible.
Season / Spice to taste: I simply used Salt, Pepper and Garlic here but you can absolutely add more spices to your liking.
Make it cheesier: who doesn't like a super cheesy quiche? You can top the quiche with a little bit of grated cheese like Mozzarella or Parmesan to finish it if you want.
Give your quiche enough time to bake. The filling should not jiggle in the centre when you move the pan.
If the fillings turns golden brown quickly, it probably means that the oven temperature is too high. Slightly reduce the temperature or the oven, then cover the quiche with aluminium foil. Continue baking until the filling has set.
Leave the quiche to rest once it is out of the oven. This will allow for the filling to set and not be too runny
Recipe FAQs
Can I use Frozen Spinach?
I have only ever used Fresh Spinach myself, but you can use Frozen Spinach to make the Quiche Filling too! Make sure it is fully thawed and very well drained, as you do not want to add any extra water to the filling.


How do you know when a quiche is done?
The quiche will need some time in the oven for the custard to bake and set. To know the quiche is baked, carefully move the pan back and forth (it will be really hot) and look at the middle of the quiche.

If you can see the filling jiggle, it means that it is not set yet. If you cannot see movement (or almost no movement) in the filling, it means the quiche is ready.


How long does a homemade quiche last?
A Quiche should always be kept in the fridge, covered with plastic wrap or foil. When stored properly, it will last for 2 to 3 days.


How far in advance can I make quiche?
If you want to make this quiche ahead, I recommend making it 1 day in advance maximum. You may want to slightly under-bake the quiche and re-heat it / finish the baking just before serving it.

You can also make the quiche well in advance and freeze it. Note that if you know the quiche will need re-heating before serving it, it is always good to slightly under-bake it so that it does not burn when being re-heated.


How to you reheat Quiche
If the quiche is frozen, the best way to re-heat it is in the oven. Do not thaw it but place it directly in a hot oven for 15 to 20 minutes. If you a re-heating frozen quiche slices, it will be much quicker.

I also recommend re-heating a full quiche in the oven before serving it (10 to 15 minutes), but if it is just a slice, it can also be done in the microwave.
Can you freeze Quiche?
Can you make quiche ahead of time and freeze it? Absolutely! Although you can freeze a quiche before or after baking, it will be much easier to handle in the freezer once it is baked.
To freeze a quiche, slightly under-bake it (about 10 minutes) then set aside to cool down completely. Wrap with plastic wrap and aluminium foil and place over a baking tray in the freezer. Once the quiche is frozen, you can remove the baking tray.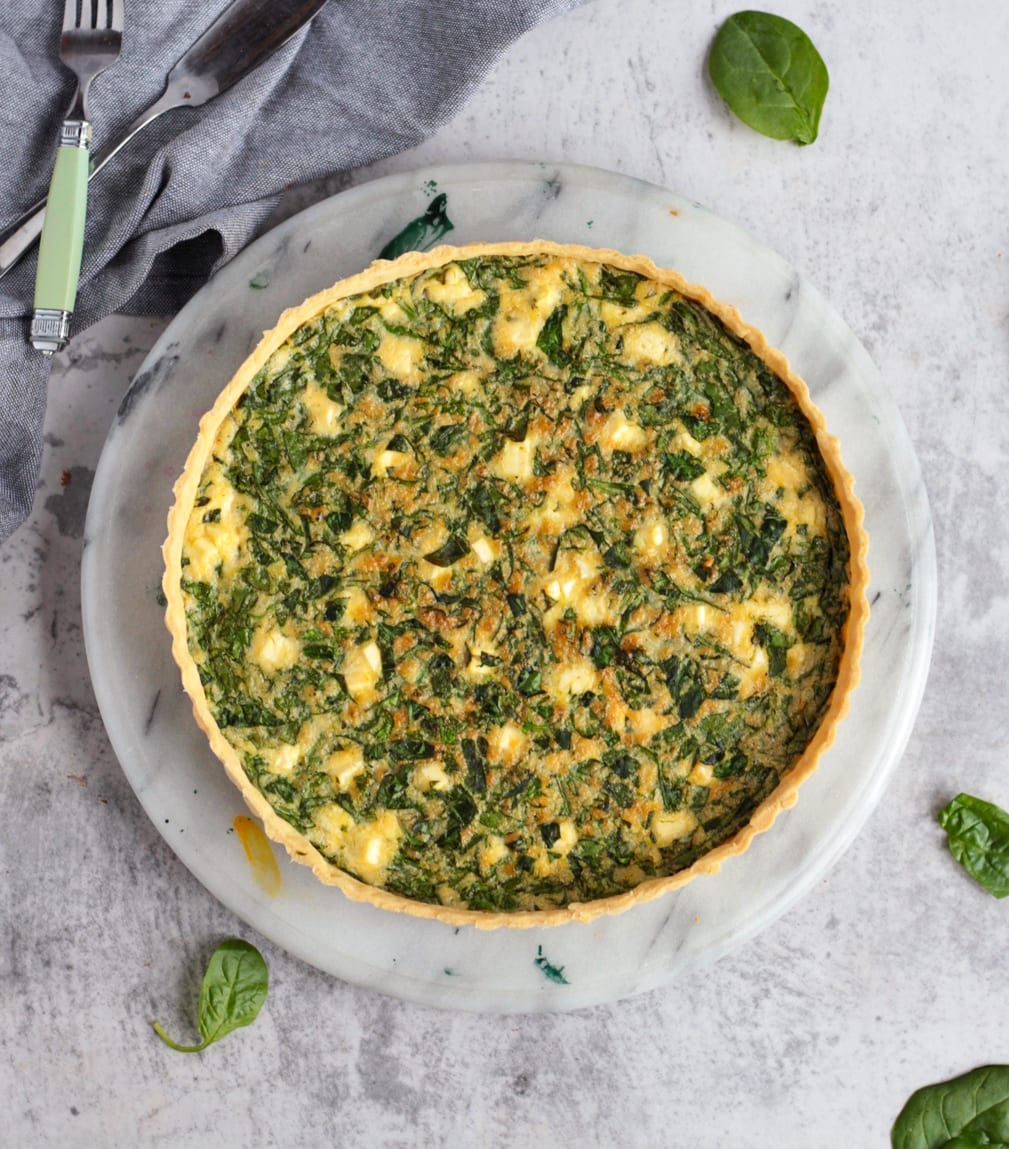 More Savoury Tarts & Pies Recipes
Made this recipe? Let us know if you liked it by leaving a comment and rating below! And don't forget to share your creation on Instagram with the hashtag #abakingjourney and tag @a.baking.journey
Recipe
Spinach and Feta Quiche
This Spinach and Feta Quiche is a delicious vegetarian savoury tart for breakfast, brunch, lunch or dinner. Perfect for any meal of the day!
Print
Pin
Rate
Ingredients
Quiche Pastry
180

gr (1 cup + 2 tablesp.)

Plain / All-Purpose Flour

90

gr (6 tablesp.)

Cold Unsalted Butter

1/4

teasp.

Salt

60

ml (1/4 cup)

Cold Water
Spinach and Feta Quiche Filling
4

Eggs

300

ml ( 1 1/4 cup)

Heavy / Thickened Cream

1/2

teasp.

Salt

1/4

teasp.

Pepper

1/2

teasp.

Garlic Powder

100

gr (3 cups)

Fresh Spinach

100

gr (3,5 oz)

Feta Cheese

1

Spring Onion (Scallion)
Instructions
Quiche Pastry
Place the Flour and Salt in the bowl of your Food Processor and blits to combine. Add the very cold Butter cut into small cube and blend until you get a thin crumb texture.

Slowly add the water a little bit at the time while blending until the dough comes together.

Roll between two sheets of baking paper then place in the fridge on a flat tray to rest for at least an hour. Line your baking pan with the pastry, prick the bottom with a fork then place in the fridge to rest again for at least 1 hour.

Preheat your oven on 180'C/350'F and place the quiche pan lined with the pastry in the freezer while it is preheating. Blind bake for 15 minutes, then remove from the oven and set aside while you prepare the filling (see note 1)
Spinach and Feta Quiche Filling
Thinly chop the Spinach Leaves (see note 2 if using frozen spinach), Spring Onion/Scallion and cut the Feta Cheese into small cubes. Set aside.

In a large bowl, whisk the Eggs with the Cream, Salt, Pepper and Garlic.

Sprinkle the chopped Spinach, Feta and Spring Onion over the blind-baked Pastry, and cover with the Egg/Cream liquid.

Bake for 35 to 45 minutes (see note 3), or until the centre of the quiche is set (see note 4). Serve warm.
Notes
Disclaimer: I highly recommend using the measurement in Grams/Millilitres for more accuracy.
I used a 25 cm / 10 inch Tart Pan to make this recipe.
For more information, tips and step by step photos of this pastry, read my savoury shortcrust pastry recipe. 
The bottom of the quiche needs to feel dry to the touch before you add the filling. You might need to blind-bake it for a little bit longer depending on your oven. I did not use baking beads or weights, but you can if preferred.
If using frozen Spinach, it needs to be fully thawed and very well drained to remove any water/moisture.
Depending on your oven and the depth of the pan you use, it might need less or more time to bake. If the pastry seems to start burning before the quiche filling is fully baked, cover with aluminium foil and continue to bake until set.
If you gently move the pan, the centre of the quiche should not jiggle. If the filling is not fully set yet but the quiche seems to start burning, cover it with aluminium foil and continue baking until set.
Nutrition
Calories:
361
kcal
|
Carbohydrates:
20
g
|
Protein:
8
g
|
Fat:
28
g
|
Saturated Fat:
17
g
|
Cholesterol:
169
mg
|
Sodium:
415
mg
|
Potassium:
160
mg
|
Fiber:
1
g
|
Sugar:
1
g
|
Vitamin A:
2191
IU
|
Vitamin C:
4
mg
|
Calcium:
117
mg
|
Iron:
2
mg