This Feta and Asparagus Quiche is a great brunch recipe that can be enjoyed for breakfast, lunch or dinner too! Light, flakey, creamy and packed with flavours, this Asparagus Quiche with Feta Cheese is the perfect Spring dish!
Why we love this recipe
No, baking is not just for dessert. Sometimes, it is also for lunch or dinner! If you ask me, Quiches are the perfect lunch to take to work, great as an entree or even as your dinner main dish.
Not only they are fairly easy to make, the ingredients and flavour combination are basically endless. Quiches are a great dish to make ahead and can even be frozen too.
Today, I used Asparagus and Feta Cheese. Feta is one of my favourite cheese to use in quiches like for this Feta and Zucchini Quiche or Spinach and Feta Quiche. Its strong, tart flavour works perfectly with Spring Asparagus!
Quiche vs Frittata
So what is a Quiche anyway, and how is it different from a Frittata? I would say that there are two main differences between Quiches and Frittata (other than the fact that one is French and the other Italian):
Quiches usually have a crust made out of Pastry while Frittata don't.
Quiches are baked in tart pan in the oven, Frittata are usually made directly in a frying pan on the stove.
Why do we often mix them up? Mainly because their most important ingredients are Eggs. For a Quiche, the Eggs are usually mixed with Cream and/or Milk to make a savoury custard. For a Frittata though, Cream or Milk is usually not added.
How to make an Asparagus Quiche with Feta
There are two steps to follow to make a Quiche:
First, you will need to make the Pastry - although some quiche recipes are crustless. The traditional French Quiche always has Pastry, so this is the model I have always followed.
Making a savoury pastry is exactly the same as making a sweet one, minus the sugar (obviously). You can always buy a pre-made quiche/tart/pie crust if you don't feel like making your own!
Secondly, you will need to make the Quiche Filling with Feta Cheese and Asparagus. The quiche base is always the same: Eggs and Cream.
Then, you can add whichever ingredients you want to flavour your savoury custard. Cheese, Meats, Vegetables or Fish - you decide! This time, it was an Asparagus Feta Quiche for me.
Quiche Pastry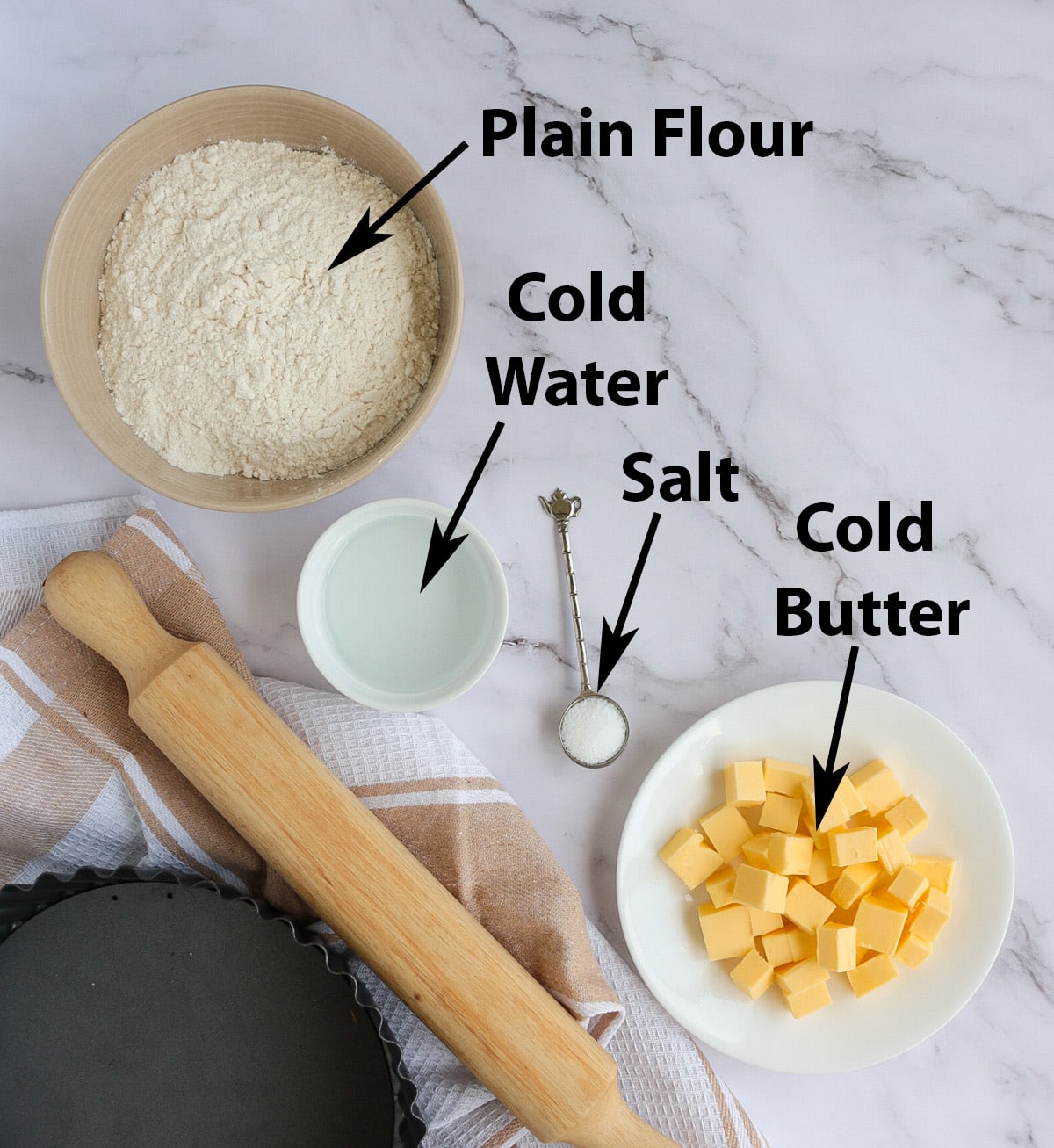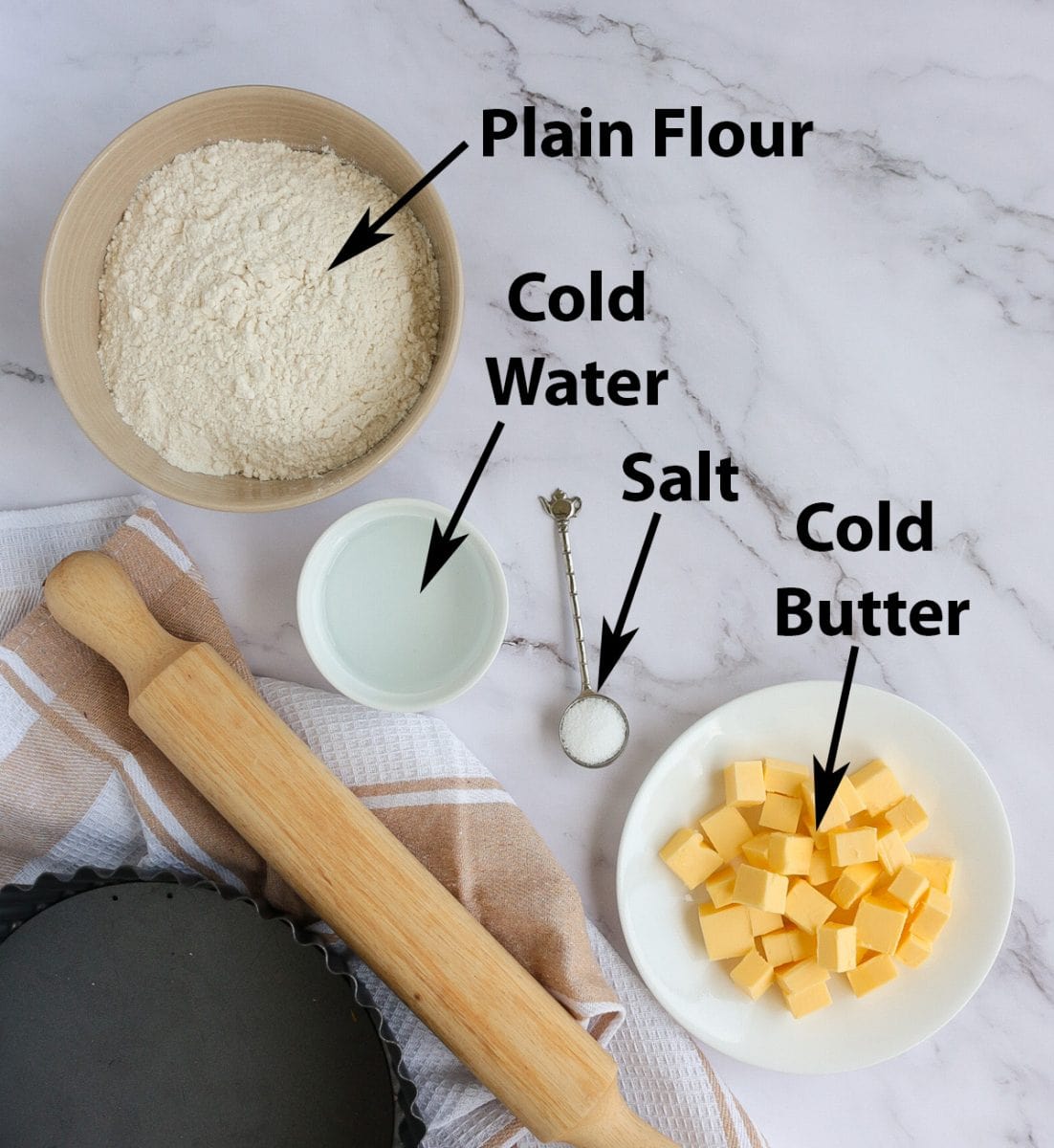 Making a Quiche Pastry - in this case a Savoury Shortcrust Pastry - is exactly the same as making a Sweet Tart or Pie Pastry. Actually, it is the same recipe - with the difference of using Salt instead of using Sugar. To make this Quiche Pastry, I follow my usual Savoury Shortcrust Pastry recipe and this golden ratio: 2 flour to 1 butter.
That means that for any quantity of dough you require, use twice as much butter as flour. It's that easy! You will also need a little bit of cold water to bind it all together, then some spices to flavour the pastry.
The spices you decide to use are up to you - you can simply use salt only, but I love to also add Garlic Powder and Cumin Powder to the pastry. This Pastry Recipe is extremely versatile, and I have been using it for both sweet and savoury tarts.
Feta and Asparagus Filling
Now that we have the Quiche Pastry sorted, on to the Quiche Filling. As explained above, you will need Cream and Eggs as your main ingredients.
I used Thickened Cream - which is the type of cream most commonly found in Australia, but you can also use Heavy Cream instead.
Then, I added my chosen spices to the mix: Salt, Pepper, Cumin Powder and Garlic Powder. That is your savoury custard base.
I cut the Feta Cheese in small dices and mixed them into the savoury custard batter before pouring it in the pre-baked quiche pastry.
Finally, I sliced the Asparagus in half on their length and topped the quiche with them before placing it back in the oven. The ratio of Eggs/Cream used for this recipe make a really nice and silky custard filling.
It's almost like eating a Flan!
Quiche Pan
You can use a simple Tart Pan to make a Quiche, but I recommend using a proper Quiche Pan with removable bottom.
What is the difference? I Quiche Pan will have higher edges than a Tart Pan, so you can have a nice, thick custard filling. If you use a tart pan, you will end up with something that looks more like a savoury tart than a quiche.
Either way, it will be delicious!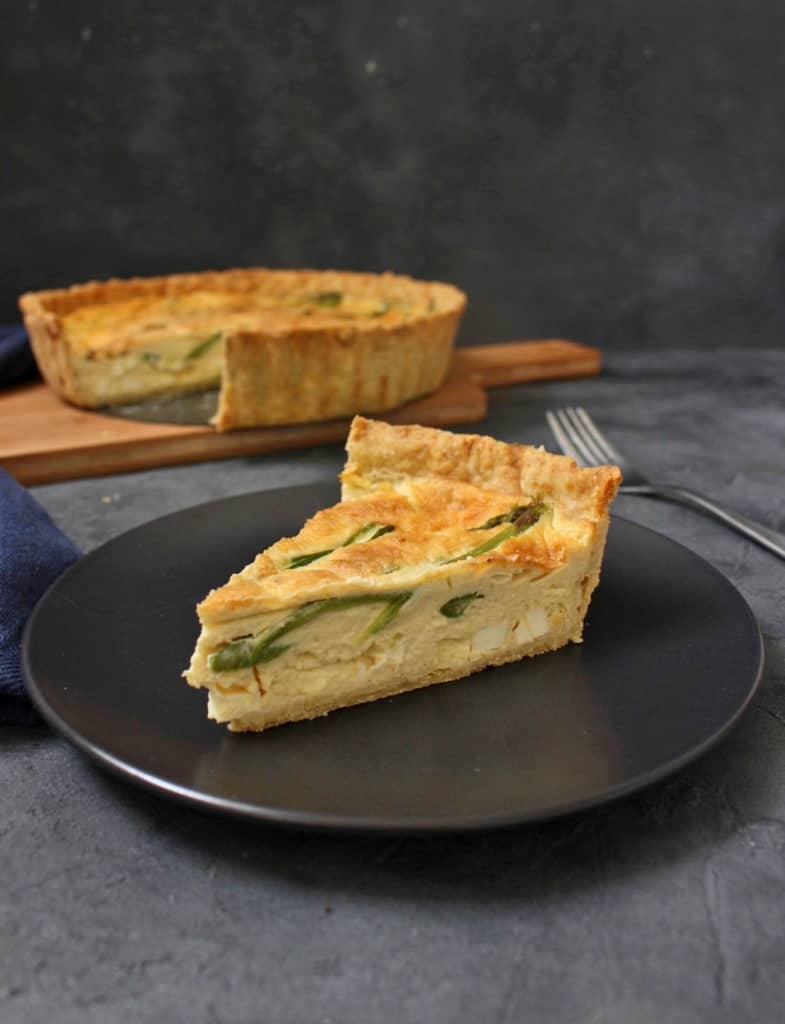 More Quiche Recipes
Made this recipe?
Let us know if you liked it by leaving a comment below, and tag us on Instagram @a.baking.journey with a photo of your creation!
Feta Asparagus Quiche
This Feta Asparagus Quiche is the perfect lunch to bring to work, serve as an entree or even as a light dinner main meal. The homemade quiche pastry is filled with a super silky savoury custard, feta cheese and fresh asparagus.
Print
Pin
Rate
Ingredients
Quiche Pastry
180

gr (1 cup + 3 tablesp.)

Plain Flour

90

gr (6 tablesp.)

Butter

60

ml (1/4 cup)

Cold Water

1/2

teasp.

Salt

1/2

teasp.

Cumin Powder

1/2

teasp.

Garlic Powder
Quiche Filling
450

ml (15 oz)

Thickened Cream

4

Eggs

150

gr (1 cup)

Feta Cheese

1

dozen

Asparagus

Salt, Pepper, Cumin Powder, Garlic Powder to taste
Disclaimer
I highly recommend using the measurements in grams & ml (instead of cups & spoons) for more accuracy and better results.
Instructions
Quiche Pastry
Place the Flour and Spices in the bowl of your food processor. Pulse for a few seconds to mix it all in. Add the cubed cold butter and blend until it looks like thick sand.

Add the cold water a little at the time - blending in between each time. When the pastry dough starts to come together, remove it from the food processor and bring together into a ball. Roll the pastry between two sheets of baking paper and place it in the fridge to rest for at least 1 hour.

Line your Quiche Pan with the pastry, prick the botton with a fork then place back in the fridge to set for at least 1 hour.

Preheat your oven on 180'C/350'F and place the pastry in the freezer while preheating. Bling Bake for about 15 minutes (or until the bottom is slightly dry to the touch) then set aside.
Quiche Filling
In a large bowl, whisk the Eggs, Thickened Cream, Salt, Pepper, Garlic Powder and Cumin Powder together.

Cut the Feta Cheese into small cubes and add them to the custard batter. Pour the batter into the pre-baked quiche pastry.

Slice each asparagus in half length -wise and place them over the quiche filling.

Bake for about 40 minutes, or until the quiche filling has set. Leave to cool down for 10 to 20 minutes before serving.
Nutrition
Calories:
438
kcal
|
Carbohydrates:
20
g
|
Protein:
9
g
|
Fat:
36
g
|
Saturated Fat:
22
g
|
Trans Fat:
1
g
|
Cholesterol:
200
mg
|
Sodium:
367
mg
|
Potassium:
113
mg
|
Fiber:
1
g
|
Sugar:
1
g
|
Vitamin A:
1308
IU
|
Vitamin C:
1
mg
|
Calcium:
148
mg
|
Iron:
2
mg