These Cheddar and Spinach Muffins make a delicious savoury baked goods that can be served as an appetiser or enjoyed as a snack. These savoury cheese and vegetable muffins are also a great lunchbox meal idea for your kids, packed with hidden veggies!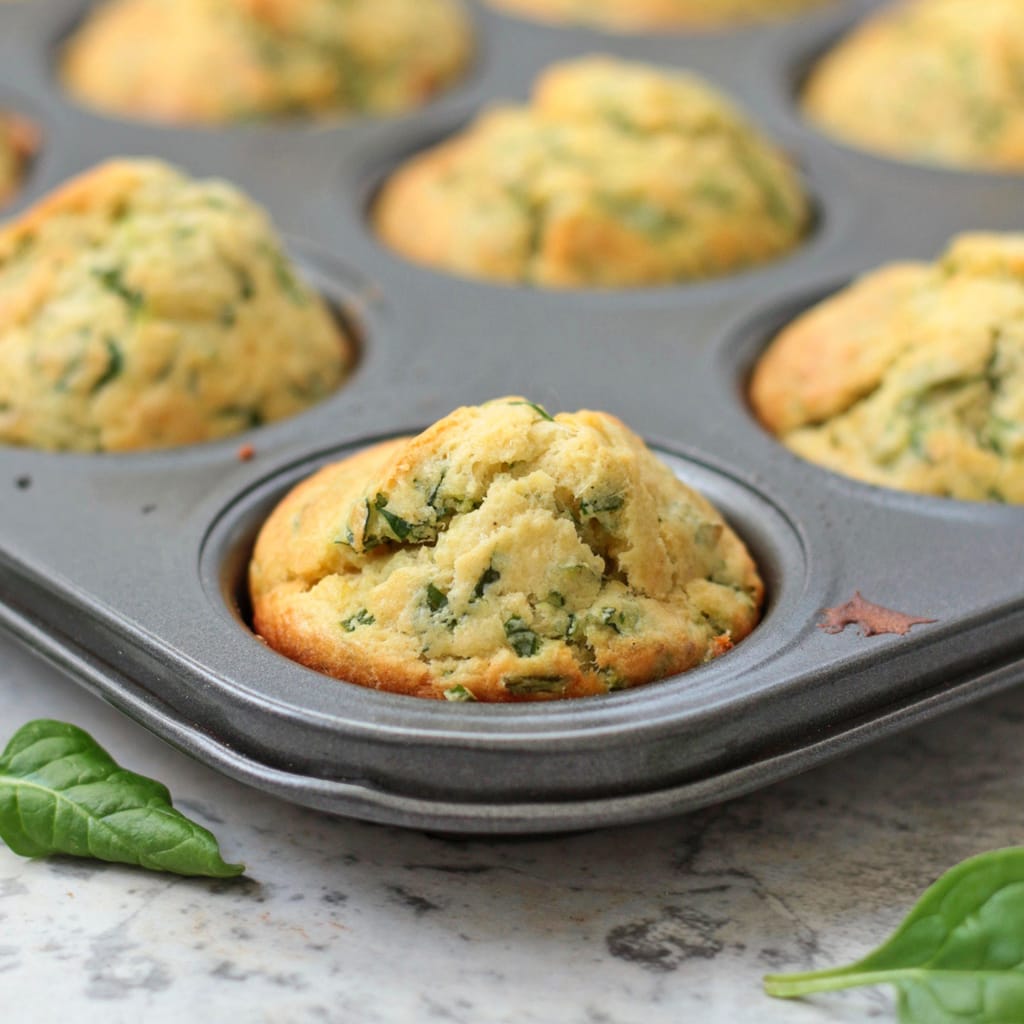 Jump to:
Why we love this recipe
There is just something about hidden veggies muffins... I don't know about you, but I love the idea of eating a small cake that is actually good for me!
Plus, the the cheddar brings a delicious cheesy taste to these healthy veggie muffins you simply won't be able to resist. I mean, isn't Cheese and Spinach a match-made in heaven? It is always a winning combo for savoury bakes like my Spinach and Feta Quiche, some Spinach and Ricotta Rolls or these Spanakopita Triangles!
Savoury muffins also make awesome healthy lunchbox muffins for kids that adults will love just as much. Just like my Goat's Cheese and Zucchini Muffins, these savoury bites fit perfectly in the lunchbox, can be made ahead and even frozen to help you meal prep!
Ingredients
These Cheese and Spinach Muffins are really simple and quick to make, and will only need a few common ingredients: Eggs, Oil, Flour,... The Sour Cream is a great way to add creaminess to the muffins and create a delicious moist crumb!
To make these Spinach and Cheese Muffins, you will need (scroll down to recipe card for all quantities):
Eggs: at room temperature
Sour Cream: also need to be at room temperature or it will create lumps when mixed in. If needed, reheat in the microwave for a few seconds!
Olive Oil: you can also use your preferred flavoured neutral cooking oil like Canola Oil
Milk: preferably full cream for the best flavour
Cheese: I used Grated Cheddar Cheese
Flour: Plain / All-Purpose
Seasoning: Salt, Pepper, Ground Cumin (optional),... you can really season these veggie muffins how you want!
Spinach: finely chopped fresh spinach
Substitutions
Sour Cream: can be substituted with Greek Yogurt
Cheese: I used cheddar that has a fairly strong taste, but you can really use any type of hard cheese or grated instead!
Fresh Spinach: You can use frozen spinach too, but it needs to be full thawed and very well drained to remove as much moisture as you want!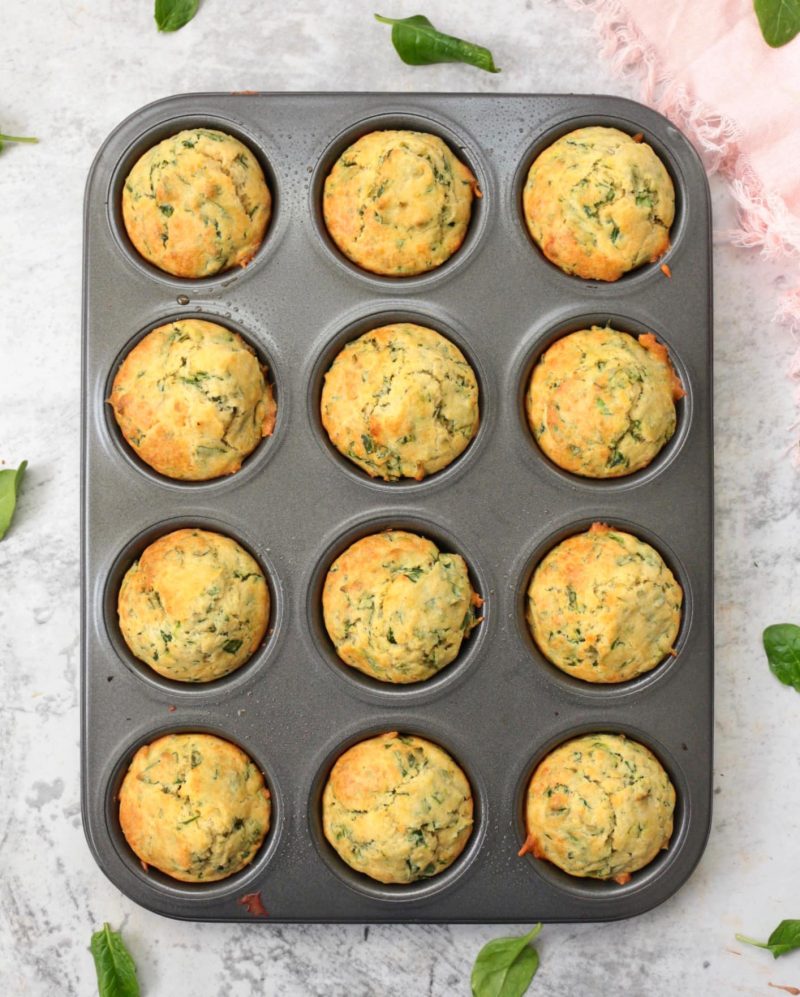 How to make Spinach Muffins
This recipe is based on a basic savoury muffin with oil recipe. To that base, you then add the spinach and the cheese.
All you need to make these Cheddar Muffins is one bowl! Yes, I know - so easy! Before starting to make the muffins, I recommend getting all of your ingredients ready.
That includes washing (if needed) and chopping your Spinach leaves and grating the Cheddar Cheese if you are using a block.
Here is how to make these Spinach Cheddar Muffins:
Wash, dry on a paper towel and thinly chop your Spinach Leaves. If using frozen spinach, make sure it is fully thawed and very well drained - you don't want to add any water to the batter.
Grate the Cheddar Cheese if needed - I grated it very thin but you can use larger chunks if you want.
In a large bowl, mix the Eggs, Sour Cream, Olive Oil, Milk and Minced Garlic (optional).
Add the Grated Cheddar Cheese and Stir.
Stir in the Flour, Baking Powder, Salt, Pepper and Cumin (or your choice of spices and seasoning).
With a spatula, gently fold in the Chopped Spinach.
Fill a greased Muffin Pan with the savoury muffin batter and bake for 15 to 20 minutes.
Note that this recipe will make 12 small Muffins, 9 large Muffins or 24 mini Muffins.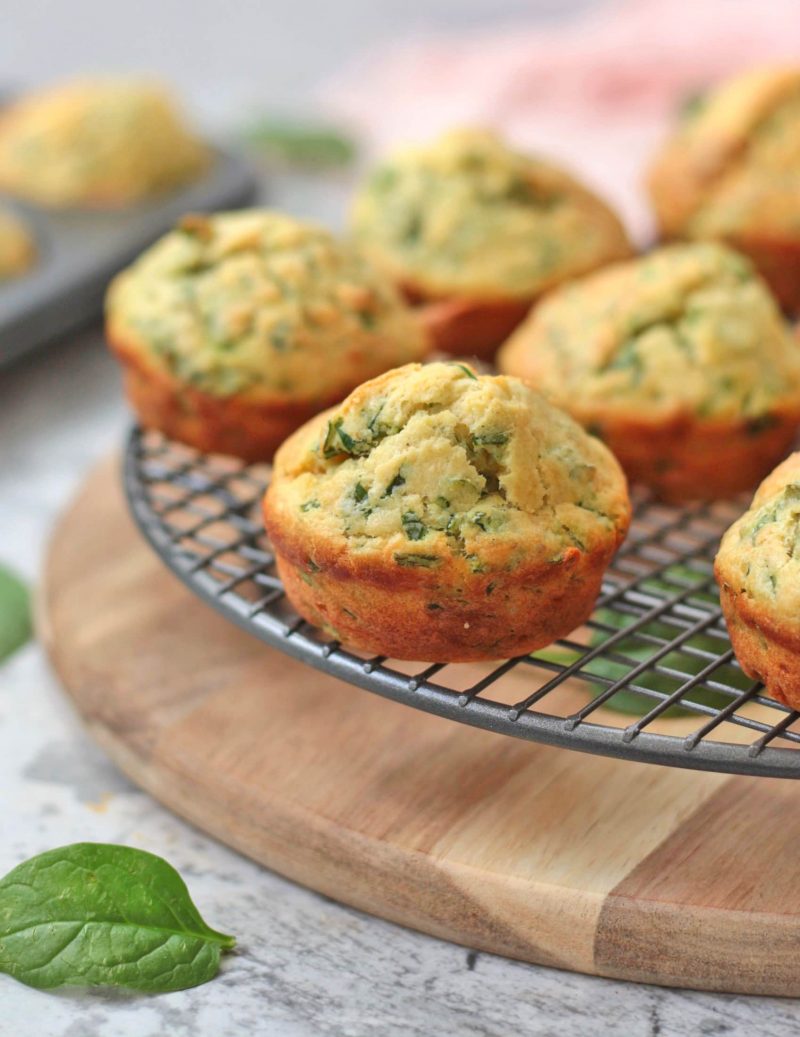 Recipe FAQs
Can I use Self-Rising Flour?
Yes, I often use self-rising flour instead of plain / ap flour to make muffins. Simply substitute the plain/ap flour for the same quantity of self-rising flour and discard the baking powder.
Can I make these muffins with frozen spinach?
I personally prefer to use fresh spinach leaves but yes, it will work with frozen spinach too. You just need to make sure it is thawed and very well drained - any added moisture or water might make the muffin batter soggy.
How to keep these Spinach Muffins
These muffins are super moist and will keep well for a few days, so they are perfect to make in advance for meal prepping!

You can either keep them in the fridge (up to 3 / 4 days) in an enclosed container or at room temperature (up to 2 days) if not too hot. If keeping at room temperature, make sure to keep them in an air-tight container.

A great tip to avoid ending up with soggy vegetarian savoury muffins when kept at room temperature is to line the container with a paper towel, and add some in between layers of muffins if needed. The paper towel will absorb the extra moisture coming out the muffins and keep them fresher!
Can you freeze these cheese Muffins?
You absolutely can - that is one of my favourite thing about veggie muffins! They can easily be made in advance and kept in the freezer for up to a few months. It is especially great if you want a healthy make-ahead lunch box recipe and have them ready to be used whenever needed.

To freeze these Muffins, leave them to cool down completely on a cooling rack first. Then, wrap them individually in a layer of cling wrap and aluminium foil and place in the freezer.

Simply take them out of the freezer the night before and leave them to thaw in the fridge. Alternatively, you can also thaw them in the microwave (stop every 30 seconds to check) or in the oven (about 5 minutes)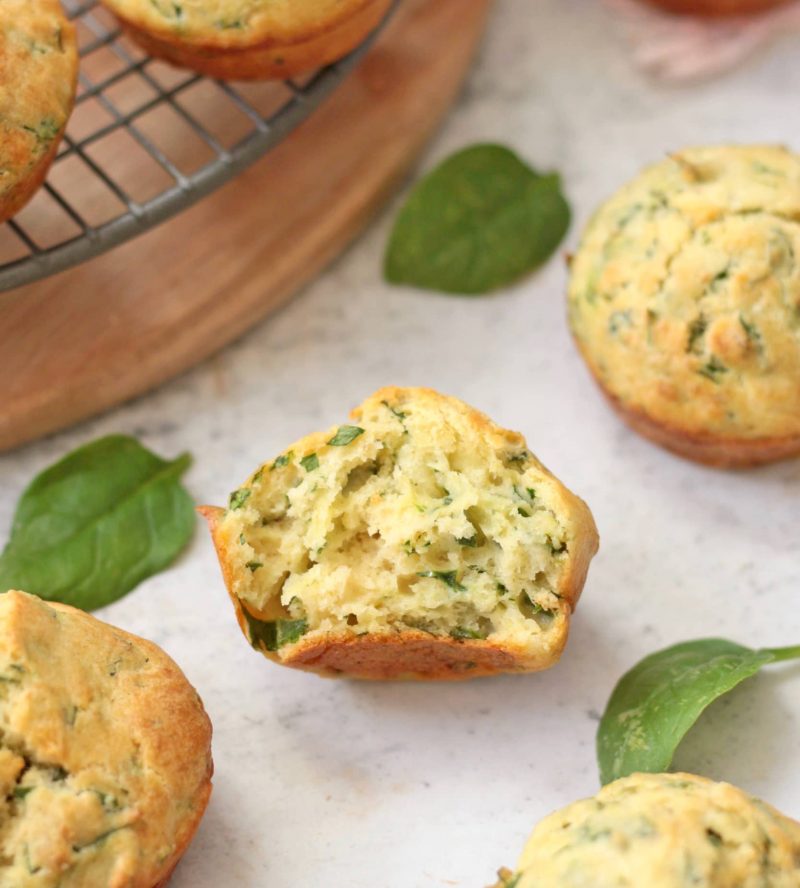 More Vegetarian Savoury Muffins Ideas
Veggie-Packed Muffins are simply a great snack to have around - and that can be used in SO many different ways!
For breakfast, morning and afternoon tea, as an appetiser, for your kid's lunchboxes, or even to replace a bread roll with your dinner!
You often find Savoury Zucchini Muffins recipes, but the possibilities are endless when it comes to adding veggies to your muffins!
Here are some other ideas of delicious savoury vegetable muffins:
You can also add more veggies to these muffin and customise them as you want! Corn, Fresh Tomatoes or even Olives would be a great addition to these muffins.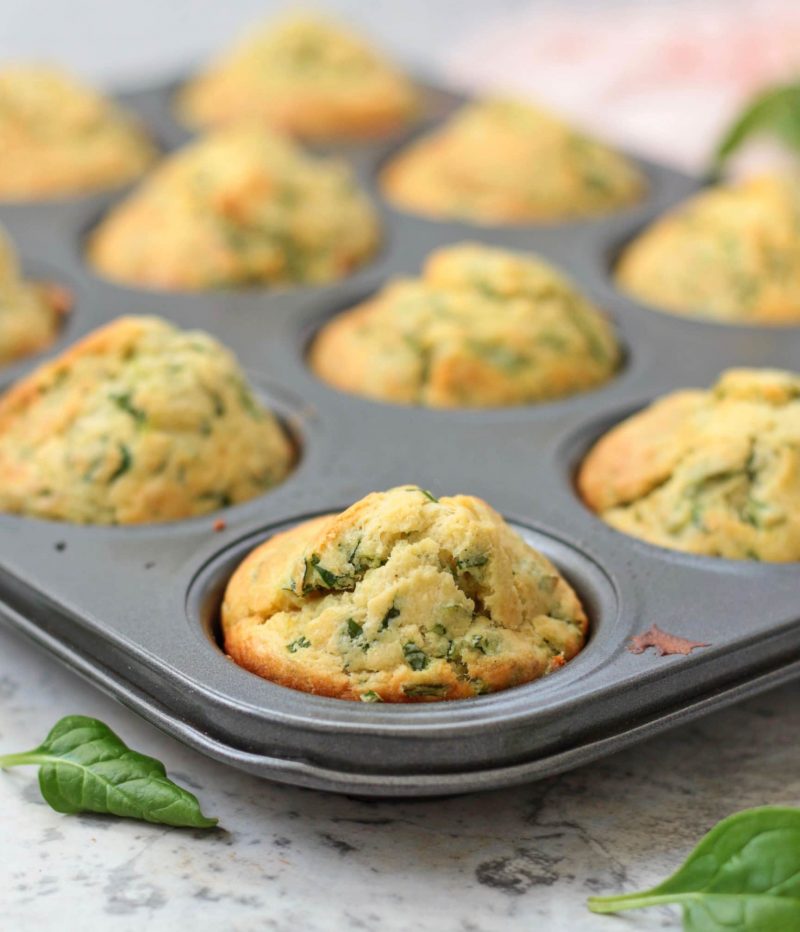 More Savoury Bakes Recipes
Made this recipe?
Let us know if you liked it by leaving a comment below, and tag us on Instagram @a.baking.journey with a photo of your creation!
Recipe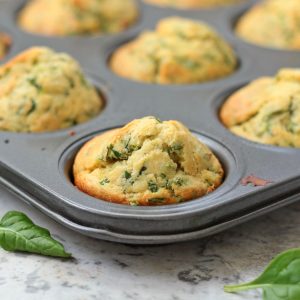 Cheddar Spinach Muffins
If you are looking for an easy healthy savoury treat, these Cheddar and Spinach Muffins are for you! Perfect for a light snack or an healthy lunchbox snack!
Print
Pin
Rate
Ingredients
2

Eggs

1/3

cup (80ml)

Sour Cream

1/3

cup (80ml)

Olive Oil

-

or your choice of vegetable oil

1/2

cup (120ml)

Full Cream Milk

1/2

teasp.

Minced Garlic (optional)

1 1/2

cup (75gr)

Cheddar Cheese, grated

1 1/2

cup (225gr)

Plain Flour

1 1/2

teasp.

Baking Powder

1/2

teasp.

Table Salt

Pepper to taste

1/2

teasp.

Cumin Powder

-

(optional)

1 1/2

cup (75gr)

Fresh Spinach, finely chopped
Disclaimer
I highly recommend using the measurements in grams & ml (instead of cups & spoons) for more accuracy and better results.
Instructions
If needed, wash the Spinach Leaves and place on a tea towel or paper towel to remove the extra water.

Preheat your oven on 180'C/350'F and grease a Muffin Pan with Oil or Butter.

In a large bowl, beat the Eggs then add the Sour Cream, Olive Oil, Full Cream Milk and Minced Garlic. Stir until combined.

Stir in the Grated Cheddar Cheese (see note 1).

Add the Plain Flour, Baking Powder, Salt, Pepper, Ground Cumin (see note 2). Whisk until combined.

Add the finely chopped Spinach and fold in with a spatula.

Optional: sprinkle some extra grated Cheddar over the muffins for more cheesiness!

Pour the muffin batter into a Muffin pan and bake for 15 to 20 minutes.
Tried this recipe? Make sure to leave a comment and star rating below!
Notes
I used finely grated cheddar cheese but any type of grated cheddar cheese will do too.
Or your choice of favourite spice mix!
Nutrition
Calories:
184
kcal
|
Carbohydrates:
16
g
|
Protein:
5
g
|
Fat:
11
g
|
Saturated Fat:
3
g
|
Cholesterol:
38
mg
|
Sodium:
222
mg
|
Potassium:
94
mg
|
Fiber:
1
g
|
Sugar:
1
g
|
Vitamin A:
746
IU
|
Vitamin C:
2
mg
|
Calcium:
111
mg
|
Iron:
1
mg
Tried this Recipe?
Leave a comment + star rating below and tag us @a.baking.journey on Instagram with a photo of your creation!