This Dairy Free and Flourless Almond Orange Cake is the most delicious, light and moist gluten free cake ever. Made from scratch with fresh ingredients, it is the perfect Passover Cake recipe... or simply a great flourless cake to enjoy every day of the year!
Jump to:
Why we love this recipe
This Gluten Free Orange Cake with Almond Meal is probably one of the easiest on the blog. Most of the recipes for and almond orange cake requires you to boil your oranges for a few hours before blending them into the cake batter... nothing like this here!
I simply used the Orange Juice, just like for my Orange Semolina Cake or Orange Tart, to make a really quick, easy and fresh cake batter. And like for many gluten-free cakes like this Pear Almond Cake and Apple and Almond Cake , I used some Almond Meal that adds not only an amazing flavour to baked goods but a great texture too.
Made with a few ingredients only, this cake will be ready to be baked in about 10 minutes!
Ingredients
Best thing about this Flourless Orange Cake is: it really only requires a handful of ingredients! Nothing fancy or hard to find here... if you love to bake and love to use almond meal, you already should have it all in the pantry!
Eggs: at room temperature, white and yolks separated.
Caster Sugar: can be replaced with brown sugar if preferred.
Orange: both the Juice and Zest.
Canola Oil: or any other unflavoured vegetable oil that can be baked
Cornstarch: or corn flour
Note that for this recipe, I used Almond Meal and not Almond Flour. Almond Meal is basically coarsely ground raw almonds, which brings a great texture to the cake. I find that Almond Flour is often ground too thinly and looses that delicious almond crunch.
How to make this Gluten-Free Orange Cake
There are four steps to make this Orange and Almond Cake. And what I love about it is that boiling oranges for 2 hours is not one of them!
lthough most recipes require you to boil full oranges, then blend them through the cake batter, this recipe only uses the juice of the orange.
So much quicker and easier, without compromising on the taste!
Here are the steps to make this Almond and Orange Cake:
Separate the Egg Whites and Egg Yolks.
Whip the Egg Whites into stiff peaks and set aside.
Whisk the Egg Yolks with the Sugar or Orange Zest.
Add the wet ingredients (Oil & Orange Juice) then the dry ingredients (Almond Meal and Cornstarch).
Gently fold in the Egg Whites into the cake batter
Pretty straight forward, isn't it? Not only the almond meal will bring a delicious moisture to the cake, the whipped egg whites will also make it super light and airy.
Orange Syrup Topping
The Orange Syrup is a big part of this recipe. It brings a delicious tangy flavour to the orange gluten-free cake, as well as a great shine!
To make the Orange Syrup, you will need:
the juice of 1 orange
a little bit or lemon juice (this is optional, but it helps to bring out the orange flavour)
some Caster Sugar
Simply place these 3 ingredients in a small pot and leave to simmer and reduce until slightly sticky. Then, pour it over the cake while still warm.
Candied Orange Peels
To finish this Orange Almond Cake, I prepared some Candied Orange Peels. This is absolutely optional, but a delicious topping idea if you want to add it!
Making Candied Orange Peels is way more simple that it seems. Whether you want to make candied oranges slices like in my Orange Glazed Spiced Honey Cake or simple candied peels like here, the process is basically the same.
First, use a vegetable peeler to get the orange peels. Try to leave as much of the white skin as possible, as it is the most bitter part of the fruit. Thinly chop the peels into long strips.
Boil the orange peels in water a couple of times, draining them well under cold water between each time. This is to remove all the bitterness.
Place the the orange juice (you can also add some orange flesh to make more of a marmalade), sugar and spices in a small pot and heat up until the sugar has dissolved. Add the blanched Orange Peels and leave to reduce until most of the liquid has evaporated.
Recipe FAQs
What is a flourless cake made of?
A Flourless Cake can be made from many different (or a combination of) ingredients that are used to replace Wheat Flour. Whipped Egg Whites, Naturally Gluten-Free Flours and/or Almond Meal - like here - are great ingredients to use to create light and fluffy cakes without wheat flour.
Is almond flour the same as ground almonds?
Basically yes - although the coarseness of the nut will vary. Almond Flour usually refers to very thinly ground almonds that resemble the texture of a flour. Almond Meal, or Ground Almonds are simply crushed less than almond flour, creating a more coarse meal.
Is almond flour good for baking cakes?
Almond Flour - or in this cake Almond Meal - is absolutely awesome for baking cake. Especially Gluten-Free ones! Almond Meal is seriously one of my favourite (and most used) baking ingredient ever.

It can be used in many different ways, from Almond Flour Peanut Butter Cookies to Almond Shortbread Cookies, Almond Cream Filling, Financiers Cakes or Pear Frangipane Tartlets.

Almond Meal does not only bring a delicious nutty flavour to your baked goods, it also provides a super moist texture to them. This ingredient is really what makes this Flourless Orange Cake so light, fluffy and moist. Delicious!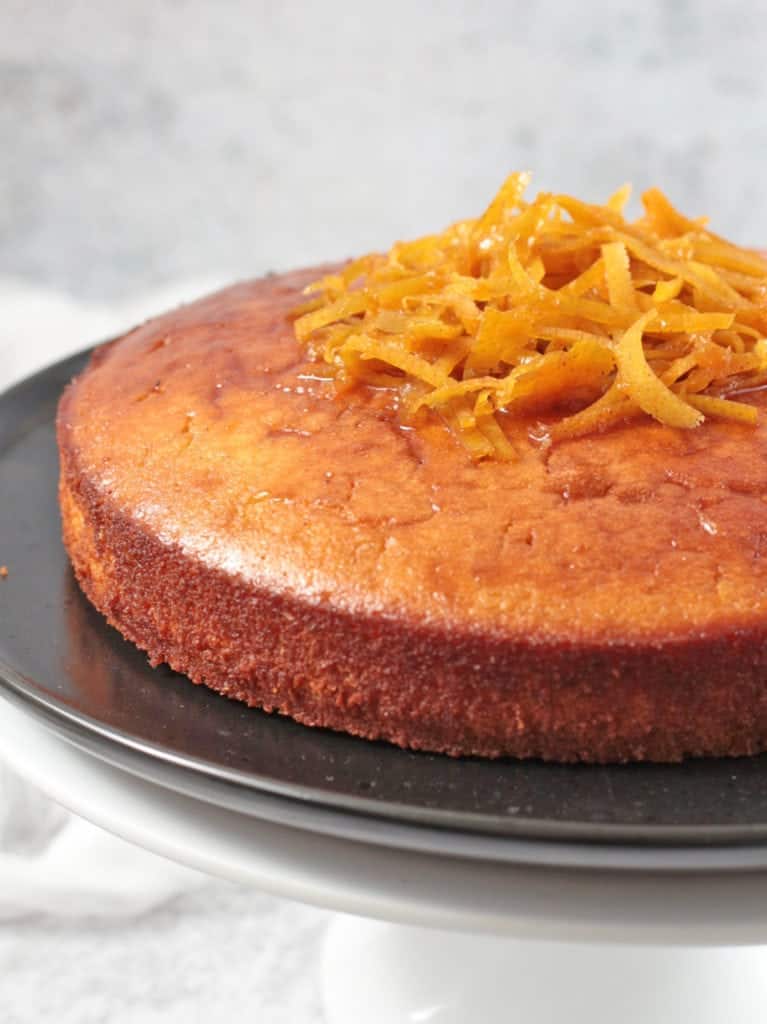 More Gluten Free Recipes Ideas
Made this recipe? Let us know if you liked it by leaving a comment and rating below! And don't forget to share your creation on Instagram with the hashtag #abakingjourney and tag @a.baking.journey
Recipe
Gluten Free Orange Almond Cake
This Dairy Free, Flourless Almond Orange Cake is the most delicious, light and moist gluten free cake made from scratch with fresh ingredients only. The Orange Almond Cake is a great Passover Cake Idea that will be equally delicious all year round!
Print
Pin
Rate
Ingredients
Orange Almond Cake
3

Eggs

80

gr (1/3 cup)

Caster Sugar

1 1/2

teaspoon

Orange Zest

-

or the zest of 2 oranges

250

ml (1 cup)

Orange Juice

-

about 2 to 3 large oranges

80

ml (1/3 cup)

Canola Oil

250

gr (2 1/2 cup)

Almond Meal

30

gr (3 tbsp)

Cornstarch
Orange Syrup
60

ml (1/4 cup)

Orange Juice

15

ml (1 tablespoon)

Lemon Juice

30

gr (2 tablespoons)

Caster Sugar
Candied Orange Peels (optional)
1

Orange - peels & juice

30

gr (2 tablespoons)

Caster Sugar

1

teaspoon

Cinnamon Powder

-

optional

1/2

teaspoon

Ginger Powder

-

optional
Disclaimer
I highly recommend using the measurements in grams & ml (instead of cups & spoons) for more accuracy and better results.
Instructions
Orange Almond Cake
Preheat your oven on 160'C/325'F. Line a 9 inch / 22 cm Springform Pan with baking paper and grease the edges.

Separate the Egg Yolks and Egg Whites.

Place the Egg Whites in a large mixing bowl or the bowl of your stand mixer and whip them into stiff peaks. Set aside.

In a separate bowl, whisk together the Egg Yolks, Caster Sugar and Orange Zest until bubbly. Mix in the Canola Oil and Orange Juice.

Add the Almond Meal and Cornstarch and mix until combined.

Gently fold in the whipped Egg Whites until the orange mixture in 3 or 4 times (see note 1).

Pour in the batter and bake for 30 to 35 minutes, or until the tip of a knife comes out clean. Remove from the oven and place on a wire rack to cool down.
Orange Syrup
While the cake is in the oven, start preparing the syrup. Place the Orange Juice and Lemon Juice in a small saucepan with the Caster Sugar. Bring to a simmer and leave to reduce for 5 to 10 minutes, or until it starts to slightly thicken.

Pour it over the warm cake when just out of the oven (see note 2).
Candied Orange Peels (optional)
Using a vegetable peeler, peel the skin of the Orange, trying to leave the white bitter parts out. Finely chop the orange peels into thin strips.

Place the orange peels in a small pot and cover with cold water. Bring to a boil and leave to simmer for 1 minute. Remove from the pot and drain through a sieve, pouring cold water over the peels to stop the cooking.

Repeat this step one more time to remove the bitterness from the peels (see note 3).

Place the orange peels back in the pot with the Orange Juice, Sugar, Ground Cinnamon and Ground Ginger. Bring to a low boil and leave to reduce until most of the liquid has evaporated. Transfer into a clean container until ready to use (see note 4).

Place over the cake before serving.
Notes
(*) Note that I used home-pressed oranges. You can absolutely substitute it with store-bought orange juice, but I highly recommend using 100% orange juice only (without any added sugar). This is to make sure you control the level of sweetness.
If you mix the batter too much here, the egg whites will deflate and the cake will be denser. Stop folding as soon as all the ingredients are incorporated.
You can pour it over the cool cake, but pouring it over the warm cake will make it absorb the syrup much better.
If you want to remove all bitterness, you can repeat this process 1 or 2 times more. The more you blanch the peels, the less bitter they will be.
If making them in advance, store them in the fridge. They will be sticky so I recommend storing them flat in a larger container.
Nutrition
Calories:
318
kcal
|
Carbohydrates:
27
g
|
Protein:
7
g
|
Fat:
22
g
|
Saturated Fat:
2
g
|
Polyunsaturated Fat:
3
g
|
Monounsaturated Fat:
6
g
|
Trans Fat:
0.04
g
|
Cholesterol:
49
mg
|
Sodium:
20
mg
|
Potassium:
109
mg
|
Fiber:
3
g
|
Sugar:
19
g
|
Vitamin A:
165
IU
|
Vitamin C:
23
mg
|
Calcium:
71
mg
|
Iron:
1
mg