Here we are. Dawn is falling earlier and earlier everyday and the temperatures have started to drop; Autumn is officially here! And it brings with it the craving for warm cakes and fragrant spices. This week, that craving was satisfied by this delicious Cinnamon Strawberry Galette.
[ReviewDisclaimer]
The use of the word "Galette" always makes me giggle a little. I don't know why. I guess I always find it funny to pronounce a French word with an English accent. And with the word Galette comes this whole concept of rustic baking and the nostalgia of grandmother's recipes.
But appart from that romantic concept, I think Galettes are especially great for one reason: their encouraged imperfections. In the world of French Tarts, you can have the perfect looking ones (yes, Chocolate Cherry Tart, I am looking at you!), and then you have the Galettes... This Strawberry Cinnamon Galette may not look perfect, but man... it is so delicious!
Maybe it's because I'm writing this article sitting next the first lit fireplace of the season, or because it's not even even 6pm and it's already dark outside, but I feel like writing this with a warm cup of tea in my hands. And I don't even like tea. Maybe it's just the Galette Syndrome!
This was my first time making a Galette and I think I just got seriously addicted. Since then, I have tried many fruit galettes, with some of my favourite being simple Apple Galette and Peach Galette!
I'm already thinking of making a Savoury version of this... I love baking savoury tarts and cake, like this Onion, Fig and Feta Tart, so you can be sure there will be a dinner version of this dessert in the near future...
Savoury Galette Recipes:
What is a Galette
Anyway, back to what matters: the food. Galettes are as versatile as tarts but in an easier, more basic way. It does not require much prep or cooking at all. Just like tarts and pie, it requires two elements:
A pastry crust
A filling, usually fruits (or veggies if you are making a savoury version)
You can basically make any pastry recipe that you would usually use to make a tart or a pie. The process is exactly the same. Simply make the pastry, let it rest in the fridge for about half an hour, then roll it into a circle.
Like mentioned above, the amazing thing about a galette is that it does not need to look perfect! An approximate circle shape will work just as good as a perfect one...
How to make a Galette
Once your pastry is rolled into a circle, just throw some chopped Fruits (or even Veggies) in the middle, fold the edges over them and voila! No need to prepare a cake batter, a curd or a mousse. It doesn't need to look perfect and it won't matter if it shrinks in the oven.
All you need is a flat baking tray, baking paper and a Rolling Pin. All kitchen essentials that I'm sure you already have in your kitchen!
Cinnamon & Strawberry Galette
I absolutely adore baked Strawberries and mixed with this crumbly and crunchy pastry, this Strawberry Cinnamon Galette is close to being the perfect dessert! I personally love Cinnamon in desserts, cakes and even breads (check out my Apple Cinnamon Pull Apart Bread!) and I believe it works perfectly with freshly baked strawberries.
You will find cinnamon in all of the different elements of this recipe. First, mixed with the Strawberries. Secondly, I added some Cinnamon Powder into the Pastry Crust directly for an extra pop of flavour and it may be my favourite element of this recipe!
If you would like a stronger Cinnamon Taste, you can also sprinkle some over the Galette before placing in the oven like I did. It will create a nice colour on the dough as well.
This Strawberry Cinnamon Galette can easily be made in advance but make sure you place it back in the oven for a few minutes before serving it. It is even better enjoyed warm! And why not add a scoop of Vanilla Ice Cream to go with it!?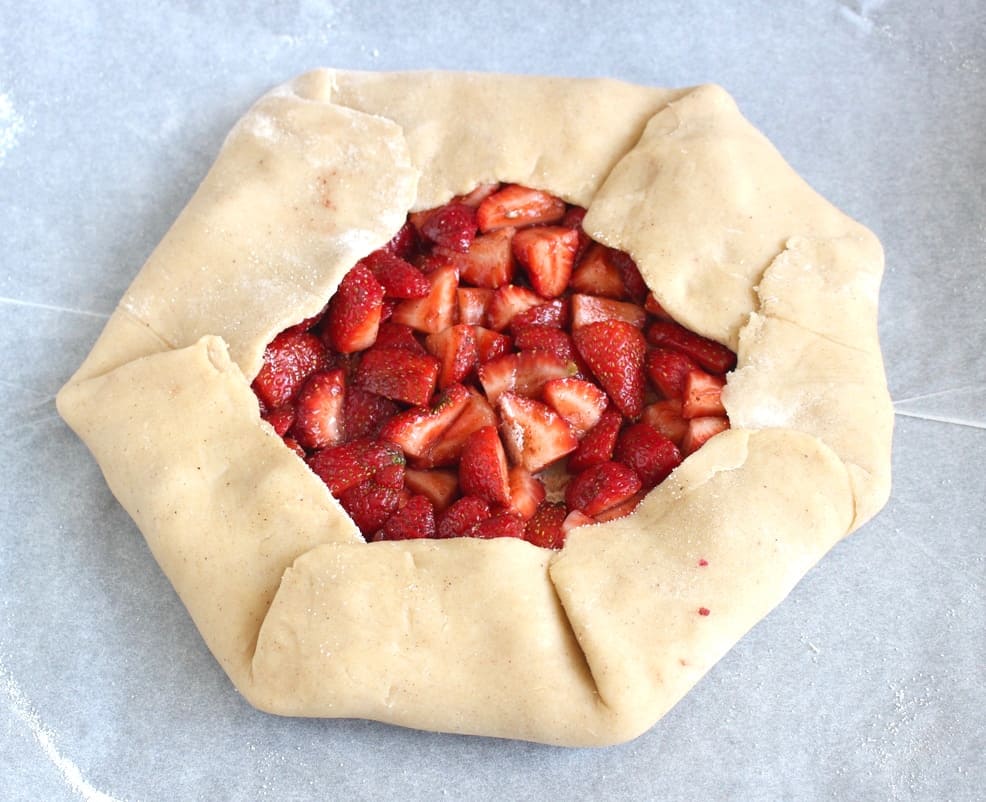 More Tarts and Pies Ideas:
Blackberry Panna Cotta Tart with Passion Fruit
Strawberry Galette with Cinnamon Pastry Recipe:
Recipe
Strawberry Cinnamon Galette
Nothing says Fall Dessert this delicious Strawberry Cinnamon Galette. The warm Strawberries mixed with a cinnamon-y, crumbly pastry is simply delicious!
Print
Pin
Rate
Ingredients
For the Pastry Crust
1 1/2

cup

Plain Flour

1

tbsp.

Brown Sugar

2/3

cup

Butter at room temperature

-

or 160gr

1

teasp.

Cinnamon Powder

2

tbsp.

Water
For the Filling
17

oz

Strawberries

-

or 500gr

1

teasp.

Cinnamon Powder

1

tbsp.

Butter

1

tbsp.

Semolina Flour

-

Optional
Disclaimer
I highly recommend using the measurements in grams & ml (instead of cups & spoons) for more accuracy and better results.
Instructions
To make the Pastry Crust
Mix the Flour, Sugar and Cinnamon Powder in a large bowl.

Add the Butter at room temperature, quickly mix with the Flour then rub the dough between your palms to form a thin crumble texture.

You want the Butter to be warm enough to spread around the Flour but cold enough that it is not melting.

Add the Water, one spoon at the time while kneading the dough.

When a uniform ball of dough as formed, stop adding water.

If too sticky, add a little bit more Flour. If too dry, a bit more water.

Wrap the Dough and leave in the fridge to rest for at least 30minutes to an hour.
To Assemble the Galette
Turn on the oven on 180°C (350°F).

Place a sheet of Baking Paper on your kitchen bench then start rolling the pastry on it with your rolling pin. Sprinkle more flour if needed.

You do no need to get a perfect shape, but try to make something round. The dough needs to be not too thick , nor to thin.

Optional: sprinkle the Semolina Flour over the dough before placing the Strawberries. It's a great tip to make sure the dough below the Fruits doesn't get soaked in the Strawberries Juice.

Cut the Strawberries in quarters, place them in a bowl and mix with the Cinnamon. I would also recommend to taste a strawberry and consider whether or not you want to add some sugar. Mine were really sweet so no need for extra sugar!

Place the Strawberry in the center of the dough, then fold each side on top of the strawberries.

Optional: add a little bit of butter to the strawberries where not covered by the dough for a nice shine.

Optional: Sprinkle more cinnamon over the Galette before putting in the oven.

Bake for 25 to 30 minutes, or until golden brown.

Make sure the dough as cooked throughout with a knife before turning off the oven.

Let it cool down a bit before serving, or serve cold.
Tried this recipe? Make sure to leave a comment and star rating below!
Nutrition
Calories:
357
kcal
|
Carbohydrates:
35
g
|
Protein:
4
g
|
Fat:
23
g
|
Saturated Fat:
14
g
|
Polyunsaturated Fat:
1
g
|
Monounsaturated Fat:
6
g
|
Trans Fat:
1
g
|
Cholesterol:
60
mg
|
Sodium:
180
mg
|
Potassium:
172
mg
|
Fiber:
3
g
|
Sugar:
6
g
|
Vitamin A:
702
IU
|
Vitamin C:
47
mg
|
Calcium:
30
mg
|
Iron:
2
mg
Tried this Recipe?
Leave a comment + star rating below and tag us @a.baking.journey on Instagram with a photo of your creation!