Super quick to make and with 3 ingredients only, this Stewed Rhubarb Recipe makes a delicious fruity sauce that can be used to top your favourite desserts, cakes, yogurt or sweet breakfast dishes!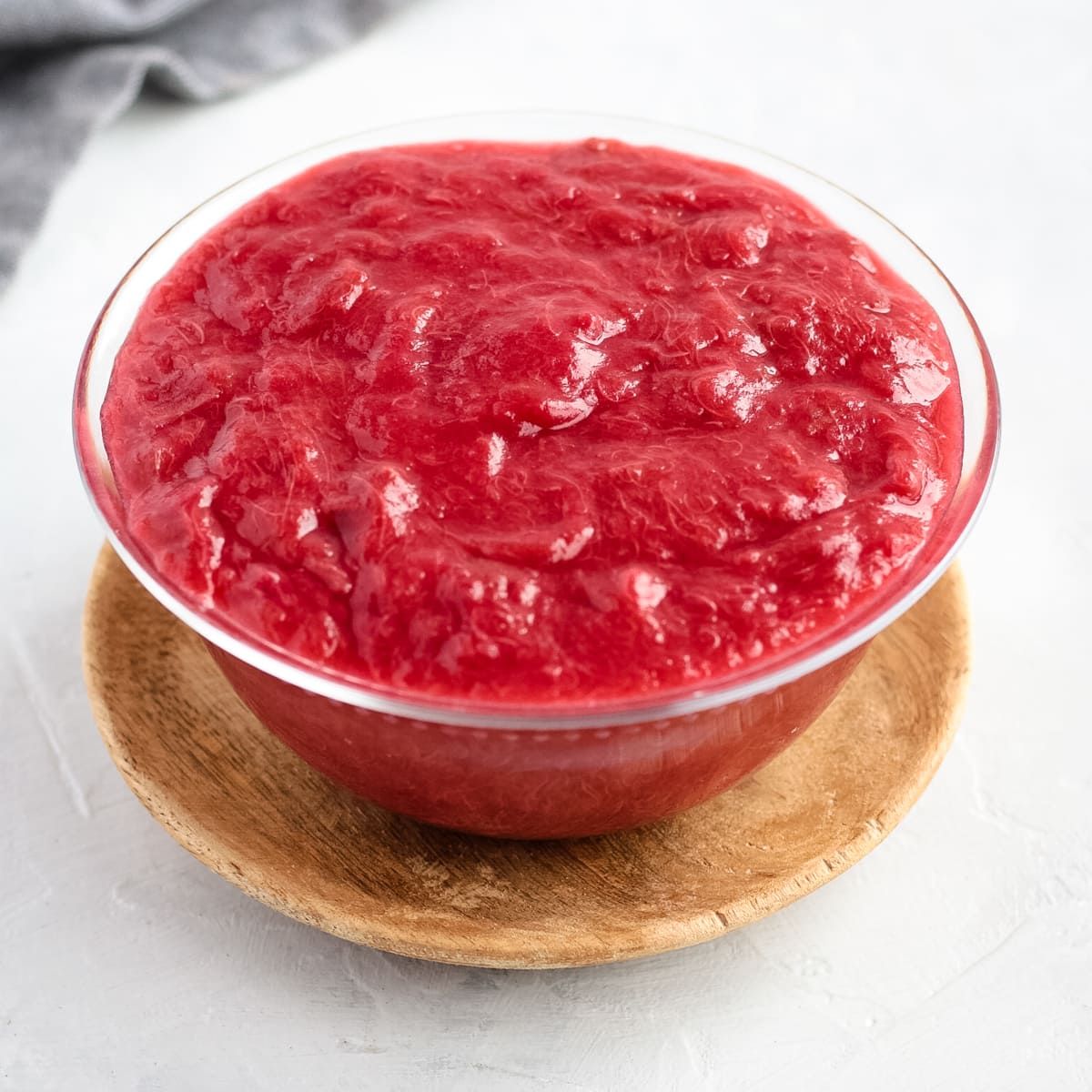 Jump to:
Why we love this recipe
Got some fresh rhubarb and looking for a quick and easy rhubarb recipe? This rhubarb compote is for you! Making stew is one of the best ways to cook rhubarb if you ask me. It is so quickly made and create an absolutely delicious rhubarb sauce that is super versatile.
Made with 3 ingredients only, this is simply the best stewed rhubarb recipe ever. Just like Stewed Pears in Winter, this recipe can easily be customised with the addition of your favourite spices, condiments or even fruits!
I used this stew to make a Rhubarb Custard Tart and it was absolutely delicious. It will also be great over ice cream, with fresh fruits or as a breakfast and dessert topping!
Rhubarb Stew Ingredients
3 Ingredients is all it takes to make this recipe (scroll down to recipe card for all quantities):
Very, very simple, right!?
You can use any type of rhubarb you want for this recipe. The one I find here is Red Rhubarb, but Green Rhubarb will work fine as well.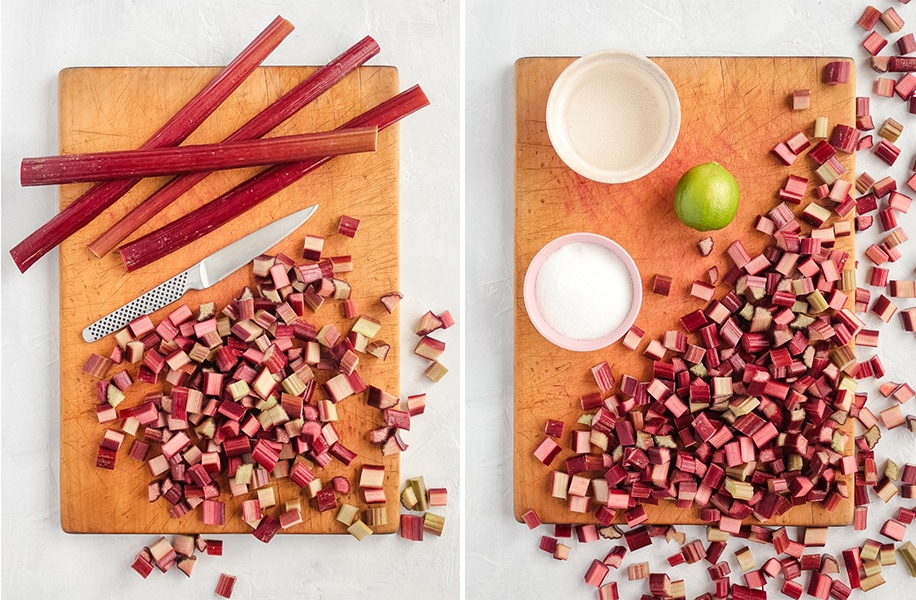 Optional Additions
I personally LOVE to add Lime Juice and Zest to this stew as it brings a delicious tang, but it is completely optional. You can also use Lemon instead, or Oranges if you'd prefer something sweeter.
Other fruits like Strawberries or Apples could also be used to make this stew.
Many spices will also work perfectly with this recipe. Ground Ginger always makes a delicious addition to Rhubarb, but many other spices will work very well too such as Cardamom or Nutmeg.
For the rhubarb compote I used in my Rhubarb Custard Tart, I used Cinnamon and Star Anise. It brought a delicious warm flavour to the fruits!
The combinations and possibilities are infinite!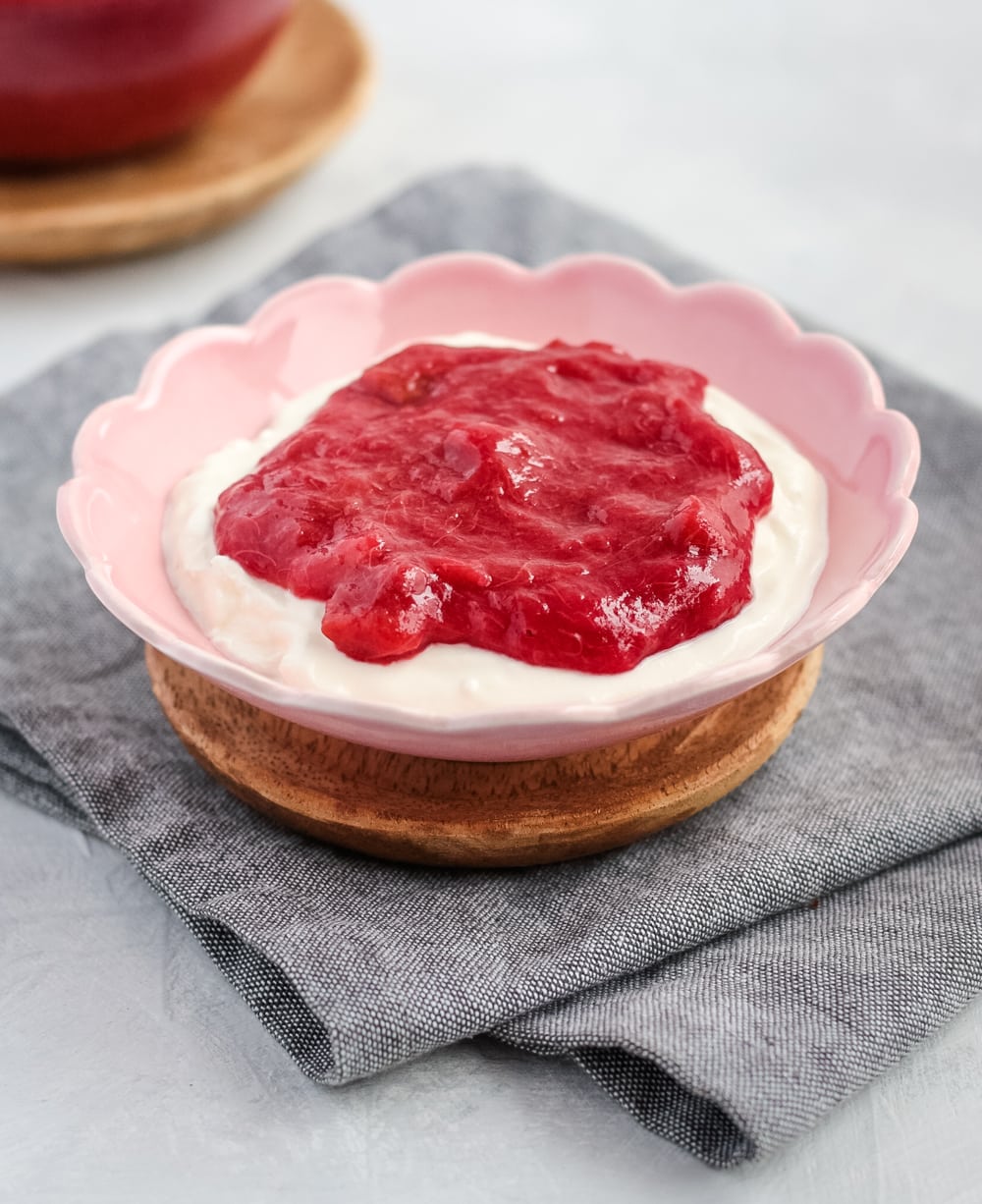 How to stew Rhubarb
The best way to stew rhubarb is to simply put all the ingredients in a small pot and let the heat do the work. It's that easy!
First, wash the Rhubarb and remove the bottom of the stalks and the leaves (they are poisonous - never eat rhubarb leaves!).
Slice the Rhubarb Stalks into small pieces - the smaller they are cut, the faster they will cook.
Place the sliced Rhubarbs into a small pot and cover with the Water and Caster Sugar. Give it a quick stir so that the sugar is evenly distributed.
Optional: the the juice and zest of a Lime and mix it in.
Turn on a low to medium heat and leave to simmer for 10 to 15 minutes, regularly stirring. Depending on how ripe the fruits are, you might need to cook it for longer.
I recommend to taste the stew once it is cooked and adjust the Sugar level if needed. Some rhubarb are more tarts than other, so you might need to add more sweetness to it. Simply stir in a little bit more sugar and let it dissolve into the sauce.
The rhubarb stew is ready when the fruits have broken apart and start to form a thick sauce with small chunks of fruits. You can leave it to cook for longer if you want the stew to reduce more and have no more rhubarb chunks. It is completely up to you.
To have a completely smooth sauce, you can also blend the stew with an immersion blender than pour it through a thin-mesh sieve to keep a smooth liquid sauce only.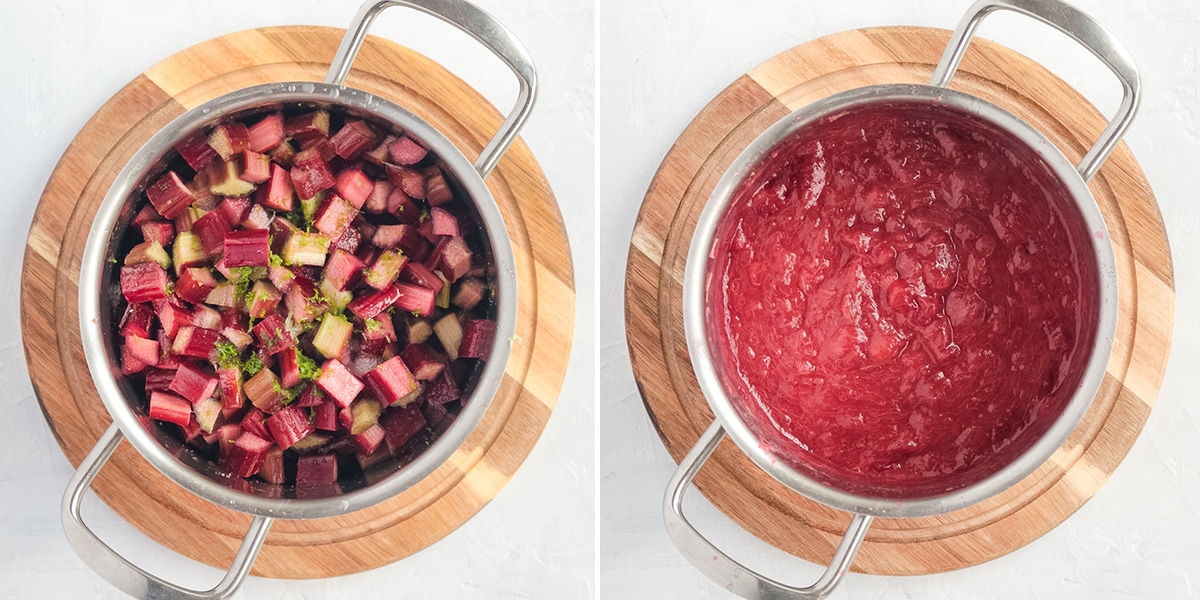 Recipe FAQs
Can I use frozen Rhubarb?
Yes, you can use frozen rhubarb if you have some. Place them directly in the pot with the rest of the ingredients and increase the cooking time to allow for them to thaw on the stove.
Should you peel rhubarb?
The rhubarb I use did not need to be peeled, but that just really depends on your rhubarb. If your fruits are rather stringy and tough, then yes you should peel the rhubarb for a nicer texture.
Can I make this recipe with No Sugar?
If you are looking for a more healthy stewed rhubarb recipe, it can actually be made without sugar. You can make stewed rhubarb with Honey, Maple Syrup, Agave Syrup for example (or your choice of natural liquid sweetener) or even with unrefined Coconut Sugar.

The stew will have more liquid in it though, so you might have to cook it for longer to allow for extra moisture to evaporate and create a thicker sauce.
Can I can or preserve it?
No, this recipe is not made to be preserved or canned. There is not enough sugar in it to safely preserve it at room temperature for long period of time, so it should be kept in the fridge.
Storing the fruit stew
Once the rhubarb has cooked, leave it to cool down. Then transfer it into a clean, sealed jar or clean container and keep it in the fridge. I simply used an old jam jar to store the stew.
This recipe will keep for 1 to 2 weeks in the fridge.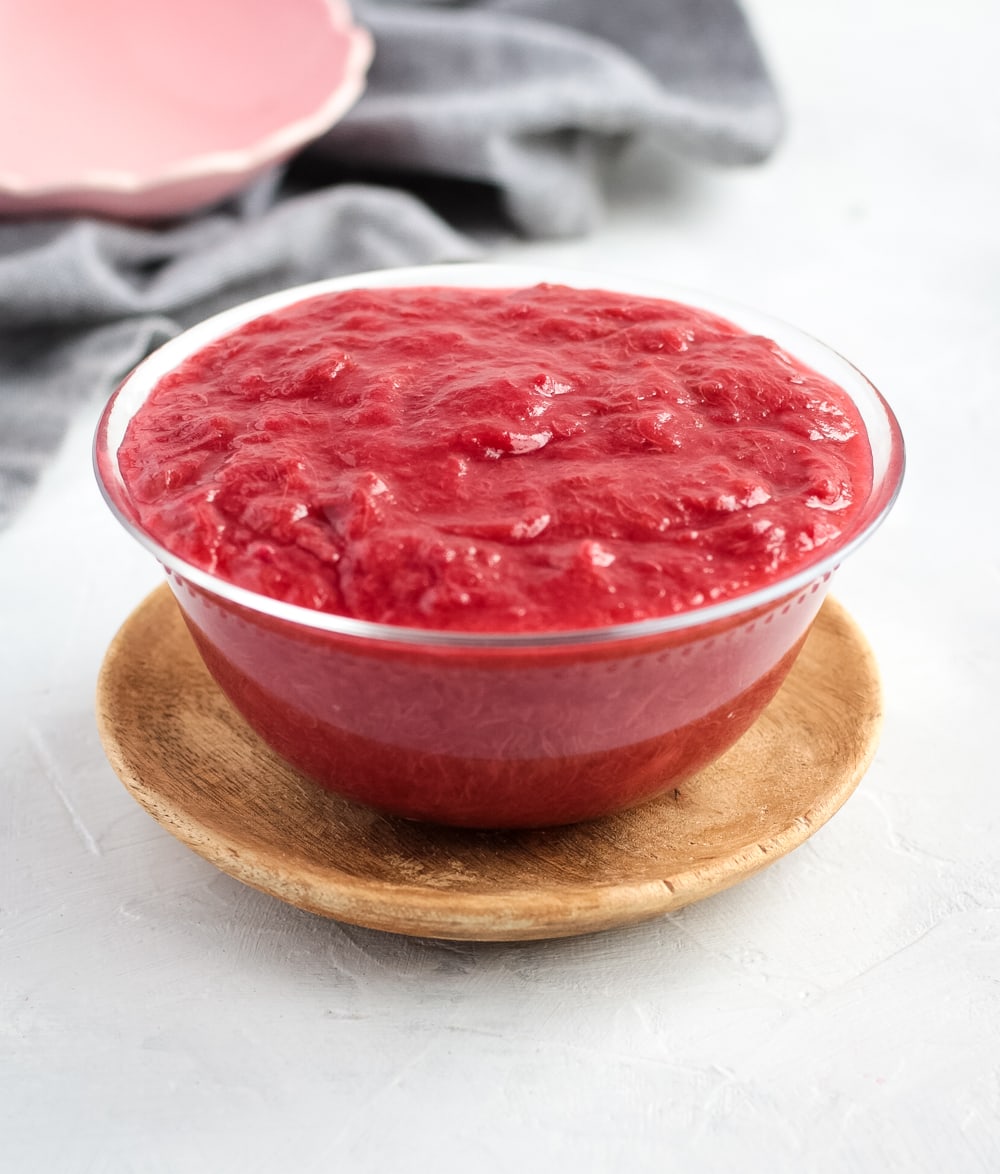 Can I freeze this rhubarb sauce?
Made this recipe in advance or during the short rhubarb season and wondering if you can freeze stewed rhubarb for later? The answer is: absolutely!
Freezing stewed rhubarb is very easy. Once the sauce has completely cooled down, transfer it into a freezer-friendly container or freezing bag. You can also freeze it in small portions using an ice tray for example.
It will keep fresh in the freezer for up to 3 months (but could be kept frozen for much longer if you want).
How to use this Rhubarb Compote
There are SO many delicious ways to use this rhubarb sauce. My favourite (and most simple) way to eat this stewed rhubarb is with Greek Yogurt. But the possibilities are infinite!
What to do with stewed rhubarb:
drizzle it over Yogurt, Ice Cream, Custard, Puddings,...
use it as a Tart or Cake Filling / Topping
enjoy it as a topping for Pancakes, Waffles, French Toast,... anything breakfast!
serve it with Granola or Muesli
pour it over Cheesecake
eat it with fresh fruits like Berries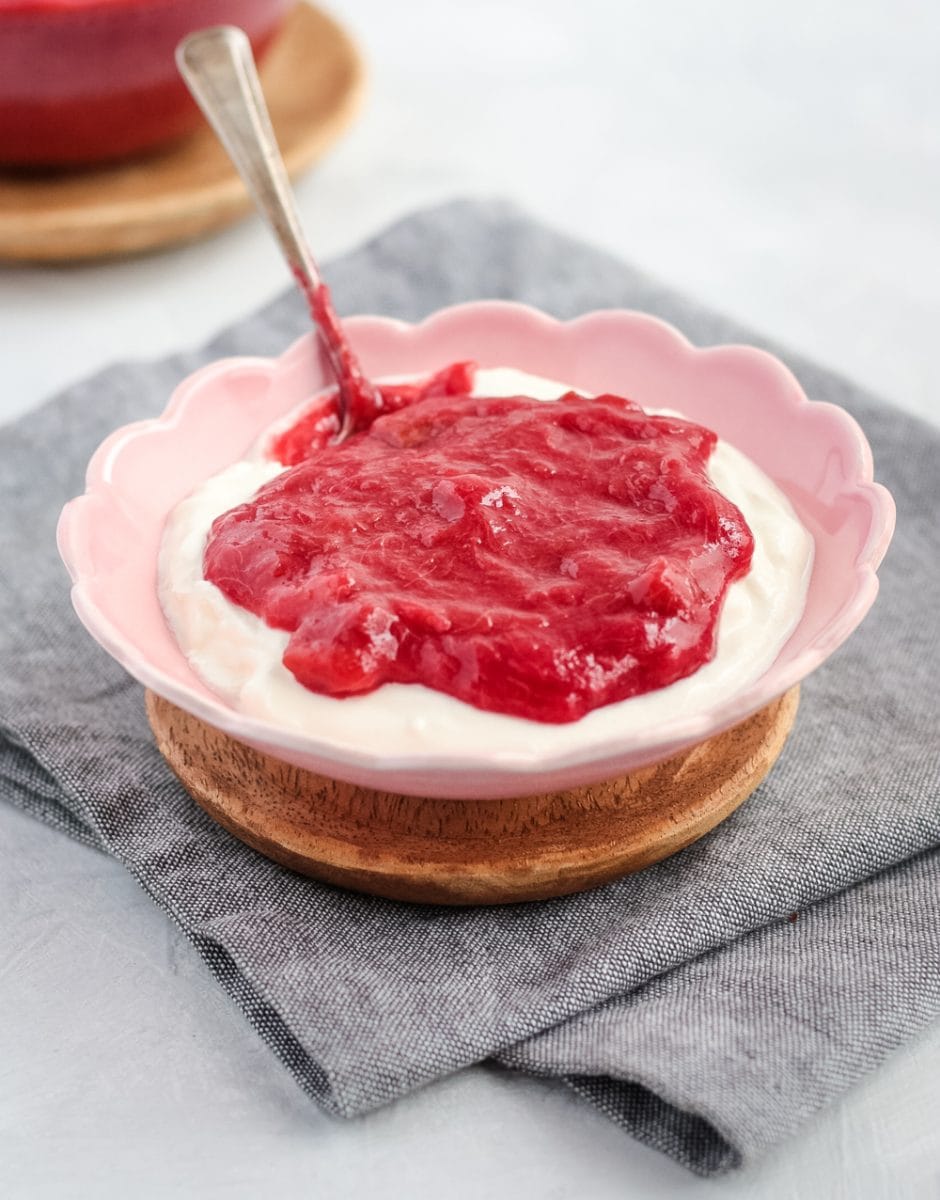 More Toppings & Sauces
Made this recipe?
Let us know if you liked it by leaving a comment below, and tag us on Instagram @a.baking.journey with a photo of your creation!
Recipe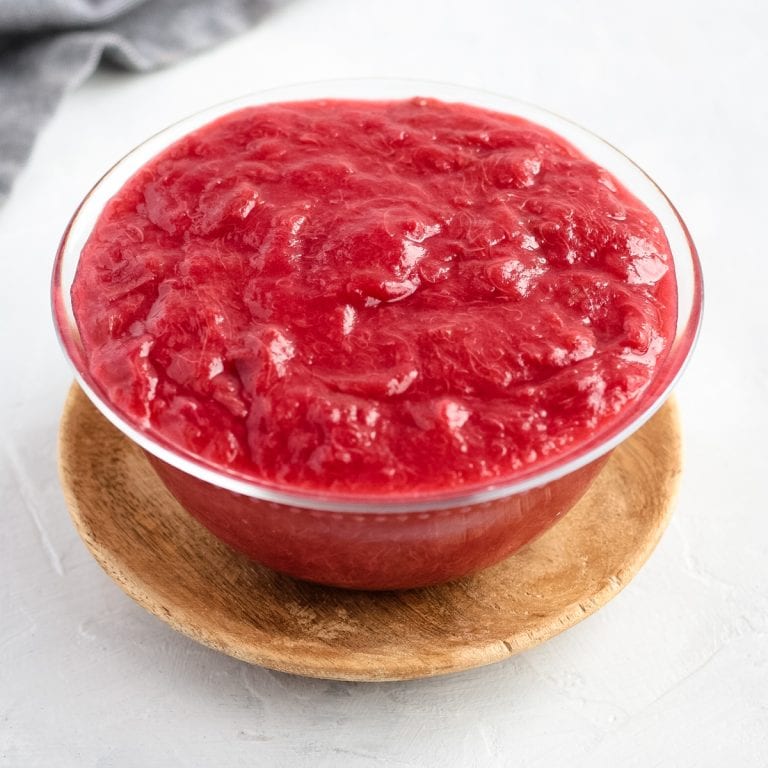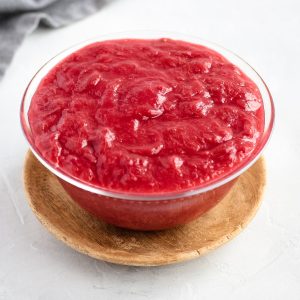 Stewed Rhubarb
Super quick to make and with 3 ingredients only, this Stewed Rhubarb Recipe makes a delicious fruity sauce that can be used to top your favourite desserts, cakes, yogurt or sweet breakfast dishes!
Print
Pin
Rate
Ingredients
500

gr (1 lb)

Fresh Rhubarb

120

ml (1/2 cup)

Water

80

gr (1/3 cup)

White Sugar

-

(*)

1 Lime - Juice & Zest - optional
Disclaimer
I highly recommend using the measurements in grams & ml (instead of cups & spoons) for more accuracy and better results.
Instructions
Wash the Rhubarb and discard the bottom of the stalks and leaves.

Slice the Rhubarb into small pieces and place them in a medium size Pot. Add the Water, Sugar and Lime Juice & Zest (optional). Stir to combine.

Place on the stove on low to medium heat and leave to simmer for about 15 minutes, or until the rhubarb pieces are breaking apart (1), occasionally stiring. The stew is ready once most of the rhubarb chunks have turned into a thick sauce (2).

Remove from the heat and leave to cool down completely, then transfer into a sealed jar. Keep in the fridge for up to 2 weeks.
Tried this recipe? Make sure to leave a comment and star rating below!
Notes
Depending on the type of rhubarb you use and how ripe it is, the cooking time might vary. The rhubarb will naturally break apart and turn into a thick sauce when ready. The time of cooking also depends on the consistency you are looking for;
- stop the cooking as soon as the stew comes together if you want a more liquid sauce
- keep cooking the fruits and leave it to reduce for a few more minutes if you want a thicker sauce
After 15 minutes, most of my rhubarbs had turned into a sauce but I still had a few small pieces of fruits, which I like. If you want a smoother sauce, you can cook it for longer until all the fruits have broken apart.
(*) Note that some rhubarb can be naturally sweet while others are more tart. I recommend tasting the stew once it is cooked and adjust the sweetness level if it tastes to sour to your. Simply add a little bit more sugar (start with 1 tbsp) and stir it in the warm sauce until dissolved.
Nutrition
Calories:
435
kcal
|
Carbohydrates:
110
g
|
Protein:
5
g
|
Fat:
1
g
|
Saturated Fat:
1
g
|
Sodium:
28
mg
|
Potassium:
1508
mg
|
Fiber:
11
g
|
Sugar:
86
g
|
Vitamin A:
510
IU
|
Vitamin C:
60
mg
|
Calcium:
452
mg
|
Iron:
2
mg
Tried this Recipe?
Leave a comment + star rating below and tag us @a.baking.journey on Instagram with a photo of your creation!