These Red Wine Poached Pears make a perfect warm, comforting and easy Winter dessert. The Spiced Pears poached in Red Wine are super easy and quick to make and will be a great dinner party dessert to serve this Winter or for the Holidays!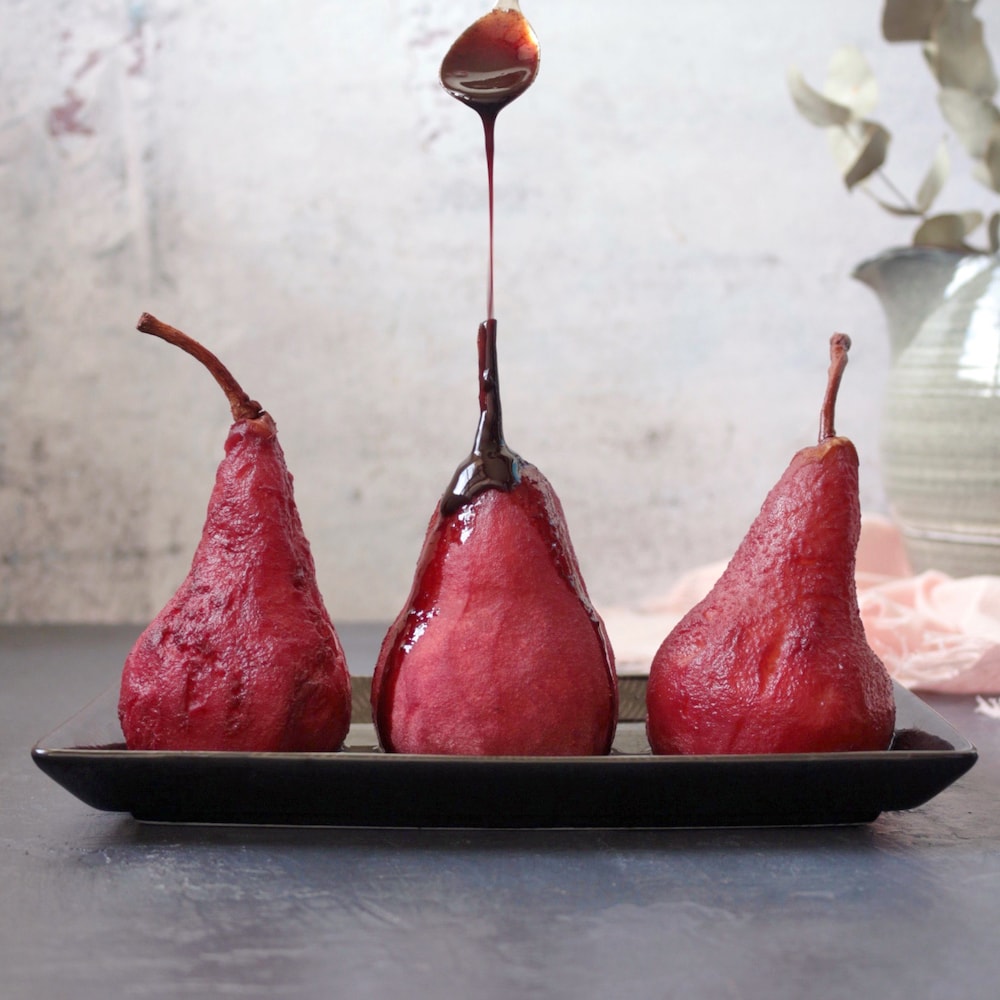 Jump to:
Why we love this recipe
Poached Pears is always a show-stopping dessert if you ask me - no wonder it is a real classic French recipe! Not only extremely easy to make, French Poached Pears, Stewed Pears or Pear Compote are full of flavours and fill your house with a divine smell.
They are the perfect winter dessert to serve at the end of a dinner party. And what I love the most about this recipe is that... well, there really isn't a right or wrong recipe here. You can use any spices, fruits or ingredients to flavour your poached pears.
You can also use Poached Pears over Tarts like my Pear Frangipane Tartlets or to make Red Wine Pear Tarte Tatin!
The quantity of the red wine, and the ratio of wine-water is entirely up to you, whether you want a softer or stronger taste. For a burst of red wine flavour, forget the water.
For something a bit lighter, increase the quantity of water. The recipe below is my favourite version of this classic dessert; full of winter spices, citrus notes and rich, sweet red wine. I hope it becomes yours too!
Ingredients
The main ingredients to make poached pears in red wine are obvious: Red Wine and Pears. Although you could technically poach the pears with these two ingredients only, the addition of spices and lemon juice really make the difference!
To make these Pears poached in Red Wine, you will need (Scroll down to recipe card for all quantities):
Pears
Red Wine (see below for the type of red wine)
Water
Lemon Juice
Brown Sugar
Orange Peels
Spices
How to Poach Pears in Red Wine
"Poaching" is a technique that involves cooking an ingredient by submerging it in a liquid - here a mix of red wine and water. Lots of different ingredients - both sweet and savoury - can be poached.
It is often known as a healthier way of cooking as it does not require any added fat like butter or oil.
Poach Pears in Mulled Wine is extremely easy to make:
Create a poaching liquid with your choice of ingredients, spices and flavouring. Here, we used Red Wine, Water, Brown Sugar, Lemon Juice, Orange Peels and a few different Spices.
Peel the Pears. You can either poach the full pears with the stem, or slice it in half or quarters and removing the stems and core.
Place the poaching liquid in a deep pot and bring to a simmer, then submerge the pears in the liquid. Leave it to cook on a low to medium heat until nice and soft, but still holding its shape. Remove the pears from the liquid.
Optionally, keep the rest of the poaching liquid, increase the heat and reduce it to create a deliciously flavourful syrup.
Recipe FAQs
How long do Pears take to Poach?
It is hard to give an exact time as it will highly depend on how ripe your pears are, the variety you use and how soft you want them. It will also depend on the temperature of the poaching liquid.

I have found that with un-ripe pears, it will take about 20 to 30 minutes to poach them in a simmering poaching liquid, and get a soft poached pear that still holds its shape. As always, it is best to keep an eye on them and occasionally poke a sharp knife in the pears flesh to check how soft they are.
What kind of Pears are best for Poaching?
The key to get the perfect result is to choose a Pear that is not quite ripe and that will hold its shape even after poaching for 30 minutes. You also want a pear that is relatively sweet to balance the spiced red wine has a rather strong flavour.

The best pears to use for poaching are: Beurre Bosc Pears, Corella Pears, Packham Pears, Anjou Pears.

There are also a few variety of pears you should definitely avoid as they will turn into a compote when poached: Williams Pears, Bartlett Pears or really... any any pear that is over-ripe!


Do pears need to be ripe for poaching?
Yes - and No. You want a fruit that is ripe enough to be naturally sweet, but if you use pears that are too ripe, two things may happen:
- You won't be able to peal them - they will break apart when you try to peal them
- They will fall apart and/or become very soggy when poached.
What Wine to use to poach pears?
My first advice in choosing the right wine is... don't go for an expensive one! All the flavours of the citrus and spices will create a deliciously fragrant syrup so there is no need to spend big bucks on the wine itself.

The type of red wine you use is entirely up to you, depending on the flavours you are looking to create but I personally prefer to use a sweet Red Wine with spicy and fruity tones.

For example: Shiraz Cabernet (what I used for this recipe), Merlot, Cabernet Sauvignon.
Storing & Serving
How long can you keep Poached Pears?
If you are not serving the pears straight away, remove from the poaching liquid and leave them to cool down completely. Then place in an air-tight container and store in the fridge for up to 2 days.
Can you freeze this dessert?
I do not recommend freezing this dessert, as they will tend to become soggy when thawed. Spiced poached pears are always better when served fresh!
Should Poached Pears be served hot or cold?
The classic French dessert is usually served warm - but it is obviously up to you! If served on its own as a dessert, I recommend serving it warm. If you have any leftovers though, they could be great served cold for breakfast with muesli or even yogurt for example!
Made this recipe?
Let us know if you liked it by leaving a comment below, and tag us on Instagram @a.baking.journey with a photo of your creation!
Recipe
Red Wine Poached Pears
These Red Wine Poached Pears are an iconic Winter Dessert. The super easy spiced fruit recipe is simply great way to end a dinner party!
Print
Pin
Rate
Servings:
4
Poached Pears
Ingredients
4

Pears

3

cups (750ml)

Red Wine

2

cups (500ml)

Water

1/3

cup (60gr)

Brown Sugar

1

Orange, Peels only

1/2

Lemon, Juiced

1/2

tbsp

Cinnamon Powder

-

or 3 Cinnamon Sticks

6

Star Anise Pods

1/2

teasp.

Ground Nutmeg

1/2

teasp.

Ground Ginger
Disclaimer
I highly recommend using the measurements in grams & ml (instead of cups & spoons) for more accuracy and better results.
Instructions
Carefully peel the full Pears, leaving the stem intact. Cut the bottom of the fruit so that they can stand in the pot, then set aside.

Wash the orange then gently peel its skin. Try to keep the orange peels only and remove any of the bitter white membrane. Cut the orange peels into large strip.

Place all the ingredients except the Pears in a large deep pot. Place on the stove and bring to a simmer to dissolve the Brown Sugar.

Add the peeled Pears into the liquid and leave to simmer for 20 to 30 minutes, depending on how ripe your pears are. Make sure to gently turn the fruits if the liquid does not fully submerge them so that they cook evenly.

To check if the fruits are ready, prick with the tip of a knife: the fruit should be soft but still hold its shape.

Remove the Pears from the liquid and place on a cooling rack standing up to cool. In the meantime, discard about half of the cooking liquid (see note 1) and increase the heat of your stove. Leave for 10 to 20 minutes to reduce into a thick syrup. Make sure to keep an eye on it so that it doesnt burn. Pass the syrup through a thin-mesh sieve to remove the orange peels and star anise pods.

To serve, place each pears on an individual plate and pour some of the red wine syrup on the fruit. Optionally, add some whipped cream or vanilla ice cream to finish the dessert.
Tried this recipe? Make sure to leave a comment and star rating below!
Notes
You can keep the discarded liquid to make Sangria or enjoy as Mulled Wine for example
Nutrition
Calories:
339
kcal
|
Carbohydrates:
53
g
|
Protein:
1
g
|
Fat:
1
g
|
Saturated Fat:
1
g
|
Sodium:
21
mg
|
Potassium:
500
mg
|
Fiber:
7
g
|
Sugar:
37
g
|
Vitamin A:
57
IU
|
Vitamin C:
19
mg
|
Calcium:
77
mg
|
Iron:
2
mg
Tried this Recipe?
Leave a comment + star rating below and tag us @a.baking.journey on Instagram with a photo of your creation!