These Easy Nut-Free Florentine Cookies dipped in Dark Chocolate are the Cookies Recipe you didn't know you needed in your life... but won't be able to live without anymore! Chewy yet crunchy, sweet and bitter, they are the best little sweet treat for Christmas and the Holiday season - and the rest of the year!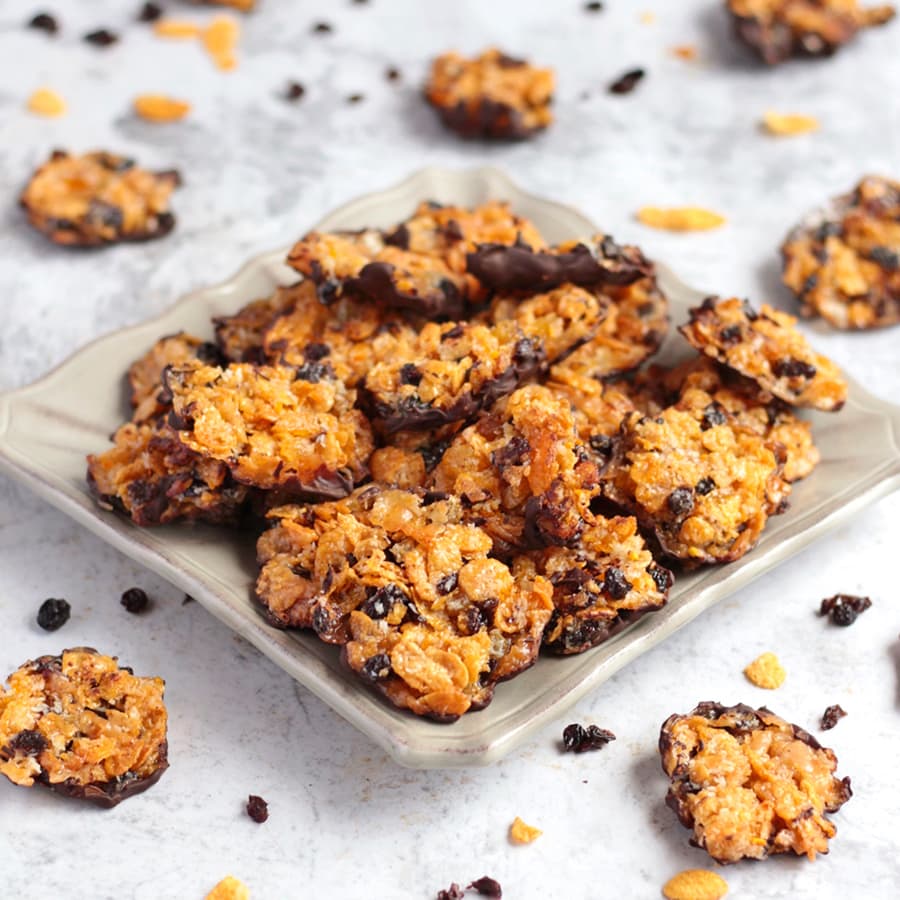 Jump to:
I have a confession to make... Before my friend asked me for some florentine biscuits, I had never even tasted Florentines. And now I can officially say: they rocked my world!
This Florentine Cookies Recipe is not only super easy to make, it is also a great Nut-Free Cookie recipe. Just like these Biscoff Truffles and French Chocolate Truffles, they are great for the Holidays or any time you need a sweet fix!
What are Florentine Cookies
Florentine Biscuits are little sweet treats made with Candied Fruits, Nuts, a Caramel and often a Chocolate Coated base.
Chocolate Florentine Cookies are said to originate from Italy, and more specifically Florence (as they name indicate...) but when looking at it more closely, it actually seems hard to say that they are 100% Italian.
Many food historian will argue that Florentines are actually French, and not Italian - as the ingredients composing the cookie are not often found in Italian baking.
Sometimes referred to as 'Lace Cookies' when super thin, flat and crispy, this version of the Florentine Biscuit is more similar to the ones you find in Australia: thick, chewy and made with Cornflakes.
You can read more about Florentines Origin in this super interesting article from Honest Cooking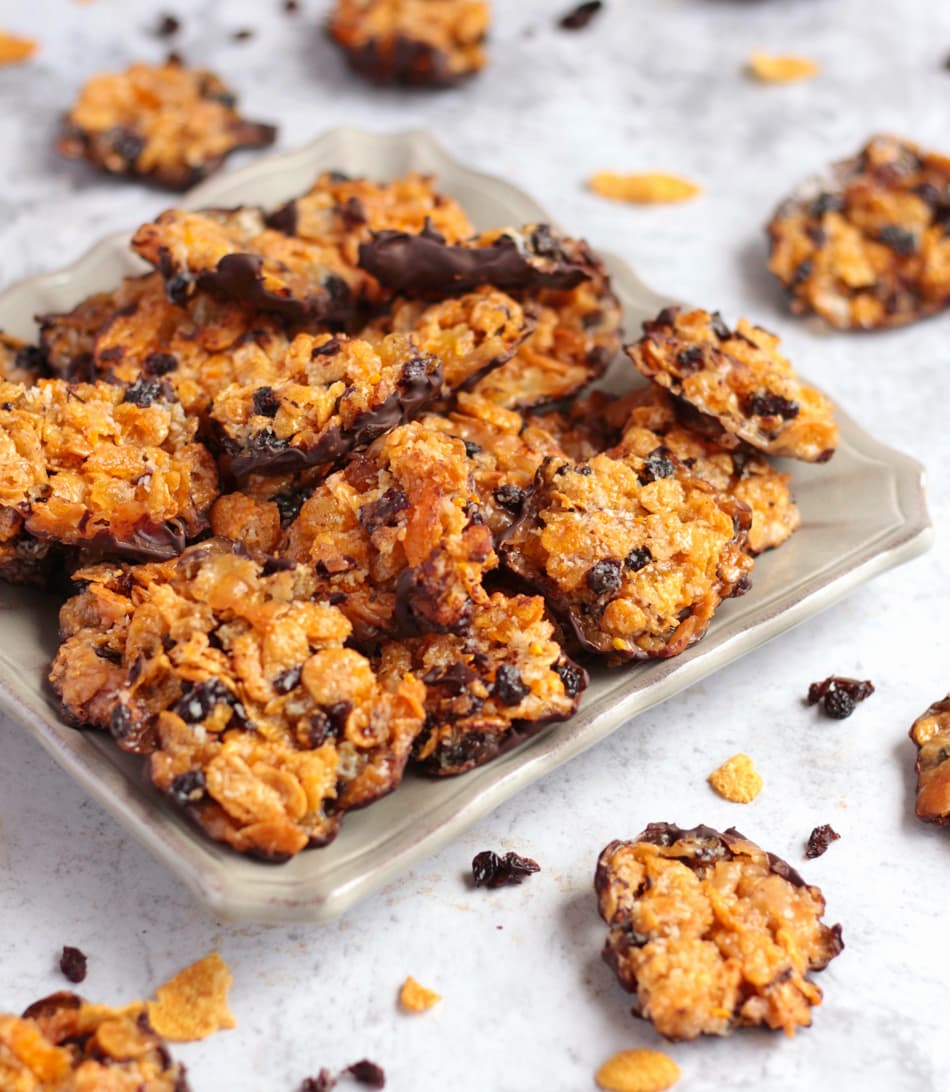 What are Florentines made off?
Well, that's kind of the hard part... if you google 'Florentines', a thousand of recipes will come up, and almost all of them will use slightly different ingredients.
Cornflakes or no Cornflakes? Chopped Almonds or Almond Meal? Maybe some Dried Fruits? And what about condensed milk, honey, cream or butter in the caramel?
If it is hard to pinpoint the exact original ingredients of these classic biscuits, we can basically sum them up in three categories: the mix of 'dry ingredients' like dried fruits, nuts and cornflakes, a caramel to bind them and a bottom layer of chocolate.
Ingredients
This recipe for Florentine Biscuits mainly uses Cornflakes to create a chewy yet crispy texture. And in what may be seen as slightly controversial, they are made with no nuts at all!
Using Cornflakes in baked goods is one of my favourite trick: they always bring a delicious crunch to recipes and work perfectly with basically any other ingredients. I particularly love mixing Cornflakes and Chocolate, just like with my Chocolate Cornflake Cakes and Chocolate Peanut Butter Balls!
In addition to the Cornflakes, these treats are packed with Dried Candied Fruits, a little bit of Coconut and some Orange Peels.
When it comes to the Caramel, this is a Florentine recipe with Honey, Cream and Caster Sugar. No Condensed Milk or Butter that tends to make the cookie greasy here!
To make Florentine Cookies, you will need (scroll down to recipe card for all quantities) :
Cornflakes
Dried Apricots
Raisins
Dried Currants
Desiccated Coconut
Orange Peels
Flour
Thickened Cream (Heavy Cream)
Honey
Caster Sugar
Dark Chocolate
I find that to create the best flavour balance, it is really important to use Dark Chocolate here. The Cookie itself is rather sweet, as it is made from naturally sweet dried fruits and a Honey Caramel.
So bringing some bitterness with the Dark Chocolate is a great way to balance the overall taste. I used a 70% Dark Cooking Chocolate that works great with the biscuits!
How to make these Cornflake Cookies
There are a few steps to follow before you can bake the florentines in the oven. They can be summed up in 4 main steps:
Thinly Chop the Dried Fruits, then place all the "Dry Mix" in a large Heat-Proof Bowl. Mix well.
Prepare the Caramel with the Cream, Caster Sugar and Honey. Heat the ingredients up in a small pot on low heat until the Caster Sugar has dissolved and the caramel is fluid. It does not need to boil or change to a darker colour here, as the caramel with keep cooking in the oven.
Pour the Caramel over the Dry Mix and stir really well so that all the dry ingredients are evenly coated.
Place small drops of florentine batter on a flat baking tray lined with baking paper, leaving enough space between each cookie as they will spread a bit in the oven. Use your fingers or the back of a spoon to flatten them a bit - you can them to be compact.
Now that the Florentine Cookies are ready, here is how to bake Florentines:
Preheat your oven on 160'C / 320'F. When it reaches this temperature, place the Baking Tray in the oven for 7 Minutes. Your Florentines should be golden and have spread a little bit.
Carefully remove from the oven and leave the florentines on the warm for about a minute, then gently slide the baking paper sheet over a cooling rack. If needed, re-shape the biscuits with the back of a spoon (be careful, they will be very hot) then leave to cool down completely.
When they are completely cool, you should easily be able to pick them up and move them.
Melt some Dark Cooking Chocolate on a double-boiler then dip the bottom of each cookie, removing any excess against the top edges of the bowl.
Leave to cool again with the chocolate side facing up.
Recipe FAQs
Are these Florentine Cookies Gluten-Free?
This florentine recipe is not Gluten-Free as it contains Wheat Flour, but could easily be made Gluten-Free by substituting the Flour with a Gluten-Free Flour or a Starch like Cornstarch.

If you want to make this recipe Gluten-Free, also make sure to be using Gluten-Free Cornflakes!
How to store these Biscuits
Once the Chocolate Layer has cooled and set completely, transfer the Cookies into an air-tight container. Place some baking paper between each layer of cookies so that they don't stick together.

They can be kept at room temperature for quite a while, but should always be store somewhere more cool and shady. The best spot I have found was in the pantry. They can last for months - literally - but will always be better eaten as fresh as possible!

If it is really hot in your kitchen, you may be tempted to keep your Florentines in the fridge to avoid melting the Chocolate. But this will result in a Florentine Biscuit that looses its crispiness and become almost soggy.
Can you freeze these Christmas Cookies?
I do not recommend freezing these cookies. You do not want to add any moisture into the cookies, plus they will not thaw well and end up falling apart. Florentine Cookies that are stored properly can last for months, so there is no need to freeze them.
More Cookies Recipe:
Made this recipe?
Let us know if you liked it by leaving a comment below, and tag us on Instagram @a.baking.journey with a photo of your creation!
Recipe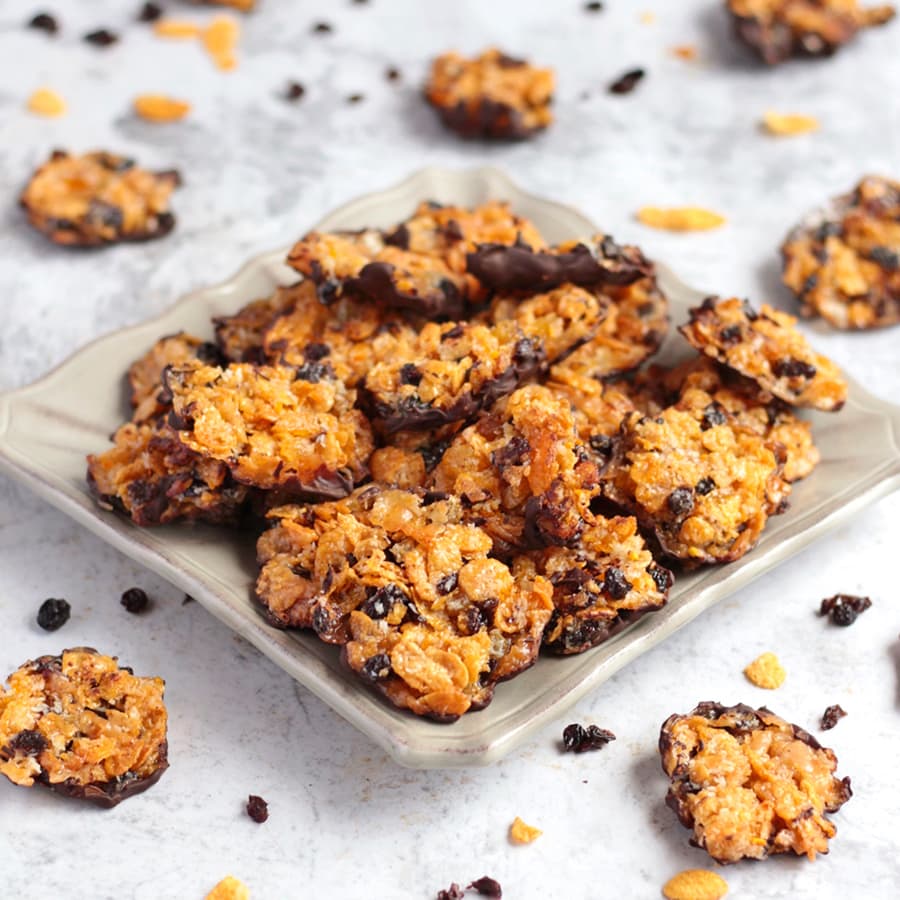 Nut-Free Florentine Cookies
These Nut-Free Easy Florentine Cookies dipped in Dark Chocolate are perfect treat for your sweet tooth: chewy yet crunchy, sweet and bitter - and simply delicious! They make great original Holiday Cookies that can be enjoyed all year round.
Print
Pin
Rate
Ingredients
75

gr (3 cups)

Cornflakes

-

slightly crushed

30

gr (1/3 cup)

Desiccated Coconut

30

gr (2 1/2 tbsp)

Dried Apricots

-

thinly chopped

30

gr (1/4 cup)

Raisins

-

thinly chopped

30

gr (1/4 cup)

Dried Currants

-

thinly chopped

1/3

Orange Peels

-

(the peels of about 1/3 of an orange)

10

gr (1 tbsp)

Plain Flour

85

gr (1/3 cup + 1 tbsp)

Caster Sugar

45

gr (3 tbsp)

Thickened Cream

45

gr (2 tbsp)

Honey

100

gr (4 oz)

Dark Cooking Chocolate

-

70% Dark Chocolate recommended
Disclaimer
I highly recommend using the measurements in grams & ml (instead of cups & spoons) for more accuracy and better results.
Instructions
Thinly Chop the Dried Apricots, Currants and Raisins. Place in a large heat-proof mixing bowl.

Peel about one third of an orange and chop the peels very thinly. Add the the dried fruits.

Add the Cornflakes (see note 1), Desiccated Coconut and Flour. Stir well.

Place the Cream, Caster Sugar and Honey in a small Pot. Place on a low-heat stove, stiring occasionally until smooth, glossy and liquid. The Caster Sugar should have completely disolved (see note 2).

Very carefully pour the Caramel Sauce over the Dry Mix (it will be very hot), and use a stiff spatula to mix it all together (see note 3). Keep stiring until all the dry ingredients seem to be evenly coated in caramel.

Preheat your oven on 160'C/320'F. Line a Flat Baking Tray (you will probably need 2 or 3) with baking paper.

Scoop out a little bit of the Florentine Batter and drop it on the lined Tray. Gently flatten it out into a regular round shape with your fingers or the back of a spoon. Leave space between each cookie as they will spread in the oven.

Bake for about 7 minutes or until they look golden brown (see note 4).

Take the tray out of the oven and set aside for about 1 minutes, then carefully slide the baking paper with the cookies onto a cooling rack. If need, adjust the shape of the cookies with the back of a spoon while they are still warm, then leave to cool completely.

Thinly chop the Chocolate and place in a heat-proof bowl. Melt the Chocolate using a Double-Boiler ("bain-marie") until smooth and shiny. (see note 5)

Dip the cool cookie flat bottom side into the chocolate, removing any excess by rubbing it against the top edges of the bowl. Place back on the cooling rack, chocolate side up, and leave to set and dry completely.

When cool, transfer into an air-tight container, separating each level of cookies with baking paper to avoid sticking to each other. Keep at room temperature in a cool, shady spot.
Tried this recipe? Make sure to leave a comment and star rating below!
Notes
I find that crushing the Cornflakes slightly helps to create even-looking florentines, but it is not essential.
You can remove from the heat when the Sugar has dissolved and you start seeing small bubbles on the edges of the pot. The caramel does not need to be brought to a boil at this stage as it will keep cooking in the oven.
I find it easier to pour the sauce in two times, mixing well in between to make sure the sauce is well distributed.
Keep an eye on the cookies in the oven as the cooking time could vary from one oven to another. You want the cookies to have a nice golden brown colour but be careful not to let them burn.
If melting the chocolate in the microwave, stop every 30 seconds to stir and check on the chocolate to avoid burning it. Stop as soon as almost all the chocolate has melted but you can still see a few chunks. Keep stirring until all melted.
Nutrition
Calories:
55
kcal
|
Carbohydrates:
11
g
|
Protein:
1
g
|
Fat:
1
g
|
Saturated Fat:
1
g
|
Cholesterol:
2
mg
|
Sodium:
24
mg
|
Potassium:
46
mg
|
Fiber:
1
g
|
Sugar:
7
g
|
Vitamin A:
123
IU
|
Vitamin C:
1
mg
|
Calcium:
3
mg
|
Iron:
1
mg
Tried this Recipe?
Leave a comment + star rating below and tag us @a.baking.journey on Instagram with a photo of your creation!