Between the natural sweetness of the fruits, the spices and the crunchiness of the nut and oats topping, this Apple and Pear Crumble with Nutty Oat Crumble Topping is the ultimate Winter Dessert!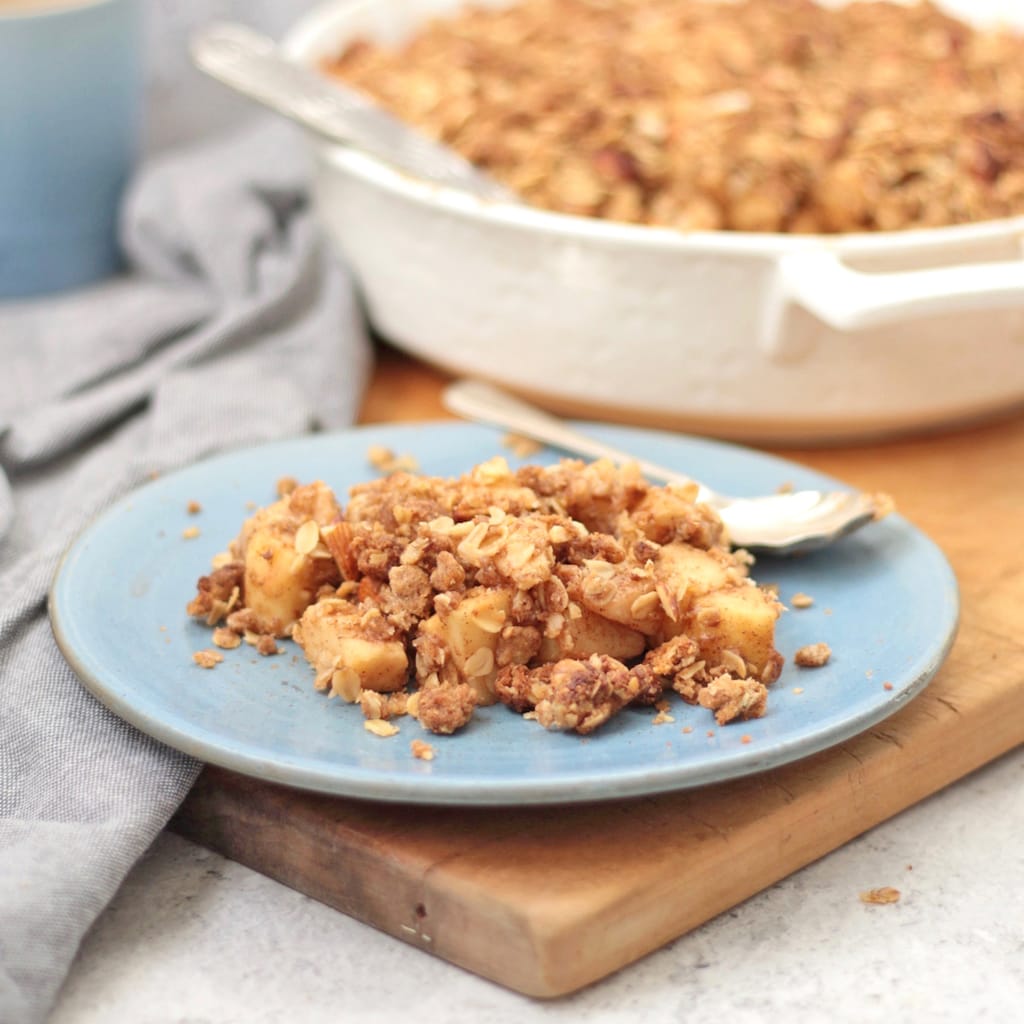 Jump to:
Why we love this recipe
For me, there is nothing more comforting than Winter Dessert. Yes, summer treats are great (and summer Crumbles like my Apricot Crumble and Strawberry Crumble Cake especially), but nothing beats a nice warm, delicious and fragrant spiced crumble in winter!
This Spiced Pear and Apple Crumble falls right in this category with tasty winter fruits, lots of spices and a crunchy crumble made with Oats and Nuts. Just as delicious as this Apple and Blueberry Crumble!
It is a really easy and quick dessert to make - perfect for a lazy Sunday afternoon or a no-fuss party dessert!
Ingredients
You may think that the list of ingredients is huge here but do not panic... It is because it is loaded with spices!
All the ingredients required to make this Pear and Apple Crumble are fairly basic; nothing a casual home baker shouldn't already have in their pantry and fridge!
There are two separate elements to this recipe: the fruit filling and the crumble topping (scroll down to recipe card for all quantities)
Fruit Filling
Apples & Pears - the stars of the show! Go for juicy, sweet ripe fruits or pick a more tart variety to suit your taste.
Cornstarch - required to thicken the juices of the baked fruits
Brown Sugar - to caramelise the fruits and bring all the sweetness you need
Lemon Juice - a simple ingredient to balance the sweet flavours of the dish
Spices - I used Cinnamon, Star Anise and Ground Ginger but you can use any spices you like
Topping
Rolled Oats & Plain Flour / All-Purpose Flour: the two mixed together bring a great crunch to the crumble topping
Brown Sugar - again, great to add a caramelised flavour to the dish
Unsalted Butter - needed to create the crumble texture, and of course for taste!
Spices - I used the same Cinnamon, Star Anise and Ground Ginger but again, you can use any spices you like
Apple and Pear Filling
Preparing the crumble filling with Pears and Apple is super simple and quick.
The first step is to peal, core and cut the fruits. The pears and apples can be sliced small or large (it's a personal preference) , but I cut mine into small cubes. The smallest the fruits are cut, the softer they will become.
Note that you could keep the apple & pears peals if you want to add more texture to the fruits, but make sure to properly wash them first or use Organic fruits if you can.
Once the fruits are ready, place them on a large mixing bowl and add the rest of the crumble filling ingredient: the brown Sugar, Cornstarch, Lemon juice and Spices.
The cornstarch is probably the most important ingredient here. The fruits will release some juice when they cook and the cornstarch will thicken it so that you don't end up with a fruit soup!
If you do not have cornstarch, you could also use flour or another type of starch like Tapioca or Potato. But I personally prefer to use Corn starch that has no flavour at all.
Oat Crumble Topping
There are many ways to make a Crumble, but they are usually made with at least three basic ingredients: flour, sugar and butter. The most classic crumble recipe simply requires to rub the butter with the flour and sugar until you get crumbs.
For this recipe, I used the same base but added a few more ingredients for taste and crunch: Rolled Oats, Almonds, Desiccated Coconut and Spices. As noted in the recipe, the Almonds and Coconut are optional but bring lots of crunch and flavour to the dessert!
Whether you like a simple Crumble made with Butter and Flour like this Blueberry and Peach Crumble for Chef Not Required , a version with nuts and oats like here - or even a Gluten Free version with almond based crumble like this Peach an Plum Crumble from It's not Complicated Recipe - crumble are just always delicious.
How to make an Oat Crumble
Place the Flour, Sugar, Rolled Oats and Spices (and the Coconut if you want) in a large bowl
Cut the cold Butter into small cubes and add them to the dry ingredients. Using your fingers, rub the butter into the dry ingredients until you get a thick sand/crumb texture.
Optionally, add the chopped Almonds. You could also use another type of nut if preferred.
Recipe FAQs
Can this dessert be made Gluten-Free?
Yes, this pear apple crumble can easily be made Gluten-Free if required. Simply used Gluten-Free certified Rolled Oats, and substitute the Plain Flour for a Gluten-Free Flour Mix.
Can this crumble be made Dairy-Free?
This dessert can also very easily be made Dairy-Free if needed. Simply use a Dairy-Free Butter or baking Margarine instead of classic Butter.
What variety of Pears to use?
For a crumble, you will want to choose Apples and Pears that will get nice and soft when cooked - no need for fruits that will hold their shape like the ones used to make Red Wine Poached Pears!

You could use:
- Bartlett
- Bosc
- Anjou
What variety of Apples to use?
Here are a few options of either sweet or more tart apples:
- Golden Delicious
- Jazz
- Fuji
- Pink Lady
- Jonagold

You can read more about how to pick the right apples for baking in this article!

What to serve with this dessert
For me, this Apple Pear Crumble is absolutely delicious on its own - but that is my own personal taste.
If you love to top your Crumbles with something else, there are many options for you:
simple Vanilla Ice Cream
Whipped Cream
Chocolate Sauce (apples and pears with chocolate = heaven)
Fresh Berries
Roasted Apples or Stewed Pears
Storing the crumble
This Pear and Apple Crumble is better served warm straight out of the oven, but it can be store for a couple of days in the fridge.
When ready to serve, simply place the Pear Apple Crumble back in the oven for 5 to 10 minutes (or until the fruits are warm and the crumble is crunchy). You can also re-heat individual portions in the microwave.
I do not recommend freezing Crumbles.
More Desserts with Pears
Made this recipe?
Let us know if you liked it by leaving a comment below, and tag us on Instagram @a.baking.journey with a photo of your creation!
Recipe
Pear and Apple Crumble
Between the natural sweetness of the fruits, the spices and the crunchiness of the topping, this Apple and Pear Crumble is the ultimate Winter Dessert!
Print
Pin
Rate
Ingredients
Fruit Filling
3

Large Pears

2

Large Apples

2

tbsp

Brown Sugar

2

teasp.

Cornstarch

1

Lemon, Juiced

2

teasp.

Ground Cinnamon

1

teasp.

Ground Ginger

1/2

teasp.

Star Anise Powder
Spiced Oat Crumble Topping
1

cup (100gr)

Rolled Oats

1/3

cup (50gr)

Plain Flour

2

tbsp (15gr)

Shredded Coconut

-

optional

1/4

cup (55gr)

Brown Sugar

1 1/2

teasp.

Ground Cinnamon

1/2

teasp.

Ground Ginger

1/2

teasp.

Star Anise Powder

1/3

cup (75gr)

Unsalted Butter

1/3

cup (75gr)

Chopped Almonds

-

or any other nuts
Disclaimer
I highly recommend using the measurements in grams & ml (instead of cups & spoons) for more accuracy and better results.
Instructions
Preheat your oven on 180'C/350'F
Fruits
Peal, core and slice the Pears and Apples into small cubes. Place them in a large bowl and add the Brown Sugar, Cornstarch, Lemon Juice and Spices. Mix well and set aside.
Spiced Crumble
Place the Rolled Oats, Plain Flour, Shredded Coconut, Brown Sugar and Spices in a large bowl.

Cut the cold butter into small cubes and add the to the dry ingredients. Use your fingers and palms to rub the butter in the dry ingredients to create small crumbs.

Optional: chop the almonds and mix them in the rest of the crumble.
Putting the crumble together
Place the Fruits and juices at the bottom of a large baking dish (see note 1). Completely cover the fruits with the crumbles then bake for 20 to 30 minutes or until the crumbs look golden brown. Eat warm.
Tried this recipe? Make sure to leave a comment and star rating below!
Notes
I used a large round Ceramic dish but your can use any type of baking dish you prefer - ceramic, glass or even metal. I do not recommend using springform pans for this recipe.
To make this dessert Gluten-Free, use certified GF Rolled Oats and a Gluten-Free Flour instead of Plain Flour.
To make this dessert Dairy-Free, use a Dairy-Free Butter or Dairy-Free spread alternative.
Nutrition
Calories:
315
kcal
|
Carbohydrates:
45
g
|
Protein:
5
g
|
Fat:
15
g
|
Saturated Fat:
6
g
|
Cholesterol:
20
mg
|
Sodium:
7
mg
|
Potassium:
291
mg
|
Fiber:
7
g
|
Sugar:
22
g
|
Vitamin A:
276
IU
|
Vitamin C:
12
mg
|
Calcium:
69
mg
|
Iron:
2
mg
Tried this Recipe?
Leave a comment + star rating below and tag us @a.baking.journey on Instagram with a photo of your creation!