This Vegan No Bake Mango Cheesecake with Passion Fruit Mango Glaze is the ultimate summer dessert. This Gluten-Free, Eggless, Dairy-Free and Refined Sugar Free Mango Cheesecake is a healthy dessert the whole family will love!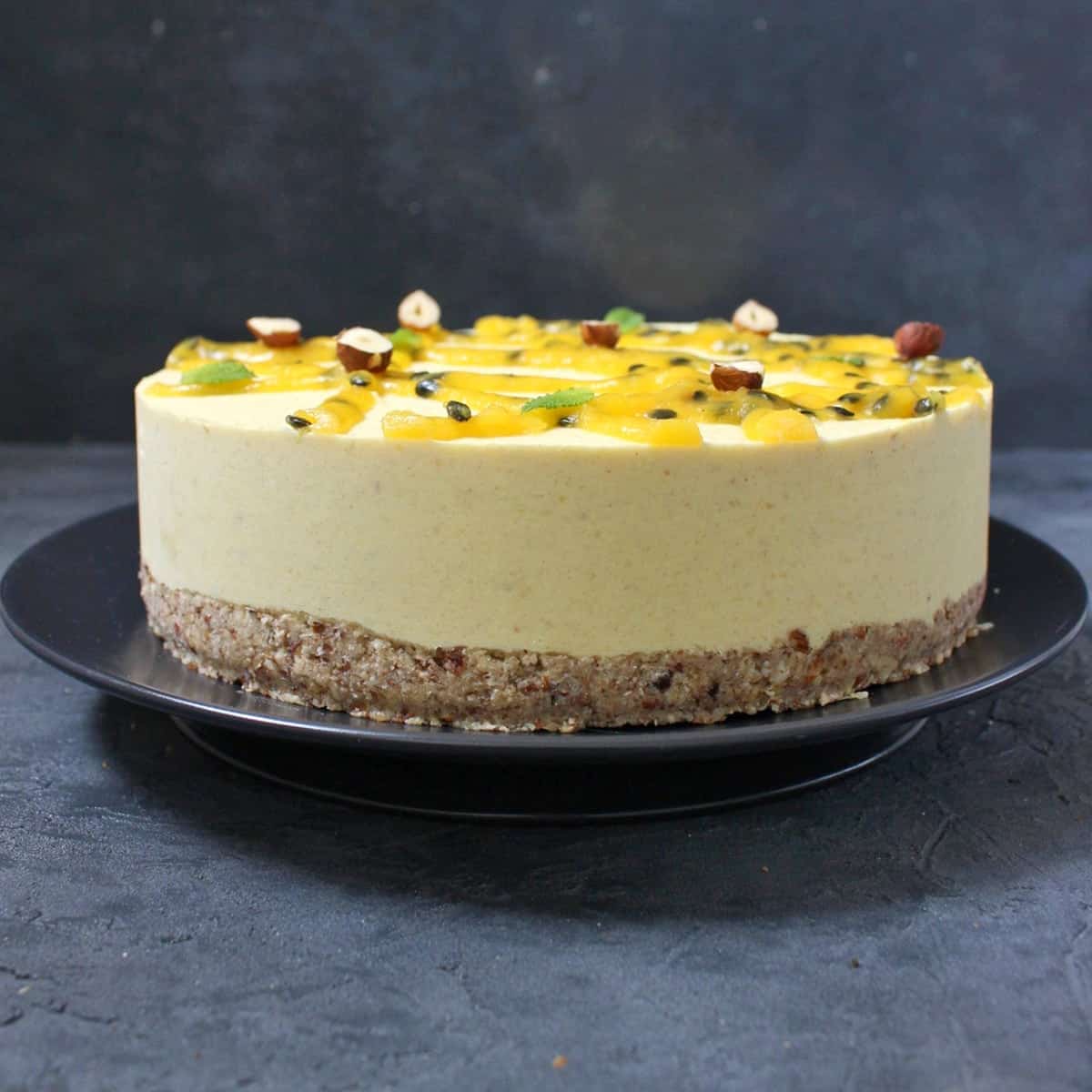 Jump to:
Why we love this recipe
Raw, Vegan Cheesecakes are. just. the. best. Not only they are super easy to make, they are also so delicious and absolutely perfect as a fresh summer dessert!
It doesn't matter whether or not you are vegan, these cashew based cheesecakes are just yummy treats. And I love how versatile they are too!
Serve it on its own or with a delicious Mango Coulis or Mango Curd, this Mango Cheesecake will be a hit with the whole family.
How to make vegan cheesecake
The process to make Vegan Cheesecakes is pretty much always the same; which is why it is so easy to experiment with flavouring ingredients.
The Vegan Cheesecake Crust are usually made out of some type of Nuts, Soaked Dates and Coconut Oil.
For the Dairy Free Cream Filling though, you will find different techniques using:
Soaked Cashews
Silken Tofu
Dairy-Free, Vegan Cream Cheese or Plant Based Yogurts
No matter what ingredients, nuts or fruits you decide to use for your vegan cheesecake, the most important element will be a food processor to blend everything into a crunchy crust and a soft, smooth dairy-free cream.
Vegan Cheesecake with Cashews
Although there are different ways to make a Vegan Cheesecake like explained above, I have only ever tried the "Soaked Cashews" technique.
Calling it a "technique" makes it sounds long and complicated when really, it couldn't be easier... All you need to do is plan ahead - and leave your raw cashews to soak in water overnight.
Ingredients
Raw Cheesecake Base
There are three main elements to this Vegan No Bake Mango Cheesecake.
First, the crust. Like I said above, you can basically use any type of nuts and blend them with dates to create the crusty base.
For this recipe, I used Hazelnuts and Almonds - and their taste works amazingly with the Mango and the Passion Fruit!
For an extra crunch (and taste), I also added Desiccated Coconut. Then the traditional Soaked Pitted Dates, Rice Malt Syrup (or Agave Syrup) for extra sweetness and Melted Coconut Oil.
The Coconut Oil may be one of the most important ingredient of the recipe because it is what will hold all the elements together when it cools down. This crust is Dairy Free, Gluten Free and Grain Free.
Dairy-Free Mango Cream
The second element is the Dairy-Free Mango Cream. Like explained above, the main ingredient to make the cream is Soaked Cashews.
For this cheesecake, I used Mangoes as the main flavour as well as Coconut Cream. Using Lemon Juice is a great way to boost the Mango Flavour and balance the sweetness of the Dates and the Rice Malt Syrup.
Mango Passion Fruit Glaze
The last element of this recipe is maybe the most fun one: the Passion Fruit Mango Glaze. Not only the two Fruits flavours work perfectly together, the Passion Fruit brings a really nice crunchy element - as well as a very graphic pop of colour.
Making that Glaze is extremely easy. All you need is some frozen mango, one passion fruit, a little bit of water and my favourite ingredient: Agar Agar Powder. This will help you transform a nice, tropical fruit puree into a delicious glaze.
If you have never heard of - or used - Agar, it is a plant-based gelling agent that is very similar to Gelatine. The main difference is that it is made out of Algae (so it is Vegan) and it is super strong.
Add the Agar Agar Powder to any boiling liquid and it will turn into a gel as soon as the temperature drops!
For this Mango Cheesecake, I used the Passion Fruit Mango Glaze in a very graphic, linear way. To create that effect, I poured my warm mixture into a Plastic Squeeze Bottle like the ones you would use for condiments.
It is important to do it when the mixture is still hot because it will set very quickly once it gets into contact with the cold cheesecake. Alternatively, you can also simply completely cover the top of the cheesecake with the Glaze.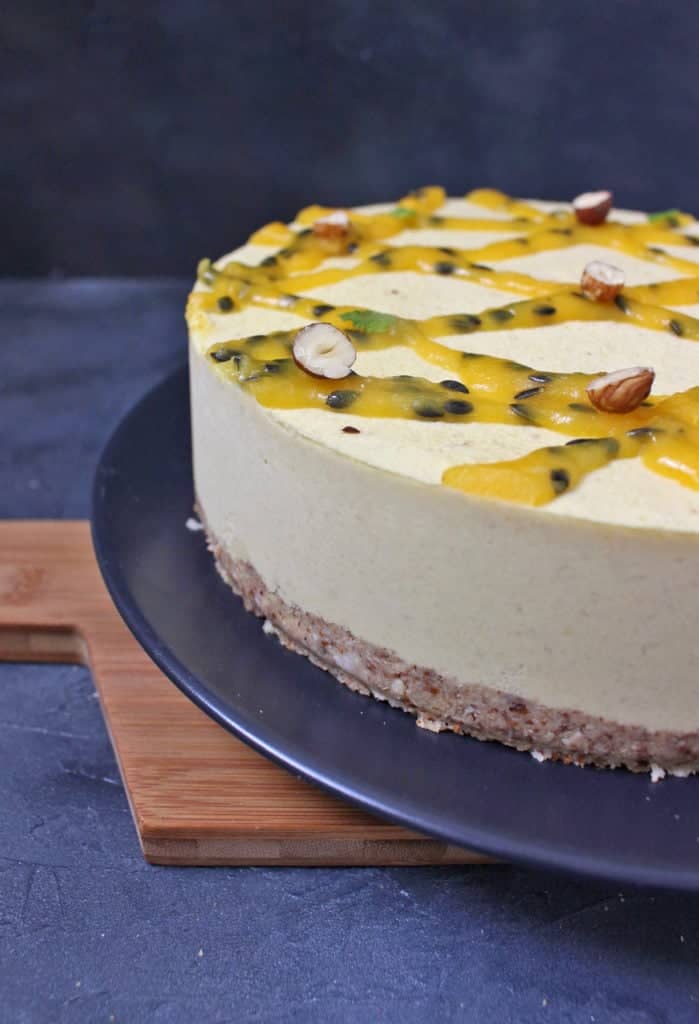 How to make this Eggless Mango Cheesecake
To assemble the Mango Cheesecake, you will need a few hours as each element needs to set in the freezer before you pour the next one.
First, make the Cheesecake Vegan Crust and press it at the bottom of a Round Springform Pan. I recommend lining the bottom plate with baking paper. Place it in the freezer and start preparing the Dairy Free Mango Cream while it is setting.
Pour it over the crust and place it back into the freezer for a couple of hours - or until completely set. Lastly, make the Passion Fruit Mango Glaze and pour it over the cheesecake.
Finish with a few Mint Leaves and Hazelnuts. Remove from the freezer and place in the fridge at least a couple of hours before serving.
Made this recipe?
Let us know if you liked it by leaving a comment below, and tag us on Instagram @a.baking.journey with a photo of your creation!
Recipe
Vegan No Bake Mango Cheesecake
This delicious Gluten Free, Dairy Free, Vegan No Bake Mango Cheesecake with a Mango Passion Fruit glaze is the ultimate tropical healthy summer dessert!
Print
Pin
Rate
Ingredients
Vegan Cheesecake Crust
1

dozen

Pitted Dates

25

gr (1/3 cup)

Desiccated Coconut

80

ml (1/3 cup

Coconut Oil, melted

130

gr (1 cup)

Hazelnuts

70

gr (1/2 cup)

Almonds

1

tbsp.

Rice Malt Syrup or Agave Syrup
Dairy-Free Mango Cream
450

gr (15 oz)

Frozen Mango

400

ml

Coconut Cream (1 can)

350

gr (2 cups)

Cashews

1

Lemon, Juiced

2

tbsp.

Coconut Oil, melted

6

Pitted Dates

1

tbsp.

Rice Malt Syrup or Agave Syrup
Passion Fruit Mango Glaze
50

gr (1,5 oz)

Frozen Mango

60

ml (1/4 cup)

Water

1

Passion Fruit

1/4

teasp.

Agar Agar Powder
Disclaimer
I highly recommend using the measurements in grams & ml (instead of cups & spoons) for more accuracy and better results.
Instructions
The night before making this Vegan No Bake Mango Cheesecake (or at least 5h prior), place the Pitted Dates and Raw Cashews in two seperate bowls and cover with water. Leave to soak until ready to use, then drain well to remove most of the water.
Vegan Cheesecake Crust
Place the Soaked Pitted Dates, Desiccated Coconut, Hazelnuts, Almonds, melted Coconut Oil and Rice Malt Syrup in the bowl of your food processor. Pulse until all the ingredients are blended together and it resembles a thick paste. (See note 1)

Press the dough on the bottom of a Springform Pan lined with baking paper. Use the bottom of a cup to evenly pack the dough. Place in the freezer to set for about 30 minutes.
Dairy-Free Mango Cream
Place the Frozen Mangoes, Coconut Cream, Lemon Juice, Soaked Cashews, melted Coconut Oil, Pitted Dates and Rice Malt Syrup in a cleaned bowl of your food processor. Process until completely smooth and creamy - it could take a few minutes. Adjust sugar / sour level to taste.

Pour the Mango Cream over the cold Cheesecake Crust. Tap the Pan on your bench to remove any air bubbles, then place back in the freezer for a couple of hours, or until completely hard and set.
Passion Fruit Mango Glaze
Blend the Frozen Mango and Water in a mixer until completely smooth. Add the Pulp and Seeds of a Passion Fruit and pulse a couple of times to mix it in the mango puree. Don't over blend it - you want the seeds to stay full.

Transfer into a small pot and bring to a boil. Add the Agar Agar Powder and whisk for a couple of minutes. Remove from the heat and directly pour into the squeeze bottle - or over the cheesecake. Place back into the freezer.

The Mango Cheesecake will be very hard when just out of the freezer; make sure to transfer it into the fridge at least a couple of hours before serving.

Optional: To finish the No Bake Mango Cheesecake, top with a few fresh Mint Leaves and Hazelnuts sliced in half.
Tried this recipe? Make sure to leave a comment and star rating below!
Notes
Blend more or less to create different crust textures - either blended very smoothly or roughly blended for more crunch
Nutrition
Calories:
644
kcal
|
Carbohydrates:
41
g
|
Protein:
13
g
|
Fat:
53
g
|
Saturated Fat:
27
g
|
Sodium:
13
mg
|
Potassium:
723
mg
|
Fiber:
8
g
|
Sugar:
22
g
|
Vitamin A:
649
IU
|
Vitamin C:
29
mg
|
Calcium:
67
mg
|
Iron:
5
mg
Tried this Recipe?
Leave a comment + star rating below and tag us @a.baking.journey on Instagram with a photo of your creation!