Ideas are great, skills are needed but when it comes to baking, the right utensils are key. So today, I am sharing with you my 10 Essential Baking Utensils and Tools for Beginners that won't ruin you!
Jump to:
Why using the right Baking Tools is Important
Over the years, I have accumulated a LOT of stuff in my kitchen, mainly for baking. If you enjoy having tons of items to help you create awesome desserts (like me), that's great! But owning only a handful of basic baking equipment can take you far, as long as you choose the right ones.
There are many ways to improve your cooking skills, but without basic baking equipments, you won't be able to make amazing baked goods. Compared to cooking, baking does require a fair bit of tools and equipments. But don't get scared. You really don't need much to start!
Essential Baking Equipment For Beginners
Yes, I probably own way over 10 baking tins and pans. I have also accumulate dozen and dozen of baking gadgets and utensils. Some of these tools come very handy for a specific recipe or to make something that looks fancy (half-dome silicone molds, I am looking at you!).
But 90% of the time, I really only use the same 10 Baking Tools, and these are the ones I highly recommend for Baking Beginners.
There is a reason why they are called "Essentials", because although you can bake really fun treat with super specialised equipment, you won't be able to make anything without a few (or all) or these ones. And let me tell you, the 10 Essential Baking Tools and Utensils you really need are NOT the expensive ones.
No, there won't be any 800$ KitchenAid or 100$ Bread Maker in this list. I truly believe that you don't need fancy, expensive equipment to make great desserts. The most expensive item of this list is 30$. For a 5 piece set! Once you have all your baking tools and equipments ready, make sure that to get the 10 Essential Ingredients for Baking.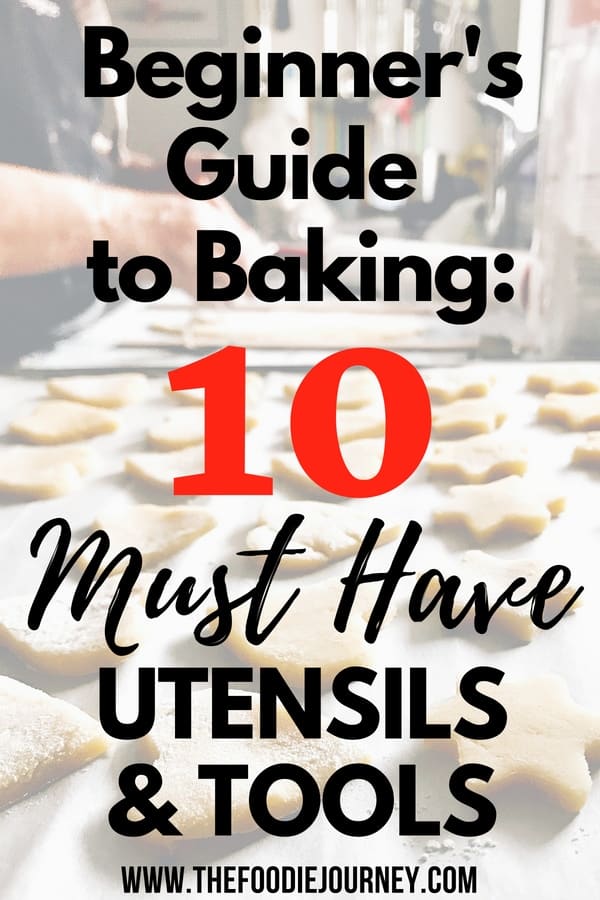 Must-have Baking Utensils List
Baking Utensils for Measuring
Measuring Cups, Measuring Spoons and Measuring Jugs
You know what they say: "Baking is a Science", so measurement is everything. Most recipes written in English will use Cups, Spoons and Jugs to measure ingredients. You will be using those ones A LOT so make sure they are made out of durable materials that can resist all the elements.
For any Glass Bakeware, I always recommend using the brand Pyrex because they simply never break, like their Measuring Jug.
You can also find sets that include both Measuring Cups and Spoons, like this super practical 14 piece sets.
A Food Scale
The more you will get into baking, the more precise you will want to be. Using Measuring Cups and Spoons can be super easy and convenient, but once you start making more complex recipes, you will need a Food Scale.
I personally use both Cups and a Scale depending on the recipe but when it comes to French Patisserie, you definitely need a proper scale. Again, choose one that is made out of durable material and that can be cleaned easily.
A digital one will be more practical than a mechanical one. And yes, you can find super cheap ones like this slick white scale or this practical multifunction one.
Baking Tools for Cutting, Blending and Mixing
Set of Whisks
If you are only going to be using one, get a good one! You can find so many different type of whisk. Some are great for general use while others have a very specific purpose.
I have a bunch of them but really, a only use 2: Large One and a Small One. I use the large one for any cake batter or other preparation, while the small one is great to use when making curds in a small pot or beating eggs.
Again, you will very easily find a set to match your requirements, like this simple 2 Pack Set or 3 Pack Stainless Steel Set.
Silicone Spatulas
For many recipes, a whisk will work perfectly. But for others, the use of a Spatula is highly recommended. While a whisk will perfectly mix your ingredients, it can also bring a lot of air (not always recommended) or break the batter.
To fold a Meringue for example, you will definitely need a Spatula to avoid breaking the Egg Whites. A Silicone Spatula is also great to scrape your bowls once you are done baking, unless you prefer to use your fingers to eat the raw batter of course!
You can find many different sizes and shapes of Silicone Spatula, so research the one that will best suit your baking needs. Otherwise, simply get a set that include a few different ones like this 3 Pieces Set or 4 Piece Set
A Flour Sifter or Thin Mesh Sieve
Have you ever made a cake batter that had thick lumps you couldn't get rid off? That probably happened because you didn't sift the flour (or other powdery ingredients like Cacao Powder or Cornstarch).
Sifting Flour helps to remove any impurities and break lumps that could form while being stored. It also make the Flour way lighter, which is what you want for light batters.
You can use a proper Flour Sifter like this one, or simply use a Fine Mesh Sieve like me. Although a Flour Sifter is specifically made for Flours and Powders, I prefer to use a Fine Mesh Sieve as I find it way more versatile.
A set of Mixing Bowls. Or Two.
You can never have enough Mixing Bowls. As a general rule, I believe that you need two types of mixing bowls: one that is heat-proof, and one that isn't. Use a Heat-Proof Glass Bowl to melt ingredient in the microwave or when doing a 'Bain-Marie'. Use a Stainless Steel Bowl for the opposite reason: keep in the heat or the cold.
When making a Meringue for example, using a bowl that is really cold will help your Egg Whites to rise. Simply putting a Stainless Steel Bowl in your fridge for 15, 20 minutes before making a meringue will do the trick!
I personally use these two types of Mixing Bowls that each came in large sets. Get yourself a good set of Stainless Steel Bowl Set and another Glass Mixing Bowls set like this Pyrex Set - and you are ready to get baking!
A Zester
Nothing complicated here: if you need to add Citrus Zest to your cake batter, creams, curds or other preparations, you will need a Zester. Technically, you could cut the zest of the fruit then chop it extremely thinly but let's be honest, ain't nobody got time for that!
My little tip is to get a Zester that is large enough to also grate cheese or chocolate, like the classic Microplane one or this one.
Cake Baking Utensils
A Good Range of Basic Baking Pans and Trays
I love to collect baking tins and I probably have way too many. They are so fun to use to create cakes and tarts of different shapes and sizes, but are probably not all Kitchen Essentials.
If I had to choose only a few to make anything I can think of, I would only need 5: a Flat Baking Tray for cookies, a Round Springform Pan for cakes and cheesecakes, a Tart/Pie Pan, a Cupcake/Muffin Tray and a Loaf Pan.
For me, these 5 pans are all you need to start baking. You can buy them separately of course, but I found this 5 Piece Bakeware Set that has exactly what you need for less than 30$.
A Baking Mat and Baking Paper / Parchment Paper
Using a Baking Mat to line your flat tray is a great way to not constantly throw away baking paper. Use it under Cookies, Macarons or other baked goods. When it comes to cakes, tarts and pies, I find it easier to use Baking Paper or Parchment Paper.
I mainly use some under my cake to be able to get them out of the pan easily and over my tart pastry when I blind bake them. You will find simple Baking Paper in any supermarket, I'm sure you don't need me here! But for good Baking Mat, you can try this classic Silpat Mat this set of 2 Silicone Baking Mat Sheet.
A Cooling Rack
No baking would be finished without good old cooling time (unless you are making a warm dessert, of course). You can obviously let your cakes and cookies cool down in their pan / on the tray, but the best way to stop any further baking is to use a Cooling Rack.
If you leave your baked goods on a hot surface, they will keep baking and you don't want to risk over-baking them. A cooling rack will also allow a more uniform, all around cooling. This set of Cooling Rack is great because you can also use it in the oven.