I have no home parties organised anytime soon, but if I did, these Semi-Dried Tomato Savoury Madeleines would be the perfect appetiser to entertain my guest!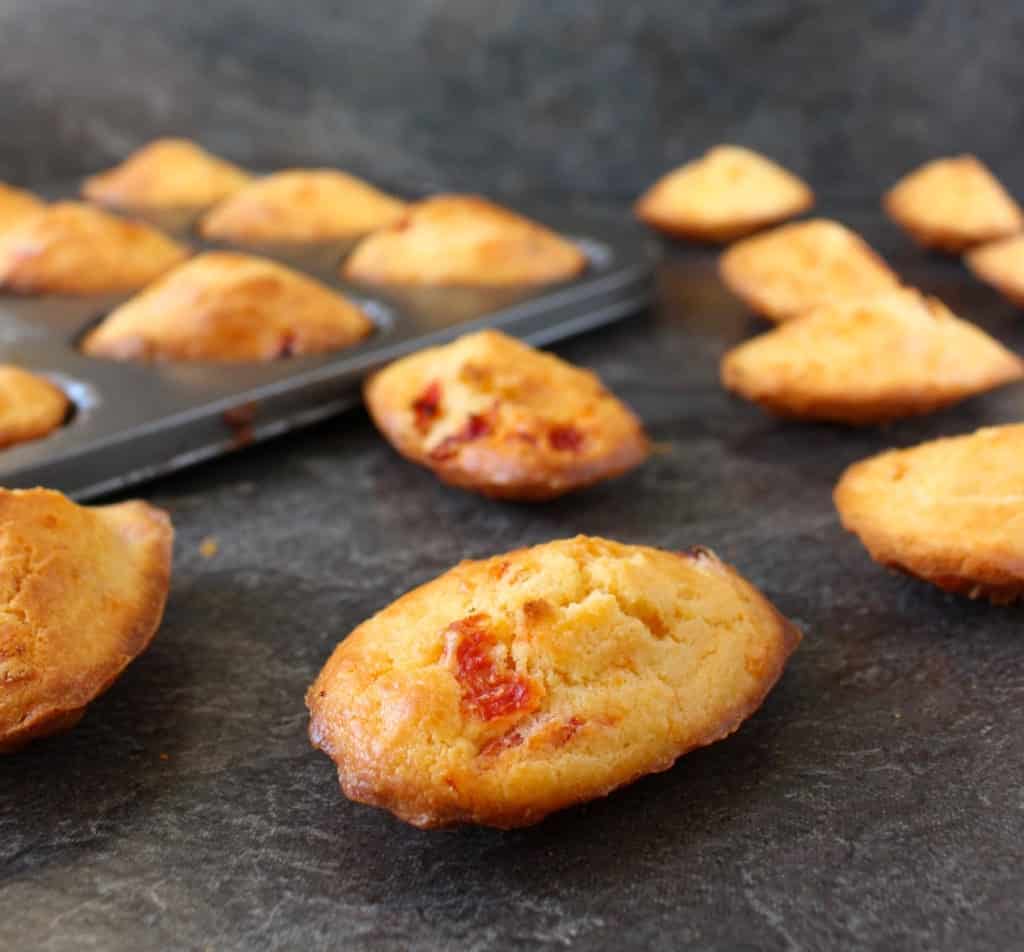 [ReviewDisclaimer]
---
Madeleines are small cakes I used to make almost every week and that my friends really loved (especially one who will recognise herself!). They are so amazingly light, flavourful and seriously addictive!
Up until the other week, I had only ever made them sweet. The classic butter ones, a chocolate version, ones with berries, other flavoured with lemons,... Imagine it, I had probably made it.
This time, I thought I would switch things up a bit and try to make a savoury madeleine recipe. They turned out so delicious; perfect for entertaining, as an appetiser or simply as an every day savoury snack!
French Madeleines
If you have been following me fore a while, you know that I love to share Classic French Pastry Recipes like this Plum and Custard Tart or these Cruller Baked Donuts made out of Choux Pastry.
Well, Madeleines are probably one of the most traditional French Pastry Recipe you will find, and is also one of the easiest one to make!  Madeleines are basically small cakes made out of a light 'genoise' batter (sponge cake style) and baked in shell-like shaped pans.
The Classic Madeleine Recipe uses very basic baking ingredients: Eggs, Butter, Sugar, Flour, Baking Powder and sometimes Milk. French Pastry has never been so easy!
As I imagine that everyone has these ingredients in their kitchen, the only special requirement of this recipe is the Madeleine Pan. Unfortunately, there are no alternative to make madeleines: you need the specific shell-like shaped pan.
If you do not already own one, you should easily find them in any homeware / bakeware stores. Otherwise, you can get a madeleine pan online like this one or this one.
Savoury Madeleines with Dried Tomatoes
This recipe is staying very close to the original French Classic one. Instead of using Sugar, I added a  little bit of salt and Semi-Dried Tomatoes. Why did I use Semi-Dried instead of Sun-Dried Tomatoes?
I have baked with Sun-Dried Tomatoes before and found them to be a little bit to hard to to chew once baked. Because they are not fully dried and are usually preserved in jars full of oil, Semi-Dried Tomatoes are softer and super moist. Way better for baking!
The Semi-Dried Tomato Oil is also packed with flavours that you definitely want to include in your Madeleines! Although I mainly used butter in this recipe, I made sure to keep the oil the tomatoes were soaking in when added to the batter.
I would almost consider re-trying this recipe and switch the butter for the semi-dried tomato oil to see how they would turn out!
I found the Semi-Dried Tomatoes in my local supermarket but if you cannot get your hands on some, you can of course use Sun-Dried Tomatoes instead, or try getting some online.
Semi-Dried Tomato Savoury Madeleines
A great entertaining food, appetiser or light snack, these Semi-Dried Tomato Savoury Madeleines are a crowd-pleasing recipe perfect for any occasion!
Print
Pin
Rate
Ingredients
150

gr (5.3 oz)

Unsalted Butter

4

Eggs, beaten

190

gr (1 1/4 Cup)

Flour

1

teasp.

Baking Powder

1

tbsp.

Salt

1

Dozen

Semi-Dried Tomatoes, chopped.

60

ml (1/4 cup)

Milk - OPTIONAL
Instructions
Take the Butter out of the fridge about 30 minutes before making the madeleines.

Preheat the oven on 210'C.

When at room temperature, place the Butter cut in small cubes in a large bowl and mix it with a wooden spoon until smooth and creamy.

Beat the Eggs in a seperate bowl and add then to the Butter. Mix well until smooth.

Sift in the Flour, Baking Powder and Salt.

Chop the Semi-Dried Tomatoes and transfer them into the batter with any oil that could come out of them. Quickly stir.

Optional: if the batter seems very hard, add the Milk.

Grease your Madeleine Pan with some Butter or Vegetal Oil.

Pour about one tablespoon of Madeleine Batter in each shell (about 3/4 of the shell should be filled). Tap the Pan on your kitchen bench to remove air bubbles and even out the batter.

Place in the oven and directly drop the temperature to 180'.

Bake for 8 to 10 minutes.
Notes
If you bake the Madeleines in a few batches, make sure to increase the oven temperature to 210'C before putting the cakes in and dropping it to 180'C. It is the first high temperature that allows for the madeleines to rise!