When life gives you a 10kg homegrown Zucchini, you make delicious Savoury Cheese Zucchini Muffins to enjoy for breakfast, brunch, as an appetiser or in your kids lunchbox for lunch!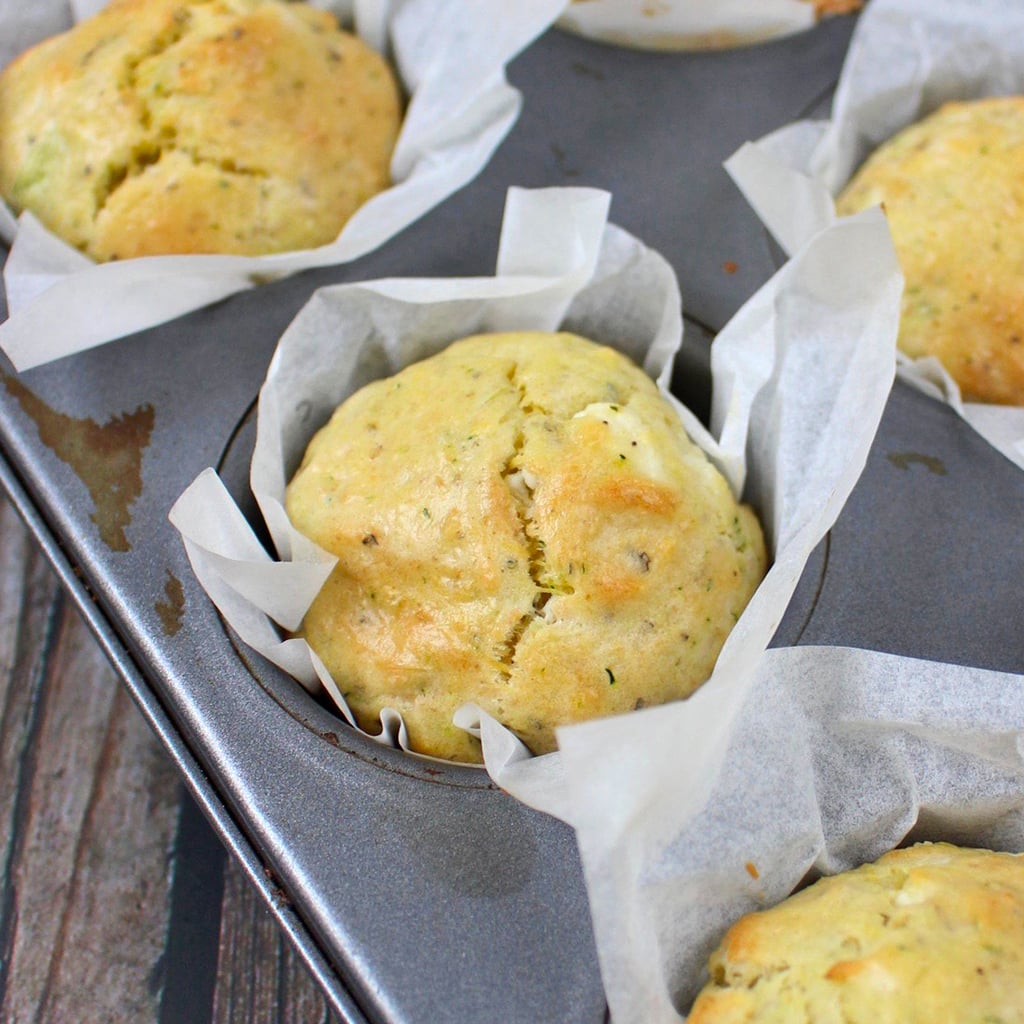 This post may contain affiliate links to products. We may receive a commission - at not cost to you - for purchases made through these links.
---
I don't often bake with veggies, but if there is one exception, it is Zucchini. I have been making savory Healthy Zucchini Muffins for years and always find it to be a perfect savoury treat!
Not only they are super easy to make, they are also great to get your kids to eat more veggies… These hidden vegetable muffins are packed with yummy and healthy ingredients, and are perfect as:
a snack
an appetiser for a party
in a lunch box for work or school
for brunch / morning tea
to bring to a potluck or picnic
Healthy Savoury Zucchini Muffins Ingredients
If you are like me, slightly addicted to un-healthy snacks (hello there, bag of chips!), these little Cheese Zucchini Muffins are a great healthier alternative.
The main ingredient is obviously the fresh veggie: Zucchini. Using that vegetable in baking is a great way to make super moist savoury muffins.
And because they are packed with that veggie, they are also way lighter than savoury muffins made with flour only.
To make these healthy zucchini muffins, you will need:
Grated Zucchini, drained
Goat Cheese Crumbs
Plain Flour
Baking Powder
Spices: Salt, Cumin Powder, Garlic Powder and Dried Oregano (or to your taste with your favourite spice mix)
Full Cream Milk
Eggs
Olive Oil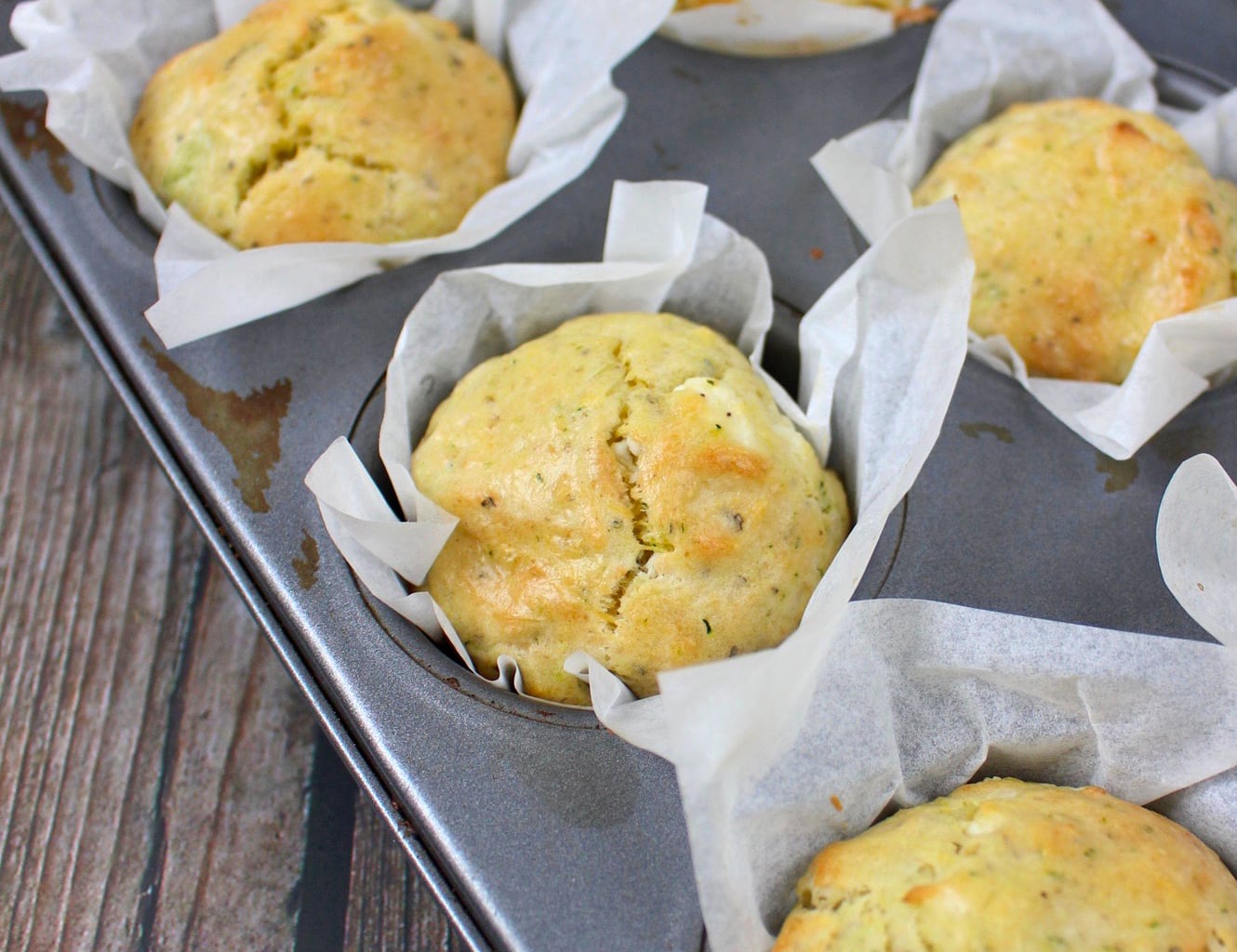 How to make these Healthy Zucchini Muffins
The most important step to make these Savoury Muffins is to grate and drain your Zucchini. Draining the grated zucchinis is SUPER important as you don't want extra water to come out of the veggie while the muffins are baking. That would result in super soggy muffins… not thanks!
Make sure to press the grated zucchini through a thin mesh sieve to remove all extra moisture. You can then start to make your savory zucchini muffins:
Grate and Drain your Zucchini.
Place all the Dry Ingredients in a Bowl: Flour, Baking Powder, Salt and Spices.
In a separate bowl, whisk the wet ingredients together: Milk, Eggs and Olive Oil. Pour the wet ingredients into the dry ingredient bowl and stir until combined.
Fold in the Grated Zucchini then the Goat's Cheese Crumbs.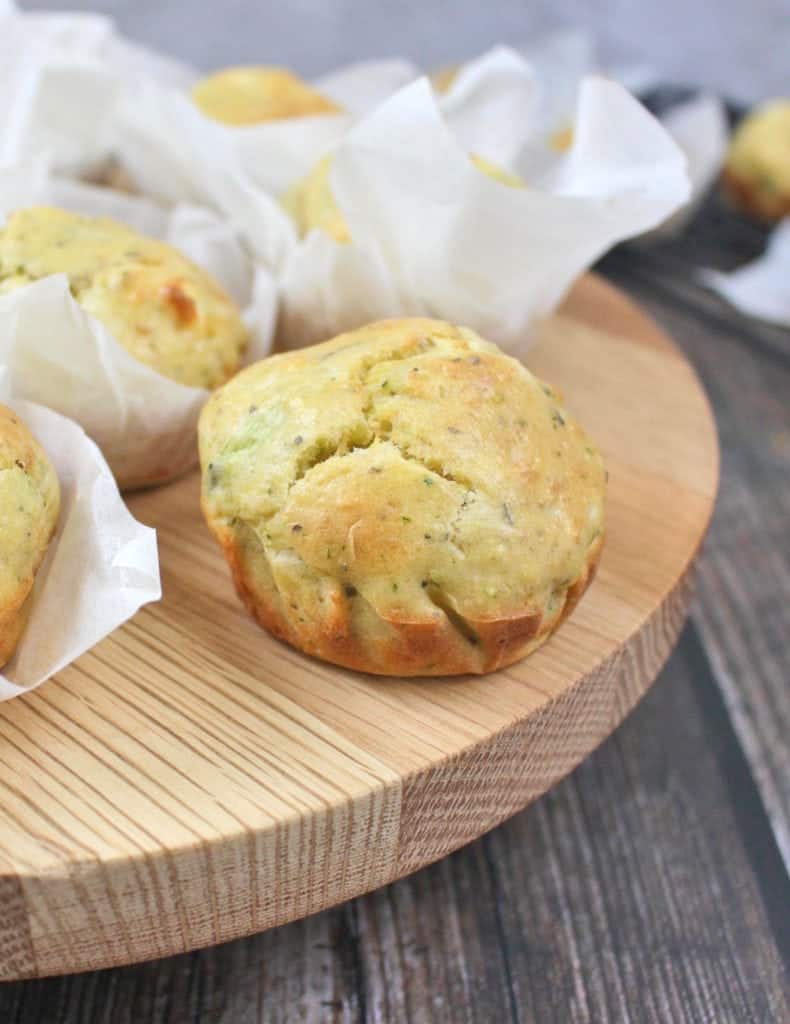 How to make these Savory Zucchini Muffins your own
There are many ways to customise these Zucchini Savory Muffins. For this recipe, I used one of my favourite cheese to bake with: Goat Cheese.
I have also made similar recipes with Feta Cheese and other grated cheese like Mozzarella, Cheddar or Parmesan and they also turned out great!
I tend to go for Goat Cheese or Feta cheese because their super fresh flavours work perfectly with the zucchini. Those cheeses are also a great way to bring a salty touch to these lunch muffins.
There are many other ingredients you could choose to add to these savory muffins, in addition to the Zucchini and Goat's Cheese.
Ingredients you could add to these savory zucchini muffins:
Sun-Dried Tomatoes
Peas
Pitted Olives
Smoked Salmon
Spinach
Corn
Carrots
Bacon
As you can see, the possibilities are (almost) infinite… but these Zucchini Cheese Muffins are also simply delicious as is, and really do not require anything else in them.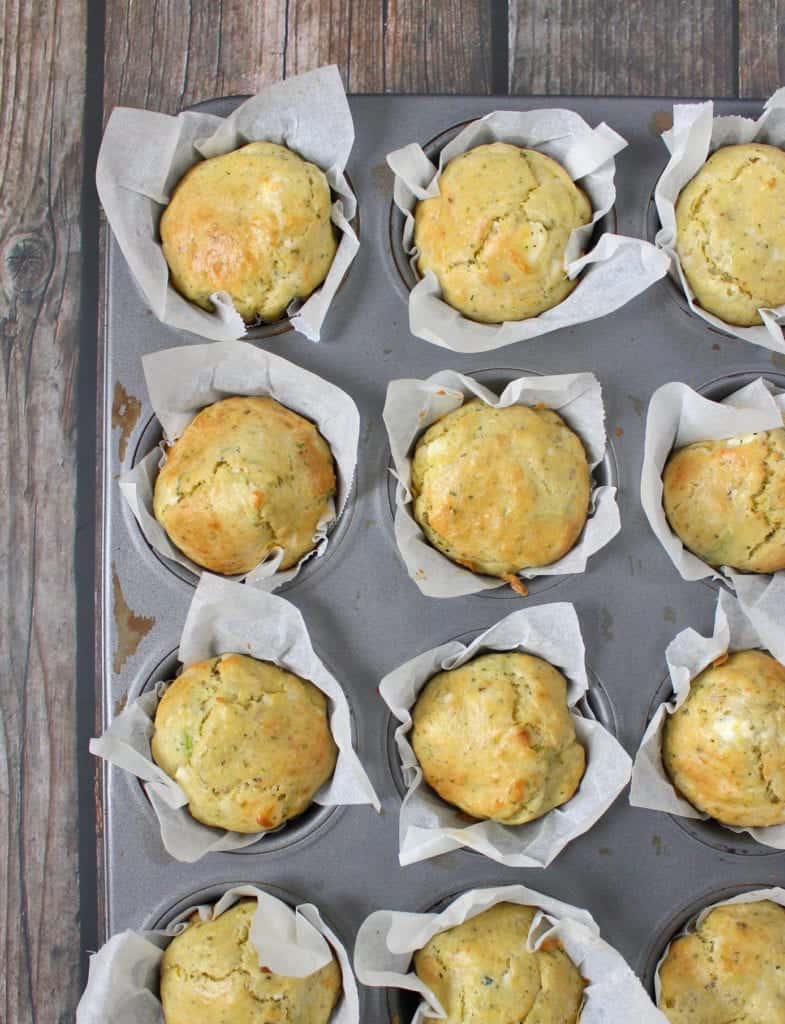 Can you freeze these Cheesy Zucchini Muffins?
Absolutely! These healthy Savoury Muffins for kids can not only be kept in the fridge in an air-tight container for up to two days (they will last longer, but will stay fresh and moist for 48 hours), but they can also be frozen for a few months.
It is one of the great thing about this recipe – these healthy savory muffins for kids can be made ahead, frozen then thawed when needed to be put in your kids lunchbox or to serve as an appetiser!
To freeze these Zucchini Muffins, leave them to cool down completely first. Wrap them individually in a layer of plastic wrap and aluminium foil to avoid freeze-burns and place in the freezer.
Alternatively, you can also freeze them in batches in a freezer-friendly container. Make sure to separate each layer with baking paper or foil so that they don't stick together.
When ready to be enjoyed, thaw in the fridge overnight, place in the oven at normal temperature for 5 minutes or in the microwave for 30 seconds to 1 minute.
They will last for months in the freezer but I recommend eating them within a month for maximum freshness.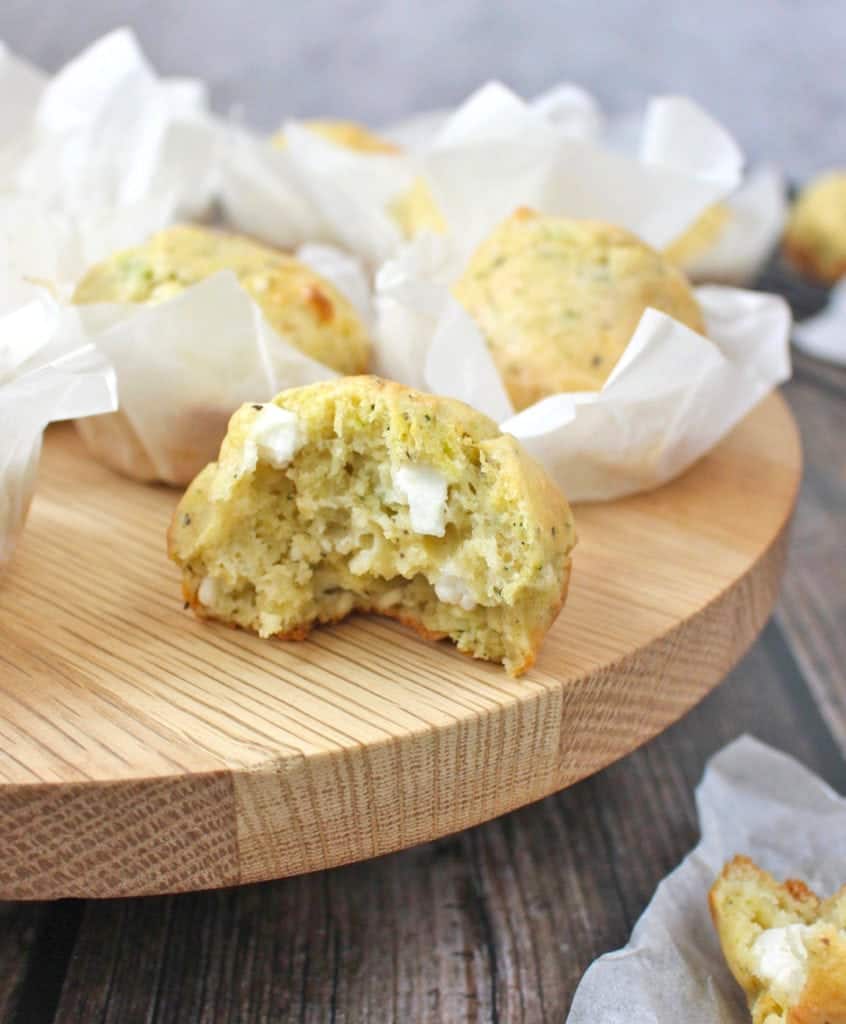 Looking for more Savoury Bakes Ideas?
Check out these ones:
Healthy Zucchini Muffins with Goat's Cheese Recipe: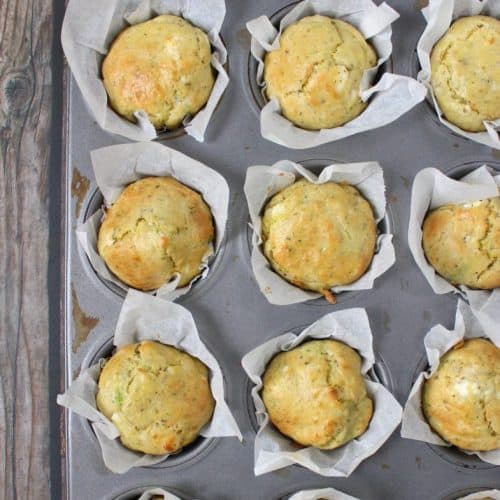 Print Recipe
Healthy Zucchini Muffins with Goat Cheese
These Savory Goat Cheese Zucchini Muffins are a delicious and healthy little snack to put into a lunch box or serve as an appetiser. Muffins packed with hidden veggies are also a great way to get your kids to eat more vegetables!
Ingredients
200

gr ( 1 1/3 cup)

Plain Flour

1,5

teasp

Baking Powder

1

teasp.

Salt

1

teasp.

Garlic Powder

1

teasp.

Cumin Powder

1

teasp.

Dried Oregano

120

ml (1/2 cup)

Full Cream Milk

2

Eggs

60

ml (1/4 cup)

Extra Virgin Olive Oil

180

gr (6.5 oz – about 1 cup)

Grated Zucchini, drained

,

see note 1

100

gr (3.5 oz)

Goat Cheese Crumbs
Instructions
Preheat your oven on 180'C/350'F. Line a Muffin Pan with Liners, or make your own using Baking Paper.

Finely Grate the Zucchini and place in a sieve to drain. Press the grated zucchini to remove as much of the moisture as possible. Set aside (see note 2)

Place all the Dry Ingredients in a large bowl: Flour, Baking Powder, Salt, Garlic Powder, Cumin Powder & Dried Oregano.

In a seperate bowl, whisk the Milk, Eggs and Olive Oil together. Pour the liquid ingredients over the Dry Ingredient and stir until combined.

Fold in the Drained Grated Zucchini and Goat Cheese Crumbs until evenly incorporated.

Pour the batter into the muffin liners and bake for 15 to 20 minutes, or until golden brown. Remove from the oven and leave to cool down on a cooling rack.

Keep in the fridge for 48 hours or freeze for up to a month.
Notes
Make sure it is the right weight of grated zucchini 

after being drained

Draining the grated Zucchini is REALLY important as you don't want the natural water of the veggie to come out while the muffins are baking. This would result in super soggy muffins.